From the comfort of his Bigfoot truck camper, fine art painter Gregory Hull ventures beyond the studio to capture the wide-open landscapes, light, and color of the American West.  It all started on Rodeo Drive in Beverly Hills…

After graduating with a Fine Arts degree in 1977, Gregory Hull moved to Los Angeles hoping to interest an art gallery in his work.  Oil paintings in hand, he went to Rodeo Drive in Beverly Hills and caught the break that would launch his career as a professional fine arts painter.
Forty-one years later, Gregory's celebrated oil paintings are on display at distinguished art galleries across the United States.  He's been featured in over a dozen one man exhibitions and earned numerous awards from art competitions across the west.  In 2017, Gregory's career and work were featured in a hardcover book by Amy Abrams titled, "Gregory Hull: Journey Home to the Authentic Self".
Gregory also happens to be an avid truck camper.  His Bigfoot 12C9.5 and 2017 Ford F350 function as his mobile painting studio.  Fully self-contained with four-wheel drive, Gregory's truck camper rig takes him where his creative juices flow, and keeps him comfortable.  It's not far fetched to state that Gregory's truck and camper are as important to his fine art as his easel, brushes, and paint.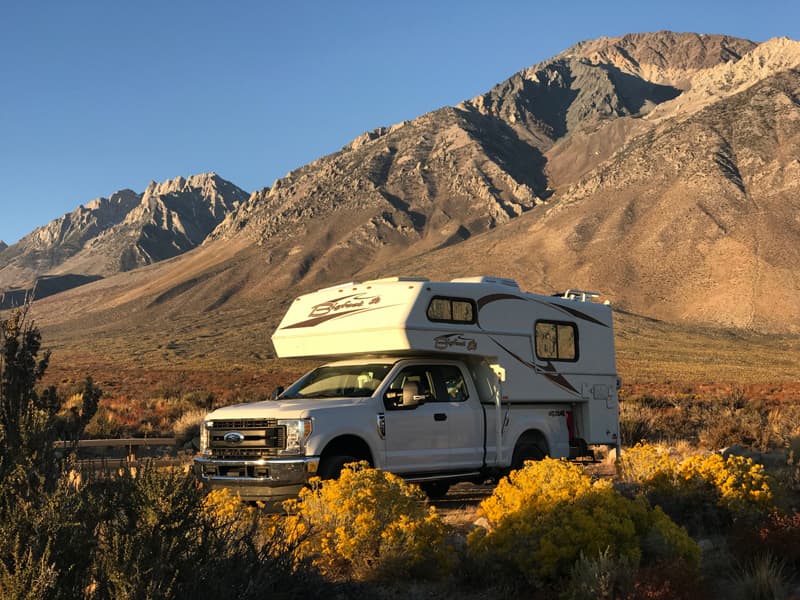 TCM: Before we talk about your fine art career, tell us a little about how you got into truck camping.
Gregory: My parents were campers.  They started with an army surplus tent, graduated to a tent camper, and then a truck camper.  I don't know what brand it was, but it was made in the mid-1970s and had propane lanterns inside.  As kids we would ride in the back and look out the front window tooling down the highway, which is now illegal.
As I grew older, I went off on my own.  My parents continued increasing the size of their rigs until they were in a gigantic Class A motorhome.  I never liked the motorhomes as much as the truck camper.
In 1996 an artist friend got me interested again in truck campers and I got a new Ford and a Lance Camper.  We planned many painting trips together and we would meet up at different spots to inspire each other and work.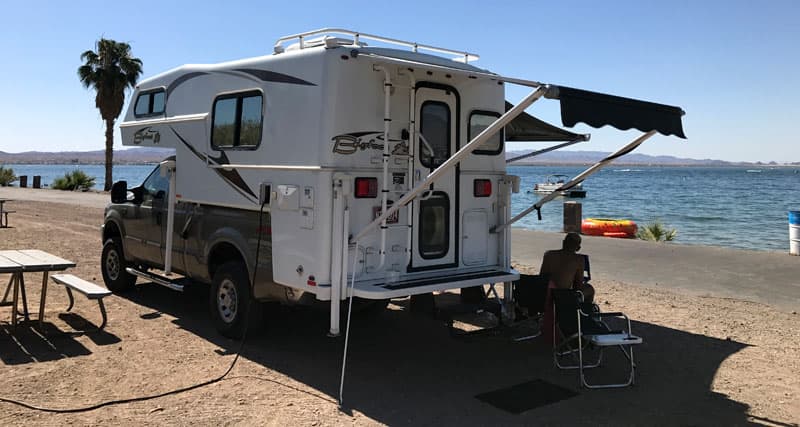 Above: Camping by Lake Havasu, Arizona
TCM: Now that sounds like a good friend.  How did you later decide on your current Bigfoot?
Gregory: I'm 6'5" and the ceiling in my Lance Camper was too low.  That camper had a basement, so it had a lower ceiling.  I was bumping my head unless I took my shoes off.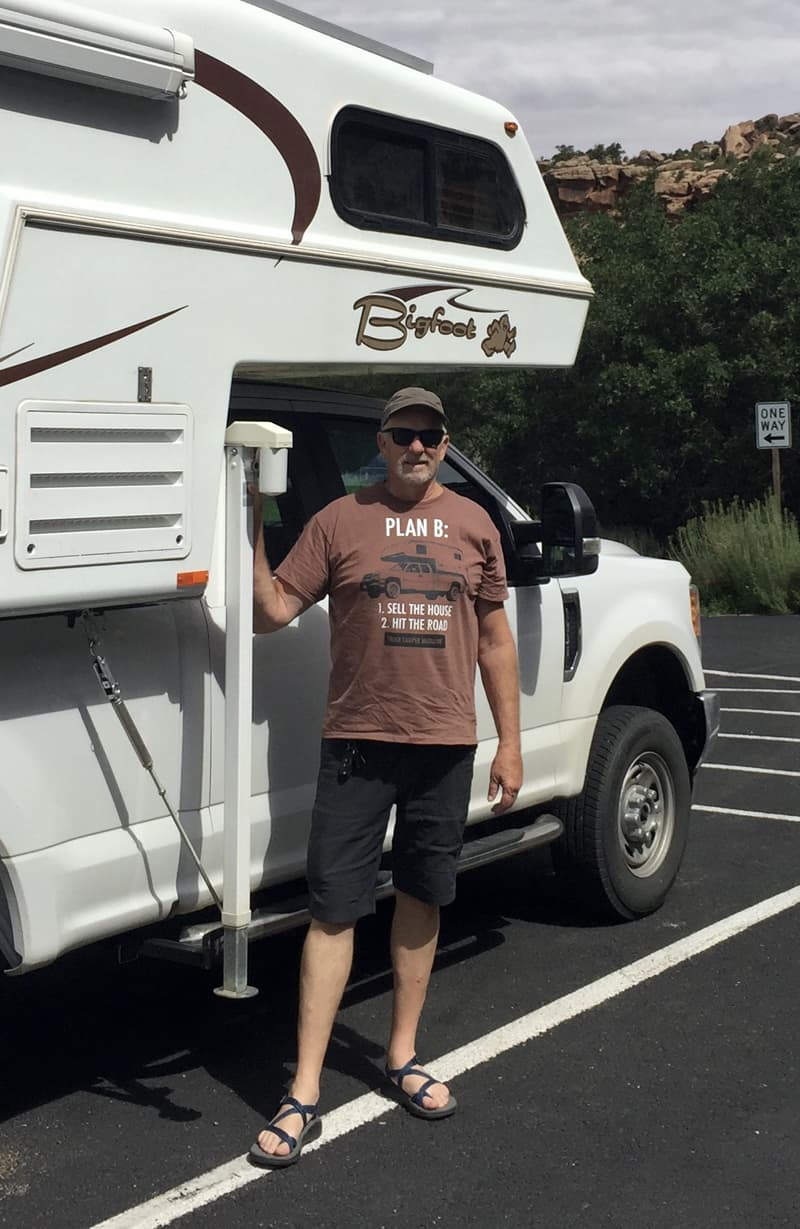 Then I learned that the Bigfoot 1500 Series does not have a basement.  My Bigfoot is 81-inches to the ceiling.  That's over 6'7" of interior height.
I got the Bigfoot Camper 15C9.5 because I like short bed, non-slide truck campers.  I can just pull over anywhere to paint, nap, or eat.  Then, I'm ready to go.  I have all the luxuries of home in a small space.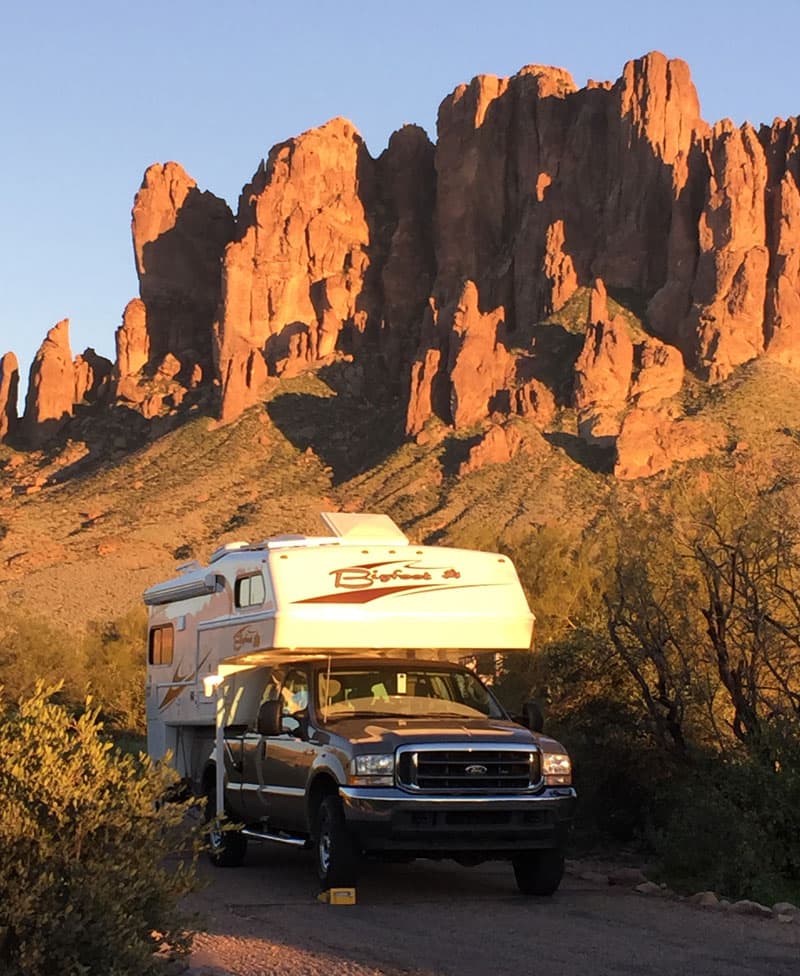 Above: Lost Dutchman State Park, Arizona
TCM: How does having a truck camper help you with your career as an artist?