After retiring in early 2020, Edith Horn and her mini-Schnauzer, Jacque, set out to explore the United States in a Northern Lite 10-2.  Their quest includes a lengthy bucket list filled with dream destinations.  What they've discovered is so much more.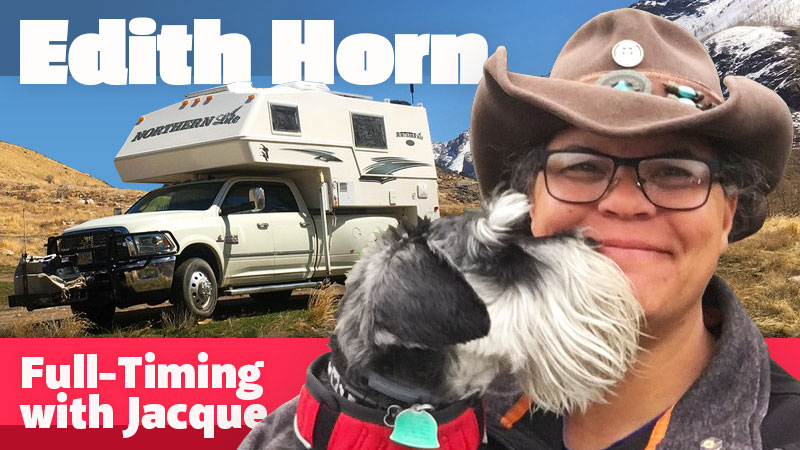 Angela and I are often asked what our favorite places have been while truck camping.  The question often sounds like, "You guys have been to a lot of places. What's your favorite?"  Perhaps you've had this question yourself.
Our honest answer is a bit abstract, and the truth. "We've been to a lot of incredible places, but meeting new friends is what keeps us traveling, and the adventures that often come with them."  If that answer doesn't satisfy, we offer the wide-ranging area surrounding the four corners.  Somehow our truck always seems to take us there, and we never seem to mind.
We were reminded of all this a few weeks ago we received a heartwarming story from fellow truck camper, Edith Horn.  She retired at what has to be one of the most challenging moments in recent history and hit the road full-time in a Northern Lite truck camper.  With her miniature Schnauzer, Jacque, Edith has been exploring the United States checking off a lengthy bucket list along the way.
From her writing, Edith offers Grand Canyon National Park as her favorite place.  In fact, what struck us first about Edith's writing was her passionate description of the park, its open landscapes and breathtaking night skies.  We know exactly what she means.
However, as you read deeper into Edith's story, it becomes clear that it's the people and friendships that she's made that have had the biggest impact.  I think it may be impossible to avoid meeting amazing people and making incredible new friends if you spend enough time on the road.  Out there, wonderful friends happen.  What's even better than the Grand Canyon?  That new friend you meet on the canyon rim.
Thank you for sending in your story Edith.  Your passion for travel, adventure, and truck camping is truly inspiring.  We hope to one day add ourselves to the list of friends you have met on the road.  Hopefully sooner than later.  In the meantime, give Jacque a scratch for us, and keep that wanderlust alive.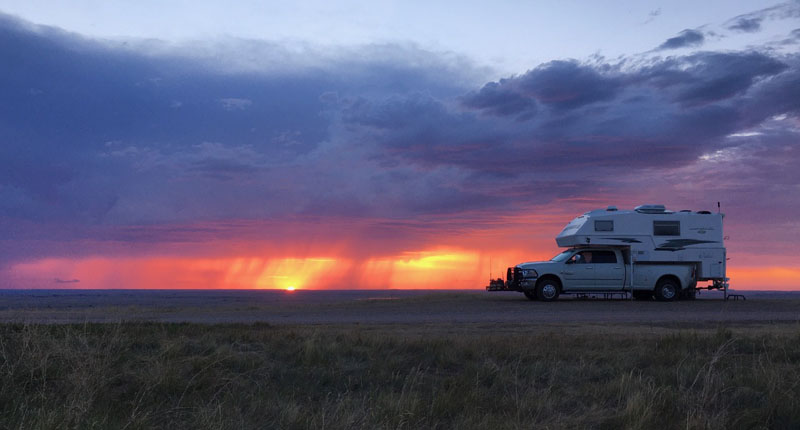 Above: Badlands NP at Buffalo Gap BLM dispersed camping area
Full-Timing With Jacque
by Edith Horn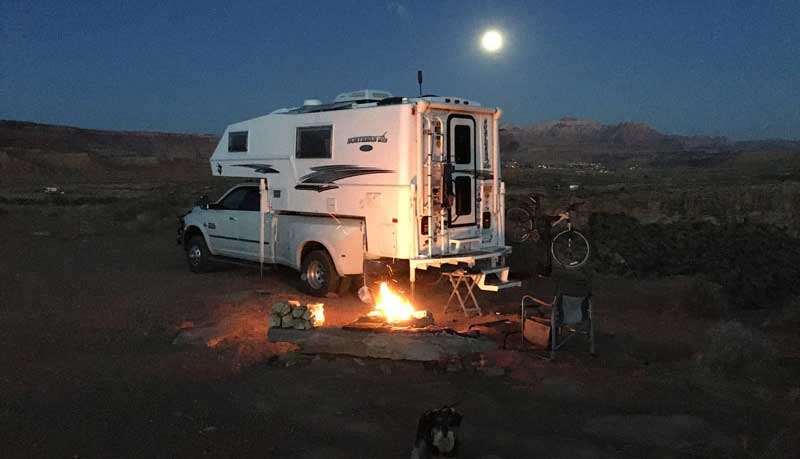 Above: Free BLM camping at Hurricane Cliffs near Zion National Park, Utah
The number one reason I love to go truck camping is the peace and solitude I get from being out in nature.  The mountains, deserts, rivers, and streams are always calling.  Specifically, watching the night skies, exploring the stars through my telescope, and sitting next to a warm campfire pulls on my soul and refreshes me mentally.
I like getting away from the hustle of daily life; cell phones, social media, and the fast pace of city life.  With my truck camper, I can trade that in for spectator star-filled night skies, the big silent sound of the mountains, and trickling streams.  That is the ultimate getaway to slow down, take it easy, and just breathe.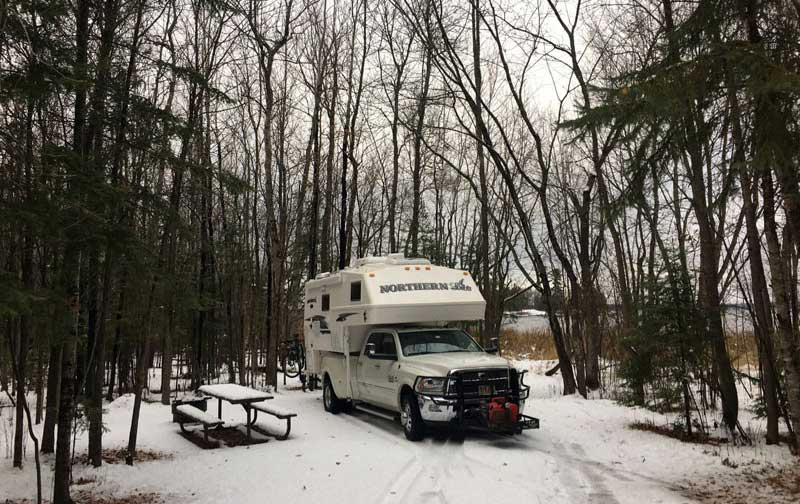 Above: Minnesota State Forest at Wooden Frog Campground
I love going to National Parks as well.  The Grand Canyon's South Rim is my favorite because of the majestic views of ever-changing color with the rising and setting of the sun.  My first trip to the Grand Canyon was on October 15th, 2010.  I participated in a ranger-led four-day backpacking excursion.  We tent camped down at Indian Garden and backpacked to Phantom Ranch and back.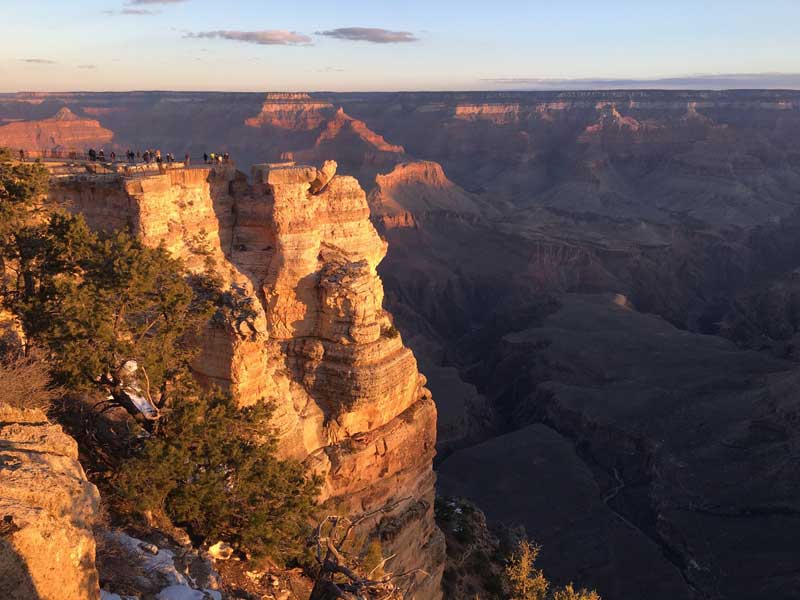 Above: A look-out on the rim of the Grand Canyon
Our first night after setting up camp we hiked out to a lookout over the Colorado River.  As the sun set, I recall what awe I was in, and then it happened; the night sky was set ablaze with the vastness of stars.  I had never seen so many.  I was hooked.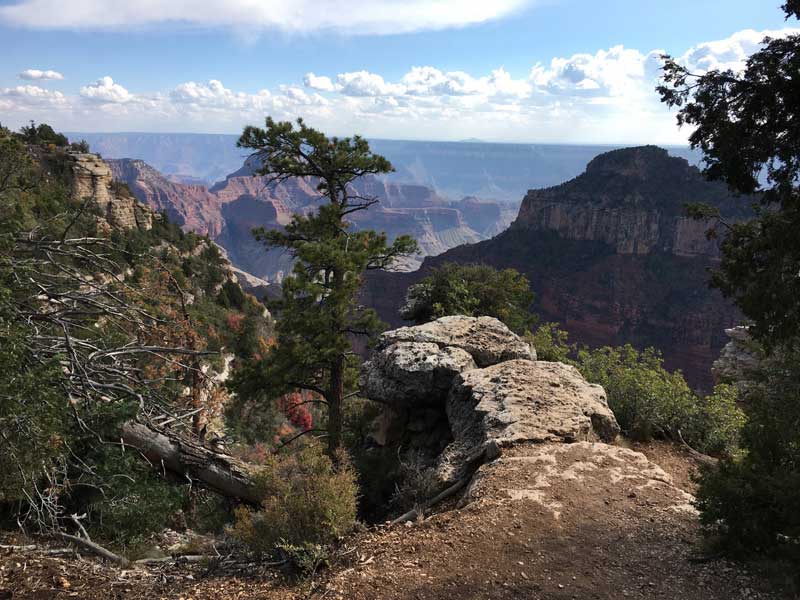 Above: Along the 1.7-mile trail from the campground to the village
I travel with my beloved side-kick, Jacque, my five year old mini-Schnauzer.  I love that Grand Canyon's South Rim has a large connected bike/walking trail system that I can take Jacque along.  The path takes you from the campground to the canyon and many other great locations within the park's system.  This is why Grand Canyon National Park is my favorite; I can take Jacque along on any paved surface.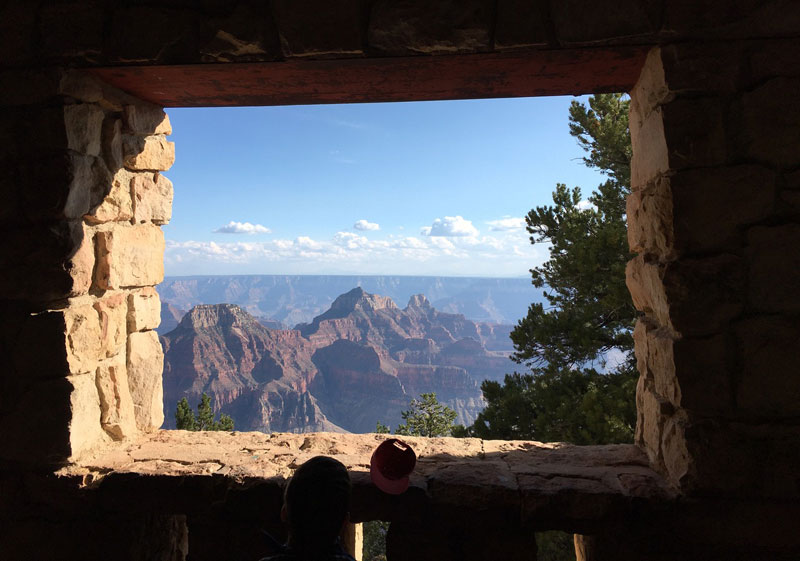 Above: View from North Village observation room
My best tip is to go off-season; March or mid-to-late October.  I typically go in late spring or fall when the temperatures are cool, and the crowds are low.  If it's too warm or cold, I don't have to worry about Jacque.
When visiting the park itself, I always stay at the Trailer Village Campground.  I always make plans to be along the rim at sunrise and sunset.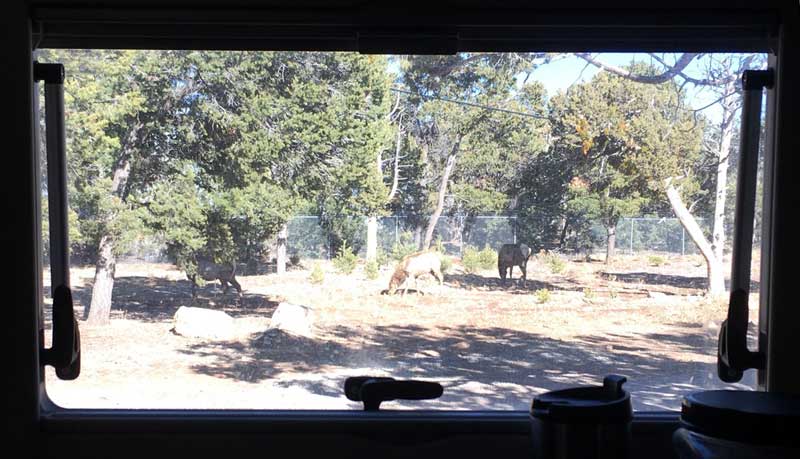 Another treat staying at the campground is the daily visits from the canyon's locals, the hearts of elk.  Be sure to bring a good pair of binoculars.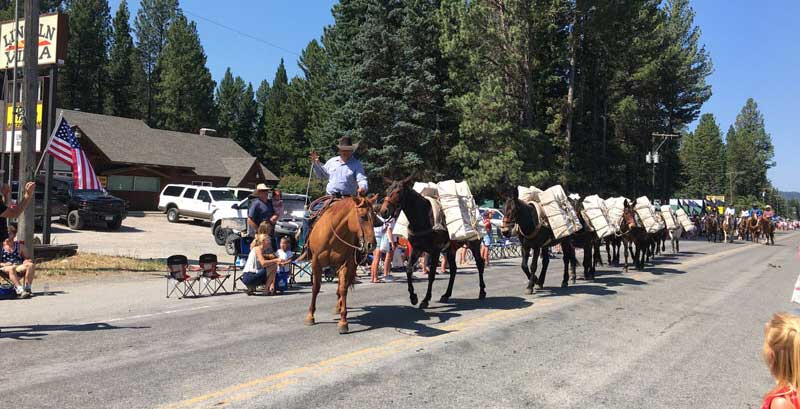 Above: 4th of July Parade in Lincoln, Montana
Truck camping offers the wonderful bonus of the friends you meet along the way.  That has made return trips to specific locations such as Lincoln, Montana for their annual 4th of July Celebration such a joyful and special time.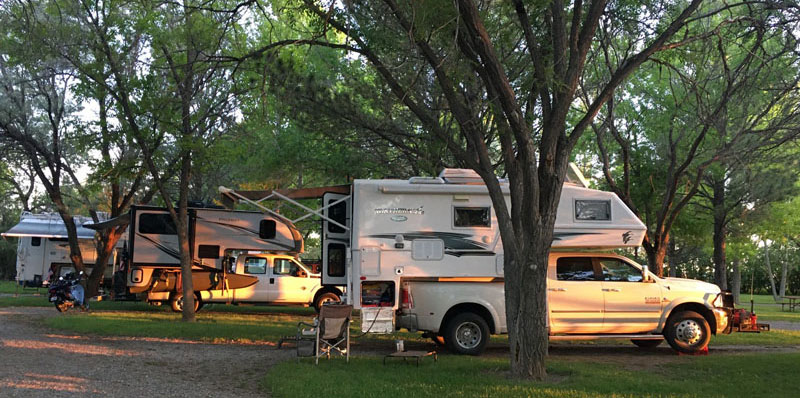 Above: NATCOA Truck Camper Rally in Three Forks, Montana
I have met so many great friends, Rich, Sally and all the NATCOA members, TJ Trek365, Scott and Sasha of Stonyboot, Jared and Candice of StableCamper.  It's been awesome to meet people from New Hampshire to Florida, Arizona to South Dakota.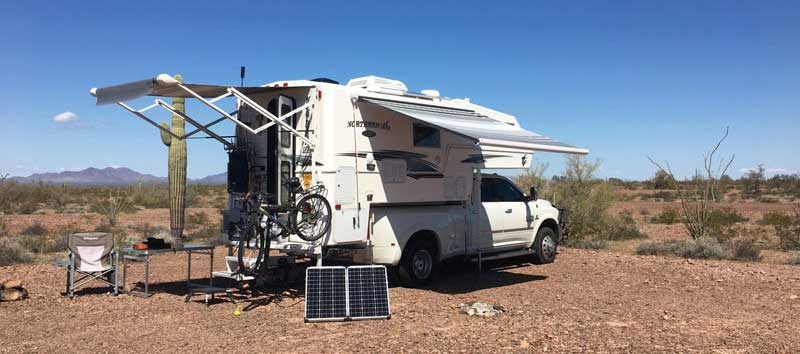 Above: Koa National Wildlife Refuge south of Quartzite AZ.
I have two 100-watt solar panels on top of my camper, and a portable 120-watt panel for charging my solar generator for charging all my portable electric devices such as laptops, cell phones, mobile router, etc.
I travel in my 2019 Northern Lite 10-2 on a beefy four-wheel drive 2018 Ram 3500 dually truck, which has never let me down in getting me into places I wanted to go.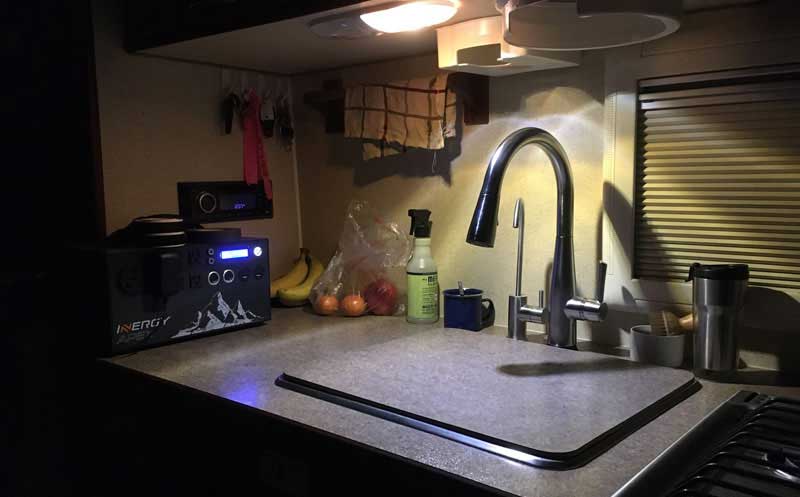 I have made a few small modifications, such as installing a UV water filtration system (see below) and replacing my old faucet with the Touch 2.0.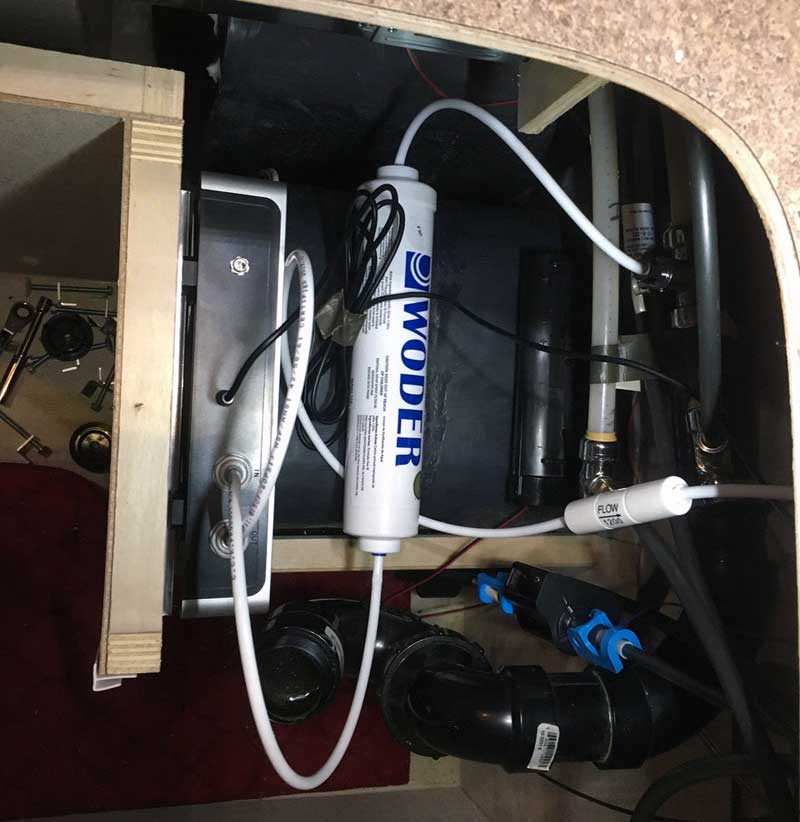 My son and I removed the slide-out pantry and turned that space into a gun rack.  I travel and attend cowboy western shooting competitions and needed a place for my replica riffles and six-shooters of the old west.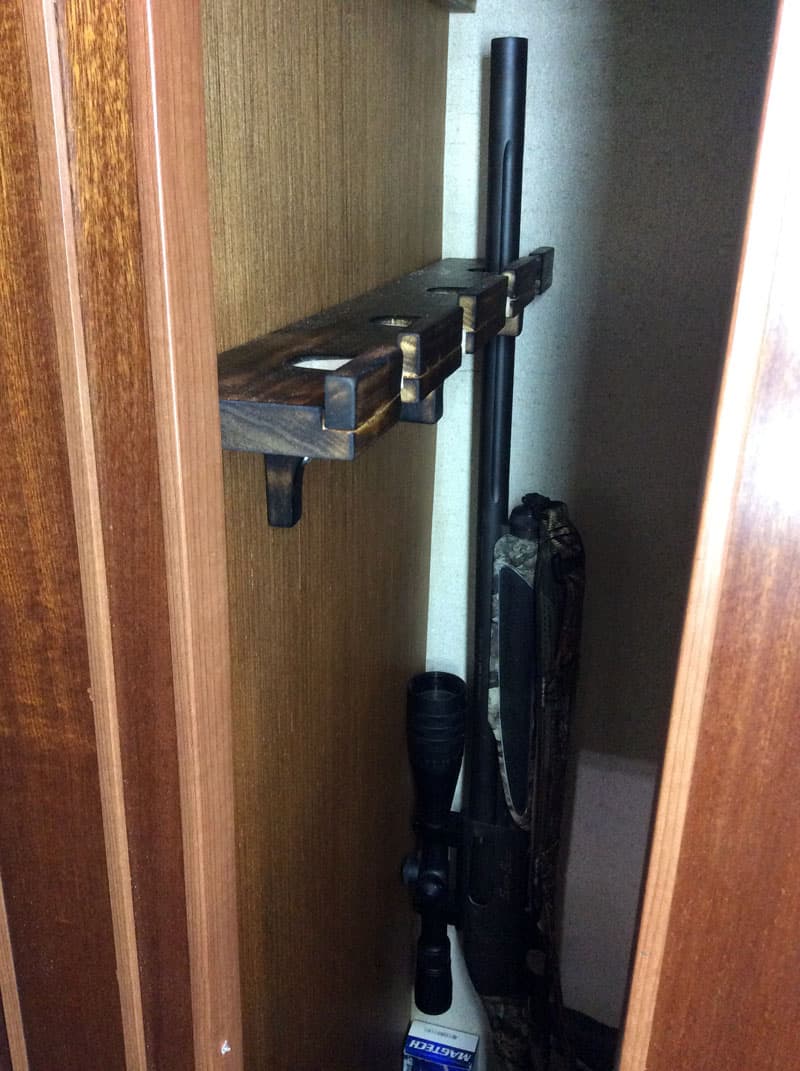 I recently joined The Black Hills Shootist Association, but matches are complete for the winter.  Many of the club members participate in the 1880s Train Robbery between Hill City and Keystone, South Dakota.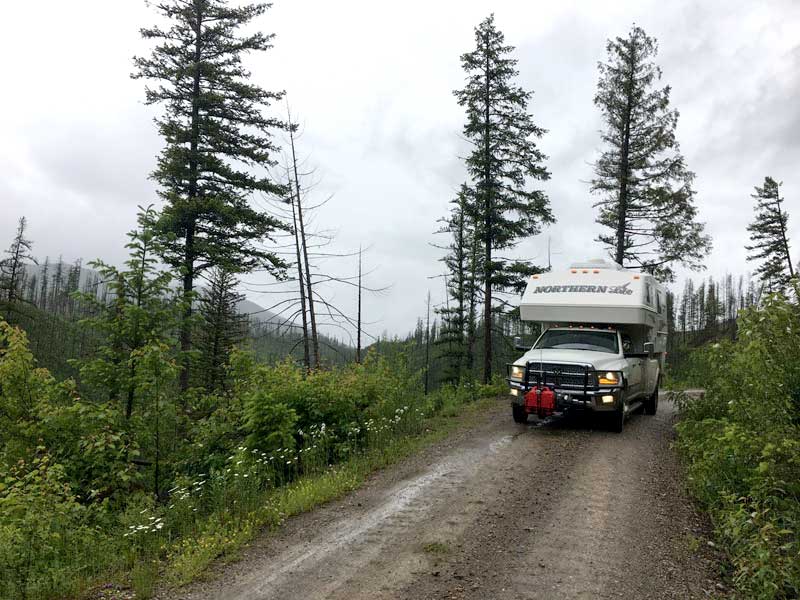 Above: Dirt road in Glacier National Park, Montana
My full-time RV life began in August 2016 when I returned to the USA from a year tour in South Korea.  I purchased a vintage Airstream travel trailer and lived in it until 2019.  Before my retirement in 2020, I purchased my Northern Lite.  I have traveled east to west, north to south since purchasing my camper in January 2019.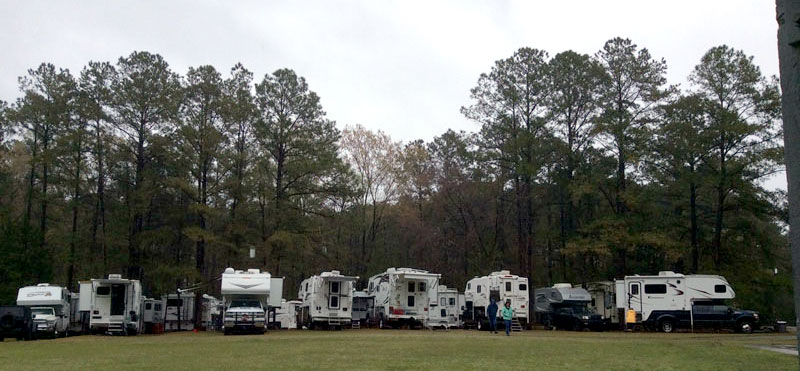 Above: The D&H Truck Camper Rally in North Carolina
My first adventure in my truck camper was attending the D&H RV truck camper rally at Jordan Lake, North Carolina with my two granddaughters.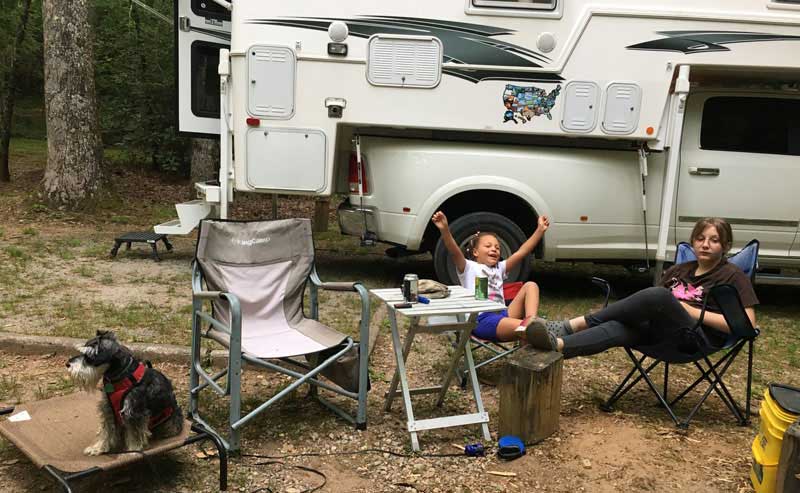 I've also attended rallies in Delaware, New Hampshire, Montana, and Quartzite, Arizona, just to name a few.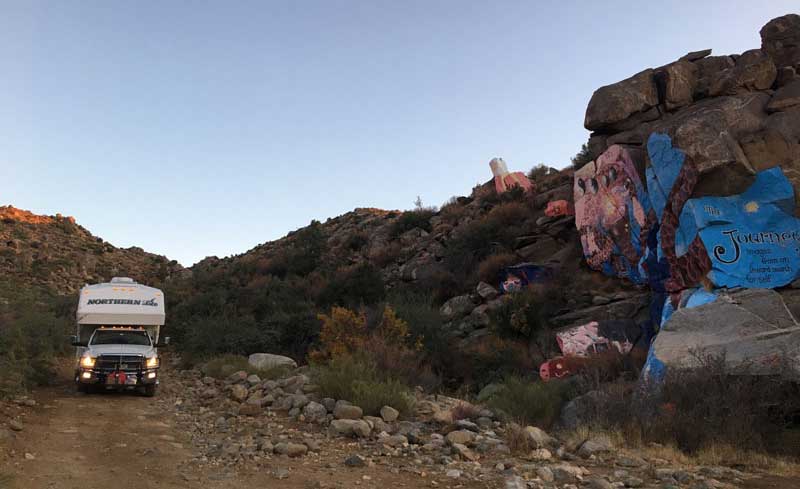 Above: Artwork in the mountains, Northwest Arizona in the town of Chloride
South Dakota, Montana, Wyoming, Idaho, Utah, and Nevada are my favorite states to explore.  From 2019 to 2021, I have traveled to 42 states. I still have Washington, Oregon, Michigan, Wisconsin, Ohio, and West Virginia to go.
Above: Ruby Mountains, Nevada
Over the years I have traveled to every state except Oregon.  Crater Lake National Park is on my bucket list, so someday, I'll make it there.  This year I have made it to so many wonderful locations, such as Zion, Bryce, and Grand Canyon's North Rim.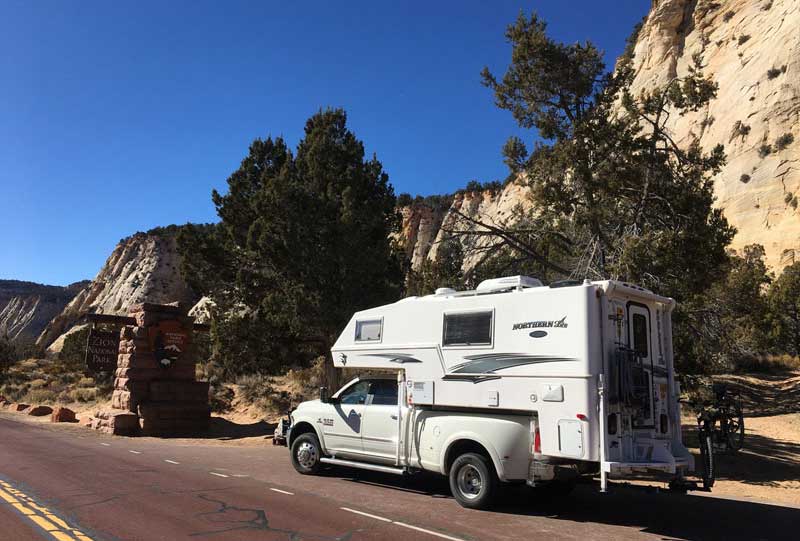 Above: At the entrance to Zion National Park, Utah
There is just so much to see and explore, so many people to meet and share stories with.  And that's why I'm still on the move; my bucket list is still quite long.  It grows every time I travel and meet someone who in turn tells me about some wonderful place I need to go see.  I don't think I'll ever stop traveling, not as long as I have fuel in my truck and rubber on the road.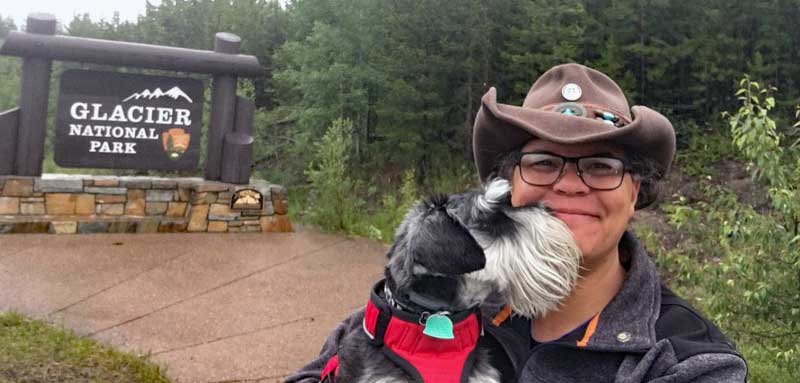 Since retirement in 2020, my outlook on life has been, "Get Out And See America!"  I hope you are, too.