Flight instructor, Phil Jones, tows a 28-foot long Cobra glider trailer behind his 2013 Northstar Laredo and camps on the flight line.  Inside the trailer is a Schleicher ASW-27B glider.  Buckle up.  We're taking it higher.

Nearly every traditional hobby is currently experiencing a generational crisis for survival.  From sewing to astronomy, coin collecting to golf, the next generation isn't taking up traditional hobbies.  Longer work hours and less resources are often cited as the culprits, but one can't escape the influence of screens.
The real tragedy is that traditional hobbies have been directly linked by multiple studies to improved work performance, physical health, and reduced stress.  Want to avoid occupational burn out?  How about just feeling more relaxed?  Pick up a traditional hobby.  Even better, inspire a young person to pickup a hobby you enjoy.
Phil Jones is doing just that, only his preferred hobby isn't exactly traditional.  Flying since the age of 17, Phil enjoys teaching young people to fly sail planes.  Also known as gliders, sail planes are unpowered and rely on air currents to stay aloft.  As Phil explains it, "good stick and rudder" skills are required.
When he's not inspiring the next generation of pilots, Phil parks his truck camper on the flight line and takes on fellow flyers in Soaring Society of America (SSA) glider races.  These week long events challenge a pilot's ability to read the skies as they speed through a determined course collecting points.
His camper unloaded, Phil's truck is ready for any unplanned landings and retrievals.  Back on the flight line, the off-grid Northstar Laredo camper is ready for meals, sleep, or kicking back with the competition.  As it says on a banner in Phil's photos, "Eat… Sleep… Go Flying."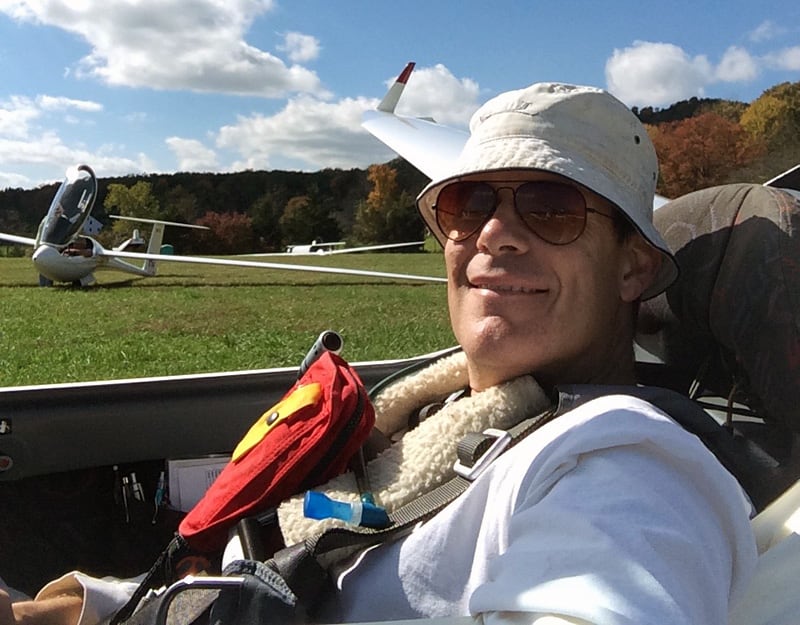 Above: Phil Jones sitting in his Schleicher ASW-27B glider
Your inspiration to become a truck camper was influenced by an article published in Truck Camper Magazine over eight years ago.  How did that happen?
Before we bought a truck camper, I was taking our 2002 GMC Sierra 1500 to glider races and camping in a small backpacking tent for the week.
Then I came across an article in the February, 2012 issue of Soaring Magazine titled, "Truck-Mounted Campers – An Ideal Soaring Solution".  The article was originally published in Truck Camper Magazine in November of 2010.   Soaring Magazine republished it.
The article featured fellow pilot Mitch Polinsky and described how soaring and truck camping go hand in hand.  My wife, Patty encouraged me to consider a truck camper even before the article, but the article closed the deal.
The idea of having a larger space, climate control, a dry bed and my own shower seemed to good to be true.  Not to mention I can cook my own breakfast, make lunch, and have a place to hang out on rainy days when we don't fly.
After your article was published, Mitch Polinsky took a number of long sabbaticals flying around the western United States breaking distance and time records.  He is one heck of a pilot.  It's because of Mitch that I got into this.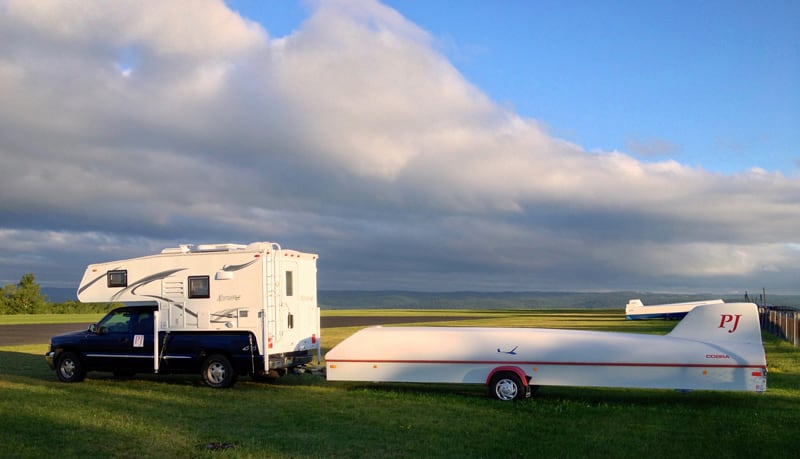 Above: Phil originally had a long bed (pictured above) for his Laredo and then changed to a short bed truck.  The Laredo can be hauled on a long or short bed.
What led you to choose your specific truck camper?
Originally I wanted a pop-up truck camper.  Mitch Polinsky had one and extolled the virtues of this camper type.  However, my wife – who has walked the entire Appalachian trail and ran the Grand Canyon twice in a kayak – said that she wanted a hard side.
We compromised and got a Northstar Laredo.   The Laredo is great because it can work with long or short bed trucks.   When we purchased our 2016 Ford F-250 short bed, the Northstar Laredo was compatible.