As soon as the work week is over, Dr. Scott Runde takes his Arctic Fox 990 and family of four to Wild Mountain in Taylors Falls, Minnesota.  The mission: Ski Patrol and serious family fun.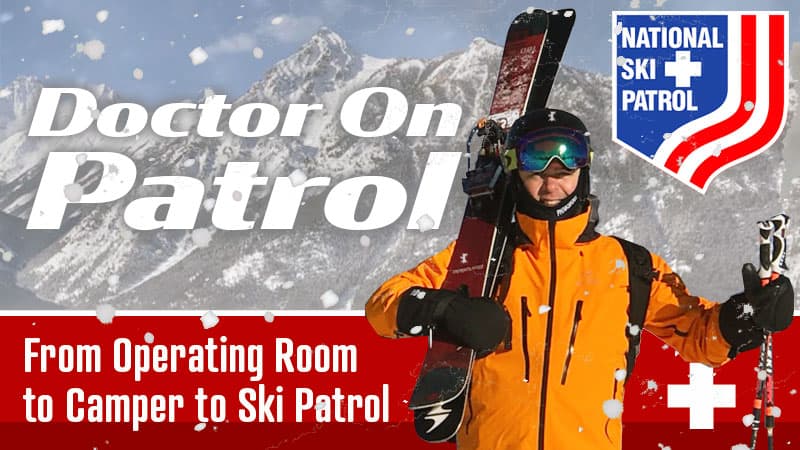 Talk to a dozen truck camper owners and you're likely to get a dozen different reasons why they purchased their rigs.  One tows a fishing boat and camps off-grid at the marina.  Another needs the ability to drive off-road to reach their favorite fishing holes.  Another is preparing for a trip to Alaska.  The more we listen to fellow truck campers, the more we realize there are almost as many reasons to own a truck camper as campers themselves.
With Scott Runde's article, we add one more.  Scott needed a way to transport his active family to the ski resorts where they play and volunteer for Ski Patrol.  He also needed a safe and self-contained base for his family during Covid and required a solution built and insulated for Minnesota's harsh winters.
Scott's GMC 3500 and Arctic Fox 990 were exactly what he was looking for.  Northwood Manufacturing is known for building campers suited to winter conditions, and Scott had a few tricks up his sleeve to kick things up a notch.  Of particular note is Scott's unique propane compartment solutions.  If you're looking to push your cold-weather capabilities, his propane compartment mods are a must-see.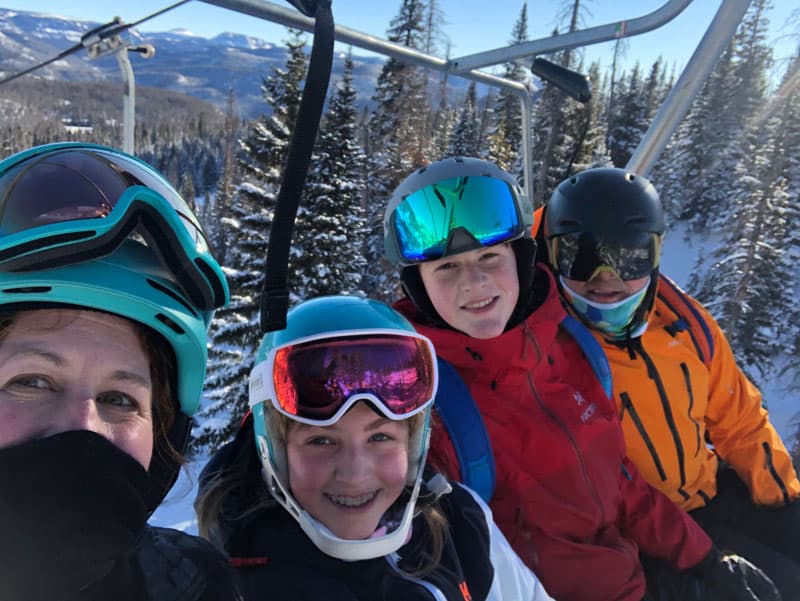 Above: Cheryl, Piper, Jack and Scott Runde
How did you end up working ski patrol from a truck camper?
When I was about twelve, I went truck camping with my Mom in my Grandpa's old truck camper.  We actually went to the National Trappers Convention.  It was the first time I had traveled very far away from home.  That trip clearly instilled some adventure and discovery in my bones.
Growing up in Minnesota, I skied as a kid.  We would ski on local hills and have fun in the brutal cold.  Skiing got us outside and having fun.
After I got married, my wife, Cheryl, and I lived in Glenwood Springs just outside of Aspen, Colorado, and we started patrolling at Sunlight Mountain Resort.  After a couple of years, our life, budget, and wanting to have kids took us to a place where it was more affordable.
That's when I accepted a teaching position in a hospital in Tacoma, Washington.  I also started a new job working as a physician and surgeon.  During that time, we skied at Crystal Mountain.
Then, Cheryl's dad was in hospice, so we were traveling back and forth to Minnesota.  That is when we decided to move back.  We had three other aging parents, and our kids did not have family around in Washington.  When we returned to Minnesota, we got back to ski patrol.
When Covid hit, I thought, "How are we going to safely keep our family doing this?"  The mountain depends on us to be there for our patrol shift and instructing clinic.  Without patrollers on-site, the lifts cannot turn for liability reasons.  Some patrollers decided not to patrol or took a year off because of safety concerns.  There were lots of patrollers who are older and at higher risk.
I work in health care, so I feel a bit more comfortable with the risks.  But, I needed to find a way to keep my family safe.  That goal motivated me because I wanted to be on track with our personal skiing goals.  That's where a truck camper came into play.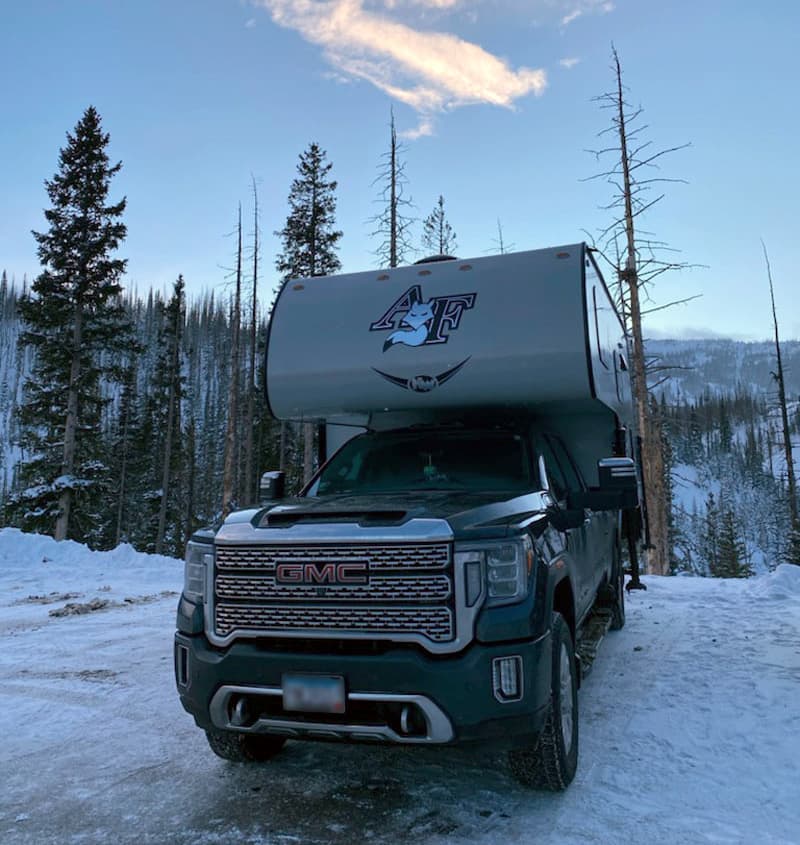 What led you to choose an Arctic Fox truck camper?
Our Arctic Fox 990 is hard core!  I feel it is the real deal for true winter pursuits, even when it is well below freezing day and night.  We have been camping at 18 below zero with showers, a toilet, and a full kitchen, and it's still going strong!  This product is built to live in the cold and it has proven that to us again and again.
Our camper feels like home with a queen bed, wardrobes, a huge refrigerator, and a dinette that actually sleeps two people that can be as tall as 76-inches.  Many other truck camper dinettes are too short for an adult.
I have been surprised at how our truck camper has brought us closer together as a family.  I didn't expect that.  It's opened up a lot of time and opportunity for us to be together.
What did you use for patrolling before you got your Arctic Fox?
Before Covid, would drive a car and go back and forth.  It is an hour and five minutes from our house to the mountain.  Sometimes we would sleep in the first aid room in our sleeping bags because it was two hours each day going back and forth.
Taking the car also meant that we had to eat in public areas and wash our hands in public areas.  We spent a lot of time with other people, so that was a high risk for Covid.  We had to find a safe way to keep doing it.
"Our truck camper has been perfect for our skiing lifestyle."
During the weekend, we can go to our camper as many times as we want to warm up, wash our hands, take care of our masks, or prepare our own food.  Our camper is our safe place.  Having the camper has really reduced our Covid risk.  It has also allowed us to safely continue our personal skiing goals.
When we arrive, we check-in and out.  Other than that, we are in our camper to change clothes, eat, drink, and re-cooperate.  Then, we continue with our shift.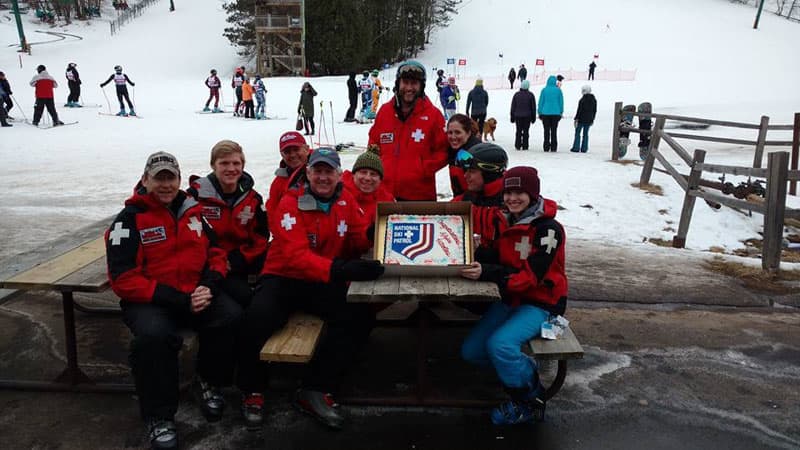 You're a doctor during the week and work ski patrol on the weekends?
Yes, I am a physician during the week.  Ski patrol at Wild Mountain in Taylors Falls, Minnesota is a volunteer position.  There are two ways to be a ski patroller.  The paid position is often 60 hours a week, and the volunteer position is on the weekends through the National Ski Patrol.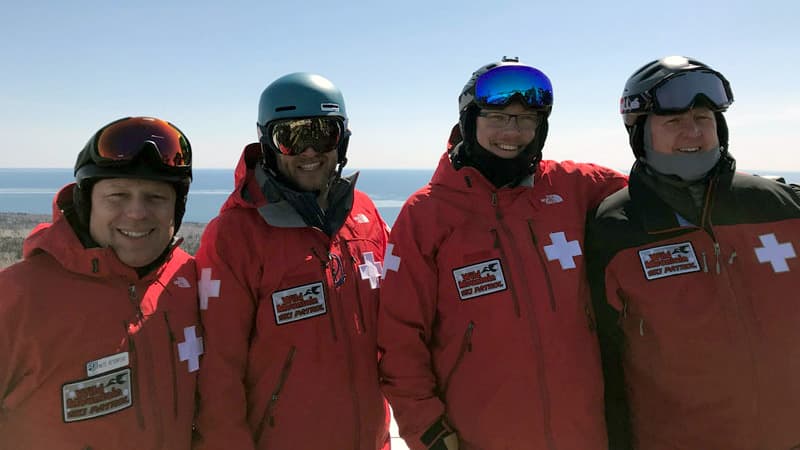 Wild Mountain is an all-volunteer patrol seven days a week.  We patrol on Friday night until they close (usually 9pm and last year it was 2am some nights) and instruct patrollers on Saturday.  Then our son, Jackson, is a ski school instructor on Sunday.  Even out west, we were volunteers and supplemented higher skier numbers and full-time patrollers on the weekend.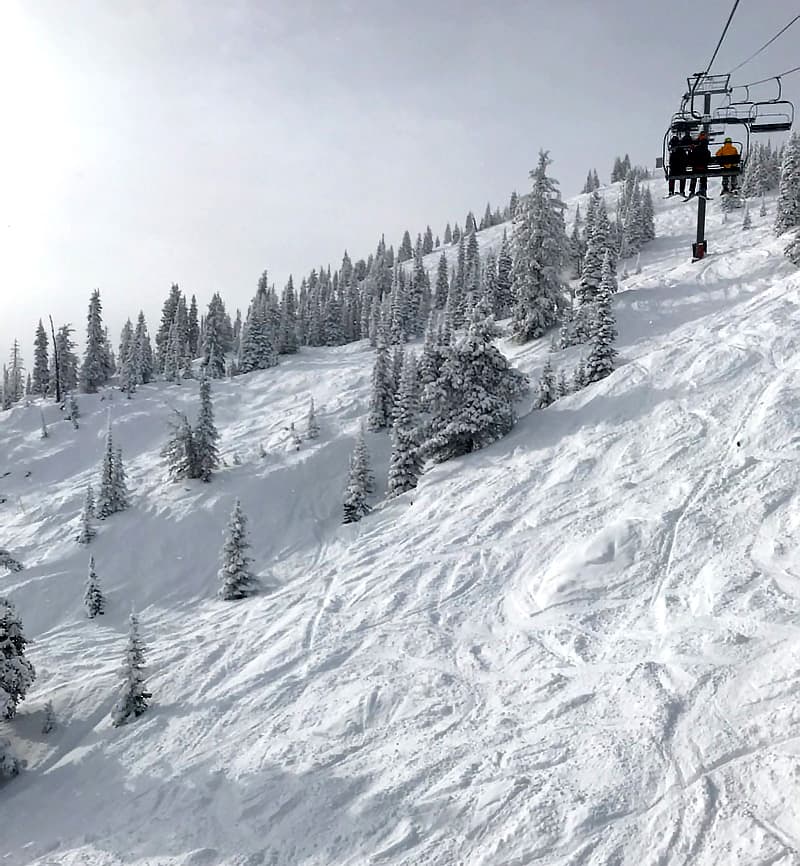 We volunteer on Friday nights.  We come in and patrol from about 6:00pm until close.  Then, there's a new crew on Saturday.  Being a physician, I have a lot to offer the patrol, so it's a good fit for us.  Cheryl is the lead instructor for the Outdoor Emergency Care Course organized by National Ski Patrol and I assist in teaching when I can.  Sometimes it feels like a job and at other times it is bliss.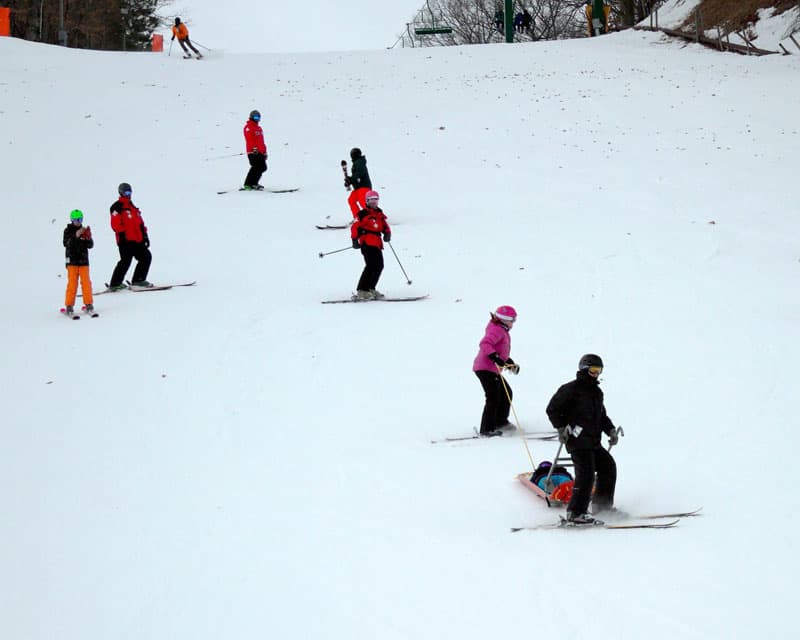 On Saturday I am a ski and toboggan instructor.  We take twenty-five new candidates through ski and toboggan training on the first of January until they pass the test in the middle of March.  We break down the ski skills for the candidates and make sure they can safely perform them.  It's a lot of work, but it's also fun and rewarding.  We also get to meet fascinating people.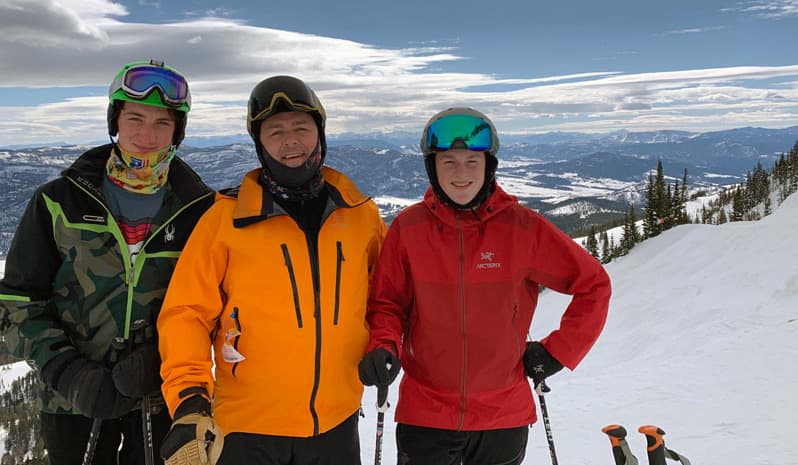 On Sundays, our son, Jack, is a ski instructor, and our daughter, Piper, has ski school.  Then I work Monday through Friday at the hospital.  When the ski season is over for us, we will progress to mountain biking and maybe some bike patrolling on weekends.
Is bike patrol like your ski patrol volunteering?
It is similar.  Many mountains (we ski in the winter) have bike trails in the summer.  Wild Mountain currently does not.  We like to ride mountain bikes and love to find new areas and trails to ride.  This usually means traveling hours or states away.
"Most every weekend we are using the camper somewhere."
Jack is sixteen and a full patroller.  In the summer months, he has also been on the National Interscholastic Cycling Association (NICA) bike racing team.  We go to different mountain bike courses all over Minnesota.  Northern Minnesota has become a mecca for bike tracks.  They are using old iron mine areas that are out of service.  They are buying land back and putting huge mountain bike trail systems there.
Using a truck camper through the Minnesota winter must have some challenges.  How do you prepare your camper for the extreme cold?
When I get home on Sunday night I winterize the camper. I drain the fresh water and the grey and black tanks get dumped into the clean-out standpipe of my home's septic system.  Then I put three-quarters of a gallon of antifreeze in the camper's lines.
During the week I turn the camper's thermostat down to 45-degrees and plug the camper into shore power to keep the batteries charged.  Inside the camper, I plug in our 110-volt electric space heater.  The propane furnace only kicks in when it gets really cold outside.
At some point on Thursday, I turn the thermostat back up to 70-degrees to warm and prepare the camper and the holding tanks.  In the early hours of Friday, I fill the fresh water tank with enough water to easily get through the weekend.
When you are camping in very cold temperatures with water in the tanks and the plumbing lines, it is very important to warm up your camper to 70-degrees Fahrenheit for a good amount of time.  I would suggest a warm-up time of 24-36 hours before adding any water.   Twelve hours may not be enough.  This allows the fresh tank, walls, and all plumbing and compartments to come to full temperature.  Then, add your fresh water.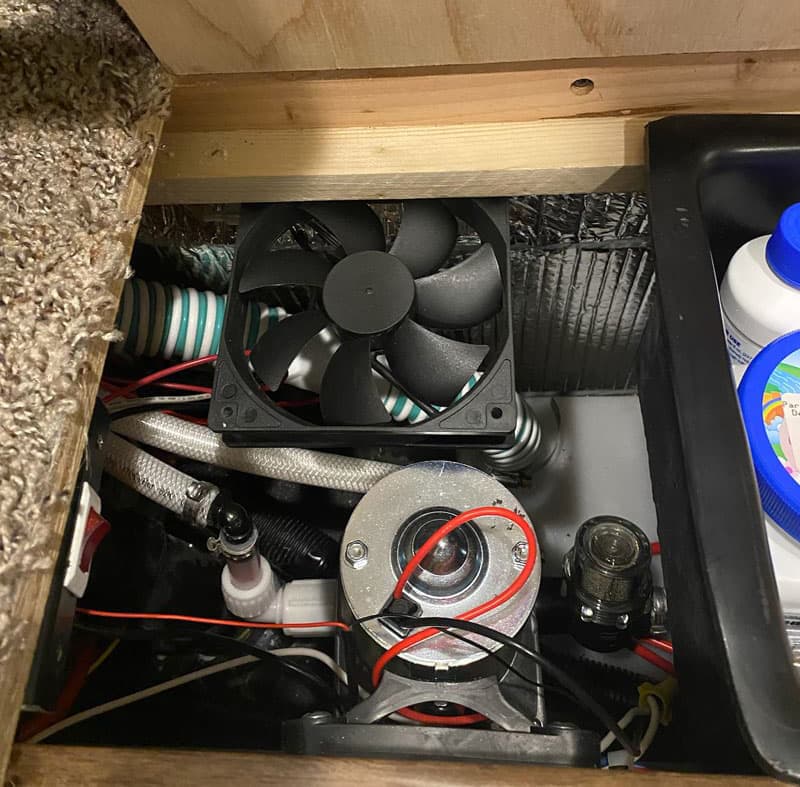 We installed a low voltage direct current cooling fan from a PC.  It is on a switch to blow the warm cabin air into the holding tank area.  It is located under the step up to the cabover.  I'm not sure if the fan is needed, but I added it early on.
Have you experienced any issues with your plumbing lines freezing?
During our first cold nights in the camper, I got some condensation frozen in the elbow that drains water from the fresh water's holding tank.  To address that issue, I installed a 24-inch square 12-volt DC heating pad under and around the outlet of the fresh water tank.  This is the type of warming pad used on RV trailers.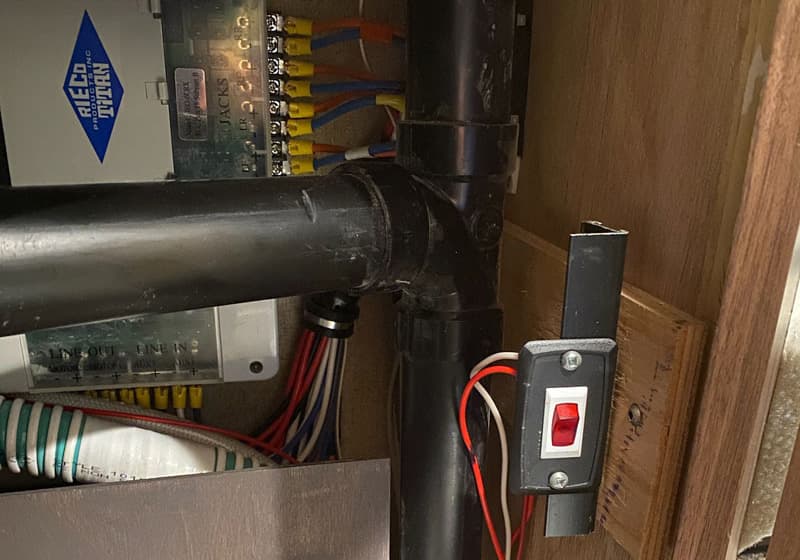 Above: The switch for the 12-volt DC heating pad
After sliding the heating pad in, there have been no further problems getting the pump to pressurize the water line.  The heating pad is only four square feet and requires a small amount of juice.  I only turn it on a few hours before to warm and fill the fresh water tank.  After it is full of water, I shut it off.
Northwood suspends the plumbing lines in their heated basements, which helps for warm air to get to them.  I was still getting condensation in the fresh water tank that would freeze and thaw.  I saw it on the elbow where it came out of the tank.  Then, I'd see a little chunk of ice when I turned on the pump.  Then the pump wouldn't work for a while.
That's when I put the heating pad on the corner of the tank.  I heat my cabin to 70-degrees before the water goes in, and use the heating pads the night before I fill it.  In addition, the computer fan above the tank continuously circulates the air.
Do you monitor the temperature in the basement?
I have used an Acurite thermometer that I put on a string and dropped down into the basement.  The fresh tank is in the forward bottom of the basement.  I put another thermometer in the dump valve area.  Over time, I learned what was happening, and figured out how to keep the cabin warm.
Northwood put a fan below the shower stall.  That helps to dump hot air into the plumbing area.  It only runs when the furnace is on, but it pushes warm air into the basement.  When the furnace shuts off, the fan turns off as well.
Another modification was adding 170-watts of solar.  My camper came with a 45-watt panel.  I added 170-watts to be able to at least get a trickle charge for week-long trips.  Even when it's cloudy and snowing for two to four days in a row, it gets a little charge.
Minnesota's cold is hard on batteries.  Keeping electricity flowing helps reduce that stress.  The LED lights use little electricity from the batteries.  The furnace fan also uses a considerable amount of power.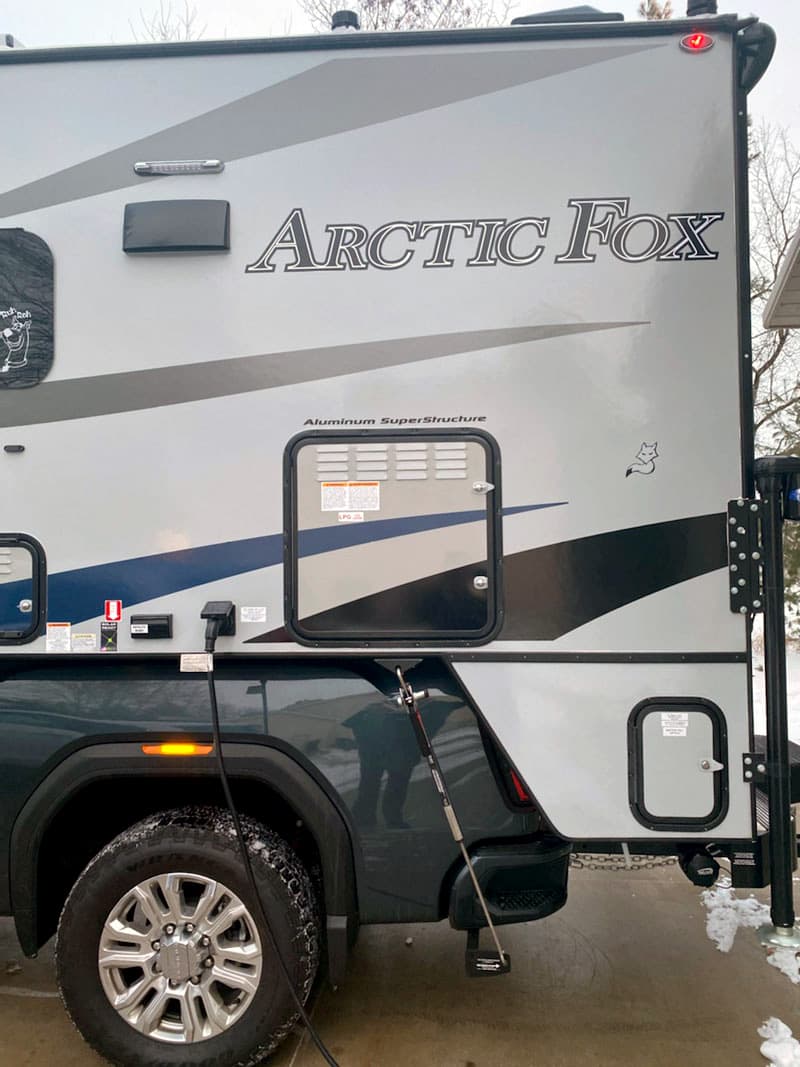 You sent us a few pictures of your propane compartment modifications.  Tell us about that.
Propane does not burn as efficiently at higher elevations, and liquid propane does not vaporize as well when it gets well below freezing.  So at 10-below zero and 10,200-feet, the furnace was choked and could not get enough gas (or burn the gas efficiently at 10,200-feet).  The camper's furnace almost ran constantly during the first night.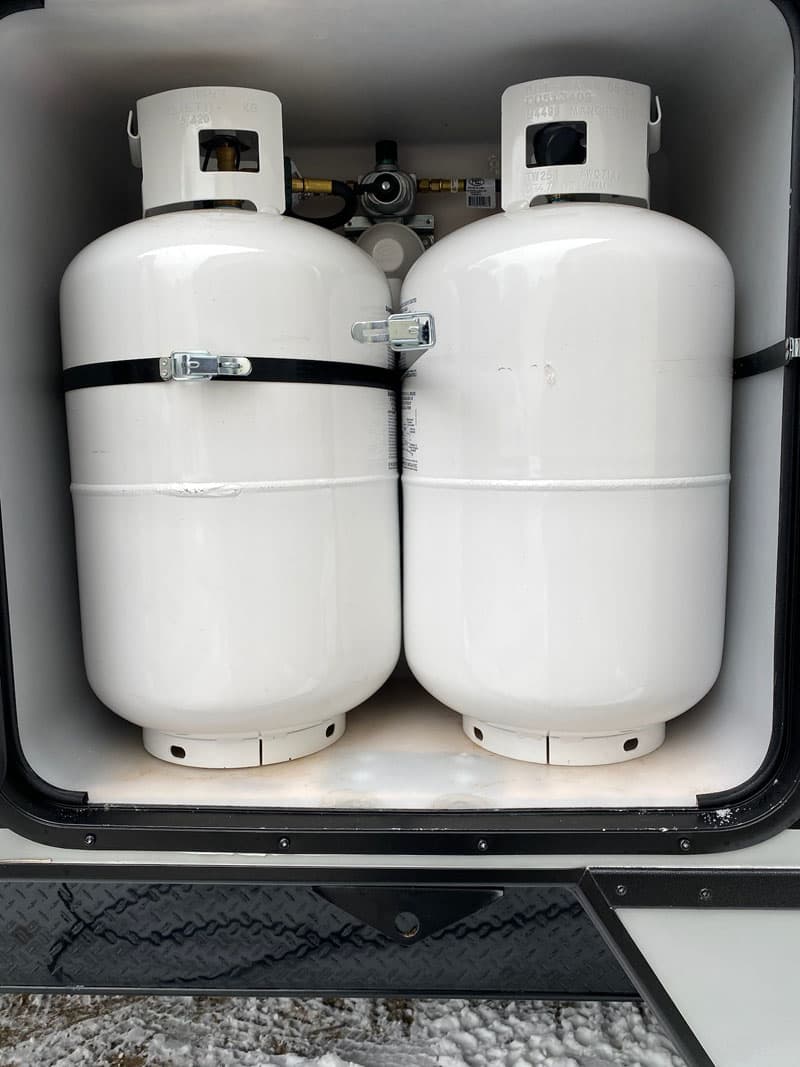 I tried wrapping Reflectix around one tank in a sleeve to keep heat in the tank.  That did not work.
As liquid propane turns into vapor, there is a temperature change.  This temperature change is not able to dissipate from the tank to become warmer if it is wrapped in insulation.  It keeps the tank at the same temperature as the environment.  This insulation also keeps a cold tank cold so you cannot get heat into the tank to aid with the vaporization of the liquid.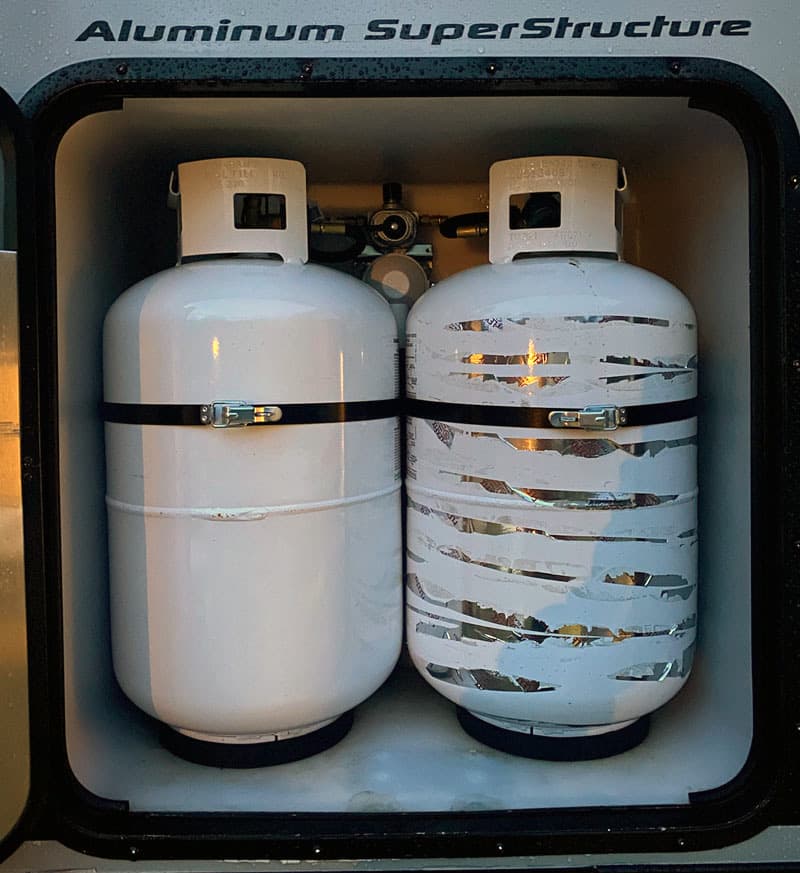 So, I wrapped 18-feet of electric heat tape around the tank on the right (pictured above).  I secured it with mylar tape to keep the warming heat tape in direct contact with the tank.
That works, if I have 110-volt shore power.  This warmed the tank beautifully but all the heat I put in the tank was lost to the environment over time; not the most efficient.  And I do not want or need 110-volt power most of the time where I boondock.
So, I placed a blanket of mylar bubble wrap over the inside of the door to the propane cabinet.  As the heat dissipates from the cabin through the wall and into the propane cabinet outside, the mylar bubble wrap keeps just a little heat surrounding the two 30-pound propane tanks.  The heat surrounds the tanks before it hits the door and is then vented outside.  This allows the liquid to vaporize inside the tank efficiently and the furnace no longer gets starved of fuel.
It only has to keep the tanks a few degrees warmer than the outside air when it is zero degrees.  I think this blanket works better than just the Reflectix because it has more insulation than a simple layer of Reflectix.
Driving from Minnesota to Colorado, living for a week in frigid temperatures at high elevation, and then returning to Minnesota, we used about 60-pounds of propane over a 10-day period of keeping the camper at 70-degrees Fahrenheit.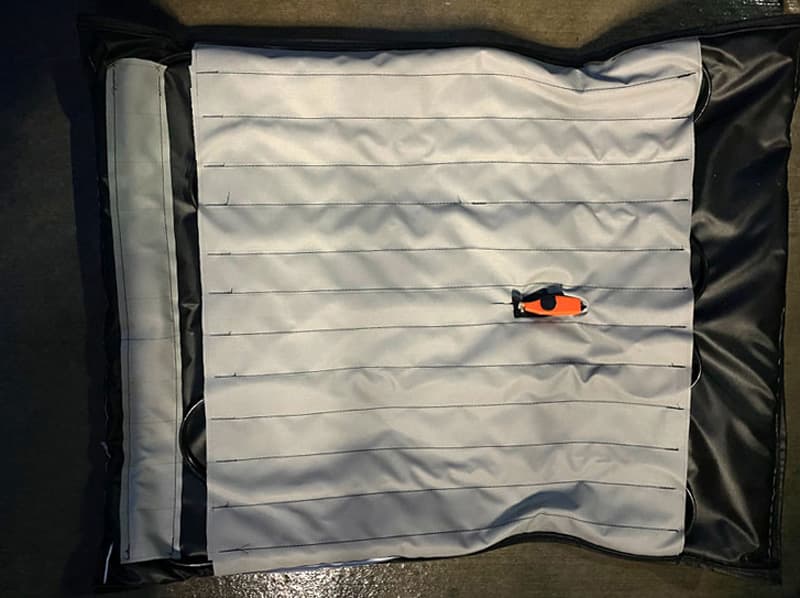 Another solution came from a friend.  Ed Fore in Zimmerman, Minnesota has a canvas sewing business.  He fabricates small heating blankets to cover dual 20-pound cylinders (pictured above).  Many ice fisherman in Minnesota use these on their propane tanks on Ice Castle fish houses.  They usually run generators, so they have 110-volts.  I showed him my camper and he custom-made a little blanket.  It is heavy water-and-sun-resistant nylon inside and out, with Reflectix inside and slots to fish 18-feet of 110-volt electric heat tape inside the blanket to add heat as needed.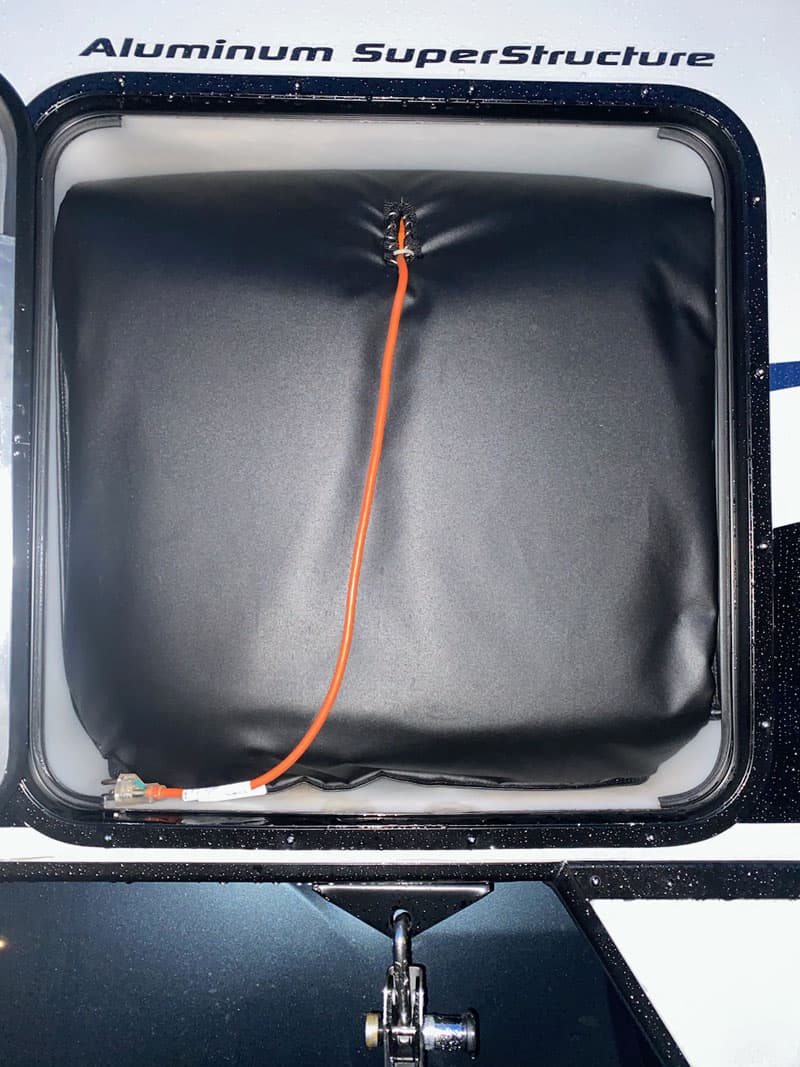 Pictured above is how I put the blanket over the tanks in my Arctic Fox.  Now, as heat from inside the cabin slowly dissipates from the cabin to the propane compartment, it keeps a little heat in the tanks. This accelerates transforming the propane liquid into a vapor.  And I do not need to plug it in at all!
With the blanket on the tanks, is the propane compartment able to properly vent?
The blanket covers the front and top of the tanks, but it is not air-tight.  It is just tight enough to hold some of the heat in.  You can also see the wrinkles at the bottom of the blanket in the picture, which also gives any sinking propane an escape route.  The compartment door is not air-tight around the fitting, which gives it room to vent out.
When I put an air compressor at the top showing the air coming in from the outside, the air exits on the bottom left and right, even with the blanket on.
From my fabrication and fit, I feel comfortable that any leaking propane vapor will dissipate outside.  But, that is always something to be aware of and responsible for when dealing with propane.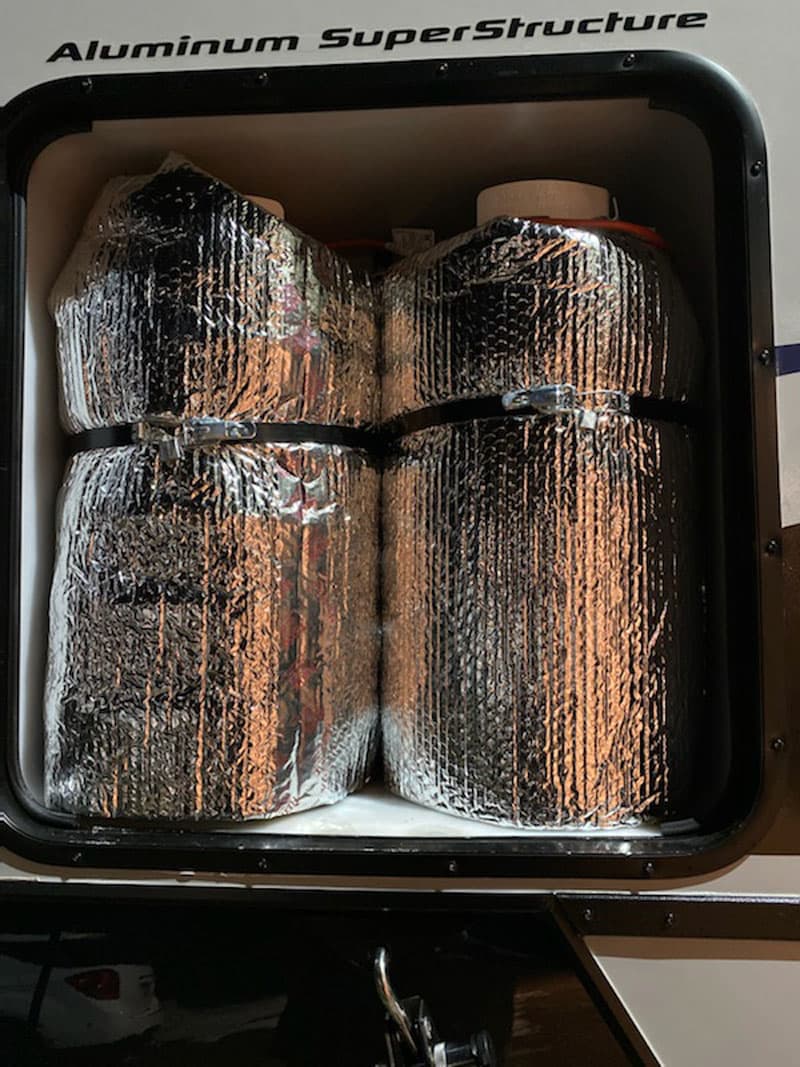 Without the blanket, I would use Activex mylar bubble wrap (pictured above).  Mylar prevents radiation, so even with cold air around it, the heat stays in.  I have taken the Activex mylar bubble wrap and cut it to fit the two windows in the cabover.  With the Activex, the cabin is so much warmer and it cuts down on propane usage a lot.
We were in Colorado over Christmas with no bubble wrap and the blind was open.  The radiation heat was able to transmit through the window, so it moved the warmer heat from one area to another.  The Mylar stopped the radiation completely.
Do you change your camping behavior when you are in really cold weather?
With truck camping in the extreme cold, like below zero during the day, I still stay fairly close to the camper to be certain my furnace stays running without concern.  I also watch my propane levels closely and predict when I will need to refill days in advance.
It sounds like your camper has been a great solution for your family.  Is there anything else you'd like to add?
With our camper, I wanted to expose our kids to be somewhat conservative with consumption.  We only bring the food we need.  We don't bring bags and bags of stuff.
My kids are learning to go skiing with minimal equipment in addition to their ski boots and skis.  They are seeing that they don't need a 40-pound suitcase of gear to go on a weekend trip.
When we purchased our camper, I thought about my young kids and wife driving a camper.  My family had a farm growing up and I am used to pulling heavy things.  I have seen a lot of accidents happen with trailers and less experienced drivers, slick winter roads, or heavy traffic.
Truck campers are easier and safer for people to drive.  That made us look at truck campers again.  My sixteen year old son could drive it and be in control; unlike a big trailer behind us.  He's not having something sway.  Visibility and stopping distance are improved as well.  Jack and my nephew, who is 18, may be taking it on trips in the future and I have no problems with them driving it.
Scott Runde's Rig
Truck: 2020 GMC 3500, 4×4, single rear wheel, long bed, diesel
Camper: 2020 Arctic Fox 990
Tie-Downs and Turnbuckles: Torklift aluminum tie-downs, stainless turnbuckles
Suspension: Torklift StableLoads