After surviving the loss of his wife of fifty-three years, Dan McKinnon picked himself up, bought a pop-up truck camper, and set out across the country.  The road magic followed.

Dan McKinnon has one of the best truck camping road magic stories we've ever heard, and that's just the Spokane part of his cross country trip.  Chances are if Dan hadn't left Florida in his truck camper, some wonderful and important things would never have happened.  Can life change just by stepping into your truck and hitting the road in a truck camper?  As you're about to read, it sure can.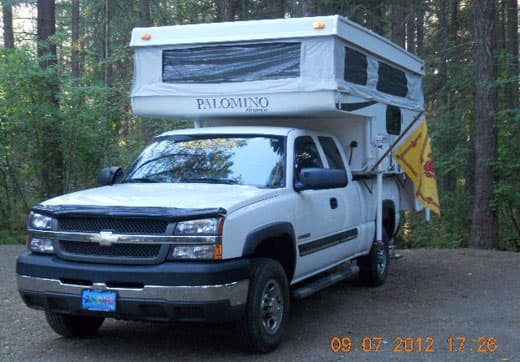 TCM: After being in a travel trailer, why did you choose a pop-up truck camper?
Dan: My wife and I started with a travel trailer in 2003 and put about 20,000 miles on it.  My wife passed away in February of 2011.  I later sold the trailer because I didn't want to pull it by myself.  Eventually the travel bug got back in me, so I started researching what could I do by myself.  A truck camper suited that idea.
I like the fuel savings a pop-up truck camper can offer.  Without the camper loaded, my Chevy 2500 gets about fourteen to fifteen miles per gallon.  On my 11,000 mile cross-country trip, with the Palomino loaded, I averaged 12.2 miles per gallon.  I think that's decent, especially when I compare that with the eight to nine miles per gallon I averaged with the travel trailer.
The rig is much more aerodynamic with the pop-up truck camper.  Being seventy-six years old, with no marriage plans after fifty-three years of being married already, the pop-up truck camper is great for just me.  There's plenty of room.
TCM: You talked about making a truck camper packing list when you emailed us a few months ago.  Where did that list come from and how did it work out?
Dan: The truck camper packing list is a variation of the packing list we used for the travel trailer.  I still packed too much.  There's a great storage space under the bed and I filled it up with clothes.  After eleven weeks there were still clothes that I packed but hadn't worn.  If I do a long trip again, I will certainly take less clothing.  I forgot what cold weather was like, so I did end up having to purchase some warmer things with the highlight being an electric blanket.
I am more limited in space with the pop-up truck camper, but I can pull into any store parking lot and get what I need.  With the travel trailer, there was always a question about where I could pull in to get gas, or which grocery story I could go to.  And I always had to park far out in the lot.  Those problems are history now that I have a pop-up truck camper.  I love it.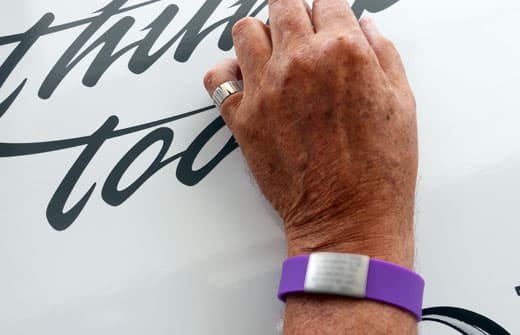 TCM: I saw the picture of your RoadID bracelet.  Tell us about RoadID.
Dan: RoadID was advertising when I was watching the Tour de France and the other bicycle road races in Europe.  My son, Lance, said, "You need ID if you're traveling by yourself".  The RoadID bracelet I have has my name, my son's name and a phone number.  It also has a 800 phone number and a serial number and an ID number, which allows one to enter their website.
I entered my medical history into the RoadID website including the medications I'm on.  If something were to happen to me, the hospitals would know about my medical history through RoadID.  You cut it to fit the diameter of your wrist, and it snaps on and off.
It's definitely good for people traveling by themselves.  If I was in an accident, or go hiking and fall and get knocked out, no one is going to know who I am.  It's very beneficial for safety.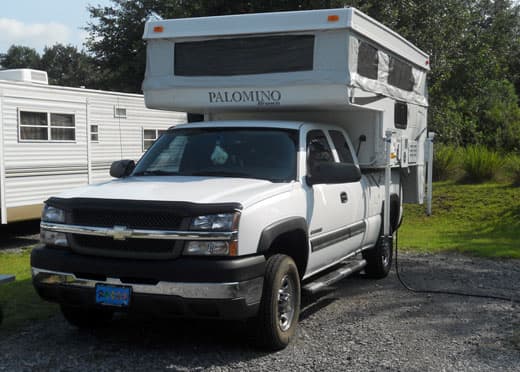 Above: Dan starting his journey out west; day two of his ten week adventure
Above: Avenue of the Giants, Redwood National Park, California
TCM: Tell us about your recent cross country trip.