Nikki and Mike Potter share their incredible off-road adventures exploring The Last Frontier, the Great White North and the Lower 48 in their custom Phoenix Camper.  Get your bucket list out now.  Alaska boondock spots, tips and tricks ahead.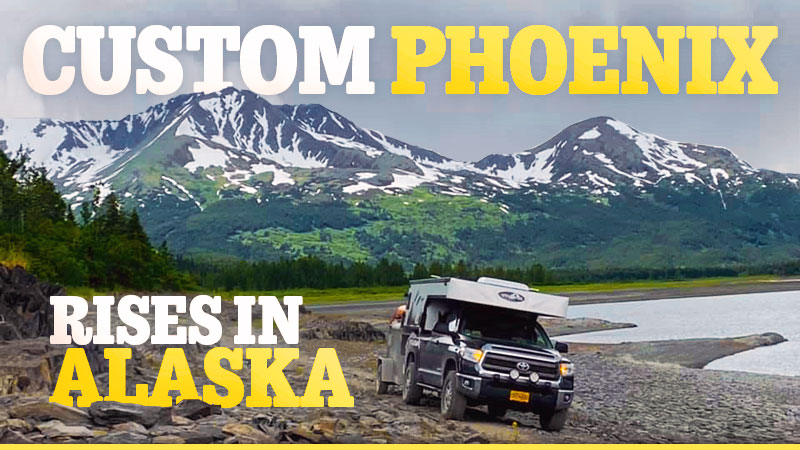 Understandably, we get a lot of reader emails from newbies looking to buy the best truck camper right out of the gate.  These folks have never been truck camping, but they want to start with the very best.
The problem is they can't possibly know what camper is the best for them until they've put some serious truck camping miles and experience under their proverbial belts.  Until you've really been truck camping, you don't know what you don't know.
Nikki and Mike Potter reminded us of this rule when we asked them how they got into truck camping.  As it turns out, it took several car camping trips and trailers to discover that only a truck camper could really go where they wanted to go and do what they wanted to do.  But the quest didn't end there.
They started with an affordable Palomino pop-up camper.  That proved that a truck camper was the right RV type for them, but it also revealed what they liked and needed in a truck camper.  The Palomino got them that far, but didn't tick every box.  In fact, no production make or model offered what they really wanted in a truck camper.
Their next step was contacting Phoenix Campers.  Or as we refer to them, Phoenix Custom Campers.  That's all they do at Phoenix Campers; build the custom truck campers of their customers' dreams.  Can't find exactly what you want in a truck camper anywhere?  Phoenix Campers is your team.
Nikki and Mike also happen to be residents of Alaska with some choice advice on truck camping in The Last Frontier.  That includes two must-see spots to boondock and some vital insights for anyone planning a trip.  Get your bucket list out now, and a pen.  This one's chock full of Alaska tips.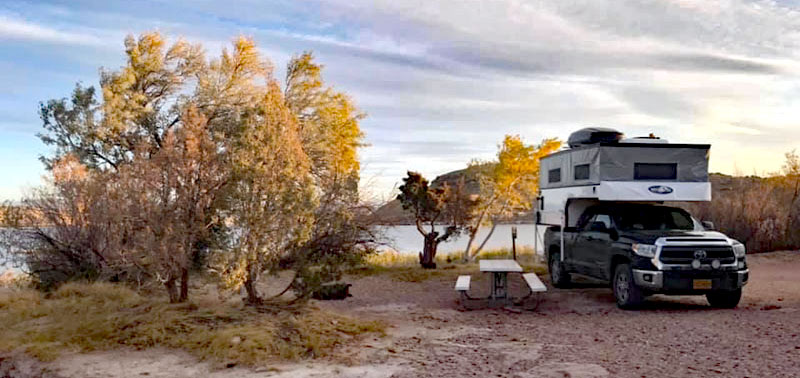 Above: Starvation State Park near Roosevelt, Utah
How did you get into truck camping?
Nikki: We went car camping and tried several different tow behind trailers before buying a Palomino pop-up truck camper.  We liked the Palomino because it allowed us more mobility off-road, but it wasn't ideal for cold weather and lacked a bathroom.
We used the Palomino for two years including a month-long trip down to the Lower 48 and many adventures throughout Alaska.  The Palomino gave us the opportunity to try out a truck camper and discover the many advantages of one.
Through those experiences, we figured out what we wanted in a custom camper.  We looked at many custom manufacturers but always came back to Phoenix Campers.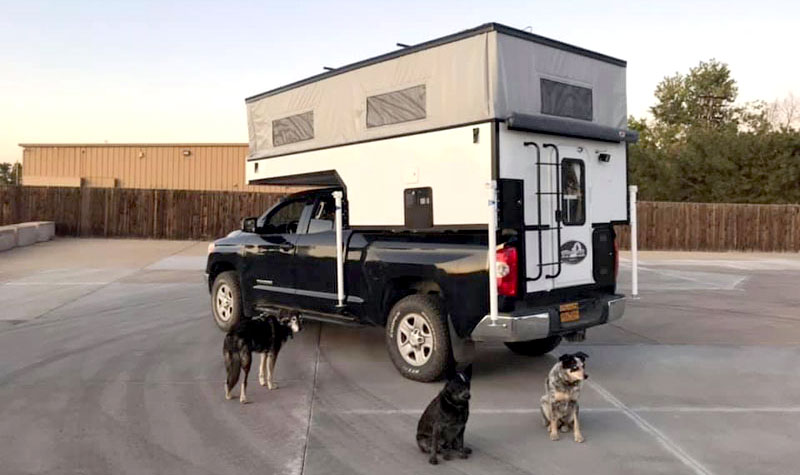 Above: Picking up their Phoenix Camper in Denver, Colorado
What was on your custom camper wish list?
Nikki: We wanted a camper that was lightweight, had a low center of gravity and was streamlined.  We also wanted to be completely self-contained with the ability to have a bathroom and take a shower.  We did not have a bathroom in our Palomino, and it is difficult to find shower facilities in Alaska.
Mike: We wanted a camper that was well insulated.  We also wanted a north-south bed for better storage, and we liked that we would not have to crawl over each other.  It has worked out better.
I think it's a good idea to start with a used or more affordable truck camper to find out what you like and what you don't.  We have learned important lessons with every RV we've owned, including what would be better.  Truck campers suit us the best, but we wanted something nicer with a few more amenities.
We looked at many manufacturers, but Phoenix Campers was the one company that would build us whatever we wanted and offer the quality we were looking for.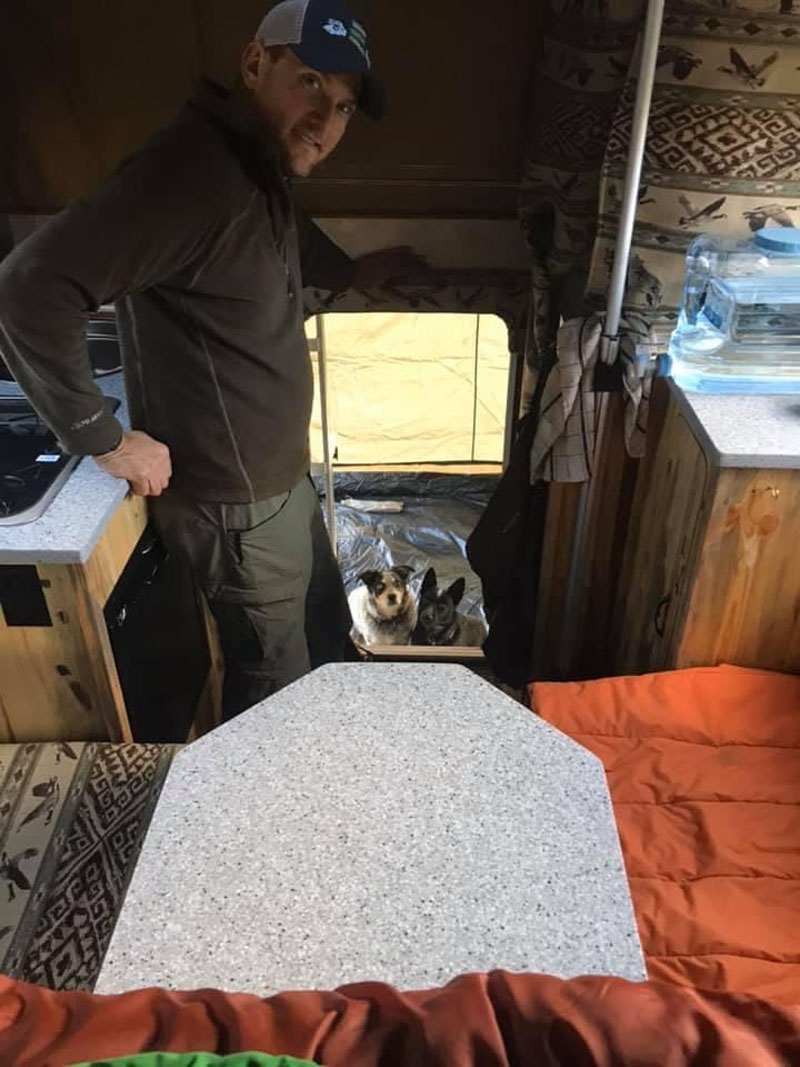 You live in Alaska.  Phoenix Campers is in Colorado.  Did you see a Phoenix Camper before ordering?
Nikki: We actually never saw a Phoenix before we started our process with them.  There was one Phoenix Camper in Alaska, but it was not near us.
When we decided that we were going to get a Phoenix Camper, there was a six month wait.  Living in Alaska, we wanted to pick it up at a certain time.  That stretched out our delivery date a full year.
They started our camper about a month before we traveled to Colorado.  I was a little nervous about our investment since we weren't there, but they sent us photos during the build.  The process was pretty straight forward and Cari and Robby Rowe (Co-Owners of Phoenix Campers) were in touch with us the whole time.  They were very easy to work with.
Before they started our camper, I emailed examples of what we wanted.  They don't typically do a front-facing dinette, so I sent them an idea of what we were looking for.  The custom build also allowed us to have the floor plan that we wanted with a cassette toilet and no grey or black tanks.  We are free of having to find dump stations, which are limited in Alaska.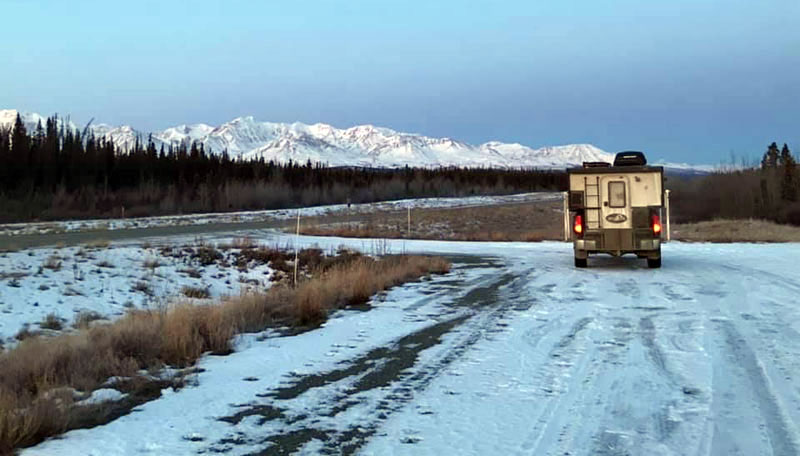 Above: Returning to Alaska with their new camper
Are dump stations that difficult to find in Alaska?
Mike: There are dump stations here, but most are only open during the summer months.  It was always inconvenient to find one on the way home.  We were always going out of our way.  We would have to adjust our travel plans to find a dump station.
Nikki: The cassette toilet system is easier and quicker.  There are outhouses everywhere in Alaska, so it is easy to find a spot to dump the cassette.  Most of our longer trips are in October, well after people stop camping and the dump stations are closed.
Fresh water is also sometimes hard to find.  Mike set up a pump and filter that can safely draw water from a fresh water source into our camper.  I have another system to filter drinking water.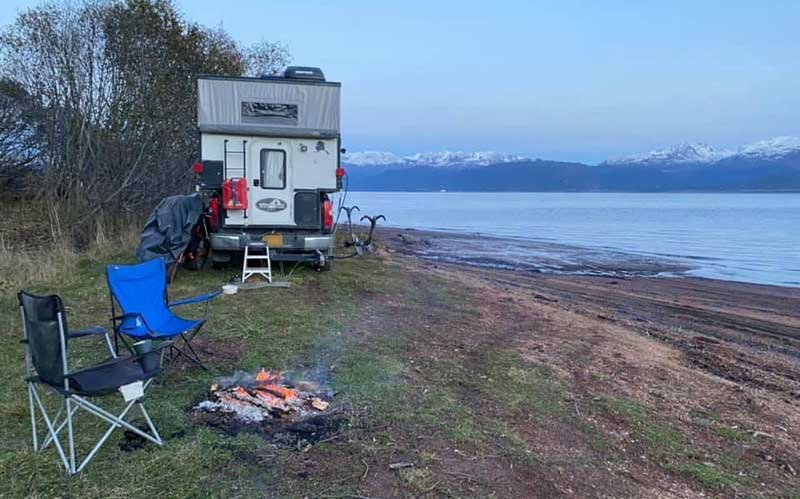 Above: Camping in Homer, Alaska
Mike: Alaska state parks and federal parks don't have showers available.  I think because winterizing is a challenge.  In most towns and cities there's a laundromat and some have showers, but they are not convenient.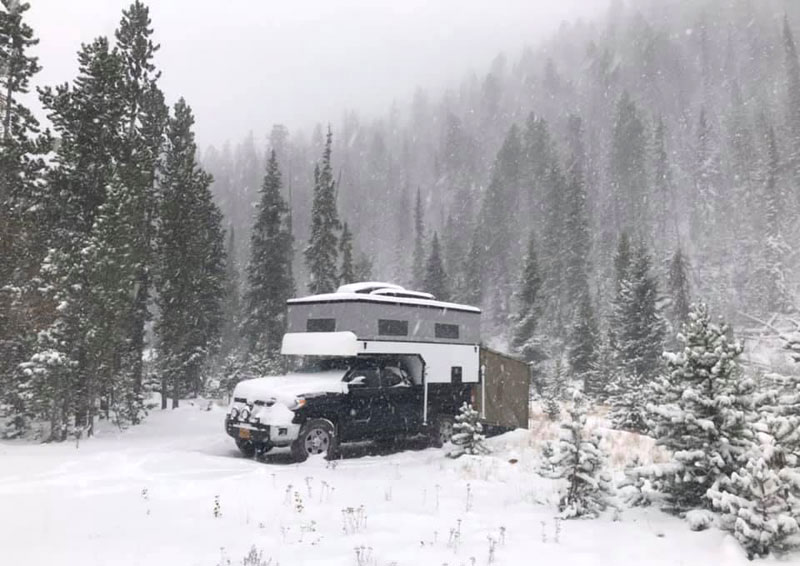 Above: A snowstorm just west of Boulder, Colorado
You mentioned that you worked with Phoenix to make sure your camper was insulated for Alaska.  Did you make any insulation changes to the standard Phoenix build?
Mike: Phoenix Campers are fully insulated with block foam insulation.  That was all we specified, and to have a suitable heater.  Once I got the camper I made some modifications here and there to keep air circulating through crawl spaces and make sure the water lines won't freeze.  All the tubing is PEX so it shouldn't cause damage if it freezes.  We have been well below zero at -15, and the camper has been fine.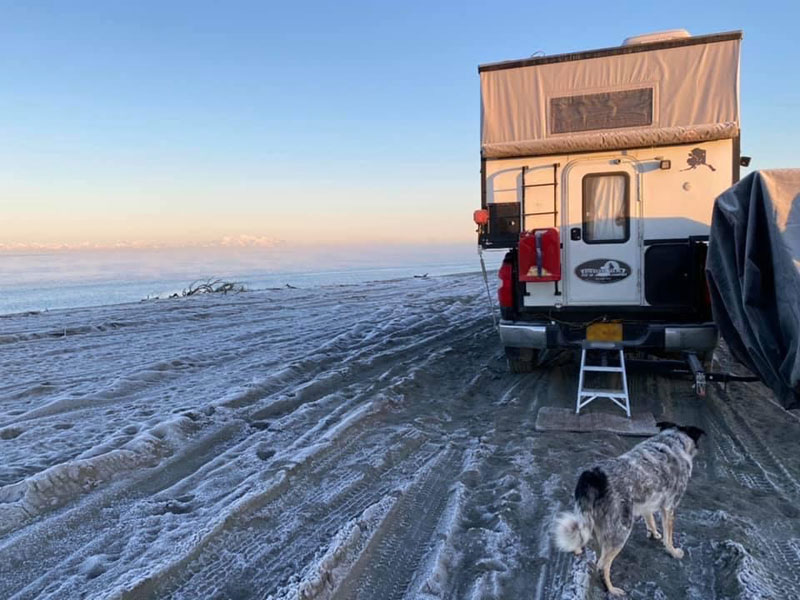 Above: A cold morning looking out over the Cook Inlet, Kenai, Alaska
Nikki: The soft-wall canvas on it features foil-faced bubble-wrap insulation inside for an extra layer of insulation.  If it's sunny you can't see through it, which is nice for Alaska in the summer when it's light at night.
Mike: In Colorado, where Phoenix campers are built, they are familiar with cold weather.  Their pop-up soft-wall material is the best I've seen.  It is impressive at 1/4-inch thick.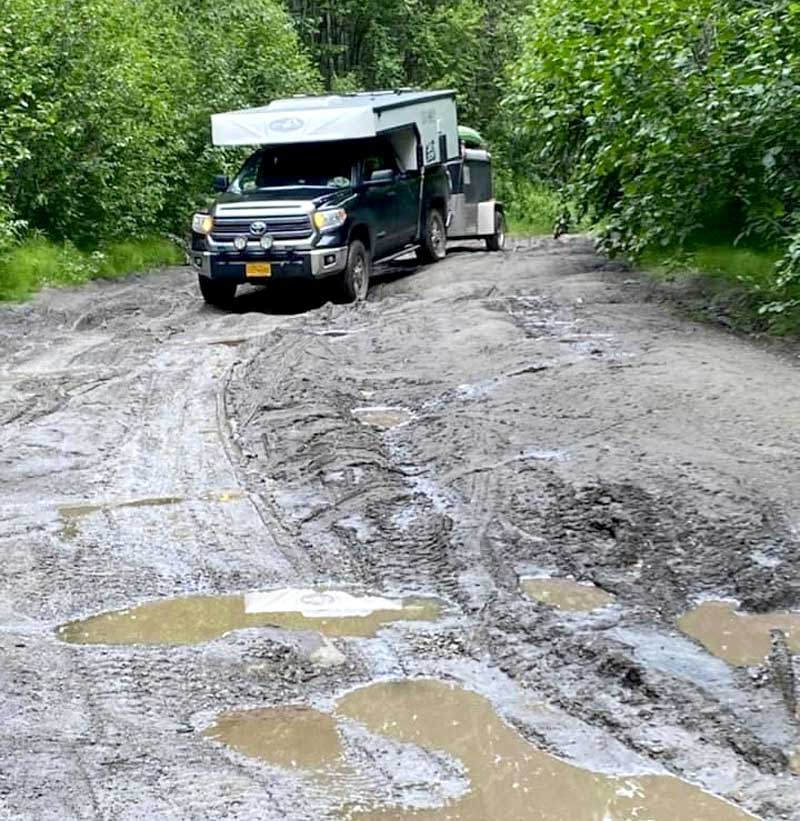 Tell us about the trailer you tow, and what's in it.
Nikki: Sometimes we tow a small 4 by 6-foot enclosed Haulmark cargo trailer with bikes, kayaks, and extra gear.  We can put the bikes on our hitch bike rack and the kayaks on the roof of the camper, but the trailer is more convenient.  We also have an ATV and snowmobiles that we can tow on a trailer behind the truck.
Mike: There are drawbacks to towing a trailer.  It's always there.  Turning around or parking in town is not convenient.  But, the trailer is more convenient for accessing equipment.  There is no climbing on the roof, and the bikes stay dry and clean.  Plus, there is a lot of storage for gear.  You're taking all that weight and towing it instead of hauling it.  Weight is a concern with a camper.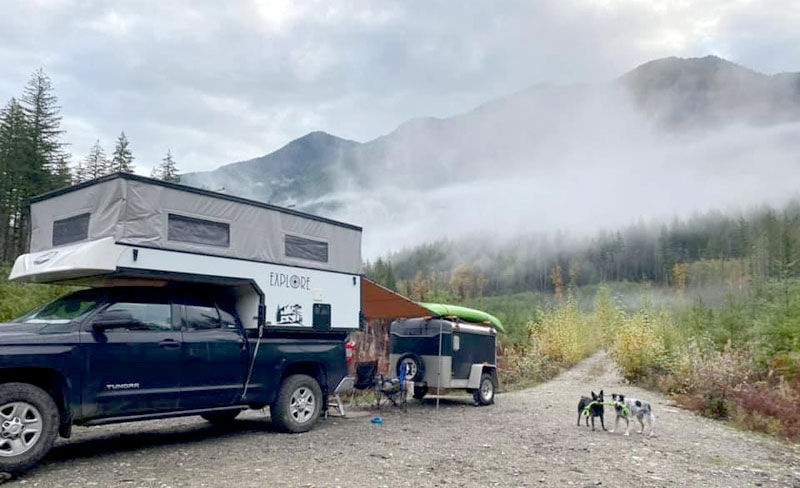 Haulmark cargo trailers aren't often used for off-roading.  Is it modified?
Mike: Yes.  We recently added Timbren's Axle-Less suspension to improve the ride quality on rough roads.  It also gives us more clearance, which has further improved the ride.  It was really rough before we did that.  Rocky roads would shake everything in the trailer, and it would get hung up on things. With the Timbren Axle-Less suspension, it rides as easily as the truck does, and doesn't get hung up.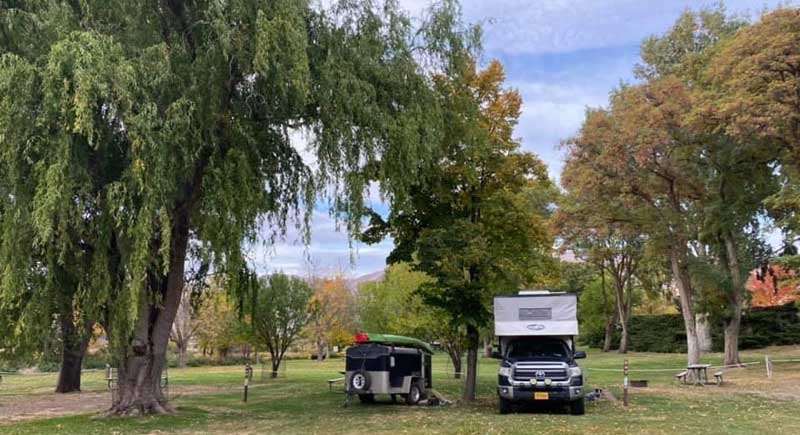 How much ground clearance does the trailer have now?
Mike: The Axle-Less suspension lifted the trailer 4-inches.  That allows for more travel and compliance in the suspension.  You notice the difference right away towing.  You can also tell the ride is better because the stuff in the trailer is in the same place you left it. I've been impressed with it.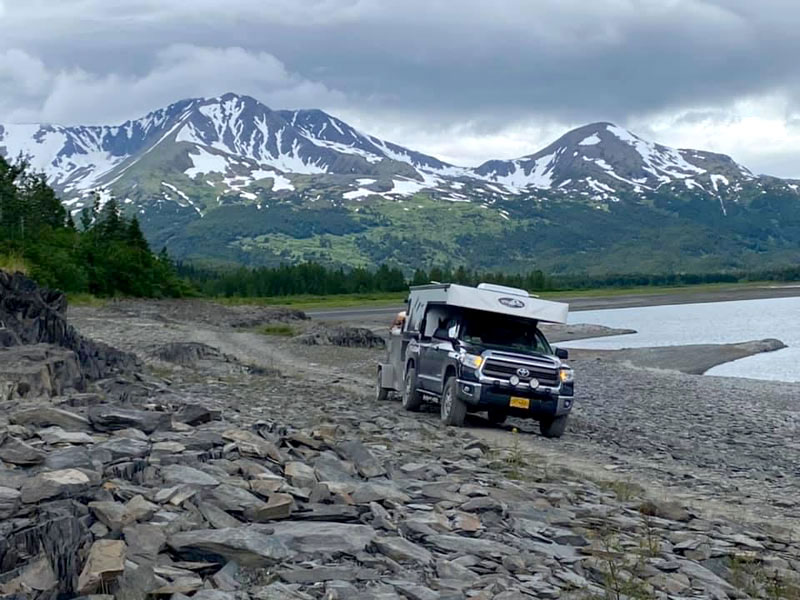 Above: After camping at Copper Lake, Alaska
As truck camper owners who live in Alaska, what do you enjoy doing when you go out?
Nikki: We enjoy hiking, kayaking, biking, fishing, and going to new places that we can have to ourselves.  We also enjoy exploring the 4×4 roads.
Since we always have our dogs with us, we try to avoid the National Parks, places where dogs are not allowed, and anywhere there are crowds.  We usually navigate towards national forests and areas with dispersed camping.  In Alaska, there is a lot of public land and dispersed camping is very easy to find.
We leave our camper on our truck so that we can jump in and go out on the weekends.  We can take big chunks of time off because our jobs allow for it.  In a year, we may take several trips in Alaska.  Most are two to three days.  Then, we'll take ten days off for a long summer trip.  It's also been a yearly event that we take a month off and go south into Canada and the Lower 48.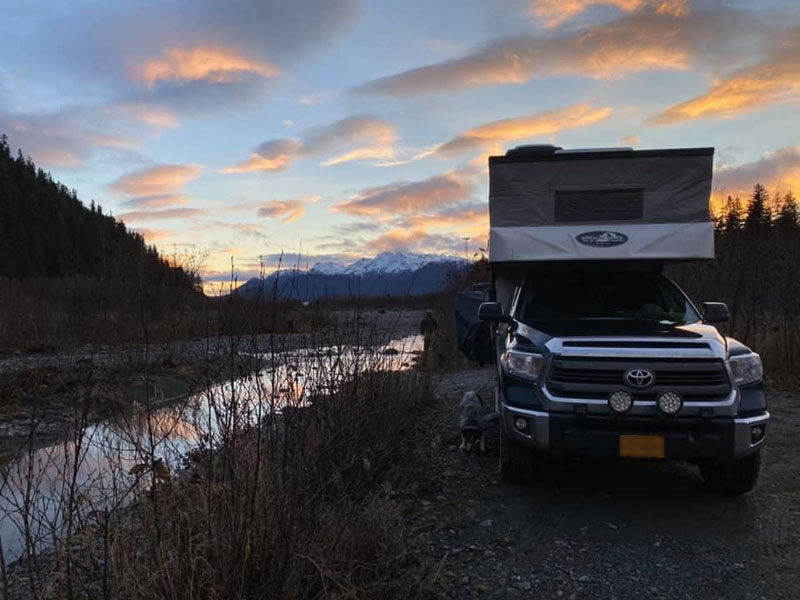 Above: Seward, Alaska sunset
How do you find new places to explore?
Mike: Sometimes we use the Gaia GPS app.  It allows you to see park lands and national forests where camping is available.  We also watch YouTube videos to see where others have gone and make a list.  We prepare ahead of time if we are going further out, but we don't lay out a specific plan because we can't count on the weather.  We basically wander and have a couple of different destinations in mind.
Nikki: I also use the AllTrails app because we like to hike.  We can usually find a place to camp near the trails.
Mike: Alaska is the best place in the world for boondocking and free camping.  There is so much land here.  There are lots of places to pull off the road.  The northern parts of Canada are similar.  If you're looking for remote and primitive camping without a fee, Alaska is good for that.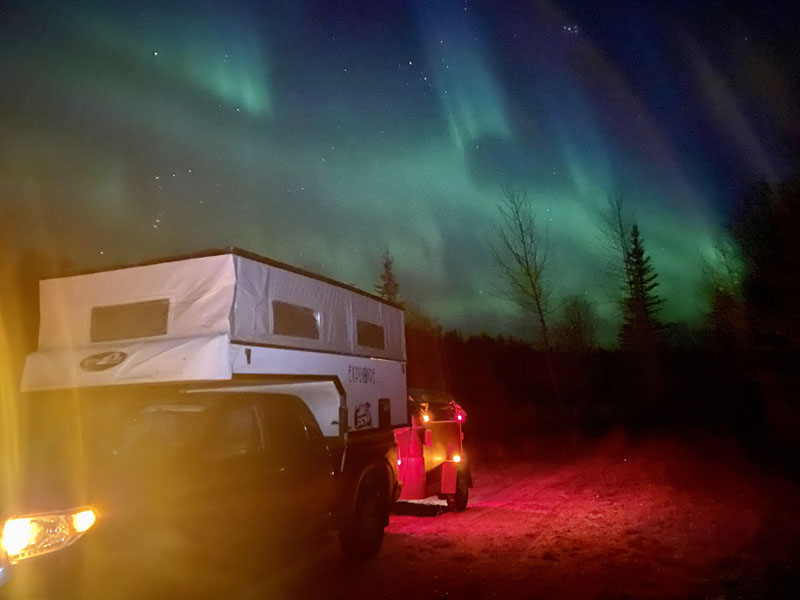 I saw the picture with the northern lights near Watson Lake.  Do you see the auroras often?
Nikki: Yes, we can frequently see the northern lights from our house.  We don't go out to see the northern lights because they happen so often.  We'll walk the dogs at night and see them.
That photo was cool because they were our first northern lights of the season.  We were watching in the comfort of our camper through the skylight.  Normally I am in bed sleeping during the light shows, but that photo was taken in the morning when we were getting ready to leave.  It was -7 degrees that morning.
Mike: Living in Alaska, we have discovered the importance of cracking a window in below-freezing weather to avoid frost and condensation.
Nikki: We had some issues with condensation under our mattress.  I looked at the pop-up camper Facebook page and they recommended a material called HyperVent under the bed.  Since we've used it, we have had no issues.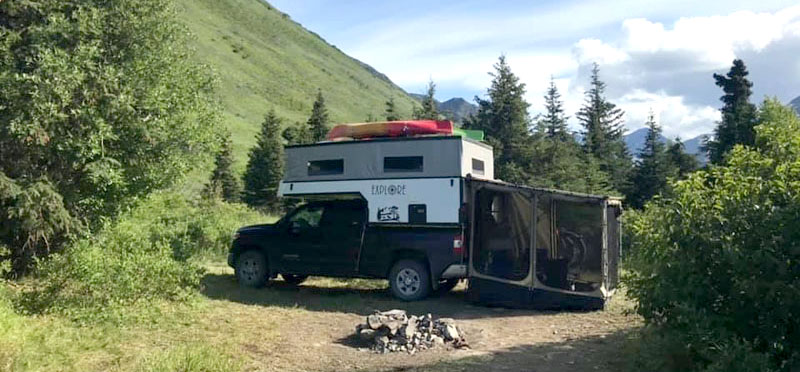 We had under-bed condensation and also used HyperVent.  Now we use the Froli system.  What's the story behind the bug tent?
Mike: That's part of our ARB awning.  They have a room attachment for the awning.  I ordered it with the camper.  It's a well-made heavy-duty system.  It's not hard to set up yourself, but it's a process.  We have to get our steps down just right, but then it only takes a minute or two to set it up.  It's not as convenient as an electric awning, but it's lighter and the room is nice.
We only use the attachment if the bugs are a problem or we need a spot to keep stuff dry.  The wall of the room is against the camper.  We unzip that wall and then there's a little opening to go in and out of the camper.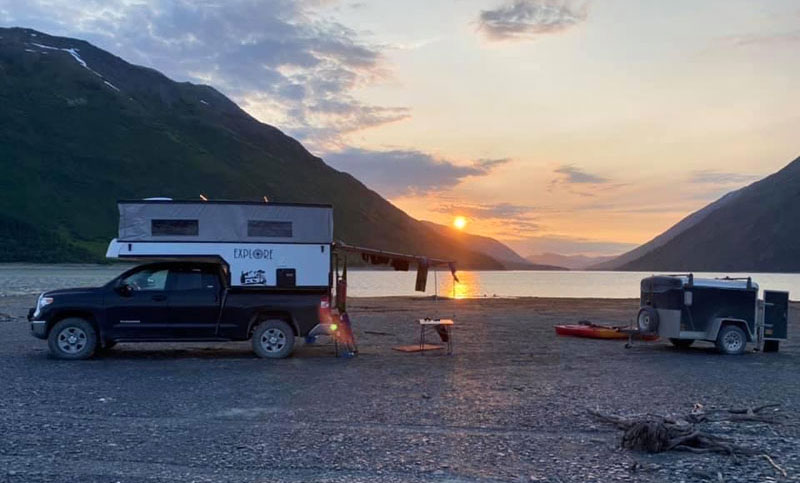 Above: Copper Lake near Copper Landing, Kenai Peninsula, Alaska
You must know some great spots to take a truck camper rig.  Where have you been in Alaska that you would recommend to fellow truck campers?
Nikki: One of our favorite spots is the beach in Anchor Point, Alaska.  It is a nice, quiet spot with a beautiful view of the ocean and the mountains.
Mike: It's just north of Homer on the Kenai Peninsula.  There is public access to the beach.  In the summer there is a lot of activity, but you can drive all the way down the beach.  It's 17-miles to Homer if you go south, and a mile north to the end of the spit.  There are lots of camping opportunities and it's scenic.  Just don't get stuck in the sand and watch the tide so that you're not underwater at 1:00am.
The campgrounds in that area are full in the summer because there are lots of people.  Reservations are needed at the campgrounds, but the beach is not crowded.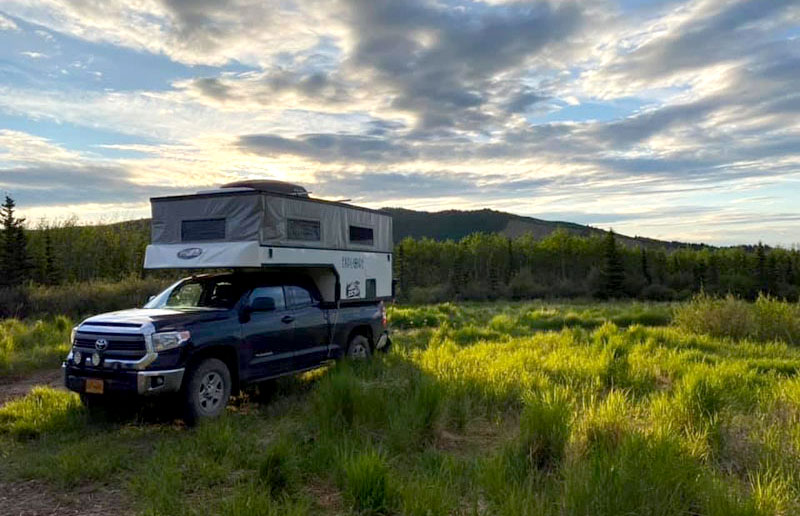 Another go-to spot for us is down an old mining road to a meadow near Healy (pictured above).  It is a quiet place and there is a ton of hiking to do right from the camper.  That spot never gets old!
Many people dream of going to Alaska one day in their truck camper, and you live there.  What advice do you have for people planning a trip to Alaska?
Mike: Don't be in a hurry.  It takes a while to drive up and back.  Canada is really neat as well.  Take your time.
The Kenai Peninsula is a good place for truck campers.  There is a lot to see and do.  The Denali Highway is in central Alaska between the Richardson and Parks highways.  There is almost unlimited primitive camping there.  The scenery is just amazing and there is lots of hiking.
To prepare for Alaska roads, make sure you have a sturdy vehicle.  The roads are fine, but we get a lot of frost heaves because of the permafrost.  There could be rough roads, so make sure your vehicle is in good working order.  Good tires are a good idea if you want to drive on gravel roads.
The bigger towns like Anchorage and Fairbanks are just like any town.  You will find Fred Meyers and Walmart.  It's not like the Frontier.  You can buy things you need in Alaska.  However, the distance between towns is more than most because there is a lot of open country.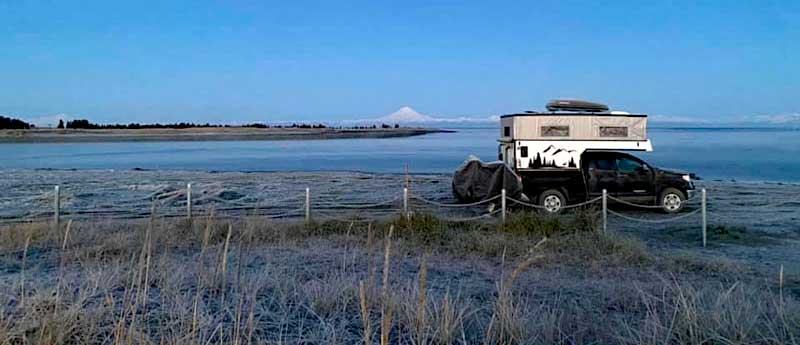 Above: A cold morning in Kenai, Alaska
Nikki: I do recommend an InReach or communication device because of the poor cell service.  I think people don't realize how big of a state Alaska is.  Family members may call and you are in Denali with no cell service.
Mike: The Parks and Richardson Highways, which are both major arteries, have cell service in lots of areas.  If you venture off the highway, forget it.  I would say that 95-percent of the state has no cell coverage.
If you have the money, jump on a flight tour or a bush plane.  Really, it's a good experience anywhere in the state.  Alaska is an amazing place to see from the sky.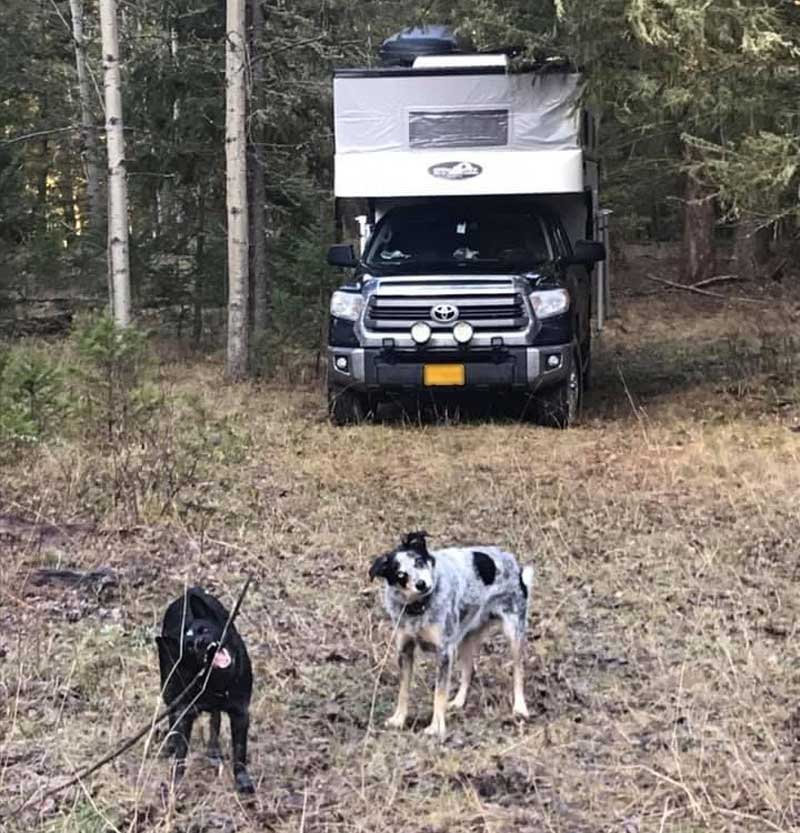 We rode in a helicopter in Juneau and can vouch for the stunning views. Do your dogs enjoy exploring Alaska with you?
Nikki: Yes.  Our camping lifestyle always includes our four-legged family members.  Our two little dogs go everywhere with us.  We enjoy finding spots with awesome trails that we can explore with our dogs.
Is there anything else you'd think folks should know about truck camping in Alaska?
Nikki: When watching Youtube videos of folks who have visited Alaska, many do say how little road access there is.  I guess that has never bothered me since I just get out on my two feet.  I love backcountry running, hiking, and many areas open up in the winter because the ground is frozen.  That's when I explore on my fat bike or snow machine.  If folks want to explore the backcountry, I would highly recommend, at a minimum, carrying bear spray.
We chose a pop-up truck camper because we prefer to get off the beaten path and towing an RV did not allow us this option.  Our lifestyle fits with what our Phoenix Camper has to offer.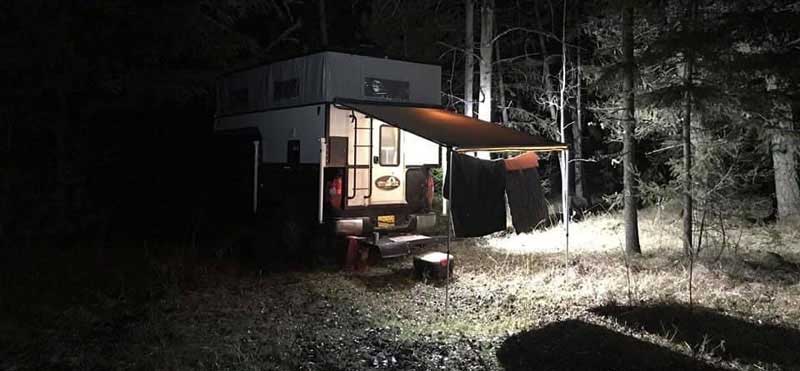 Nikki and Mike's Rig
Truck: 2014 Toyota Tundra SR5 4×4, extended cab, 6.5-foot bed
Camper: 2019 Phoenix Pop-Up
Tie-Downs and Turnbuckles: Happijac
Suspension: 1.5-inch spacers on the front and 1-inch extended shackles on the rear with Firestone airbags