With her husband, Mike, supporting her in a Phoenix Camper, Jeanne pedaled from Oregon to Maine. Through the 4,567-mile journey, they saw the backroads and small towns of the United States and achieved a dream few of us would dare.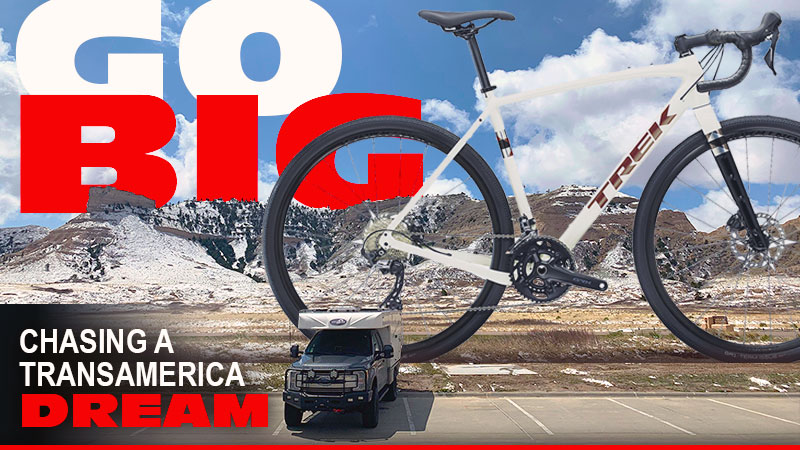 There are accomplishments that few would dare dream, fewer would put into motion, and still fewer would actually achieve. Imagine taking six months to hike the 2,190-mile Appalachian Trail. Imagine spending eight weeks reaching basecamp and climbing Mount Everest. Imagine swimming the 21-mile English Channel between Dover, England, and Cap Gris-Nez, France. Imagine the training, planning, and fortitude it takes to make those dreams happen.
These are the kinds of accomplishments that define one's life; achievements people tell their children and grandchildren about to push them toward greatness. They also inspire the rest of us to push ourselves out of the traps of safety and comfort and into the realm of fully-realized lives. Terrifying? You bet. But so is the alternative.
Learning about Jeanne Simpson's 4,567-mile bike ride from Astoria, Oregon to Bar Harbor, Maine has us thinking bigger. With her husband supporting her goal with a Phoenix Camper, she put her back wheel in the Pacific Ocean and, roughly four months later, her front wheel in the Atlantic. Having traversed that distance in a truck camper, it's impossible to imagine what that experience would be like by bike.
As it turns out, Mike and Jeanne Simpson were themselves inspired by others who strived for greatness. Perhaps that's one of the best things we can do for ourselves, family, friends, and future generations; live our fullest lives possible and inspire those around us to do the same. Get ready to roll your rear bicycle tire in the Pacific, point your handlebars east, put your feet in the pedals and begin. The next stop may inspire your grandkids and theirs.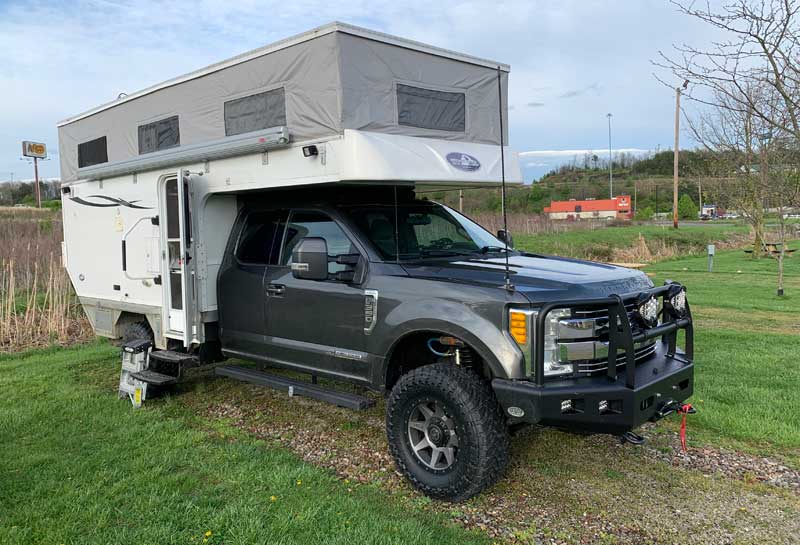 Above: Mike and Jeanne's Ford F350 and Phoenix Camper
Before we talk about your bicycle trek across the United States, tell us how you first got into truck campers.
Mike: I was captivated by truck campers long ago as a result of reading Truck Camper Magazine, social media influencers, Bound For Nowhere, and Clint Eastwood's classic film, "Every Which Way You Can". I spent three years studying and researching camper brands and considered everything from small and basic shells all the way up to large molded fiberglass models.
Jeanne: Mike was so engrossed in the myriad of camper options that I started calling what he was looking at, "Camper Porn". He would lay in bed at night looking at his phone, gasping and grunting with excitement; "Oh, look at that!" It was hilarious. He was so excited. I was pulled into the research during the final six months. That's when we started talking together about what we wanted.
Mike: Slowly, I started to lure Jeanne with ideas of boondocking and reports of truck camper owners sharing their photos and stories online. When it was time to choose a camper, I showed her the difference between flatbeds and slide-ins, cassette toilets versus black tanks, and hard sides versus pop-ups. It didn't take long for her to fall under the same spell I was under.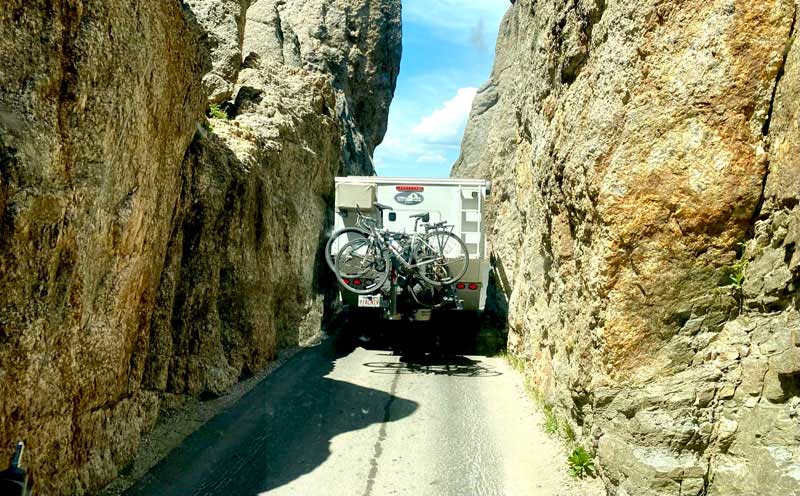 Above: Needles Highway, photo by Jennifer Hickman
I was charmed into truck campers much the same way. Gordon kept showing me pictures of truck campers in amazing places and then got me hooked on blogs from active truck camper owners. How did you decide on what truck and camper you wanted?
Mike: For a truck, I wanted an extended cab for the ideal balance between wheelbase and back seat storage, and a single rear wheel with four-wheel drive for the best possible traction.
The idea for a flatbed came from researching overland vehicles. Going with a flatbed approach makes a big difference for floor space, which is important when you're considering full-time use. It also seemed to me that the truck to camper connection was more secure than what traditional slide-ins use.
For a camper, we wanted a used pop-up to lower the sticker shock, minimize wind resistance and give us more of a tent camping feel. For dry camping, we wanted as much water and battery capacity as possible. And after camping in the summer heat with her folks in a 1966 pop-up trailer, Jeanne wanted an air conditioner.
With that criteria in mind, we found a used 2017 Phoenix flatbed pop-up camper on a Ford F-350 chassis cab in September of 2020. Our new-to-us truck and camper had been showcased in Truck Camper Magazine when the previous owners, David and Gaye Ruble, started their adventures. David and Gaye traded in the Phoenix Camper on a very different type of overland rig from Global Expedition Vehicles.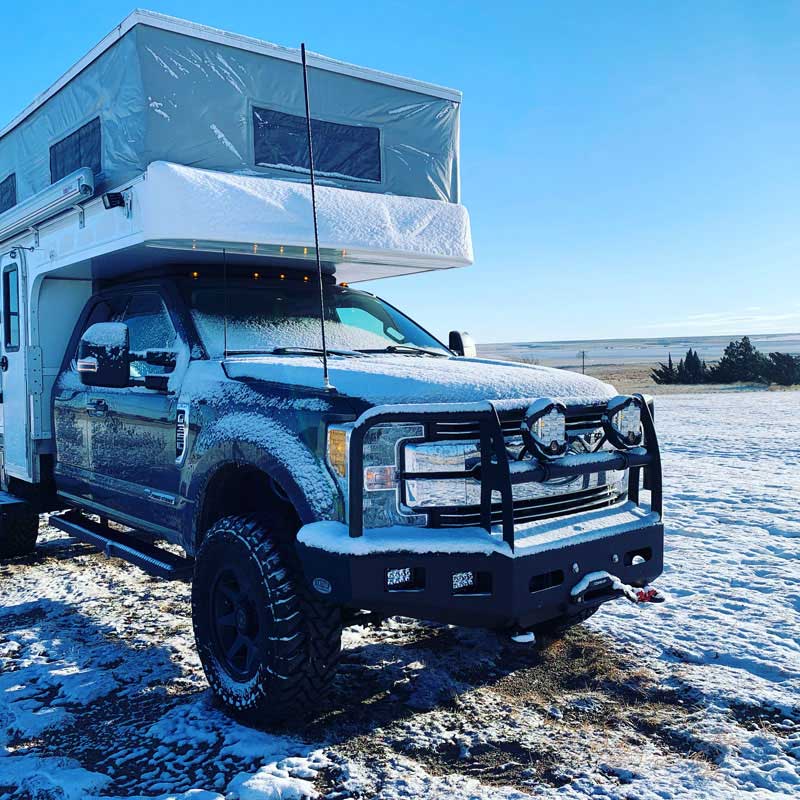 Above: Ford F350 and Phoenix camper in Nebraska, photo by Jeanne Simpson
Small world. That was a very lucky find for you.
Mike: People will talk about the stars aligning. We were going south on Highway 65 on our way from Springfield, Missouri to our home in Arkansas. We saw a Global Expedition Vehicle Turtle rig going the opposite way and my camper radar lit up like a Christmas tree. We didn't know it at the time, but it was the Ruble's rig. They were going back to Global Expedition Vehicles for fine-tuning.
Jeanne: The next morning we were having coffee ready to leave town, and Mike said, "There's a camper for sale in town, can we go look?"
Mike: We went to Global Expedition Vehicles and the Ruble's rig was in the lot.
Jeanne: One thing I joke about is that Mike gets excited about something and I talk him down. I'm the realistic one usually saying, "No, that's ridiculous". But, when we looked at the Phoenix Camper and Ford F-350, it was 97-percent of what we had talked about. It had a north-south bed, a wet bath, a refrigerator, and it was on a flatbed. I couldn't think of a reason to talk him out of it. I was going there that day thinking it wasn't going to work out, but it did. We bought it that day.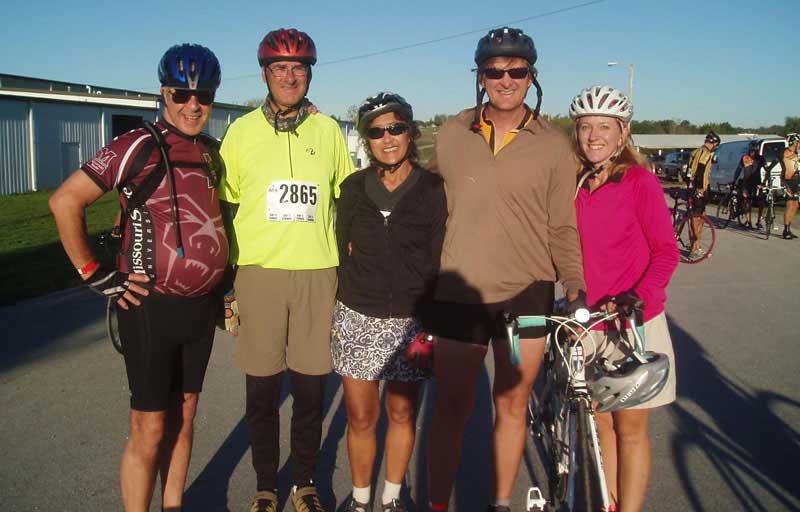 That is insanely lucky. You guys traveled cross-country last year with Mike driving the Phoenix rig and Jeanne Ann pedaling her bicycle. Where did this idea come from?
Jeanne: Mike and I had participated in charity rides to support Multiple Sclerosis events. When a good friend, Dave, retired, he started a cross-country bike ride. He introduced me to the idea of it and showed me the maps. He made it 1,000 miles but had to stop due to other circumstances.
The idea of bicycling across the country stuck in my head. I kept saying, "Once I retire, I want to do that". I enjoy bike riding, but I also wanted to see the country at a slower pace. I wanted to see the little towns and have time to look around and experience the spaces in between the exciting destinations.
Mike: I had a previous career in the military and enjoyed many memorable experiences in the company of motivated fellow warriors, but it left me with knees that are much older than I am today. Pedaling alongside my lovely spouse was not an option. However, I could drive our newly acquired truck and camper as the Support, Augmentation, and Gear Vehicle (better known as the SAG Wagon) in support of her dream ride.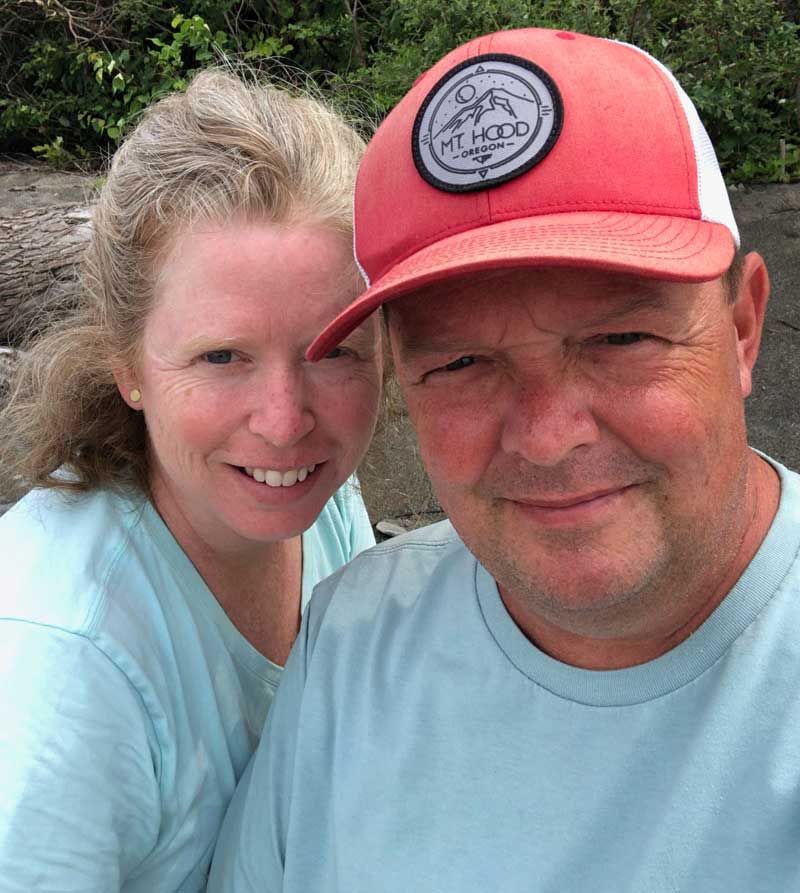 Above: Their friends, Tom and Jennifer Hickman
We quickly posed the idea of a four month west to east bike ride to our longtime travel companions, Tom and Jennifer Hickman of Jefferson City, Missouri. They had already started outfitting their own vehicle, a Mercedes Sprinter van, for long-term use, and readily agreed to partner for this adventure.
Jeanne: Tom or Jennifer rode with me about 50 miles a day on average, five days a week. We traveled about 250 miles a week. We would try to stay somewhere fun on the layover days.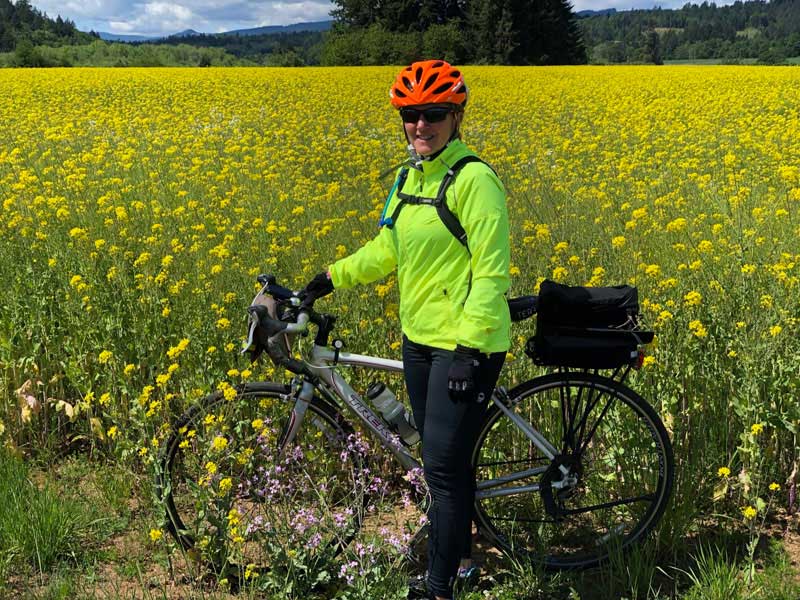 Above: Jeanne with her bike, photo by Tom Hickman

How do you prepare for a cross-country bicycling trip like that?
Jeanne: There's a group called the Adventure Cycling Association out of Missoula, Montana. They produce maps for bicyclists to travel all over the country. There are three cross-country routes; a northern, middle, and southern tier. I started looking at those routes on their website. They had good information about the trips.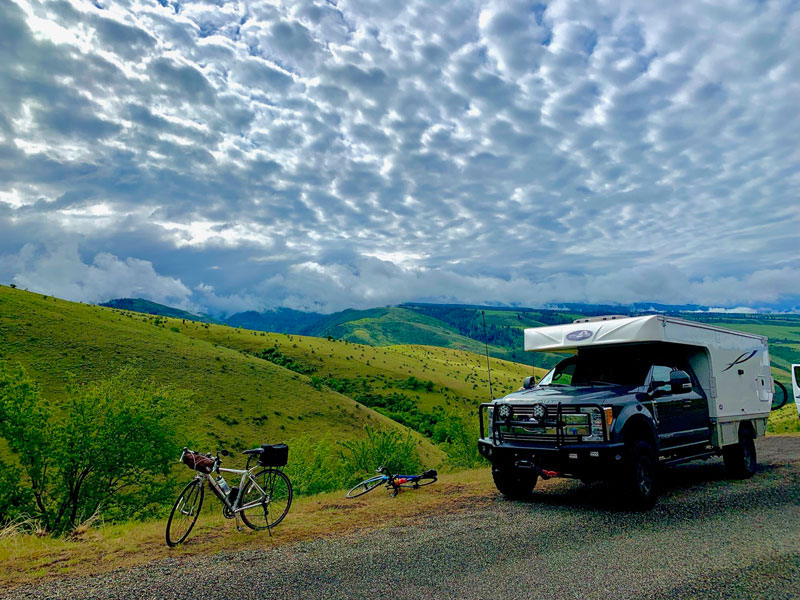 Above: Phoenix Camper in Idaho, photo by Mike Simpson
A lot of people do this same trip self-supported. They carry all their stuff with them on their bike which makes it a lot harder. Having Mike with the camper made it less difficult for me because all I had to carry was my lunch and a jacket. We had our cell phones, but we could also use our Garmin inReach where we didn't have cell phone coverage. I knew that if I needed him he wasn't that far away. Each morning we would make an agreement about where we'd meet that evening. It was usually at a campground.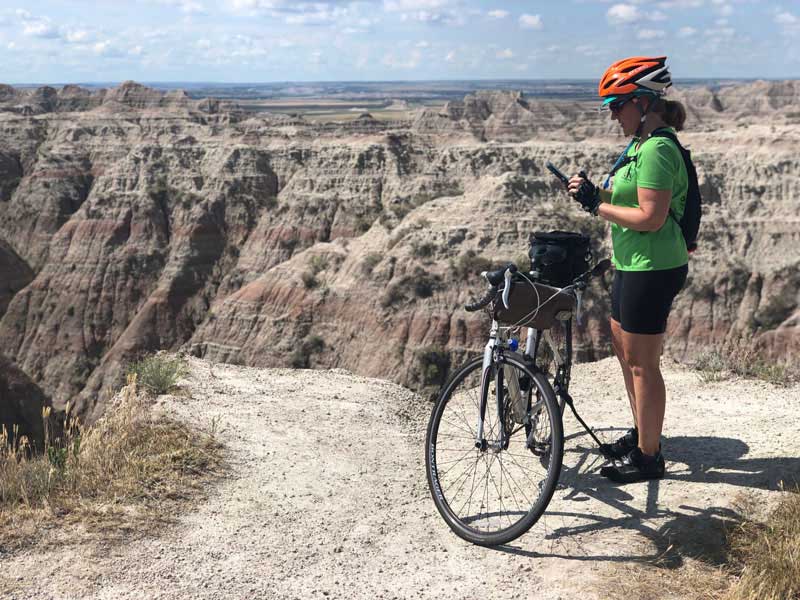 Above: Jeanne in the Badlands, photo by Tom Hickman
Mike: It worked out well. The Hickmans traveled with us. One of them would go on the bike ride each day, and the other would drive their Sprinter van. Jeanne Ann would have Tom or Jennifer, and then I'd have the other one to leap frog forward. We would take care of maintenance, get supplies, and go sightseeing, which kept it fresh. As luck would have it, Jennifer is a physical therapist and Tom is a bike mechanic by trade. It worked out well.
Jeanne: As far as training, I tried to ride, but we live in a flat place. When we started in Oregon for the first two or three weeks, we'd only go 30 to 40 miles a day, so we kind of trained as we went.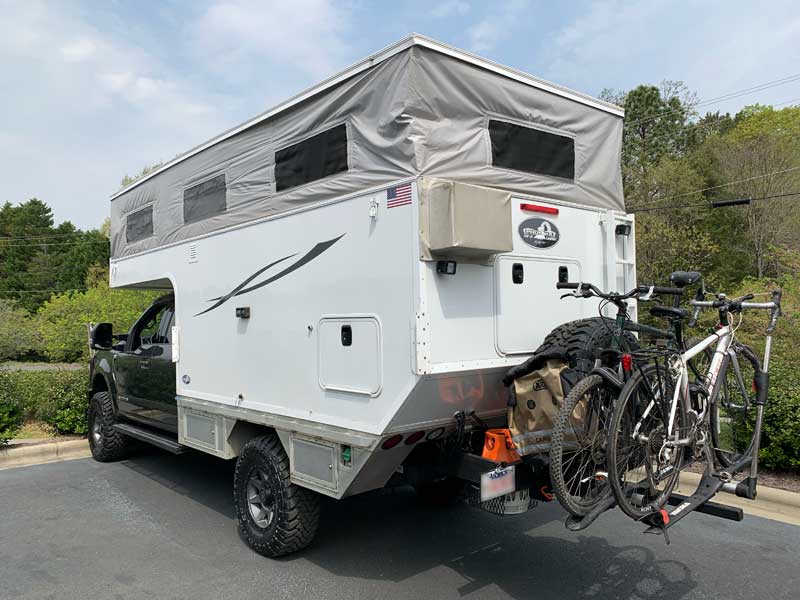 Did you need a special bike for the trip?
Jeanne: My three-ring bike did just fine for the trip. Tom and Jennifer had flat tires, but I didn't have any on the whole trip.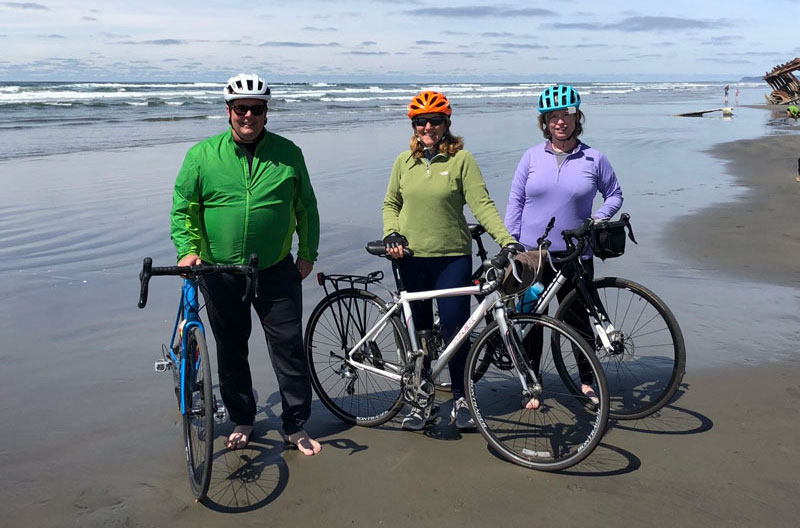 Above: Dipping tires in the Pacific, photo by Mike Simpson
How did you decide on the route and timing of your cross-country trip?
Jeanne: We used maps from Adventure Cycling Association. Our route went through Oregon, Idaho, Montana, Wyoming, South Dakota, Minnesota, Wisconsin, Iowa, Illinois, Indiana, Ohio, Pennsylvania, New York, Vermont, New Hampshire, and Maine. There is a tradition that, when you start, you put your back tire in the Pacific and when you finish, you put your front tire in the Atlantic. We did that. Our friend, Tom, was horrified at getting sand and salt on his bicycle. In Oregon, he carried his bike like a newborn child. Then, he was wiping it down to get the salt content off.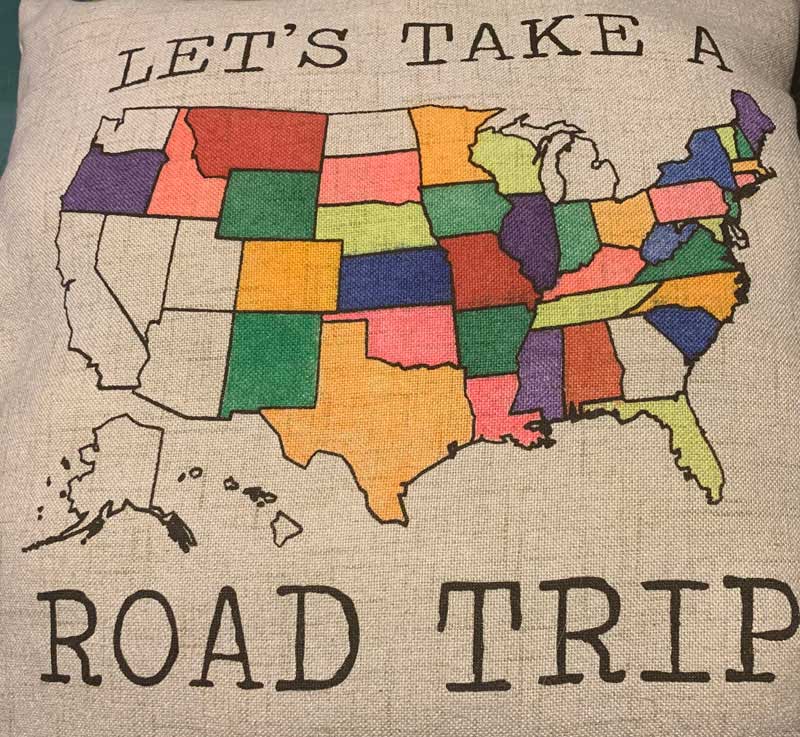 Above: Road Trip Pillow, photo by Jeanne Simpson
Mike: I wanted to start March 1st, but we had to take into consideration snow in the upper elevations. We were trying to follow the seasons so we had the best chance of temperate weather. Leaving on May 1st from Astoria, Oregon worked out well. The Hickmans got us a pillow that says, "Let's Take A Road Trip" and it came with markers. We colored in the states as we went through them.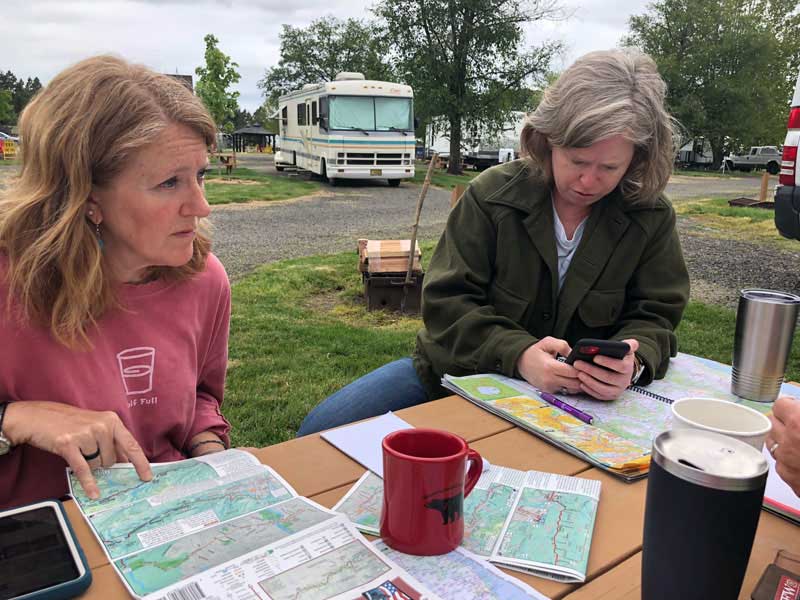 Above: Planning Meeting, photo by Tom Hickman
How did you plan where to stop with the camper each night?
Mike: We intentionally rode over the weekends, and took off on Thursdays and Fridays. On Thursday mornings we would gather the maps, the road atlas, KOA app, and Harvest Hosts locations and plan out the next week. Being retired military, we also have access to the military campgrounds and installations. iOverlander was another resource for boondocking spots.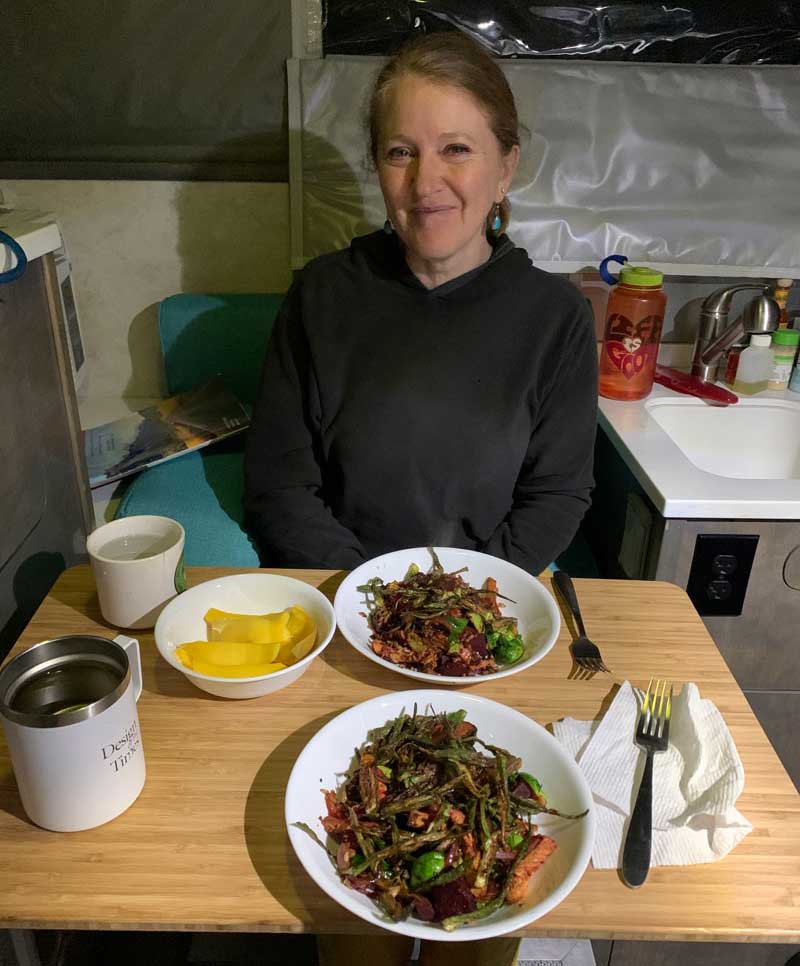 Above: Jeanne having dinner in camper dinette, photo by Mike Simpson
We'd look at the route, and decide which places we could camp. We also thought about our days off and where we wanted to sightsee. Then we would get on the phone to ask about availability. We would get reservations in advance as much as we could. Sometimes it was dicey around the holidays. We stayed at a fairgrounds on the 4th of July and we were almost the only ones there.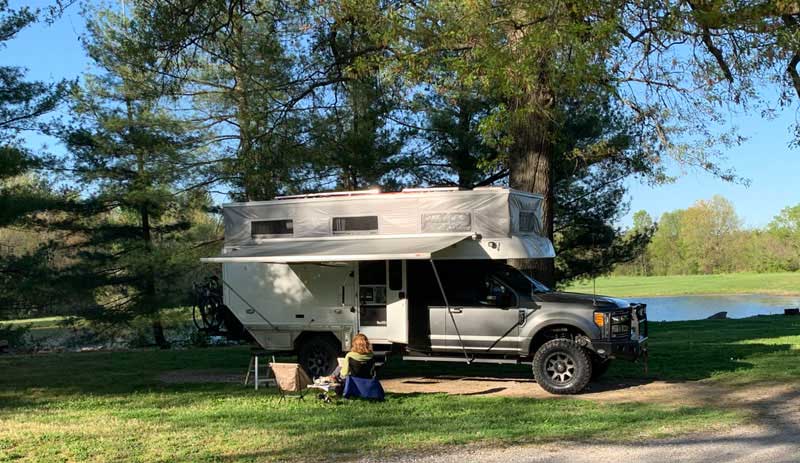 Above: Camping in Paducah, photo by MGS
Jeanne: The Adventure Cycling Association website and app has camping options. We camped at a variety of places; city parks, state parks, private campgrounds, Harvest Hosts, a VFW because we are members, a grocery store parking lot, and we dispersed camped in the grasslands.
Mike: We stayed at a faith-based hostel in Mitchell, Oregon called Spoke'n Hostel. They allow bicyclists to stay and use their shower facilities.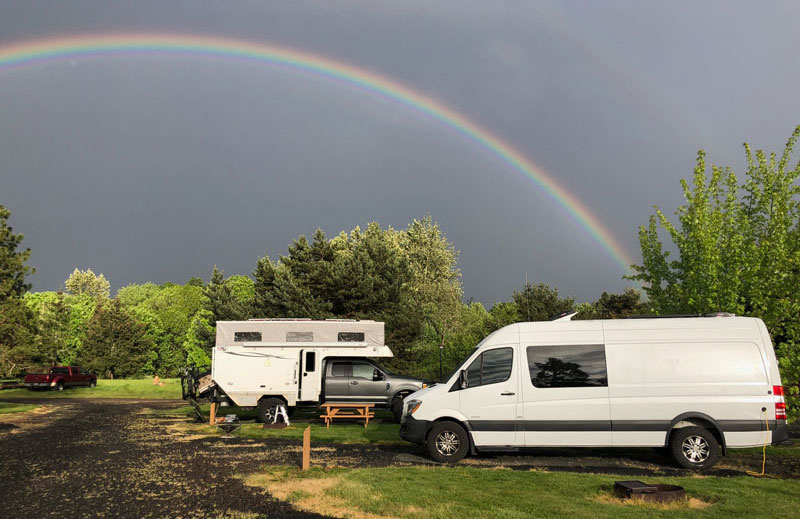 Above: Rainbow in Oregon, photo by Tom Hickman
What were some of the challenges you faced during the ride?
Mike: The national parks and the number of people they are funneling through was a significant challenge. Some were booked for 2022 in 2021. Not only was it challenging to get into the national parks, but we couldn't get into the state parks or private campgrounds around the national parks.
Another challenge was that there were a few dead spots for water, fuel, and groceries. Going 50 to 75 miles a day allowed us to take smaller steps, but sometimes landed us in areas without amenities. Traveling 200 to 300 miles a day on the highway you have different circumstances.
Jeanne: There were no big injuries or any sickness. We were unbelievably lucky with the weather. If it rained, we rode on Thursday that week. We would watch the weather and maybe start earlier or later in the day. All in all, it was amazing how it worked out.
Sometimes it was difficult to find suitable camping spots close to our route. We wanted to be able to ride from one to the next and not have to shuttle or have pickups. We were traveling in the summer, so we did have to compete with others at campgrounds.
Mike: There was a climb in the Rockies that was 27 miles straight up. They would taper their mileage a lot based on challenges.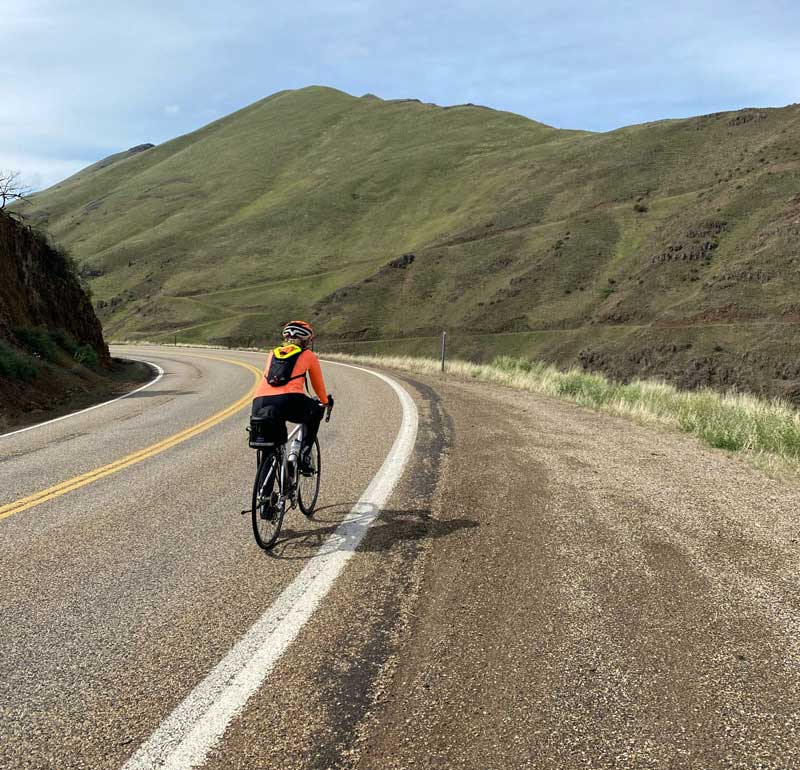 Above: Jeanne cycling in Idaho, photo by Jennifer Hickman
Were there any close calls with wildlife or vehicles?
Jeanne: One day in Idaho, Tom and I were riding and the road was curvy and hilly. In that part of the state, the speed limit is 80 miles per hour. Semis would drive past and there was no shoulder. It was freaking me out! Mike picked us up and we skipped about 20 miles.
The only other time was in Yellowstone in the summer. It was really crowded. They only had two-lane roads with no shoulder and people were driving rental RVs. One guy passed with his RV steps sticking out really far.
Mike: In Yellowstone people were driving with one hand and filming the bison with the other. The animal jams there were challenging. For a couple of days, I asked her to carry bear spray. A friend of ours sent her pictures of hikers who were mauled by bears, but she never saw a bear on the bike.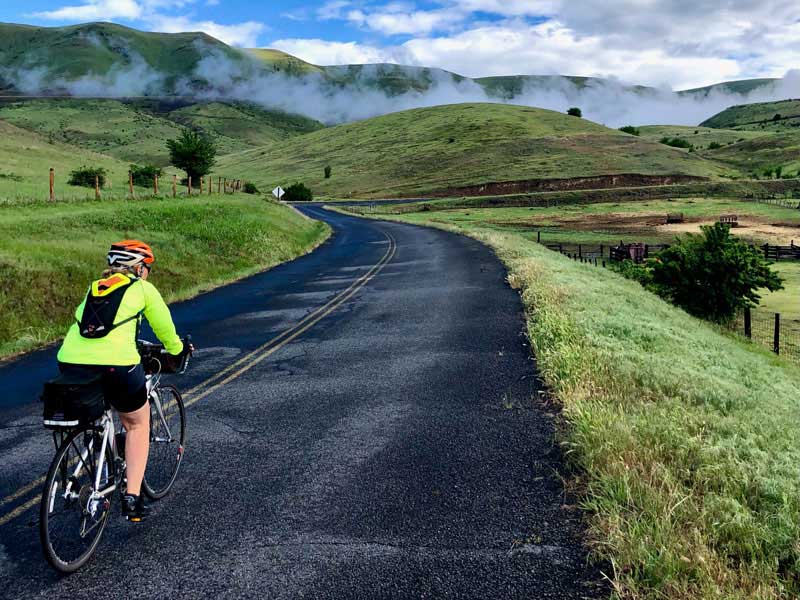 Above: Jeanne cycling Idaho with brightly colored clothes, photo by Tom Hickman
Jeanne: I eventually got accustomed to cars and semis going by. Most of the time we were on small backroads, so it wasn't a big deal. We did everything possible to be seen. We had flashing rear and front lights, wore brightly colored clothes, had bright helmets, and wore slow-moving signs on the back of our shirts. If there was something I could do to be seen, I did it.
My biggest fear was actually dogs chasing me. We had four in the whole country, and none were scary. A three-legged German Shepard might have done damage if he had had four legs.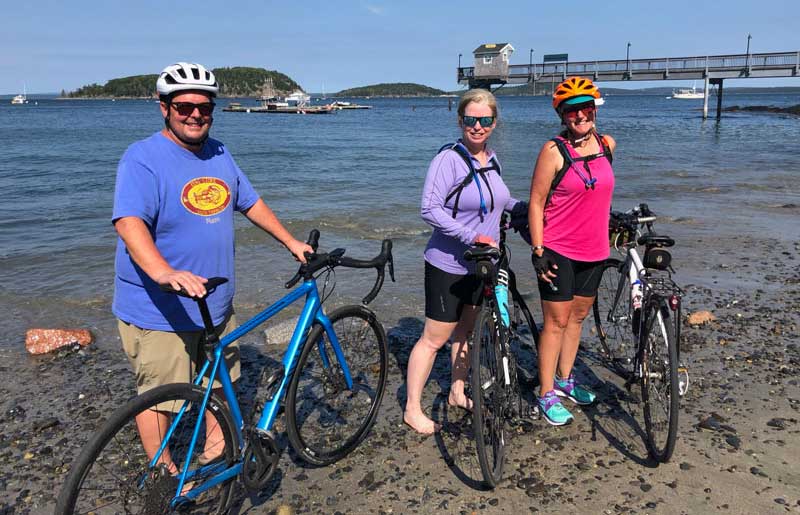 Above: Tom, Jennifer, and Jeanne in Bar Harbor, Maine, photo by Mike Simpson
Tell us about the moment you made it all the way to the east coast.
Jeanne: On the last day the traffic was awful in Bar Harbor, Maine. There was lots of traffic and potholes and it was one of the most miserable days of the trip. By the time we got to the ocean, I was so grateful. It was exciting to get to the ocean and I was very, very happy and gratified that we had been able to do it. I was also kind of sad because we enjoyed the ride so much.
Mike: The entire bike ride was 4,567-miles. From a psychological point of view, Jeanne compartmentalized that long trip by saying, "We're just going to go on a bike ride today". Being able to make it one bit at a time to me made the trip that much more enjoyable.
We weren't trying to blaze the trail. We could enjoy the route whether in rain, sleet or detours. We took it all in. There were many times we would pull off and marvel at some of the places we could see.
How long did it take you to bike across the country?
Jeanne: We started in Astoria, Oregon on May 1st and made it to Bar Harbor, Maine on September 8th. It took a little more than four months. You would think going that slow that we would have seen it all. It just made me realize how much more there is out there. It lit a fire for me to go back and see the things we missed.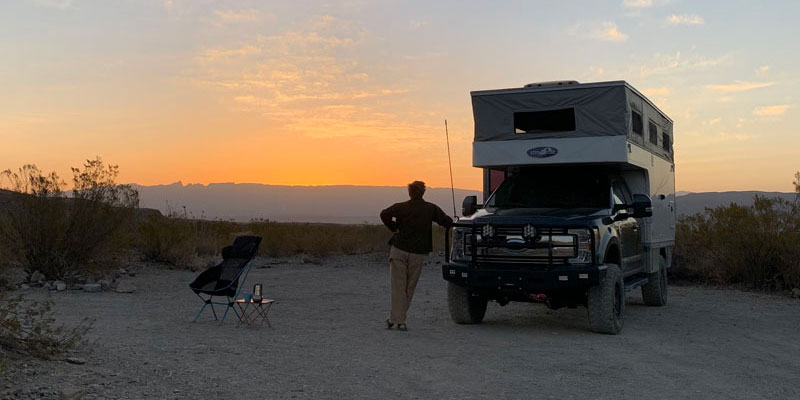 Above: Mike and their Phoenix Camper in Big Bend National Park
Are you planning future long-distance rides?
Jeanne: Even after that trip, I still like riding my bike. Our recent trip to Big Bend was with a group of twelve riders. That was part of the Adventure Cycling Association. It was a ten-day ride through Big Bend. While I was biking in Big Bend, Mike explored the backcountry. Then we went to a music festival in Austin on the way home.
Throughout the winter, we did not ride a lot because of the weather. In February, we went to Las Cruces, New Mexico, and visited five national parks. For Thanksgiving, we went to Alabama to visit Mike's family and then explored the panhandle in Florida on the way home.
Mike: We want to go to the Spoke'N Hostel to volunteer for a while in Oregon. After our cross-country trip, we want to explore Idaho more in-depth.
Jeanne: New Hampshire and Vermont were beautiful. The Adirondacks were a surprise in how remote they were. They are nothing like New York City.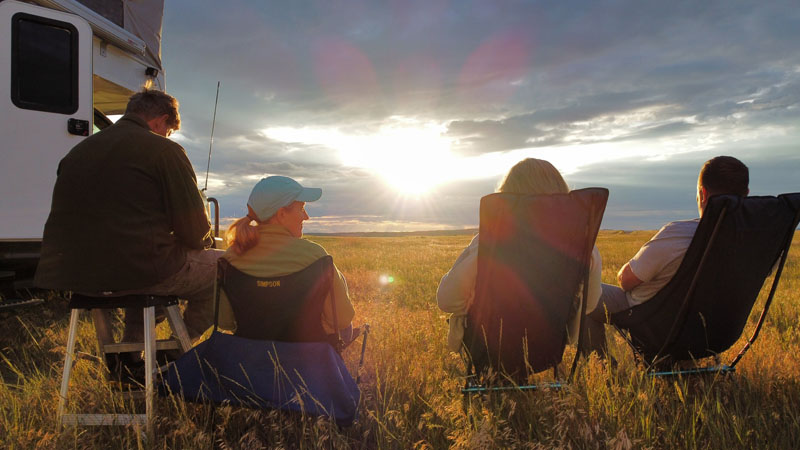 Above: Dispersed Camping in South Dakota, photo by Tom Hickman
Is there anything else that you'd like to add?
Jeanne: We met a lot of nice people because of the rig and had some good conversations. Our truck camper gets a lot of attention, whether it's at a gas station or a campground. People would say, "Oh my. I bet you can go anywhere in that".
When you watch the news, it makes you feel like our country is divided in half. You would think the whole place is in an uproar and awful. As we traveled, we found the opposite. No one ever asked us about politics. They'd say, "How are you?" or "That's a neat rig". We got to pet their dogs. It just reminds you that the majority of people are good and friendly.
Mike: People are just out trying to make their way in the world. That was refreshing. Rick Steves latest Why We Travel show was affirming. He said, "Traveling makes you nicer, more worldly, and wise". When you travel and experience a new place, you are more cordial and sensitive. You are more polite when you are away from your sphere of influence. He articulates why we do what we do, whether it's in a truck or on a bicycle, or with a backpack.
Travel makes you a kinder person and more receptive to other lifestyles and perspectives. Travel helps you instill a sense of wonder about where you are. Travel is an experience to treasure and enriches your life, which hopefully will enrich someone else's.
Our good friend, Bruce Johnson, who loves to raft and canoe goes through the Grand Canyon and the big rivers came back and told his co-workers about his trips. One of his co-workers said, "Your weekends are like my vacations, and your vacations are like my dreams". I can't think of higher praise than that. We want to make every voyage memorable in its own way.
Mike and Jeanne's Rig
Truck: 2017 Ford F350, super cab, 4X4, single rear wheel, diesel, flatbed
Camper: 2017 Phoenix pop-up
Suspension: SuperSprings and 19.5" wheels with G rated tires
Tie-downs and Turnbuckles: Camper bolts through the bed to the frame