Extreme long-distance cycle enthusiasts, Don and Donna Metivier, watched their travel plans hit the wall when the pandemic struck.  One special order Ford F-250 and Capri Retreat truck camper later, they were back in the saddle and on the attack.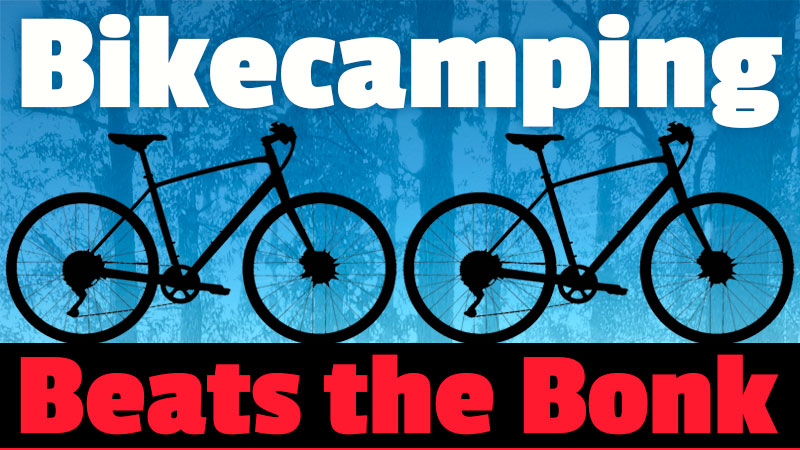 Before we begin, there are two important terms we need to explain.
Bonk [bongk] noun or verb. slang. 1. A cyclist term meaning to run out of energy on a long-distance ride.
Bikecamping [bahyk-kamp-ing] noun or verb. slang. 1. A Truck Camper Magazine take of the cyclist term 'bikepacking', meaning to pack everything your need on your bike.  Bikecamping is long-distance biking, with a truck camper base camp.  Ride on with these new terms.
For some, a truck camper rig represents the wonders of travel, adventure, and bucket list destination fulfillment; a veritable dream vacation machine on wheels.  For others, a truck camper rig is primarily a tool.  A vital piece of equipment to better accomplish what they want to do.
Don and Donna Metivier are some of the most driven (or should we say pedaled) people we've ever come across.  While it's clear that they love their Capri Camper and Ford F-250 rig, it's even more clear why they bought it; to ride.  These two love to ride, and the truck camper is the right tool to support that passion.
Now Angela and I both have bicycles and enjoy taking them out now and then, but that's not what Don and Donna do.  Oh no.  These two ride long-distance, as in 6,000-miles per year or more.
In 2021, Don and Donna each bicycled 6,246.8 miles.  Folks, that's 17-miles per day, 120-miles per week, or 520.6-miles per month.  If that fails to astound you, how about bicycling the distance from New York to Los Angeles (2,789.3-miles) and back and then almost to Chicago again.  Have another sip of what suits you and take that in for a minute.
What follows is Don and Donna's inspiring story, starting with a challenging and pivotal moment we all recently faced.  The real solution wasn't a new truck and camper, or a change in destinations and loops.  They found a new gear, put their feet in the pedals, and kept going; back in the saddle and on the attack.
Bikecamping Beats the Bonk
by Don and Donna Metivier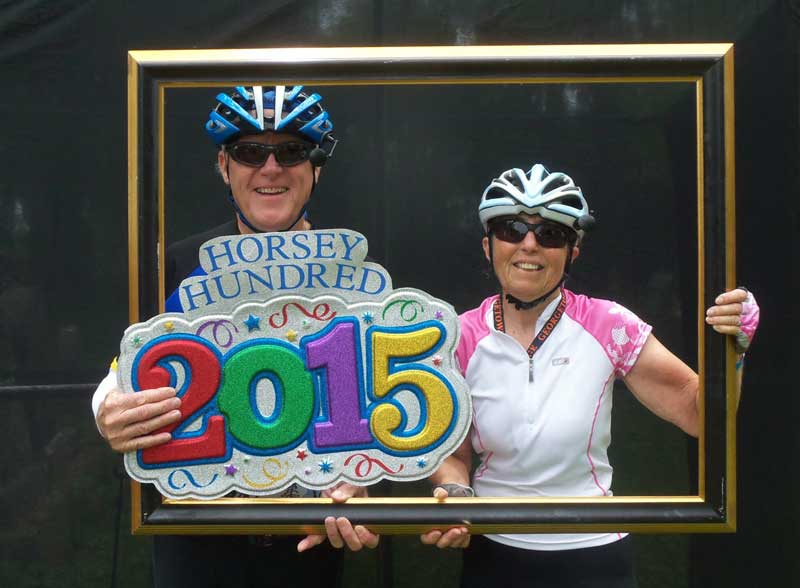 Above: Don and Donna Metivier
We are long-distance road bicyclists and have been for thirty-two years.  We have cycled in all fifty states and sixteen different foreign destinations.  Our journal with its documented entries has us at 122,090-plus miles since January of 2005.
Every day we ride.  Wherever and whatever we ride gets entered on the calendar date.  What gets entered is the actual miles ridden for each and not the sum of the two.  For example, if Don rides 30.4-miles on December 17 and Donna rides 30.6-miles on the same day, then 30.6-miles gets entered on the calendar.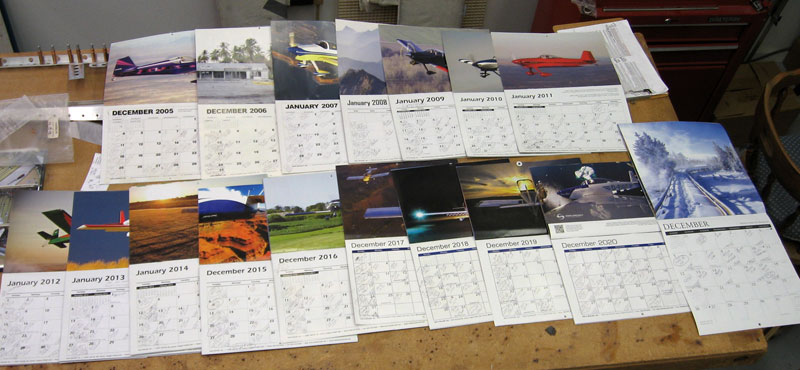 Above: The calendars with recorded daily mileage totals
Most of the miles are on our road bikes, but the journal is not segregated by bike type.  I have the physical calendars from January 2005 to the present.  Our current yearly goal is 6,000-miles per year.  In 2021, we achieved 6246.8-miles.
Hitting A Wall
We have experienced some amazing road bicycling adventures internationally as well as state side.  Unfortunately, Covid-19 put an end to our foreign bike adventures and across-state rallies.  Remaining safe during the pandemic has become our focus.  We feel our current mission is a good and safe alternative.
Our flame for adventure continued to burn, so we decided to buy a truck camper and a truck to haul it.  The goal was to visit and ride around Texas State Parks, and perhaps some National Parks.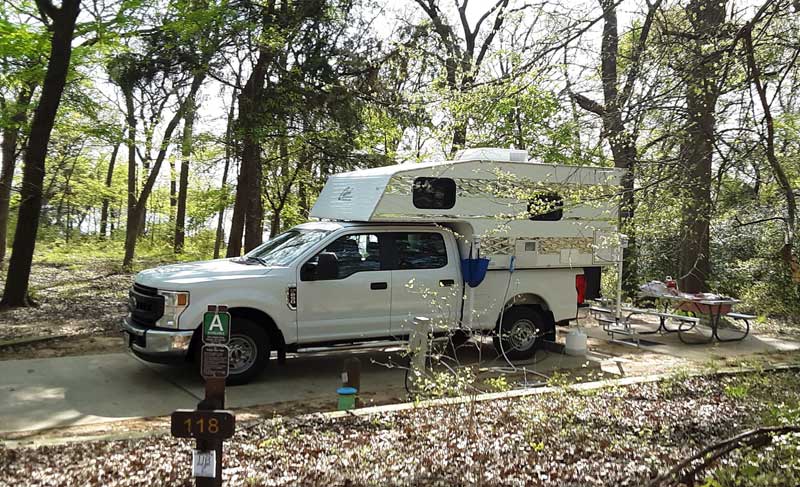 The Ford F-150 we owned for twenty-two years wasn't the correct platform for camper hauling, so we designed and factory ordered an F-250 crew cab.  It was delivered in September 2020.  We purchased our Capri Retreat on January 7, 2021.
Our Capri was manufactured locally right here in Texas, equipped with what we need to travel and be comfortable in all the different climates.  It is loaded with nearly all the options.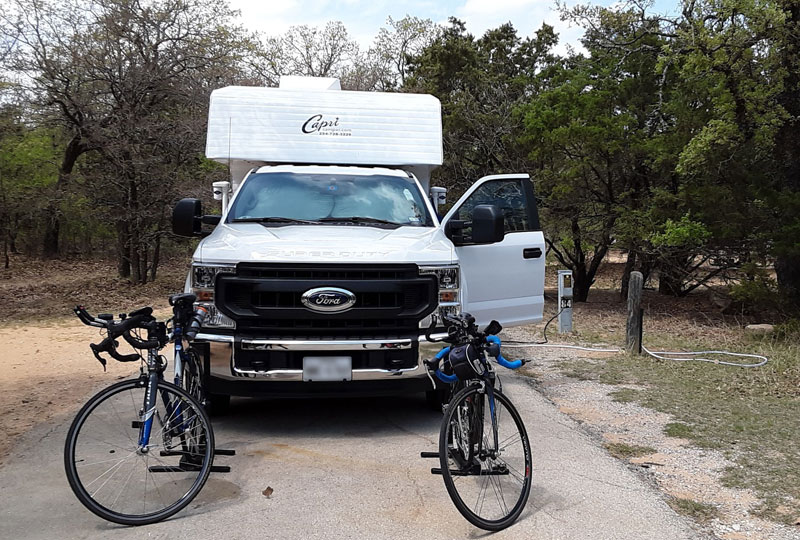 We purchased the non-listed option of high and low awning hooks on both sides.  I have installed several items like robust docking bumpers, permanent riser boards on all external floor joists to provide cabover clearance, propane tank securing and locking scheme, drying and hanging lines in the shower ceiling, privacy curtain aft of the shower stall, aftermarket screen door, wall hooks, mirror and netting pockets.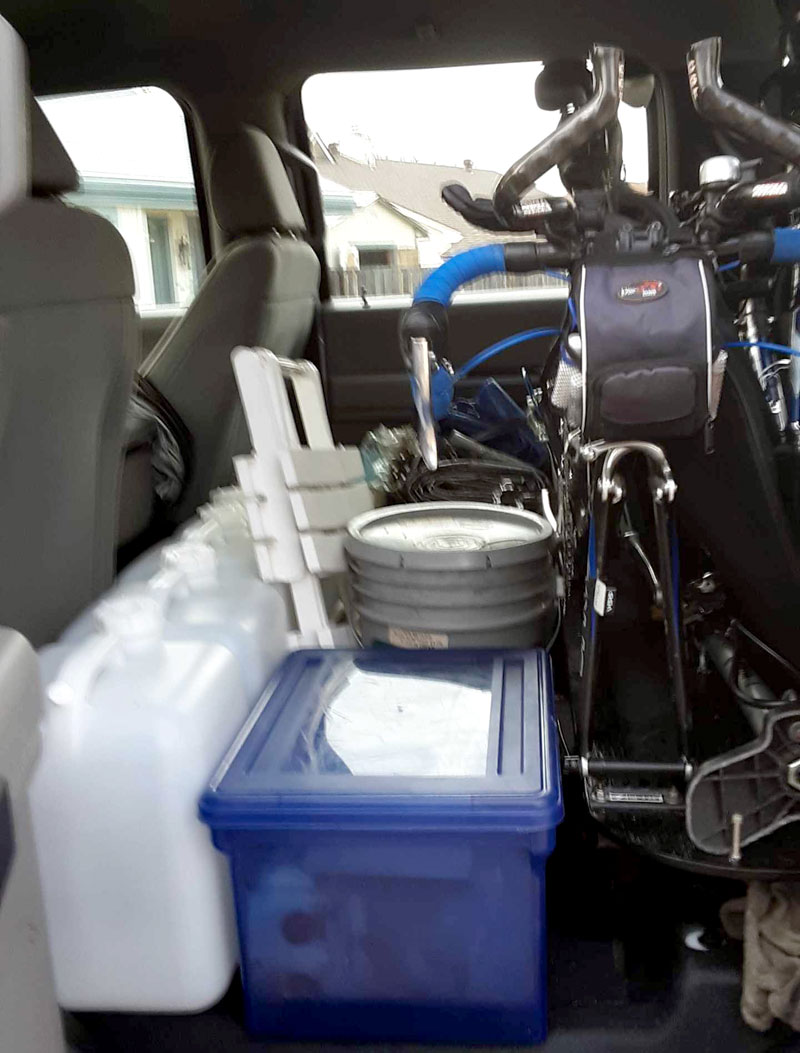 In our new truck, I removed the entire back seat and bench rest.  Then, I built a platform for mounting two road bikes or two trail bikes.  The compact arrangement allows much additional space for stuff.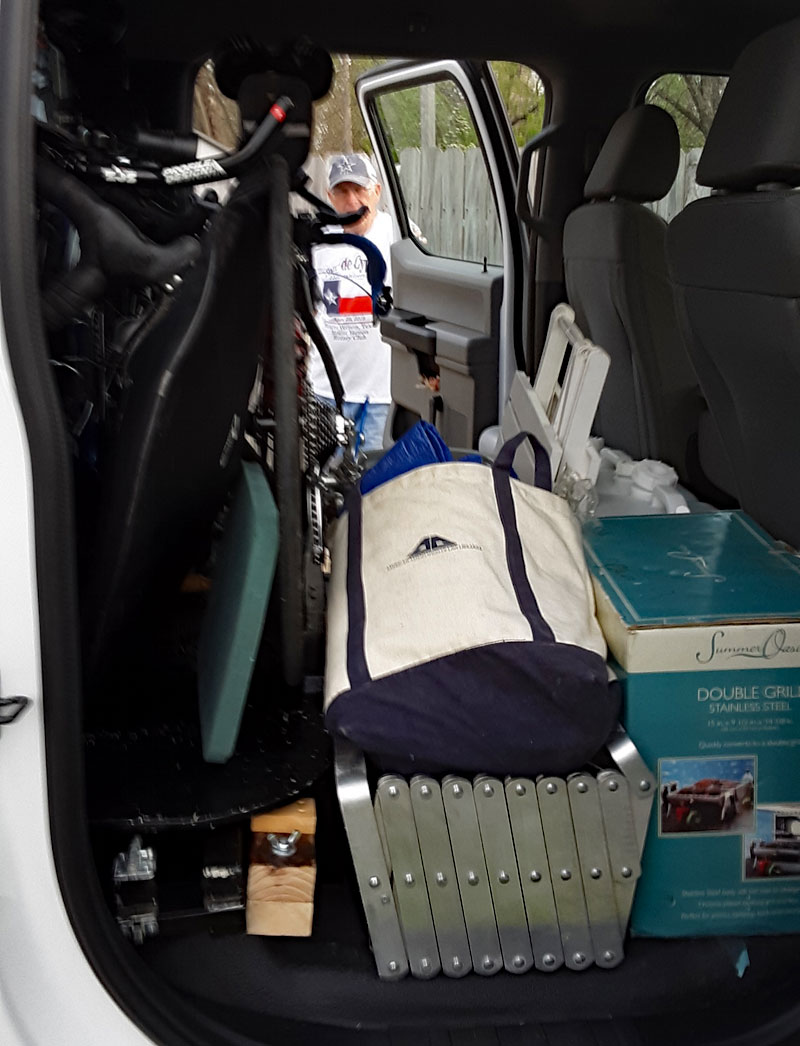 Texas State Park Missions
Our Texas State Park missions started on March 23, 2021.  At the parks, we do loop rides of 60-miles or more.  Besides cycling, we also hike and visit points of interest in the parks.  The diverse Texas topology and geography is a satisfying and rewarding alternative to cabin fever.
Since March 2021 we have gone to eighteen parks.  Our scoring of the Texas State Parks is multidimensional.  Of course, the safe and scenic quality of road cycling plays a big role, but we also evaluate the camping area.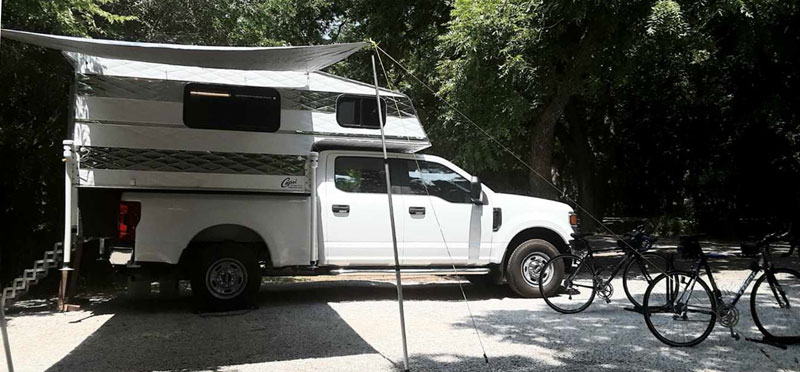 We generally spend two nights at a park.  We ride the day of arrival and the following day with the goal of cycling 60-miles.  The distance is consistent with our weekly goal of 120-miles.  Much of our planning is spent coming up with two different cycling routes at each park.
We focus on county roads and farm-to-market roads with light traffic.  We use a number of resources from The Roads of Texas Atlas to Map Quest to networking with the locals; park staff and others.  We have found the networking resources to be very valuable.
Freight routes like paper mills, rock quarries, oil and gas, and water transport and processing are routes we avoid.  There have been several route redesigns upon receiving information from the locals.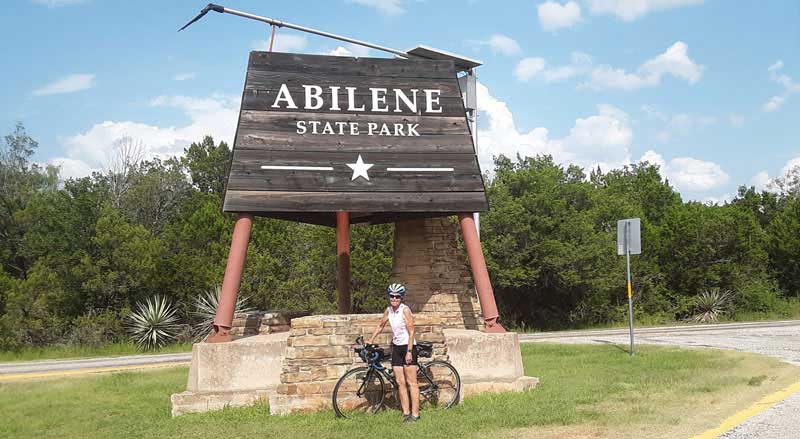 Our current mission statement is Texas State Parks.  However, National Parks are likely in our future.
Our Five Favorite Texas State Parks
1. Isle duBois on Ray Roberts State Park – March 23, 2021
Our favorite state park to date is Isle duBois on Ray Roberts in Pilot Point, Texas.  It happens to be the closest to our home, which is not a big requirement.  It has good facilities, great swimming and the road cycling through the nearby high-end horse farms of Pilot Point and Aubrey is outstanding.  The park has several hiking trails and lots of wildlife activity.
2. Lake Bob Sandlin State Park – August 17, 2021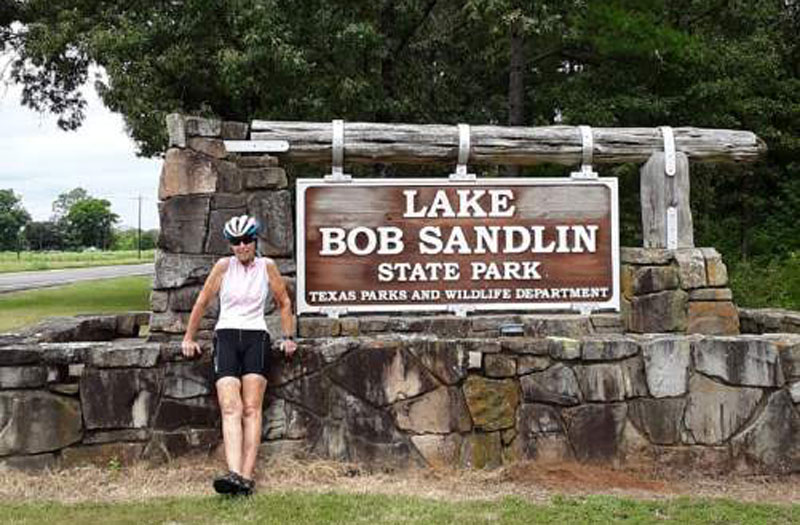 Lake Bob Sandlin State Park is in Pittsfield, Texas.  The park ranger provided great ride and route suggestions on quiet roads.  There are great restrooms and showers!
3. Dinosaur Valley State Park – November 30, 2021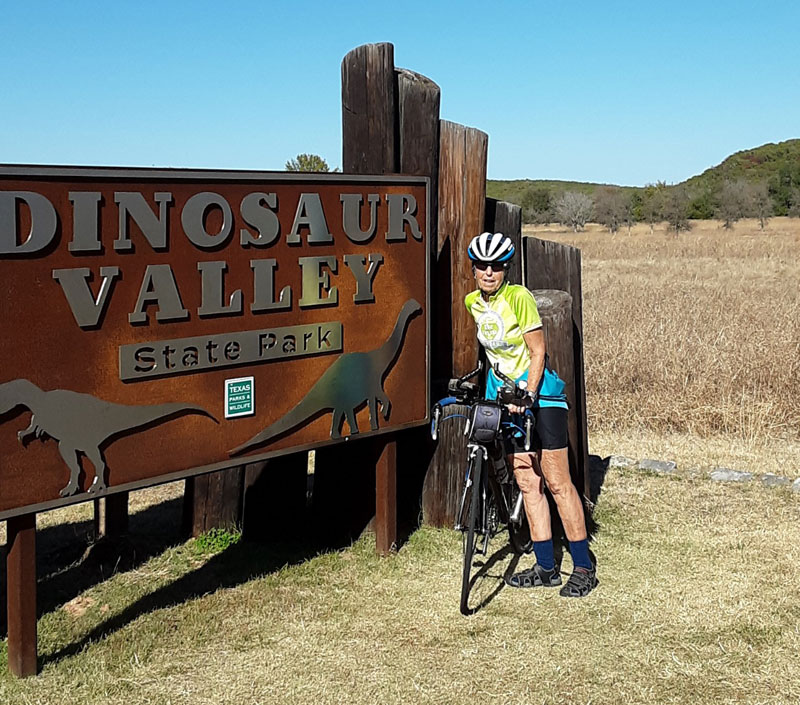 Dinosaur Valley State Park is in Glen Rose, Texas.  It has quiet, scenic, and hilly back roads to cycle.  There is a great small town main street in Glen Rose with antique shops and a great soda fountain.  We hiked the Paluxy River trail keeping our eyes open for their famous dinosaur tracks in the river bed.
4. Cooper Lake State Park, South Sulphur Unit – May 25, 2021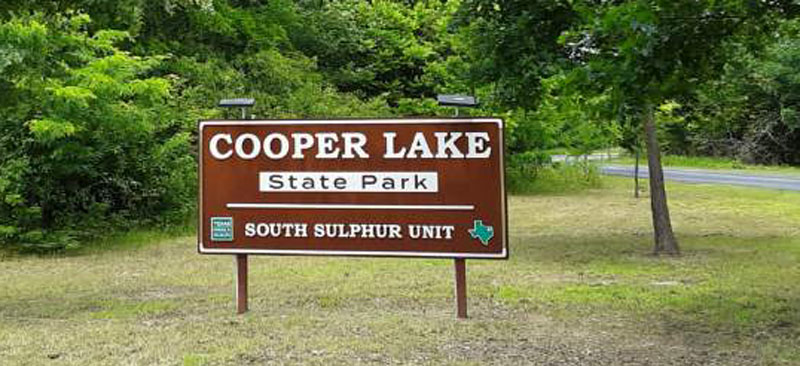 Cooper Lake State Park's South Sulphur Unit is in Sulphur Springs, Texas.  There was a helpful ranger who assisted us with cycling road and route selections.  We took our bike ride from the South Sulphur unit to the Doctor's Unit and back.  There were very quiet roads and abundant, beautiful Queen Anne's Lace beside the road for miles.  We crossed the dam at the north end of the lake.  It's three miles long and beautiful.
5. Possum Kingdom State Park – May 11, 2021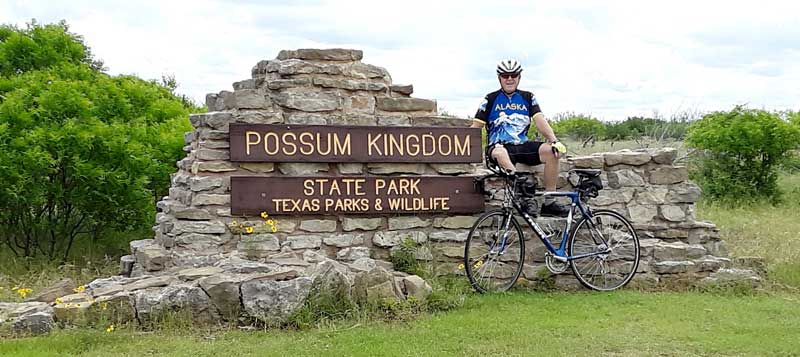 Possum Kingdom State Park is in Strawn, Texas.  May in Texas produces a wide variety of wildflowers along its roadsides including Blue Bonnets, Indian Blanket, Prickly Pear, Thistle, Milk Weed, etc.  The park roads and the roads in the surrounding area were in prolific bloom.  It was gorgeous! Possum Kingdom also has a fairly complete grocery store and restraint on the park grounds.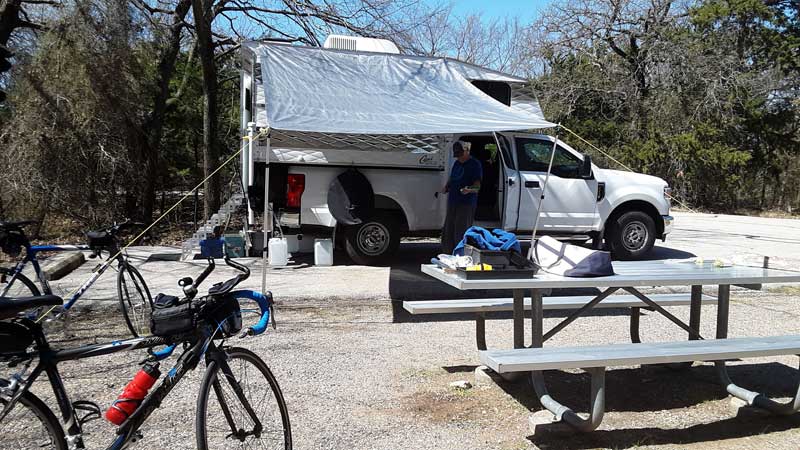 When we visit all the parks, we bring movie DVDs to watch each evening.  We cook by grilling each day after our ride.
Custom Bikes and Constant Maintenance
I built Donna's newest bike in 2006.  It just turned over 100,000 miles on November 30, 2021 at Comanche Nuclear Power Plant in Glen Rose, Texas.  We were staying at Dinosaur Valley State Park.
I have built/assembled several bikes.  We have six high-end bikes, or they were when I built them.  Putting big miles on bikes requires a lot of maintenance.  Bikes are not that robust, especially high-end road bikes.
I have had to repair or replace all but four components on my newest bike with 113,671-miles.  Things fail or completely break and it mostly happens when you are on it miles away from the base.  Because of this, becoming a good mechanic with a strong will to survive the adventure when stuff happens is important.
Validation of Miles
Validation of our mileage accomplishments is documented in two ways.  I keep a maintenance journal for each bike since new.  I service the bikes every 90 to 100-miles.  At that time I enter the date of service, miles, and any relevant information.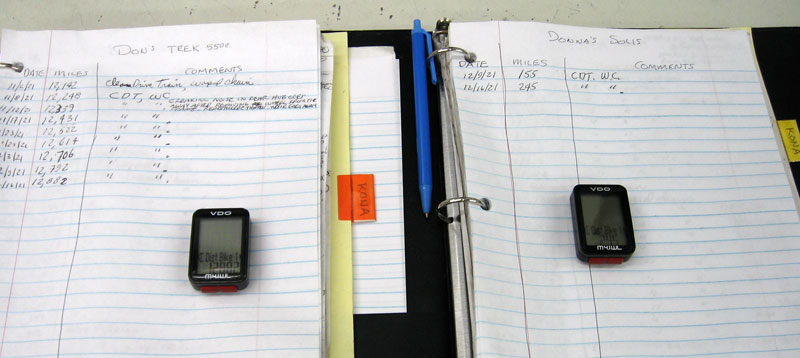 Above: The VDO bicycle computers and journal
The mileage comes off the VDO bicycle computer in the total distance file.  This computer rolls over to 0-miles upon reaching 100,000-miles.  The computer compiler does not go beyond 100,000-miles.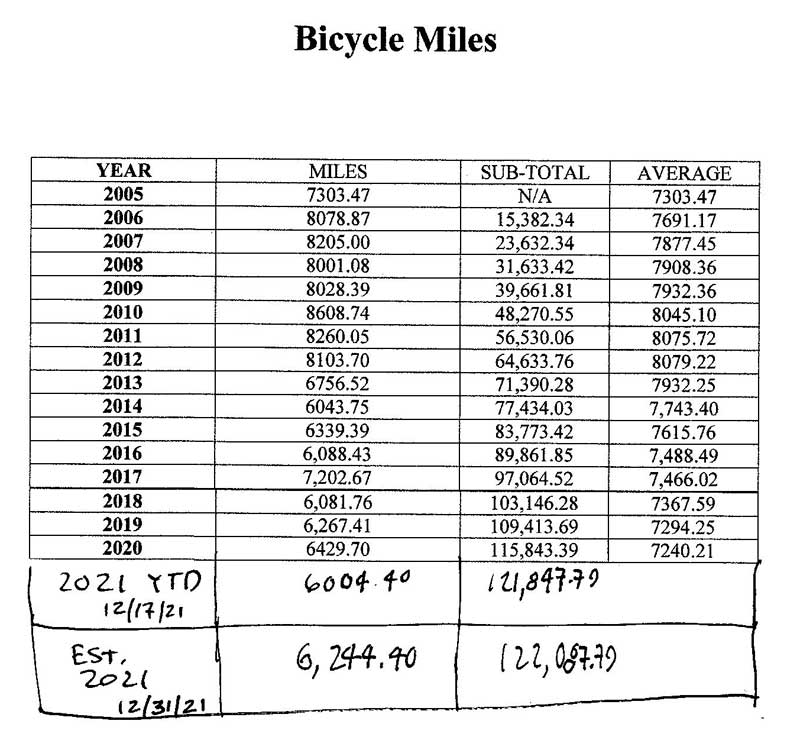 The mileage seen in the photo above represents miles after reaching 100,000-miles.  My bike reached 100,000-miles on December 1, 2019.  Therefore, the actual mileage as of December 17, 2021 on each bike is mine at 112,882 and Donna's at 100,245.  The second means of documenting our mileage is via the ride date stats on the calendar.
By the way, in 32-years of cycling, we have had to SAG in during five events; three of them were due to really bad weather.
Editor's note: SAG is a cycling term meaning "support and gear" and refers to needing to get picked up by the race support team and vehicle due to equipment malfunction, injury, or exhaustion.  I think we all could use a SAG following us now and then.