Ken "Bear" Iddins of Buffalo Hats has traveled 163,000 miles in his custom Six-Pac truck camper rig making custom western hats.  He also researches Bigfoot (aka Wildman).

Ken "Bear" Iddins has so many interesting facets that it would be impossible to fit everything about him into just one article.  For example, he mentions his field research on Bigfoot (aka Wildman) and shows us a large plaster foot cast taken by Washington State University Professor, Grover Krantz.  Clearly we're only going to scratch the surface of Bear's story, but we have to start somewhere.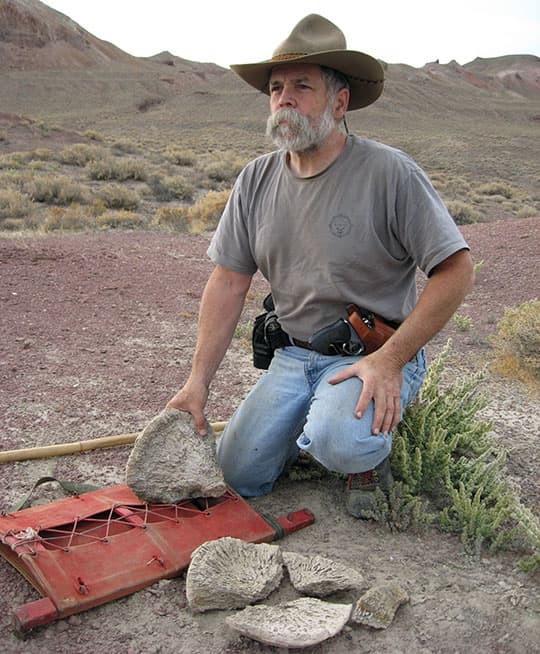 Above: Bear exploring near the Lovelock Cave archaeological site in Nevada
Above: Bigfoot hand and foot plaster castings, a plaster cast of a Bigfoot foot print, and a photo taken by Professor Grover Krantz (click to enlarge).  Most of the plaster casts were taken by Bear's good friend Don Monroe.
For part one, we learn about how Bear travels the country in his 1996 Ford F-350, one-of-a-kind 1997 Six-Pac camper, and 1977 Merhow horse trailer.  Bear attends various events making western style hats.
If that doesn't sound interesting, you haven't read a lick of Bear's story.  By the time you're done reading part one, you'll not only want to meet Bear, but you may just want a custom western hat of your own.  Sit back, relax, and prepare yourself for a fantastic journey into the world of Ken "Bear" Iddins.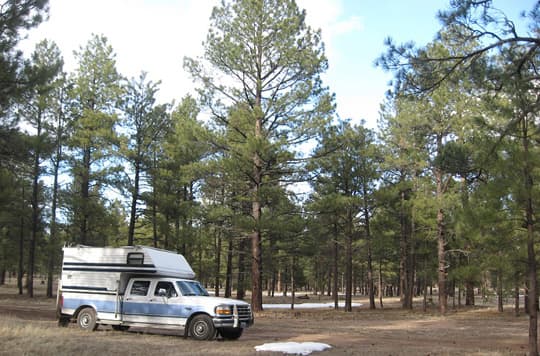 Above: Bear's Six-Pac truck camper in the White Mountains of New Mexico
TCM: How did you get into truck camping?
Bear: In 1957, my parents tired of devoting most of their after work time to doing yard work and large house maintenance, as well as tending a large garden.  With little time to enjoy activities such as camping, boating, salmon fishing, and traveling about the Pacific Northwest, they made the decision to sell their house and buy a three bedroom, ten-foot wide mobile home.
Ten foot wide mobile homes were a new innovation in 1957.  Aside from the new mobile home, we had an eight-foot by eight-foot wooden storage building.  That was a downsizing transition for my parents, older brother, and me!  We got along with the basics just fine, learning to live with necessary items and having very few unnecessary items.  My parents lived in mobile homes the rest of their lives.
In 1967, my parents bought a new Dodge three-quarter ton pickup and Caveman truck camper.  This was my first introduction to camper traveling.
The period of 1966 to 1968 found me aboard a US Navy hospital ship, again in close living quarters.  Most of my work career from 1972 through 1997 was in the remote areas of Alaska.  Living in small quarters at remote radar sites had me well adapted to small living spaces.
I married in the late 1980s and, a few years later, bought a 1991 Ford F-350 diesel and Jayco camper for family camping.  After the children's mother and I separated in early 1992, I sold the truck and camper.  Shortly afterwards I bought a used 1984 Ford F-250 and another camper.
After selling the 1984 Ford and camper in the early 2000s, I bought a 1996 Ford F-350 diesel and a used 1997 Six-Pac eight-foot walk-in camper shell, with a custom interior the previous owner had installed.   Of the three truck campers I've had over the years, I've had the best enjoyment with the eight-foot Six-Pac.  Even with basic living quarters, it's comfortable.  I'm an easy keeper, while favoring a simplistic life style.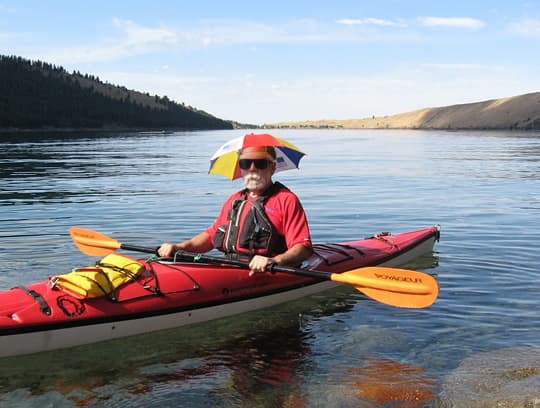 Above: Bear on Wallowa Lake in Oregon with his 13.5 foot Perception kayak
TCM: What do you do when you're out truck camping?