Ken "Bear" Iddins of Buffalo Hats has traveled 163,000 miles in his custom Six-Pac truck camper rig making custom western hats.  He also researches Bigfoot (aka Wildman).

Ken "Bear" Iddins has so many interesting facets that it would be impossible to fit everything about him into just one article.  For example, he mentions his field research on Bigfoot (aka Wildman) and shows us a large plaster foot cast taken by Washington State University Professor, Grover Krantz.  Clearly we're only going to scratch the surface of Bear's story, but we have to start somewhere.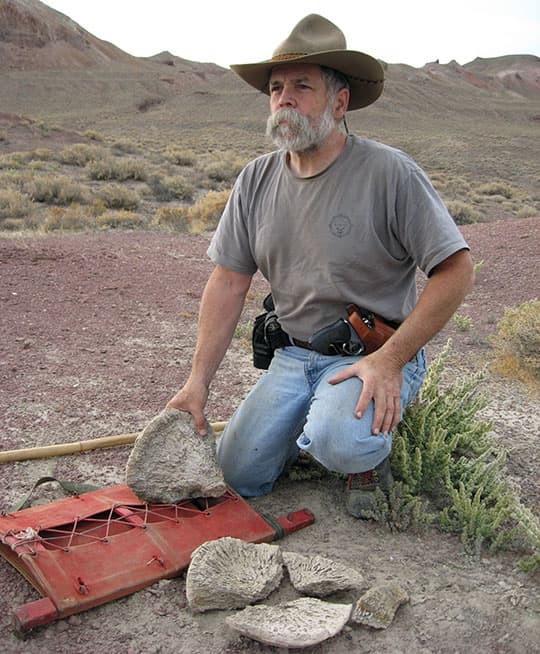 Above: Bear exploring near the Lovelock Cave archaeological site in Nevada
Above: Bigfoot hand and foot plaster castings, a plaster cast of a Bigfoot foot print, and a photo taken by Professor Grover Krantz (click to enlarge).  Most of the plaster casts were taken by Bear's good friend Don Monroe.
For part one, we learn about how Bear travels the country in his 1996 Ford F-350, one-of-a-kind 1997 Six-Pac camper, and 1977 Merhow horse trailer.  Bear attends various events making western style hats.
If that doesn't sound interesting, you haven't read a lick of Bear's story.  By the time you're done reading part one, you'll not only want to meet Bear, but you may just want a custom western hat of your own.  Sit back, relax, and prepare yourself for a fantastic journey into the world of Ken "Bear" Iddins.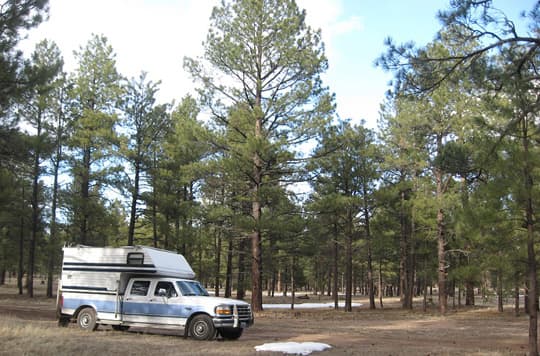 Above: Bear's Six-Pac truck camper in the White Mountains of New Mexico
TCM: How did you get into truck camping?
Bear: In 1957, my parents tired of devoting most of their after work time to doing yard work and large house maintenance, as well as tending a large garden.  With little time to enjoy activities such as camping, boating, salmon fishing, and traveling about the Pacific Northwest, they made the decision to sell their house and buy a three bedroom, ten-foot wide mobile home.
Ten foot wide mobile homes were a new innovation in 1957.  Aside from the new mobile home, we had an eight-foot by eight-foot wooden storage building.  That was a downsizing transition for my parents, older brother, and me!  We got along with the basics just fine, learning to live with necessary items and having very few unnecessary items.  My parents lived in mobile homes the rest of their lives.
In 1967, my parents bought a new Dodge three-quarter ton pickup and Caveman truck camper.  This was my first introduction to camper traveling.
The period of 1966 to 1968 found me aboard a US Navy hospital ship, again in close living quarters.  Most of my work career from 1972 through 1997 was in the remote areas of Alaska.  Living in small quarters at remote radar sites had me well adapted to small living spaces.
I married in the late 1980s and, a few years later, bought a 1991 Ford F-350 diesel and Jayco camper for family camping.  After the children's mother and I separated in early 1992, I sold the truck and camper.  Shortly afterwards I bought a used 1984 Ford F-250 and another camper.
After selling the 1984 Ford and camper in the early 2000s, I bought a 1996 Ford F-350 diesel and a used 1997 Six-Pac eight-foot walk-in camper shell, with a custom interior the previous owner had installed.   Of the three truck campers I've had over the years, I've had the best enjoyment with the eight-foot Six-Pac.  Even with basic living quarters, it's comfortable.  I'm an easy keeper, while favoring a simplistic life style.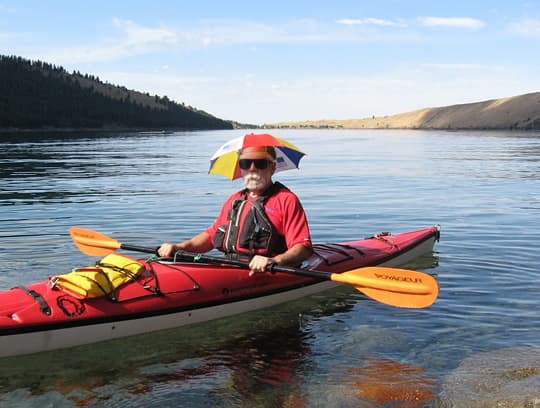 Above: Bear on Wallowa Lake in Oregon with his 13.5 foot Perception kayak
TCM: What do you do when you're out truck camping?
Bear: I do some kayaking in calm waters.  To whisper along the top of the water in the kayak is very peaceful.  I also enjoy trips to the desert, mountains, visiting others that I know around the country and researching Bigfoot (Wildman) activities.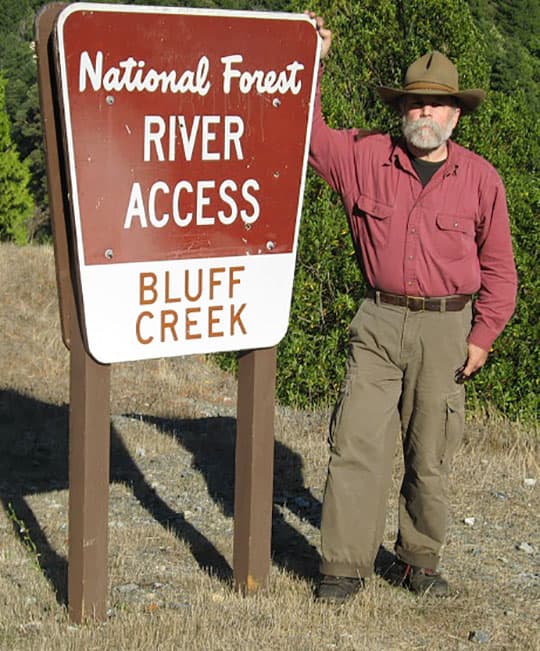 Above: Bear at Bluff Creek, the site of the 1967 Patterson-Gimlin Bigfoot film
I'm like the 'bear that went over the mountain to see what he could see'.  I enjoy traveling.  As my better half refers to it, the camper is 'my turtle house'.  It provides shelter for my wandering ways.  I have put well over 163,000 miles on the truck and camper in the past 10 plus years.
I've lived in the camper from Montana to California to Arizona to Texas to Tennessee to Maine to Minnesota to Washington to Alaska and many places in between.  I've built many hats along the way.  I'm a custom western hat maker part of the year.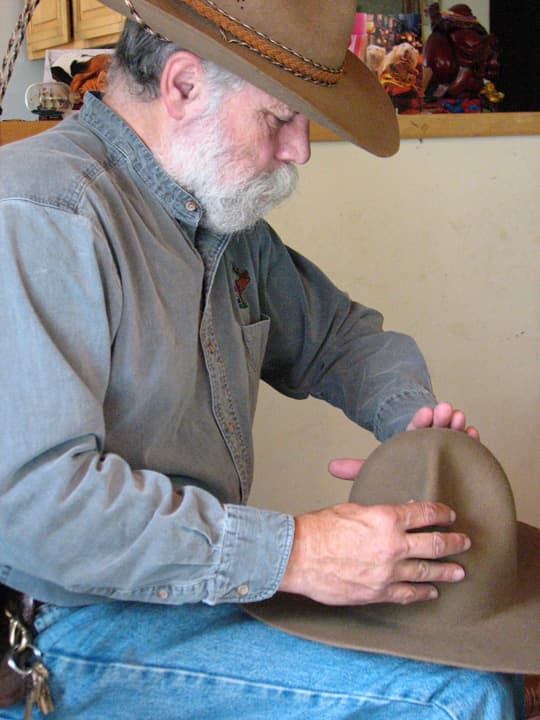 Above: Bear making a Snohomish Hat
TCM: How long have you been making hats?
Bear: I have been making custom western hats since 2001, though I worked with hats for several years prior to that.  There are two or three of us making hats in the West that are a bit different than regular storefront shops with their off-the-shelf hats.   We all know one another, seeing as how we had our training and introduction to hat making from the same hatter, Larry Rosenbaum.
Larry has been making hats since the 1970s, and primarily since 1988.  Larry's retired now and enjoying his golden years.  A better friend one could not meet along this pathway of life.
I perform the entire hat making process in front of the customer; steaming, blocking, shaping, and final fitting.  In less than an hour, they walk away wearing 'their' custom made hat.  I get the customer involved with the hat making.  You might say 'we' make the hat together, which adds a personal touch to 'their' hat.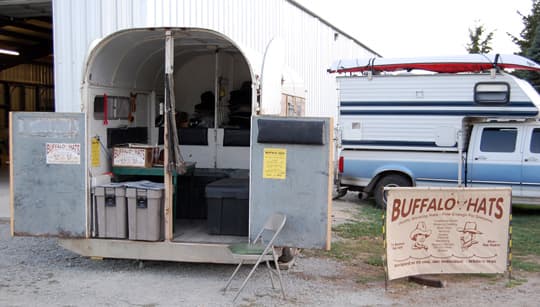 Above: The 1977 Merhow horse trailer that Bear rescued out of a stockyard in Drummond, Montana in 2002.  The front half is a tack and bunk room and the back half is two-stall area where the hats are made.
TCM: That's really neat.  Are there other traveling hat makers?
Bear: There are two or three hatters making hats this way in the United States, but It seems I'm the only one using an old horse trailer as a traveling hat shop.
The hat bodies I use are the same bodies used by custom western hat shops.  I don't sand the hat blanks, which leaves the felt thicker and more durable.  Rather I make a working man's hat at a working man's price, yet fine enough for dress wear.
As a hatter, my travels take me mostly around Montana, but also Idaho, Wyoming, Oregon, and sometimes Washington.  I've also traveled and made hats in Maine, Oklahoma, Alaska, Minnesota, Arizona, California, and wherever the wind may take me.
Hat making and interactions with customers brings me a lot of enjoyment.  Getting to meet such good and varied people out there has its own rewards.  If it's along a route I'm taking, I'll go to someone's home and make their hat for them.  I'm not aware of another hatter offering to go to someone's home and build their hat (well, at least now that Larry's retired).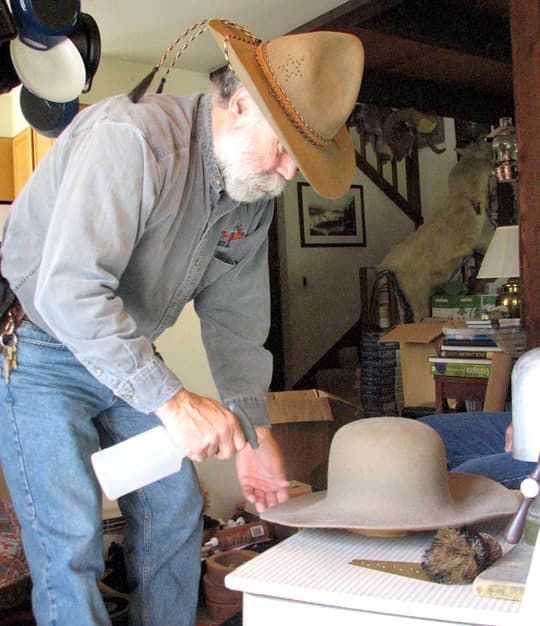 Above: Working on a hat for a customer in the customer's dining room
The most unusual place I've made a hat was while doing laundry at a laundromat in Cody, Wyoming back in 2004.  I had finished a SASS Cowboy Regional Shoot in Cody, Wyoming, a Jake Clark Mule Auction the following weekend, and returned to Cody for a Winchester Gun Show.  As I was leaving Cody, I stopped in to do a load of laundry.  While sitting there reading a pocket book and doing laundry, in walks a young puncher and his wife.  They were in their mid-twenties.
I notice hats!  I saw his hat had a long tear in the left side of the crown.  I found out later his shod horse stepped on it on the rocks, shearing the felt.  Once they had their laundry started, he came over and asked me who'd made my hat?  I replied, "Funny you should mention that!"  I explained about my being a hatter.  He wanted to know if I'd make a hat for him.  So out to the horse trailer we went for him to pick out a hat blank color.
We then carried my three totes of equipment and square ironing board back into the laundromat.  I set up the steamer, laid out the ironing board that's two foot square, and began making his hat.  In no time at all, a group of a dozen people were gathering around to watch.  While making the young puncher's hat, I explained the process to the now-formed huddle around the ironing board.  That was a fun afternoon.
Fast forward ahead in time eight months to March of 2005, in the middle of the Maine.  I had been visiting my daughter and son that winter, and worked a sportsman show with hat making.  There's not much west in the east and some of them folks were just plumb tickled to get a custom western hat made for them!  In traveling back up the interstate from the show, a state trooper passed me.  Soon afterwards I pulled into a road side rest area.  Here was the state trooper parked doing paperwork in his vehicle.
As I drove by his car into a parking place, he came driving over towards me.  "Now what?" I thought.  "Because I'm out of state, he's gonna mess with me?"
I got out of my truck and walked by the front end wearing my signature hat with an elk track on the back of the crown.  As the Trooper pulled up, he rolled his window down.  I could tell he was being friendly by his smile.  He looked at my license plate, which was Wyoming at the time, and commented, "You're kinda far from home, aren't you?"
I told him I was up visiting relatives and had just done a show where I made hats.  He exclaimed, "You make hats?  Got a card?"  So I gave him a card.  He parked his car, got out, introduced himself as Mark and we talked for about forty-five minutes.
Toward the end of our visit, I mentioned making the hat in a laundromat in Cody, Wyoming.  I had no sooner finished telling him about the laundromat hat, when he said, "He was a tall skinny kid with a big smile, right?"  That is only the second time I've been at a total loss for words (there's been no third time so far)!
"How in the hell did you know that?" I asked.  He told me at times he would drive his 2002 Harley Davidson Police Special motorcycle from Maine to Cody, Wyoming each summer.  His wife then flew out to meet him there, and they would stay at a guest ranch outside of Cody.  The hat I made for the puncher in the laundromat was the son-in-law of the people who owned the guest ranch.  He knew the whole story from the puncher's side.  Here I met him on a highway in Maine eight months later.  Incredible!  That's one of my favorite stories to share.
I later made hats for Mark and his wife Vicki at an event in Maine and we've kept in touch over the years – fine people they are.
TCM: That is an incredible story.  What's the name of your hat making business?
Bear: Buffalo Hats is the name of my hat making doings.  I don't have a web site and I will not do mail order hats as I travel so much that it's not practical to keep up with mailings.  If a return was required, what a hassle that would be for both myself and the customer.  I guarantee my hats.  If the customer's not satisfied with their hat, I will either correct the hat, make adjustments, or give a refund.  Anytime a customer wants their hat shape touched up (and they all get kicked out of shape sooner or later) all they need to do is bring their hat to me at an event I'm doing and I will reshape, block, or whatever is needed.
Doug, a hunting guide in northern Idaho, has brought his hat by an event I do there for nine years and I've blocked and reshaped his hat each year – no charge to the customer!  We both look forward to our visit each year.
I inform customers there's a term in my old dictionary the new ones don't seem to have.  It's called, "customer service".  Given proper care, a good felt hat will provide the wearer with many years of service.
Above: Custom hand made rounding jack tools.  These tools are used for trimming the brim of a hat to the size wanted (click to enlarge)
TCM: How do you fit a customer for a hat?
Bear: I measure an individual's hat size by measuring the circumference of their head one-inch above their eyebrows and a finger's width above their ears.  For example, 22 5/8" is a standard hat size chart circumference used for 7 ¼  hat size.
I use pre-made hat sweat bands, and they are made by hand.  A 7 ¼ size sweatband will have ever so slight of a variation in size – a bit smaller, right on, or slightly larger.  I will take five or six of the 7 ¼ size sweat bands and find one that fits the customer's head properly and then make the hat to fit the sweat band.
There is no such thing as 'an average head' out there.  Everyone's head size and shape has its own variation, just like each peanut in the peanut barrel at the local mercantile.  There are heads that are long oval, round, short oval, and peculiar.
Some customers have bumps on their head that cause a standard off the shelf store hat to not fit them comfortably.  When the customer is right in front of me, I'm able to fit the hat to their particular head configuration, bumps included!
Other folks may require a hat size not readily found on a store front shelf, a little smaller than standard size hat of 6 ¼; or a bit larger than normal size of 7 7/8.  Fitting and creating a hat for the customer when they are sitting in front of me allows the hat to be fitted exactly to their head – not just close, but a proper fit.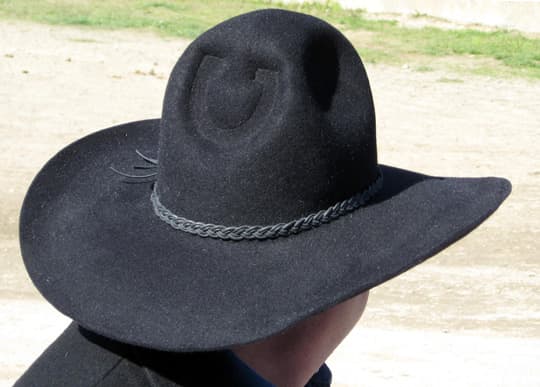 Above: A small dent in the back of a western hat is commonly known as a 'mule kick'
TCM: Are all the hats fairly similar, or are there different options and features available?
Bear: Most folks usually select a basic type of hat shape.  Hat bodies all begin with the same shape, which is an open crown (rounded with no shape other than a round top) and wide flat brim.
After steaming and blocking, then ironing the hat body and trimming the brim width to the customer's preference, steam is once again applied to the hat body to soften the stiffening agent.  Then the hat body becomes soft enough to shape into the various styles of hat; Western, outdoor style, Fedora, etc.  When the hat cools, it holds its shape.
There are two custom features that I began offering over twelve years ago; one is a small horseshoe shape (donkey shoe in size) imprinted into the back of the crown (top) of the hat.  When I first began hat making, I was told the small dent in the top of the back of the crown was called a "mule kick".  I looked at the dent, saying, "That dent has nothing at all to do with a mule!"  So made a small Teflon donkey (horse) shoe and began imprinting it into the back of a customer's hat, when asked for.  Folks who are 'mule people' have come to really like this "Real Mule Kick" feature.
In 2002, while visiting a friend in the mountains of Wyoming, he had his annual elk hanging behind his cabin.  I looked at the front feet and knew that hoof size would fit the back of a typical western hat crown.  I made a Teflon block and now offer a six-point bull elk track in the back of a customer's hat.  I know of no other hat maker who offers an elk track like this on a hat.
Remaining open to ideas and concepts customers may ask for is important.  After all, it is 'their' hat I'm working on.  Most of the time, customer requests are reasonable.  Other times the requests can be 'interesting'!
One customer wanted me to punch holes (air vents) in the side of his hat crown in the shape of a half moon, like the one you see on an outhouse door!  The hat was to be his fishing hat, as his buddies had nicknamed him S@#T Head.  I drew up a design he liked and then punched the half moon shaped pattern of holes into each side of his hat.  He gave a happy grin!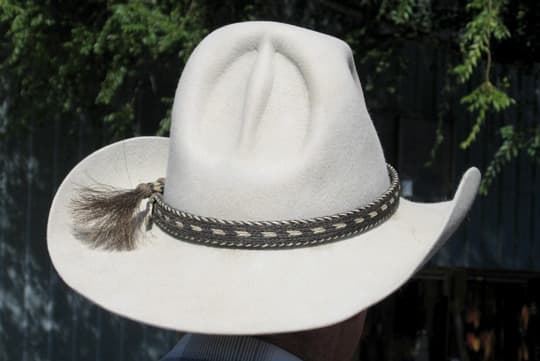 Above: A six-point bull elk tack on the back of the hat with a hand braided hat band
Each hat comes with a hand braided hat band.  Braiding the hat bands is an enjoyable time of quiet.  Customers are told, "You can have any color of hat band you want, as long as it's one of the five colors I offer you".
Admittedly, the customers are much of the juice with hat making.  Well, with encounters with the public you will run across some that really have you believing Snow White and Dopey had kids.  When that happens, you put on your best and treat them like they were the nicest customer of the day.  It's only for a little while and, to me, if it doesn't make any difference six months from now, why get all flustered about it today?
There are great people to be met along the way, and I've developed good friendships with customers that have lasted for many years.  People are what life's supposed to be about.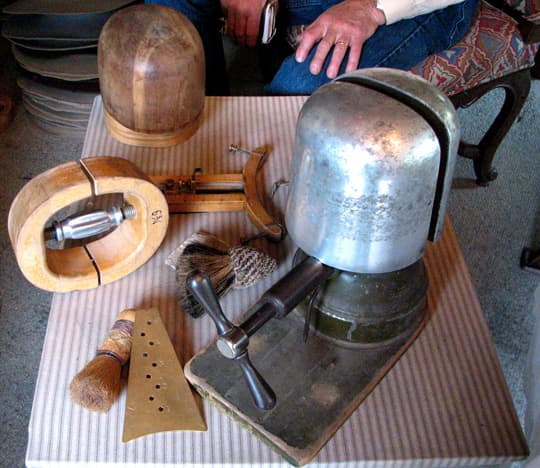 Above: Some of the old antique equipment for making hats
Working with hats is kinda like potter's clay.  You can mold and shape them into many shapes.  Be it a western cowboy hat, outdoor hat, 1700s period tri-corner hat, or a dress hat, they are able to be created from the same hat blank.  It's mostly a matter of shaping the material.  There is so much more to hat making than people thinking, "Hey, it's just a hat."   I usually reply, "Hey, you came to this event in just a truck, right?"
Customers receive hat care information and instruction on how they can maintain their hat in good condition.  All hats, sooner or later, get out of shape from use.  With the use of a tea kettle (being a steam generator) they are able to maintain their hat shape and perform general maintenance.  Do I teach the customer hat making?  Not really.  Rather I share information with them that they may learn from.  Hat making is a creative art and craft all its own.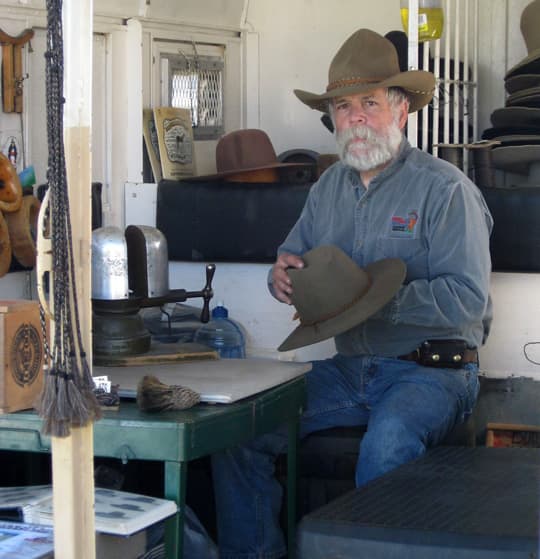 Above: Bear inside his hat trailer working on a customer's hat
TCM: Tell us about the shows.
Bear: I build hats at various gun shows, trade shows, horse clinics, horse or mule events, cowboy action shooting events SASS (Single Action Shooting Society), ranch functions, birthday parties where they have me come and make hats for the guests, or wherever the adventure of a new event may lead me.
The two-stall area in the horse trailer is my hat making shop for outdoor events.  There's plenty of room for the customer to sit inside while watching their hat being made.  Folks like the nostalgia of having their hat made right in front of them in that old horse trailer.  Come to think of it, so do I!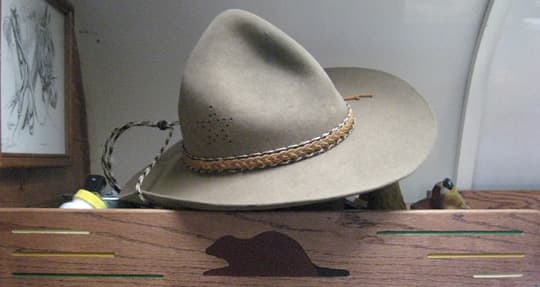 Above: Bear's signature hat features an Elk track on the back.  This is the style of hat Bear wears 90% of the time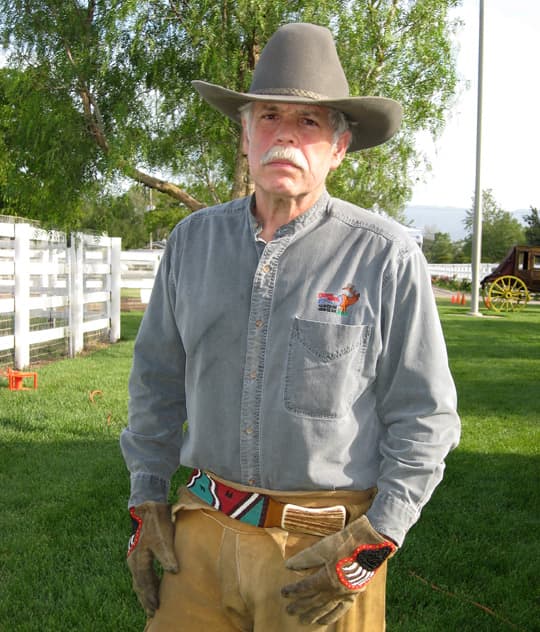 Above: This is the hat Bear wears 10% of the time.  Bear is also wearing brain-tanned buckskin britches and cloves, and a beaded belt with Elk antler buckle he made back in the early 1980s.
TCM: It sounds like a wonderful experience for both you and your customers.  Where will you be making hats in 2014?
Bear: From around the end of May until the last of August, I will be mostly in Montana.  If your readers want to know what events I'll be attending, have them email me at [email protected].
I only use email, no phone.  When a business card is handed to a customer, I tell them, "The phone number that's not on the card never rings, and it's really nice."  Cell phones are why they still sell hammers!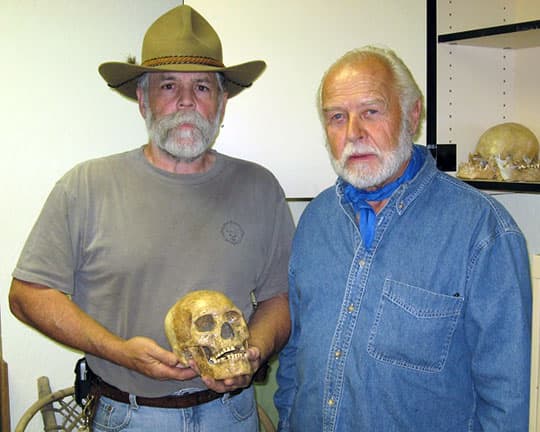 Above: Bear with his friend, Don Monroe, at the Winnemucca Museum in Nevada researching giants and Piute Indians
I've reduced the number of events I used to attend.  I carry my hat making equipment where the back seat use to be in my 1996 Ford crew cab.  Hat making gear is always with me as I travel, no matter what I'm doing, even when out doing Bigfoot (Wildman) research and collecting foot and hand print plaster castings with Don Monroe, one of the best trail partners one could ever team up with.  That's another adventure you know!
NEXT: For Part 2, Bear shares his extensive truck camper modifications.  You're not going to want to miss the story behind one of the more unique custom "production" truck campers on the road.
Do you have a neat hobby on the road like Ken Iddins does with his hats?  Maybe you go metal detecting, bass fishing, or photograph wildlife.  Please share your story about your unique hobby on the road.