Ken "Bear" Iddins of Buffalo Hats reveals his unique eight-foot custom Six-Pac shell model with an extremely custom, tricked-out, and modified interior.  Are those really stained glass windows?

Many of us have dreamed of designing and building our own truck camper.  One moment you're sitting in your dinette looking at the kitchen thinking, "Why didn't they put another cabinet right there?" and the next you're drawing a truck camper floor plan on a napkin.  We have certainly inked a few ideas this way over the years.  Then the reality the of cost and time involved in such an endeavor hit us.  If truck campers could be built in Photoshop, we would make the world's greatest truck camper.  Until then, we're probably just dreaming.
Then again, what if we could buy a shell and then have it custom up-fitted to our exact specifications?  That eliminates the need to design and build the exterior structure and allows us to focus on the interior we've always wanted.  That feels more possible.  In fact, it seems down right doable.
As it turns out, this is exactly what someone did seventeen years ago.  In 1997, an eight-foot Six-Pac truck camper was ordered as a shell model.  The customer planned on taking the shell back to his home in Montana where he would have a completely custom interior installed.  He did, and then later sold his Six-Pac to Ken "Bear" Iddins.
If you've already read part 1 about Ken "Bear" Iddins, "A Man of Many Hats", you can probably guess what happened next.  As a hands-on creative with a unique flair for western aesthetic, Ken went to work further customizing the Six-Pac to be exactly what he needed.  Now the 1997 Six-Pac that started as a shell model is anything but.  In fact, it may be the most customized truck camper we've ever seen.

Above: Bear's 1996 Ford F-350, 1997 Six-Pac, and 1977 Merhow horse trailer
TCM: Tell us about your Six-Pac's custom interior.
Bear: The Six-Pac was originally built as a one-of-a-kind shell in 1997.  The original owner took the camper to Montana and had a custom interior built.  The floor plan is not like standard off the lot camper models.  Since buying the camper in 2002 I've made some additional modifications to the interior.
Around 2005, the original floor began showing signs of deterioration.  As the shell had interior walls added after it was built, the floor could be dropped away from the interior walls to change the floor.
The new floor consists of one sheet of half-inch exterior plywood and one sheet of three-quarter inch exterior plywood.  These sheets were glue-laminated and screwed together.  Glued on top of the plywood is a 4' by 8' fiberglass pebble surfaced white shower panel making the interior camper floor surface.  A second 4' by 8' fiberglass shower panel was glued to the bottom of the plywood to make the bottom of the camper (where the camper meets the truck bed).
The new floor materials provide the same thickness as the factory floor, so everything fit back together tight.  I applied clear silicone around the edge of the floor and raised it back into position.  Stainless steel screws hold everything in place.  The new floor is a a bit heavy, but will last long after this camper is out of action!  For roof and side wall insulation, the original owner had three-quarter inch foam board installed during construction.
Installation of a roof mounted flexible solar panel mat charges the camper batteries, assisted by charging from the truck alternator when traveling.  The company that made the solar panel system has been out of business for three years now.  Unfortunately, they are no longer available.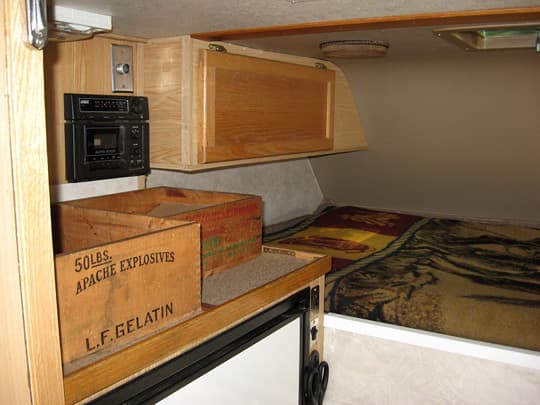 Above: The cabover area on the driver side.  Bear painted the ceiling oatmeal color, and then used wide oak trim as a separation board between the oatmeal color and the original white ceiling.  Bear used garmet trim rope to fill in the gaps between the plastic speaker case and ceiling.  Bear left the entertainment center pretty much as is.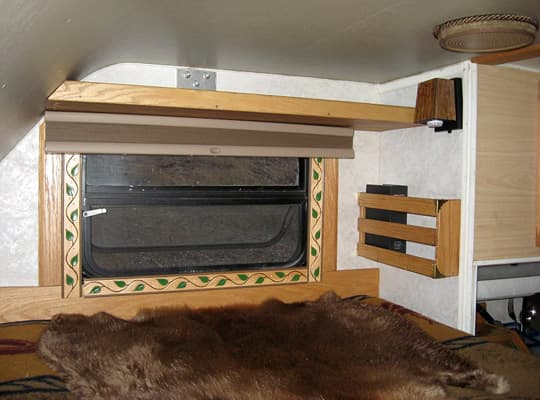 Above: The cabover area on the passenger side.  Bear added another board to the overhead shelf.  Oak boards now trim the window.  Bear also hand painted the leafy greens on the pre-pressed pattern trim pieces from Home Depot.  Bear said he splurged and added a Levolor pull-down blinds setup, which has dark-lightproof backing.
The cab over area is a double bed-size bunk.  After building a cabinet above the foot of the bed there is now storage for clothing.  Above the head area I built a loft for holding magazines or books.  Oak is used for the woodwork I've done in the interior of the camper.
Several years ago, I came across an AM/FM/cassette radio unit in a wrecked travel trailer.  I mounted it into the wall above the refrigerator.  The AM/FM/cassette radio system and a portable DVD player make up the entertainment center.
My refrigerator (left front of camper floor) is a marine type, operating from 120 volt shore power or 12 volt battery power.  It does not operate off propane.  I've not had any problems keeping food.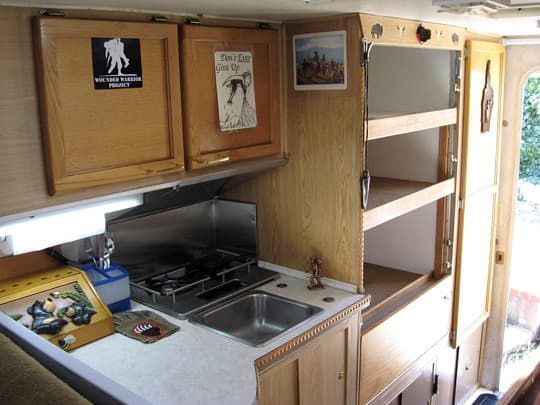 Above: The kitchen and storage area are on the passenger side of the camper
Across from the refrigerator is the kitchen (right front of camper floor).  The kitchen features a counter top with a 10" x 10" stainless steel sink and drain and a two-burner counter top propane stove.  There's no oven.  A second cabinet above the kitchen counter area provides storage for food and dishes.  Cookware stores under the counter.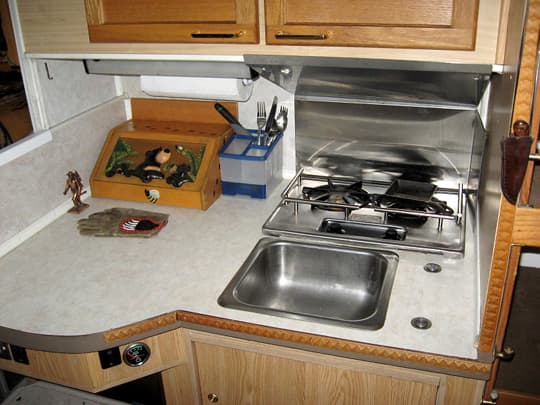 Above: Bear removed the faucet from the counter top (see stainless steel plugs that filled the holes), added little diamond shaped wood trim; and used stainless steel drawer pulls for frying pan/cooking pan barriers on the two-burner stove top.  Bear still retained the function of the sink with its drain capabilities and gray water holding tank.
I carry one or two five gallon containers of potable water.  I have access to potable water on a regular basis, so this works well.  When I'm figuring to head for the hills for a long time – such as exploring in the western States; Bigfoot research, hiking, or spending time in the high country – additional water is carried.
Long ago I adapted to minimal water usage.  There was a forty gallon potable water holding tank built into the front floor area of the camper.  To me forty gallons of water is unneeded weight, so I removed the top of the tank and made the tank into additional storage.  The small 10" x 10" stainless steel sink drains into a custom twenty-gallon gray water holding tank.  Removing the three-gallon water heater tank also saved weight and propane use.  The two burner stove provides heated water.


Above: Some close-ups of the personal touches to Bear's camper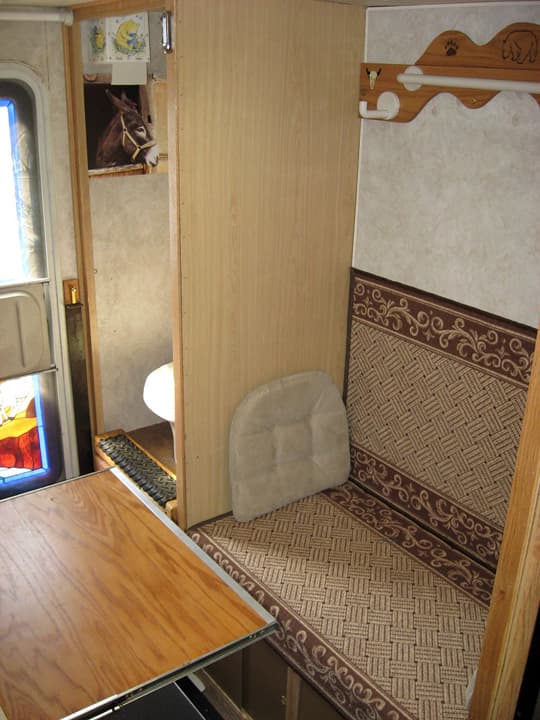 Above: The view from the bunk to the living room.  Bear used floor carpet runner pieces for the living room seat bottom and back board.  The dining room slide-out table was originally installed during the remodel work years ago.
The living room (left center of camper floor) is a 38" wide by 22" deep seating area that often holds large plastic totes of gear while traveling.  Across from the living room (right center of camper floor), has been converted from the original sit-down shower stall into three 30" wide by 25" deep storage shelves and a slide-out dining room table/desk.
The dining room table is underneath the storage shelving where the sit down shower system was.  There's also storage access to the old shower pan area.  A 24" wide x 27" deep table top made from finished oak plywood slides out on drawer slides.  When wanting to sit and entertain in the living room, the dining room table slides out and can easily accommodate folks for dinner.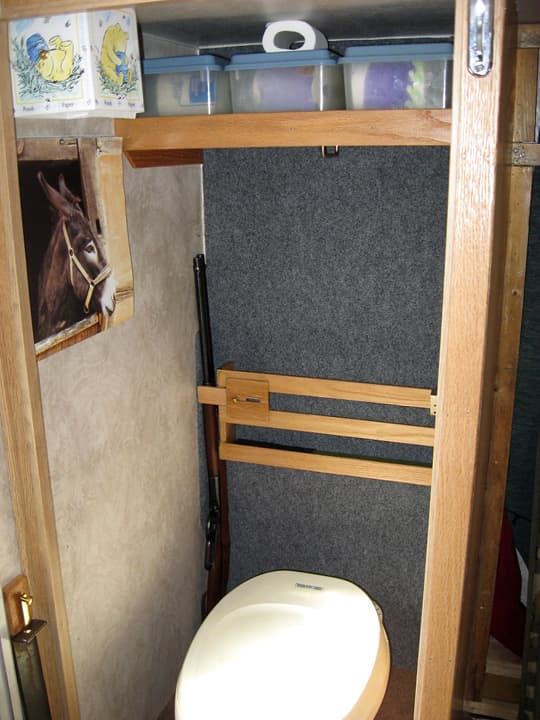 Above: Remodeled bathroom has stapled thin auto carpet on the back wall, a new shelf for 'bum fodder' storage, and a mounted magazine rack with sliding holder for lever action carbine.
There is a bathroom (left rear of camper floor) with a permanently mounted sit-down regular commode.  Now the bottom of the commode is the same height as the top of the fender well overhang, but using an ever present strong tool box to stand on, then stepping up to the proper position to use the commode, works fine.  You might say you're sitting high on The Throne!
There's no door to the bathroom, but so what?  What matters most is having a commode to use, not the view from the top!  On the outside of the camper box, driver's side, is a custom made twenty-gallon black water holding tank.
Across from the bathroom commode is a corner closet for storage (right rear of camper floor).
Along each side of the main floor/hallway are 14″ high sliding doors at floor level, with six-inch deep storage and shelves behind them.
There is a single horizontal five gallon propane tank for use with the stove and small space heater.  When the camper interior was first built, there was no heater installed.  The original owner stayed away from cold climates.  Shortly after I bought the camper, installation of an Olympian Wave catalytic heater provided heat.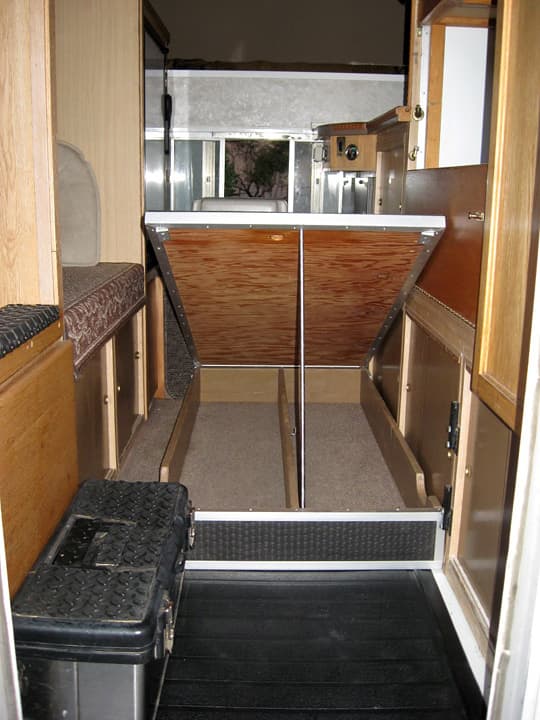 Above: This photograph shows the basement floor box in the open position.   It's 2′ x 4′ x5″ deep and works well for storage.  It also makes the kitchen counter not so tall to stand in front of.  It's always a nice feature when something has duality of purpose.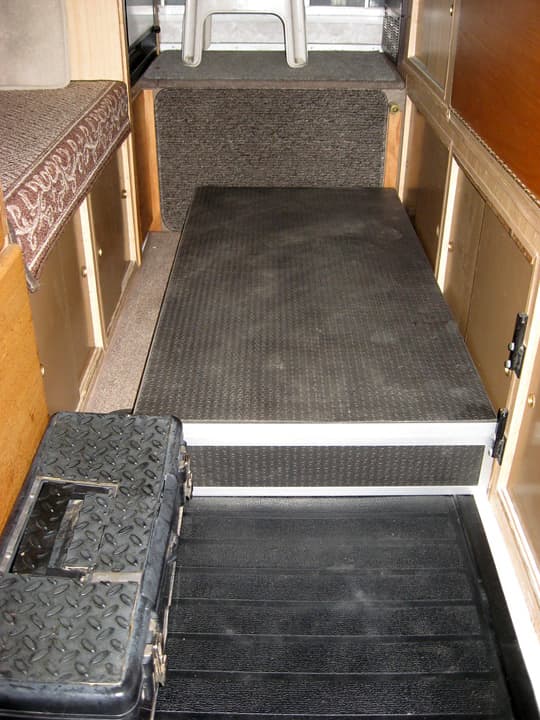 Above: The new basement floor box.  Bear explained the box took a day to fit the angle aluminum trim including drilling and beveling holes for wood screw heads.  Now you know what to do you do with a Yoga rubber floor mat you find at a thrift store; you cover your basement floor box with it.
Then there is the basement.  It measures 2' wide x 4' long x 5" deep, with a lift up lid.  It sets on the main floor of the camper and provides additional storage.  It also adds a step towards the height of the original kitchen counter top.  The basement may be lifted out and removed from the camper if not wanted to be used.
This one-of-a-kind truck camper makes for a perfect sheep herder's type of outfit; nothing fancy, basic, yet comfy and cozy.
When I comment to people that I came out of the bedroom, through the kitchen, down the hallway, through the living room and dining room, to the bathroom, there's no doubt (unless they know my camper) they're thinking along the lines of at least a Class C motorhome.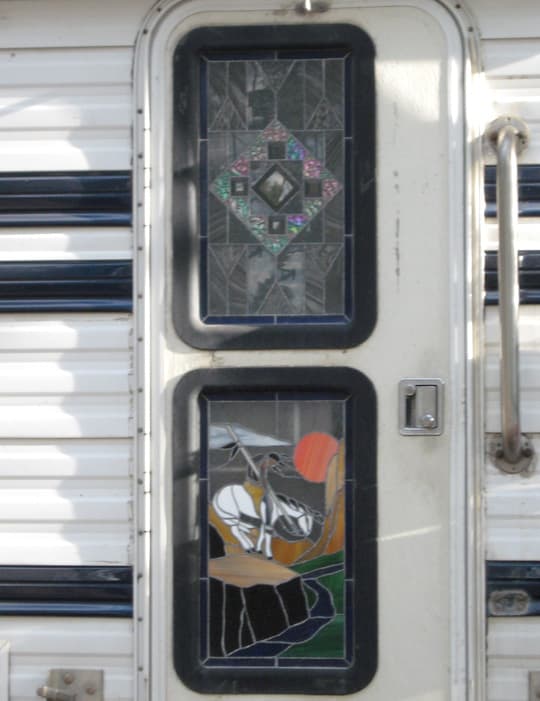 Above: Bear's back door camper windows are stained glass.  Bear bought them while in Mexico a few years ago.  Bear says the windows can be bought from street vendors from $34-60.
TCM: You removed the back seat of your 1996 Ford crew cab.  What did you do with that space?
Bear: The F-350 crew cab front seat is as it left the factory.  The rear seat has been removed.  In its place I have installed a plywood floor (36" x  55" and a usable height of 40"), side doors, and front and back walls.  I added thin auto carpet to the floor and walls.  Boxed in as it is, this area provides storage space for hat making equipment, hat bodies, and other assorted gear.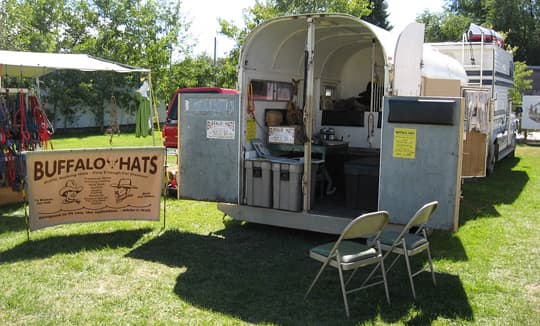 Above: Bear's 1977 Merhow horse trailer that's used as a rolling hat shop and bunk room
TCM:  So, you tow a trailer.  Tell us about it.
Bear: When working outdoor events, I use an old 1977 Merhow horse trailer as a rolling hat shop and sometimes bunk room.  There hasn't been an animal (well, four-legged!) in there in over fifteen years.  Yes, the fragrance has finally departed the two-stall area!
The front half of the horse trailer is a tack room, with a bunk.  Adding another padded board it can be used as a double bunk, although you better know one another pretty well.  Years ago, I found a new-in-the-box 1960s-era yellow plastic port-a-potty at an antique store in Oregon, so I use this as needed.
A couple of hardwood walnut cabinets were built and added for food, clothing, and gear.  Then I used a Dremel tool to router designs on the cabinets and shelving and painted the engraved lines and designs with acrylic paints.  A buffalo robe and beaver skins adorn the bunk.  There's not much warmer than fur in the winter months.  I normally have the camper on the truck at outdoor shows and events.  When I don't, then bunking in the horse trailer works.
When I have the camper on the truck for outdoor shows, if someone is in need of a place to bunk, the horse trailer tack room has been offered and used several times by punchers looking for a place to roost for a night or two.  That's what part of being neighborly is about, helping or lending a hand to others.  If there were more random acts of kindness in this world, people helping people, it would make a better world for all.
Truck: 1996 Ford F-350, crew cab, long bed, 4×2, 7.3 diesel
Camper: 1997 Six-Pac, 8 foot, custom made
Tie-downs/Turnbuckles:
Front – short turnbuckles anchor from front corner of camper to front of pickup bed
Rear – long turnbuckles anchor from camper corner frame to eye bolts bolted to 2"x2" square steel tube run through Class C frame mounted trailer hitch opening, the tubing runs full width of rear of truck. Besides providing a solid anchor point it also provides an additional bumper as rear end protection for the back of the truck and a place to hang mud flaps.
Suspension: Overload SuperSprings have provided excellent service for the past 10 years.
Truck Gear: Tymar air intake; 3″ downpipe; 4″ exhaust; EBPV flange removed; (these 4 changes lowered EGT's 150 degrees); DieselSite 203 degree engine thermostat; Tymar HPX crossover oil line; manual push button momentary switch for glow plugs; changed from 4:10 rear end gears to 3:55 gears; pyrometer temperature gauge; Mean Green gear down starter; Rev X engine oil/rear end additive; factory stock injectors; not chipped.  Rebuilt 5-speed and new Luk clutch at 208,000 miles, truck now has 209,500 miles.  Engine runs strong.  With camper on the truck, keeping highway speeds 58-60 mph and 1700-1800 rpms, will get 16 mpg on a good day.
Trailer: 1977 Merhow horse trailer; the back half is a 2 stall horse area – used as a hat making booth; the front half is a remodeled tack and bunk room area. Dry weight of the trailer is 3,100 lbs, but tows well.