Along each side of the main floor/hallway are 14″ high sliding doors at floor level, with six-inch deep storage and shelves behind them.
There is a single horizontal five gallon propane tank for use with the stove and small space heater.  When the camper interior was first built, there was no heater installed.  The original owner stayed away from cold climates.  Shortly after I bought the camper, installation of an Olympian Wave catalytic heater provided heat.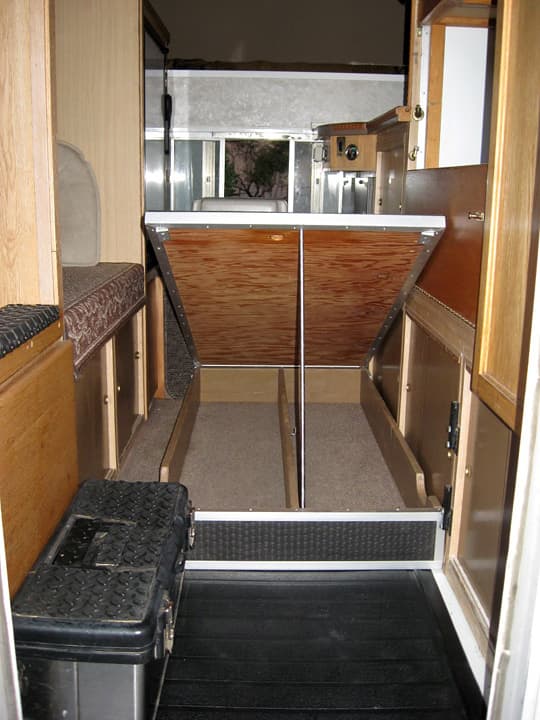 Above: This photograph shows the basement floor box in the open position.   It's 2′ x 4′ x5″ deep and works well for storage.  It also makes the kitchen counter not so tall to stand in front of.  It's always a nice feature when something has duality of purpose.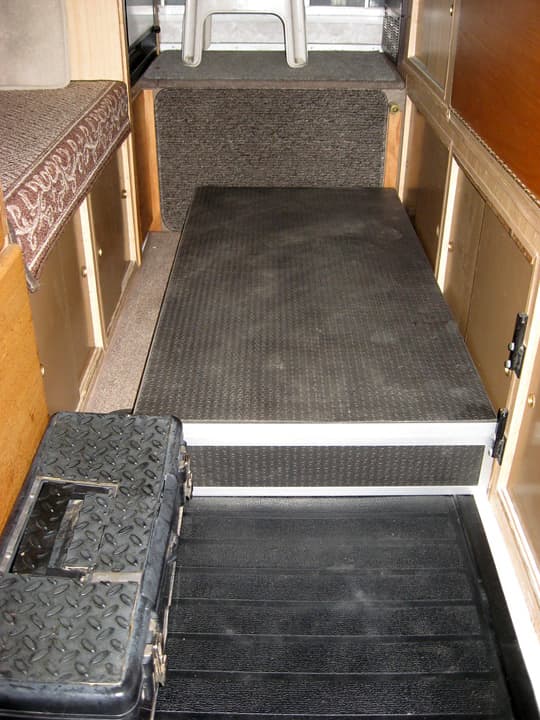 Above: The new basement floor box.  Bear explained the box took a day to fit the angle aluminum trim including drilling and beveling holes for wood screw heads.  Now you know what to do you do with a Yoga rubber floor mat you find at a thrift store; you cover your basement floor box with it.
Then there is the basement.  It measures 2' wide x 4' long x 5" deep, with a lift up lid.  It sets on the main floor of the camper and provides additional storage.  It also adds a step towards the height of the original kitchen counter top.  The basement may be lifted out and removed from the camper if not wanted to be used.
This one-of-a-kind truck camper makes for a perfect sheep herder's type of outfit; nothing fancy, basic, yet comfy and cozy.
When I comment to people that I came out of the bedroom, through the kitchen, down the hallway, through the living room and dining room, to the bathroom, there's no doubt (unless they know my camper) they're thinking along the lines of at least a Class C motorhome.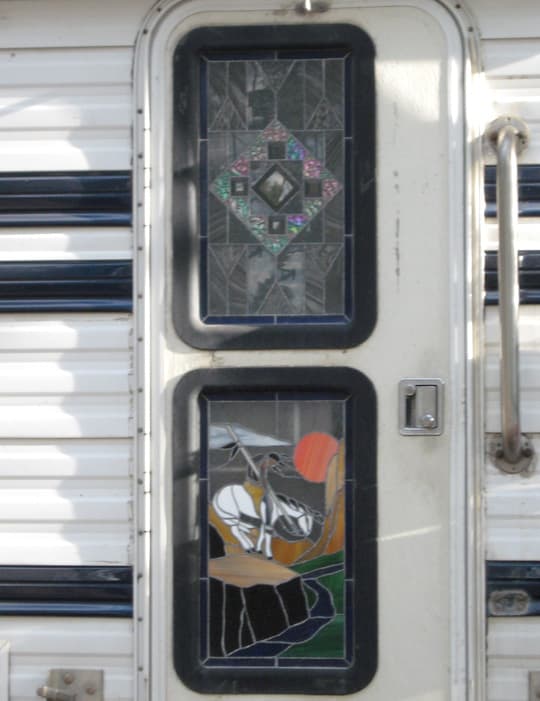 Above: Bear's back door camper windows are stained glass.  Bear bought them while in Mexico a few years ago.  Bear says the windows can be bought from street vendors from $34-60.
TCM: You removed the back seat of your 1996 Ford crew cab.  What did you do with that space?
Bear: The F-350 crew cab front seat is as it left the factory.  The rear seat has been removed.  In its place I have installed a plywood floor (36" x  55" and a usable height of 40"), side doors, and front and back walls.  I added thin auto carpet to the floor and walls.  Boxed in as it is, this area provides storage space for hat making equipment, hat bodies, and other assorted gear.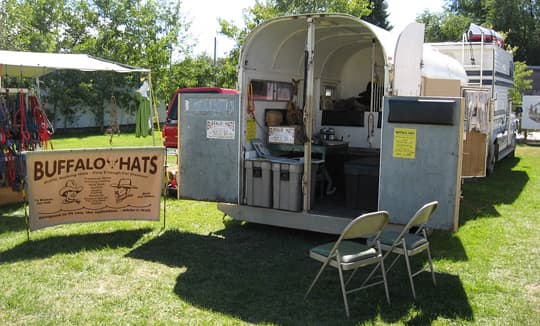 Above: Bear's 1977 Merhow horse trailer that's used as a rolling hat shop and bunk room
TCM:  So, you tow a trailer.  Tell us about it.
Bear: When working outdoor events, I use an old 1977 Merhow horse trailer as a rolling hat shop and sometimes bunk room.  There hasn't been an animal (well, four-legged!) in there in over fifteen years.  Yes, the fragrance has finally departed the two-stall area!
The front half of the horse trailer is a tack room, with a bunk.  Adding another padded board it can be used as a double bunk, although you better know one another pretty well.  Years ago, I found a new-in-the-box 1960s-era yellow plastic port-a-potty at an antique store in Oregon, so I use this as needed.
A couple of hardwood walnut cabinets were built and added for food, clothing, and gear.  Then I used a Dremel tool to router designs on the cabinets and shelving and painted the engraved lines and designs with acrylic paints.  A buffalo robe and beaver skins adorn the bunk.  There's not much warmer than fur in the winter months.  I normally have the camper on the truck at outdoor shows and events.  When I don't, then bunking in the horse trailer works.
When I have the camper on the truck for outdoor shows, if someone is in need of a place to bunk, the horse trailer tack room has been offered and used several times by punchers looking for a place to roost for a night or two.  That's what part of being neighborly is about, helping or lending a hand to others.  If there were more random acts of kindness in this world, people helping people, it would make a better world for all.