After hearing that Mark and Rosemary Hellwig bought a brand new Lance 1062, we asked them 10 questions about their new Lance rig and camping.  Check out the jet boat he's towing.

If you owned a truck camper manufacturer, truck camper gear company, or a truck camper dealership, would you go truck camping?  Many of you just said, "Heck yeah!", but the reality is that all too few truck camper industry leaders actually use what they manufacture and sell.
To be fair, there are a good number who do, but we would love to see every truck camper leader in a product decision making position get out there and experience the truck camping lifestyle – at least once a year.  It's not like we're asking them to dig a ditch or get a colonoscopy, just go truck camping and have some fun for goodness sake!
Stepping off my soap box, it's time to re-introduce you to Mark Hellwig, President of Hellwig Products, and an honest-to-goodness truck camper owner and user.  Talking to Mark, he's as passionate about truck camping, boating, and charging a dirt bike up a sand dune as any truck camper we've ever met.
Mark and Rosemary Hellwig recently upgraded their truck camper rig and took their family to a favorite spot for a camping, boating, and crabbing adventure.  To find out more about their new rig, and get the latest news on Hellwig Products, we asked Mark and Rosemary 10 questions.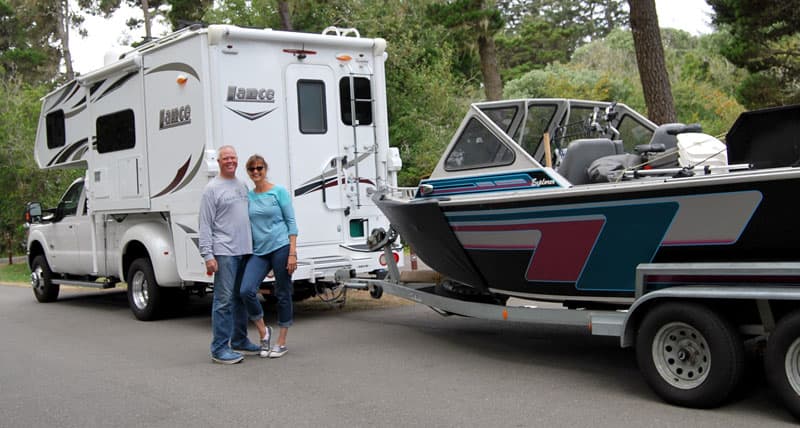 TCM: It's no secret that you're a successful businessman who could have any RV he wanted.  What led you to purchase a Lance 1062 truck camper?
Mark: We have had motorhomes, pull trailers, fifth wheel toy haulers, and other types of RVs.  The Lance 1062 affords us a whole different landscape and gives us the opportunity to tow our toys; motorcycles, boats, and other types of recreation we might bring along.
Rosemary: When we travel, we don't hang out in the camper like motorhome people do.  We are active in the outdoors, so we don't need something really big.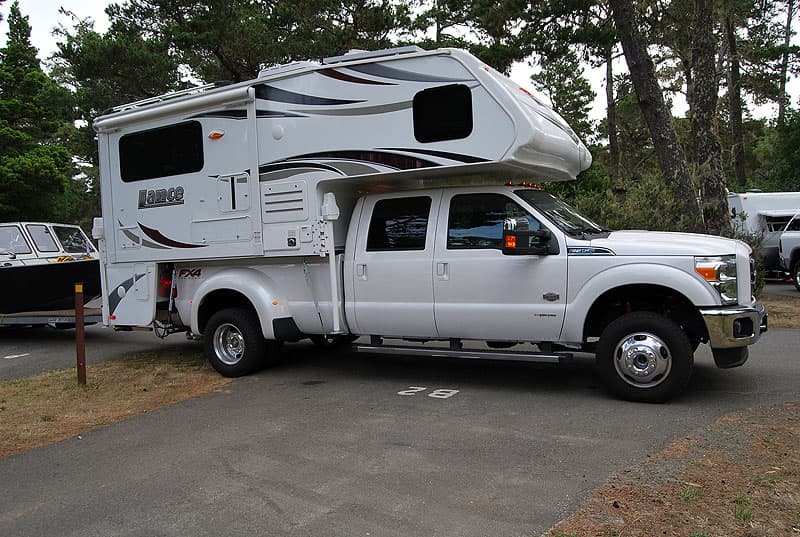 Mark: It's nice to have a smaller vehicle.  If the camper is all we want to take, that's great.  But, if I want to bring a big or small boat or a trailer of motorcycles, it gives us that flexibility.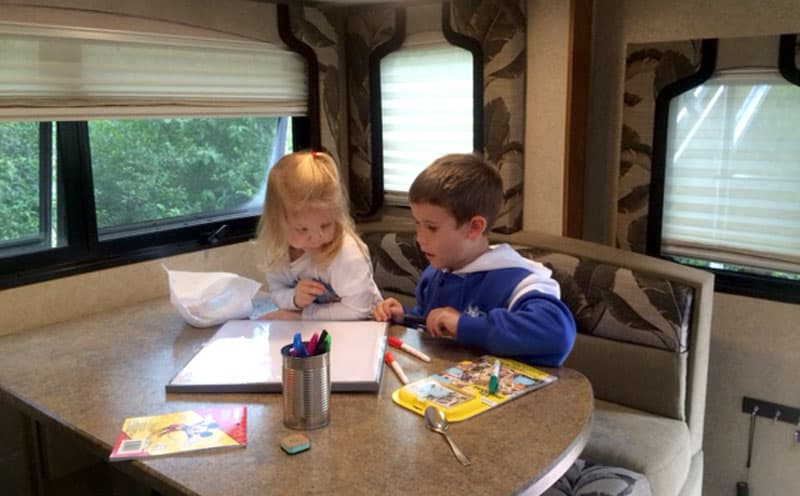 Rosemary: When the two slides are out in the 1062, there's a lot of space inside the camper.  My grandchildren love using the dance floor of the 1062.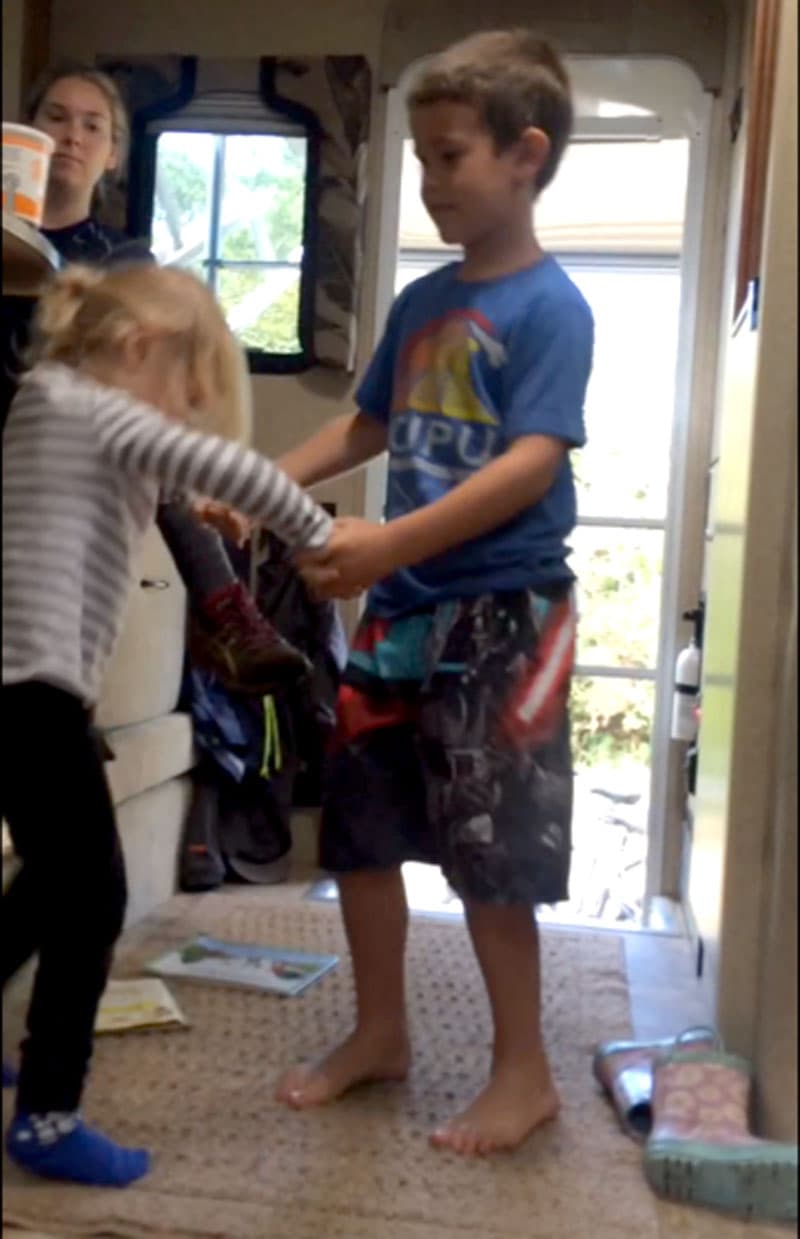 Mark: We decided on the 1062 versus the 1172 because when the back wall of the 1172 is retracted, you have zero access into the camper.  You must extend it out to get into the unit.  With the 1062, we have an 8 to 9-inch pathway where we can sneak in and get to the refrigerator.  We can't get to the bathroom, but we can get inside the camper.
TCM: Did you also upgrade your truck?  It looks new.
Mark: It's a 2016 Ford F350 crew cab, dually with the King Ranch package.  I actually had this truck for my previous Bigfoot truck camper, but I only took that camper out once with this truck.
I drove Fords for a long time and enjoyed them.  Then I had an issue with the local Ford dealer, so I bought a Ram and had that for a few years.  Then, the management at the Ford dealer changed hands.  I stuck my nose in the tent and bought a Ford again.  It's a great truck.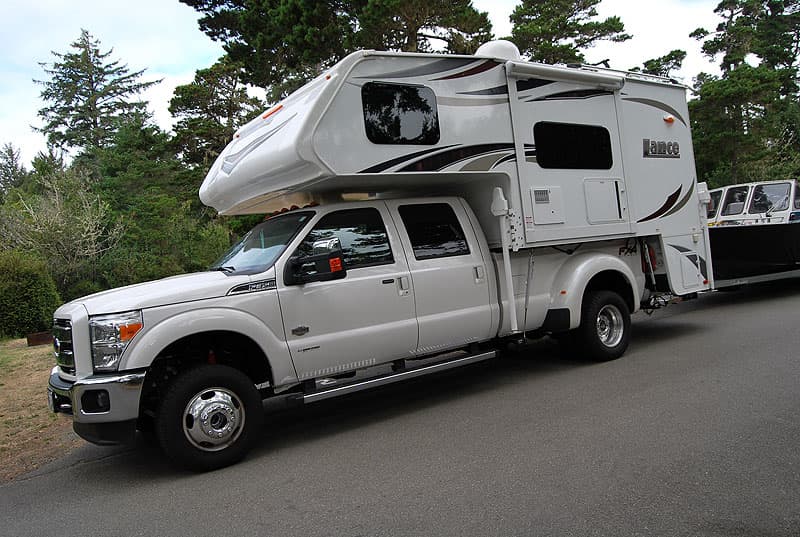 TCM: Tell us about any Hellwig upgrades to your truck, and how these upgrades changed the handling of the loaded truck camper rig.
Mark: The 2016 Ford F350 dually had enough payload capacity for the 1062 right off the lot.  I did add Hellwig air suspension (with automatic leveling and compressor) and Hellwig sway bars in the front and rear.  With these additions, the F350 handles very well loaded with the camper.  The air springs gave it a nice level attitude because it did squat a little when we first loaded the camper on the truck.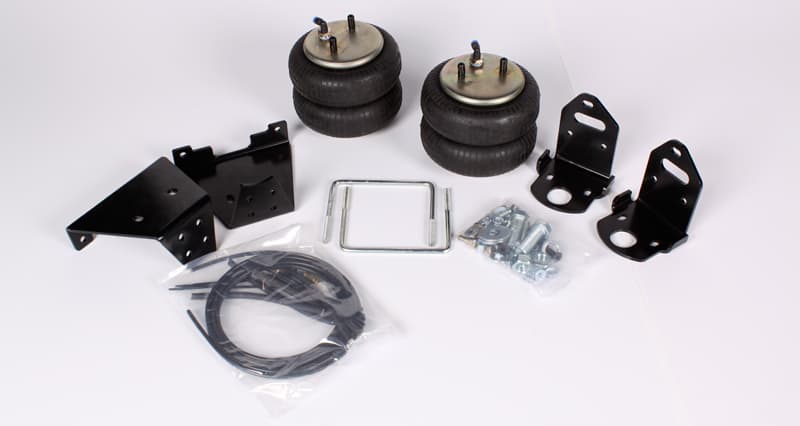 Driving without the sway bars, the truck doesn't feel as firm to the road, or as well controlled when driving.  Sway bars are perfect for wind, ramps, and curved road situations.  The sway bars settle the truck and keep sway to a minimum.  The roll sensation is reduced dramatically.

Above: Front sway bar (left) and rear sway bar (right)
TCM: Do the sway bars also help with towing?
Mark: When I was towing our fifth wheel toy hauler, it made a really big difference.  Fifth wheels put a lot of weight over the rear axle.
The trailers that I connect to the truck camper don't affect sway too much because the hitch point is low and behind the camper.  But the sway bar itself does control the truck and truck camper.  The way it affects towing is that you don't have the sensation that you need  to over correct or over steer around corners.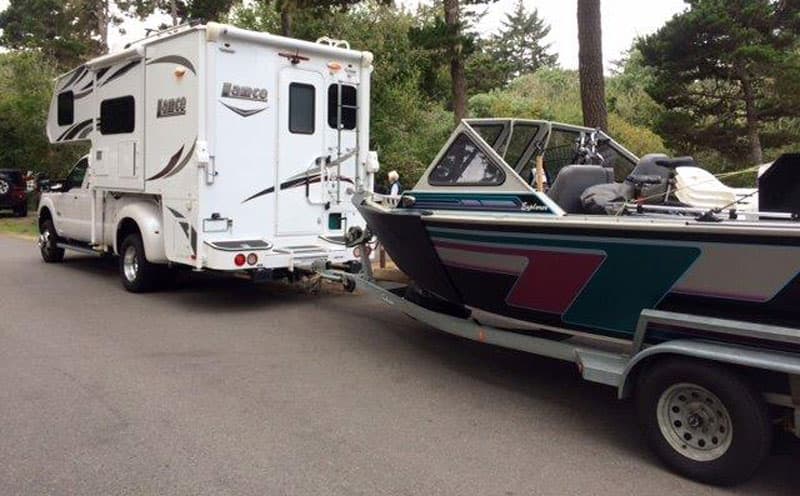 TCM: Did you make any changes to your truck that aren't Hellwig products?
Mark: Other than the Hellwig upgrades, the truck is pretty much as I bought it.  I did upgrade the hitch to the Torklift SuperHitch and Torklift SuperTruss.
I had to go with the dual-receiver that Torklift manufactures.  With the Lance 1062 overhang, I extend 48-inches behind the truck when I am towing.  The dual-receiver Torklift upgrade was really important.
I never seem to tow light things, so I have a 20,000 pound Torklift system.  The motorcycle trailer is about 9,000 pounds and has about 1,000 pounds of tongue weight.  I also have a Riverboat jet powered fishing boat that's 7,000 pounds and has 750-pounds of tongue weight.
It's a lot of weight on the tongue four feet out from the back of the pickup truck.  That's a huge load and lever that far back.  Both the trailer and the boat need the weight distribution system that Torklift offers.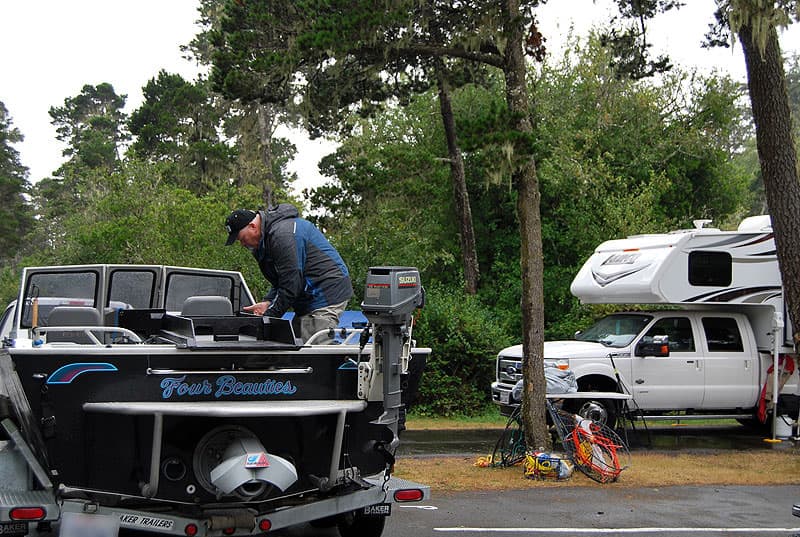 TCM: Tell us about the boat you're towing, and why you chose that boat.
Mark: Our jet-powered 23-foot Fish-Rite riverboat is a fishing boat with a 460 cubic inch motor.  As a jet boat, it has a massive water pump that sends thrusting water to the back of boat and propels the boat forward.  It's like a jet ski on a much larger scale.
On a river, you don't have the depth in terms of water, and you have obstacles.  The bottom of the jet boat is smooth.  There is no propeller.  There is nothing that will get damaged on rocks or logs because your draft is really shallow.  Moving really fast the boat only drafts about five inches of water.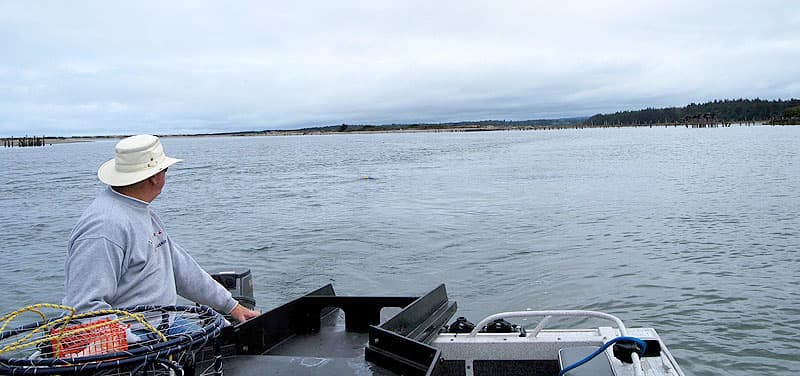 TCM: What bodies of water do you take your truck camper and boat rig?
Mark: We go to several small harbors in Oregon starting in Brookings and then going to the Rogue River.  North of that we go to the Coquille River in Bandon.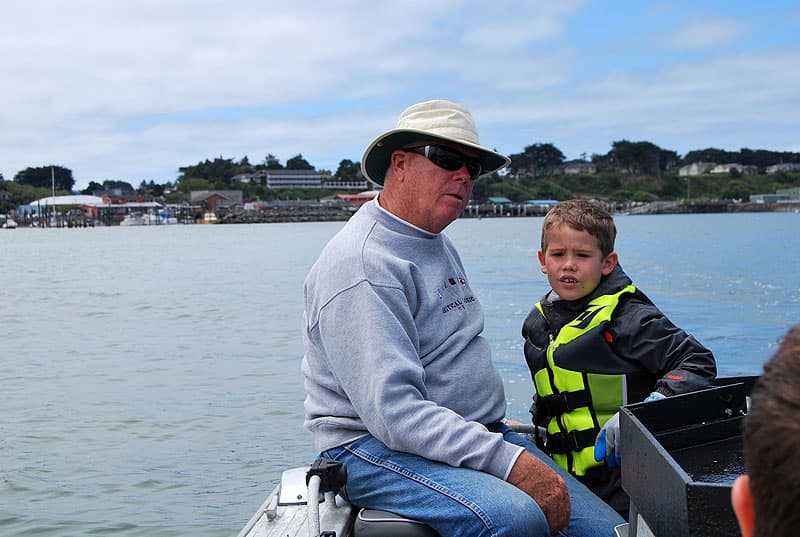 My parents got this started.  We began camping at Bullards State Beach on the river.  It's an old logging harbor.  They once used the harbor to float out the logs and put them on ships to take to the saw mills.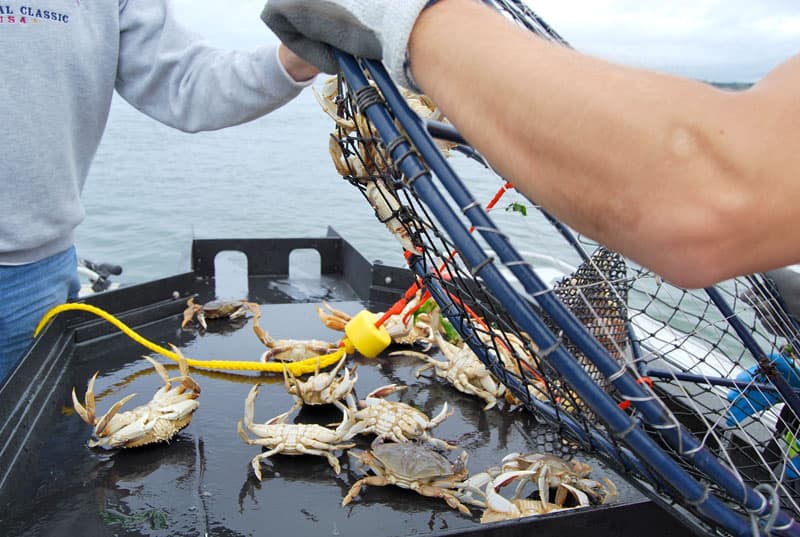 We also go crabbing.  We have crab rings; two piece units with net webbing.  They look like inverted cones that contain the crab as you pull the net up.  We put chicken leg bait in.  Other people use dog food or fish carcasses.  We are allowed three nets per person and each person can take twelve crabs.  If you can picture it, we have three people, nine crab traps, and are allowed to take thirty-six crabs a day.  It keeps us busy and the time goes fast.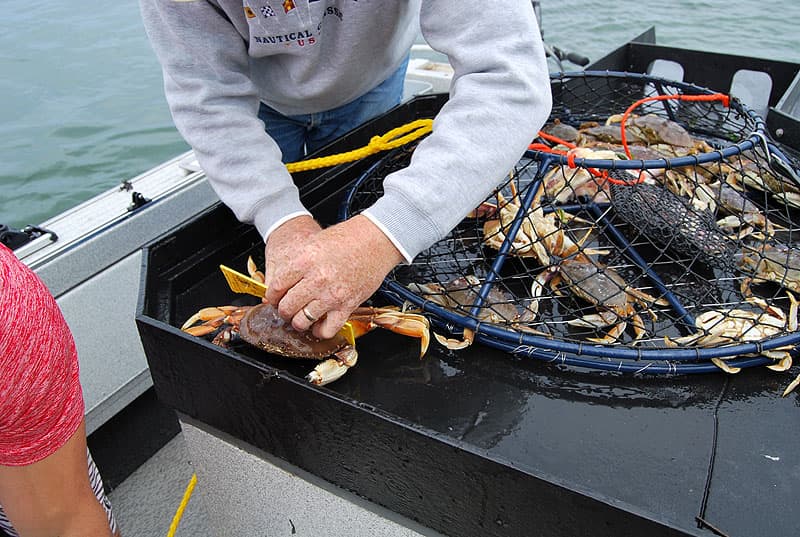 Once we catch our limit, or decide that we've had enough, we head back to camp and clean the crabs.  Then we get a big pot of water boiling, put in some Old Bay seasoning, boil up the crabs, put newspapers on the tables, and have a crab feast.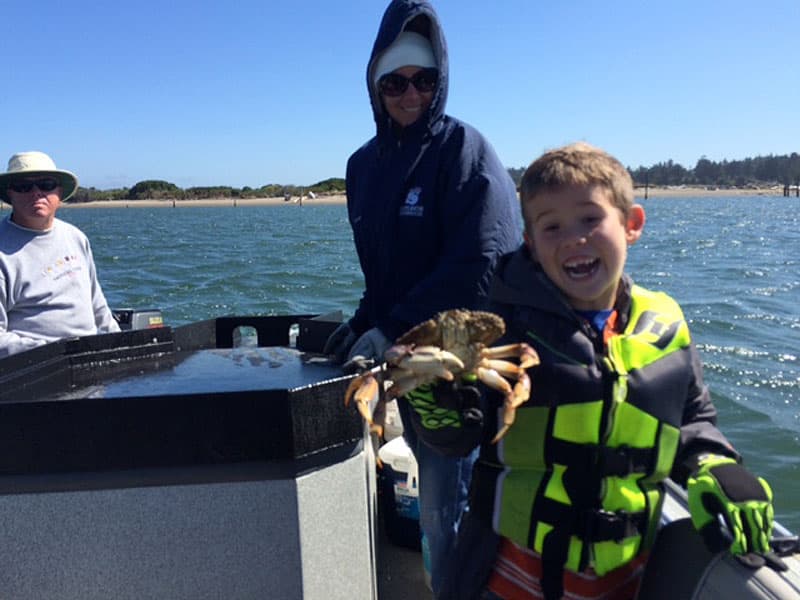 Rosemary: Jensen, our six-and-a-half year old grandson, cracks the crab and then gives it to someone else.  He's not into eating it.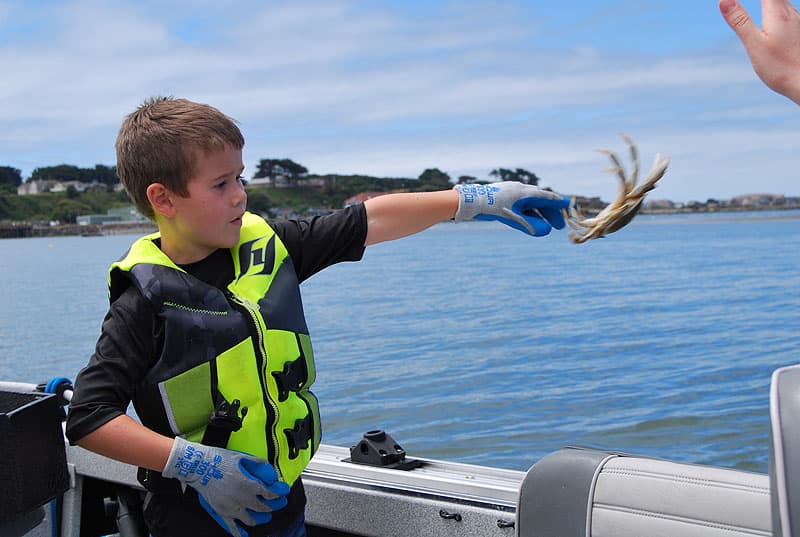 Mark: On this past crabbing trip, Jensen stood at the sorting table on the boat and checked for smaller crabs.  He liked sorting out the smaller crabs and throwing them back in the water.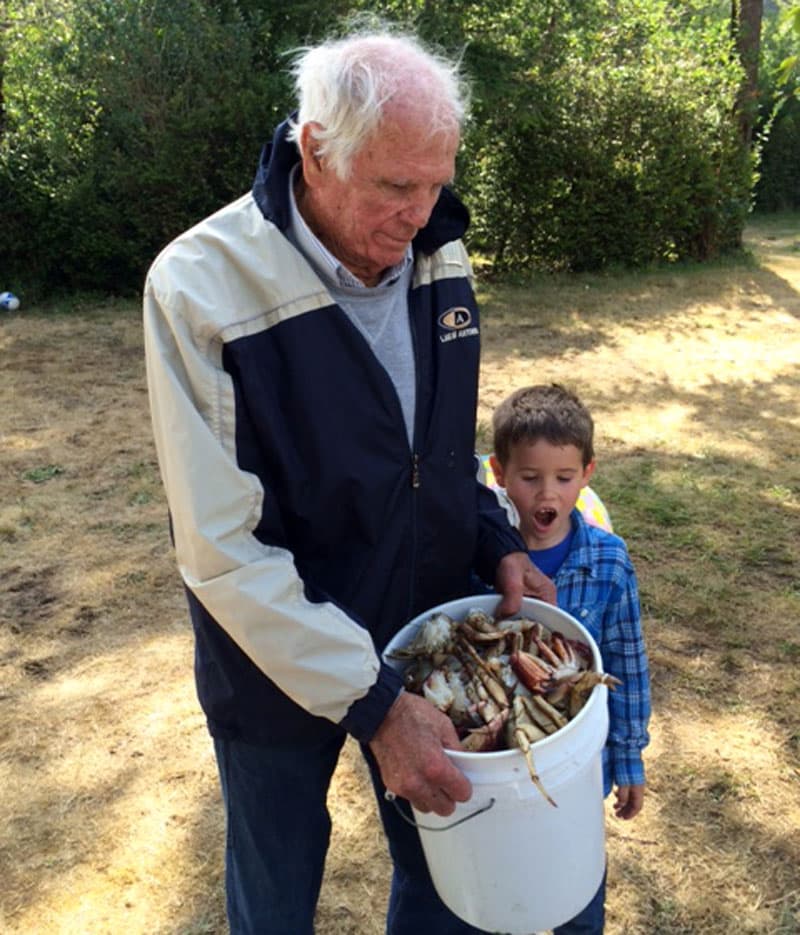 We have crabs about once a year.  The kids enjoy the experience.  This year we had eighteen people at the table.  It's a social afternoon with crabs and white wine.  We all had a nice time.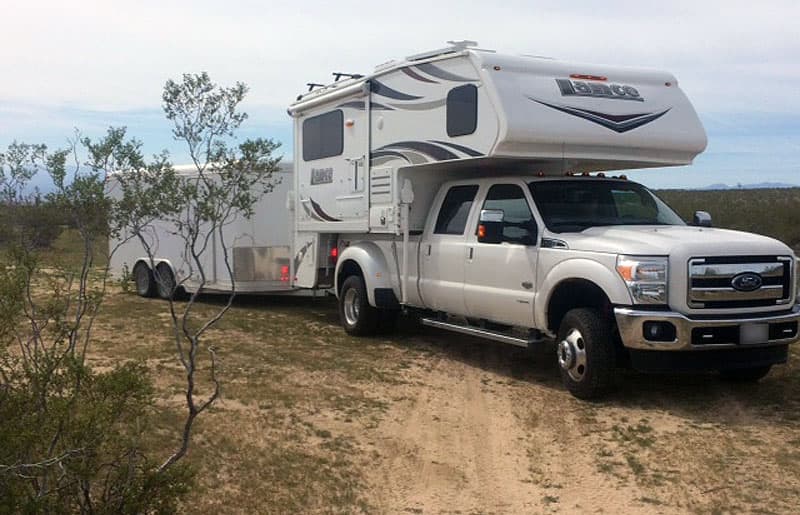 TCM: What else do you enjoy doing when you go out truck camping?
Mark: We like camping in the desert.  Our kids are grown and have their own children.  Some of them have their own RVs and will meet us out there.  We'll unpack the motorcycle and a RZR.  I'm still on my dirt bike.  We do a lot of trail riding.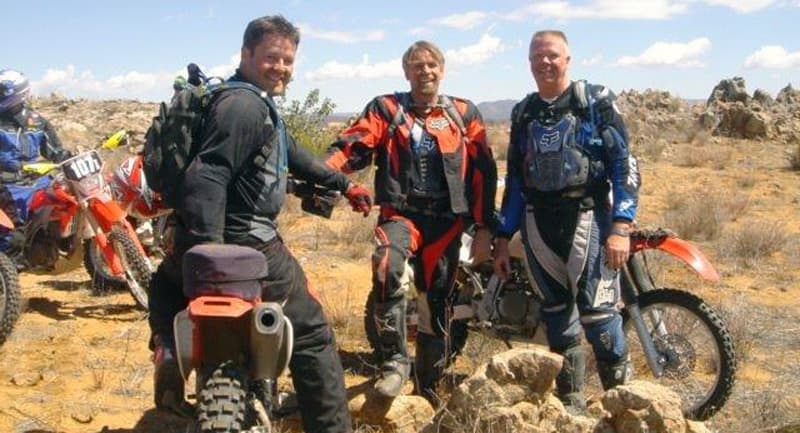 Rosemary: I like hanging out in the camper reading.
Mark: The area we go to in the desert has a lot of history.  We go out to an area that is north of Edwards Air Force Base.  I have hobby of investigating crash sites of experimental aircraft in the desert.  I have been to the crash sites of the jet-powered Northrop YB-49 Flying Wing, CA Bell X-2 Starbuster, and a B-1 bomber.
The crash sites are pretty well cleaned up.  Sometimes you find tiny rivet heads and rusty wiring and things.  I found an instrument gear at one site.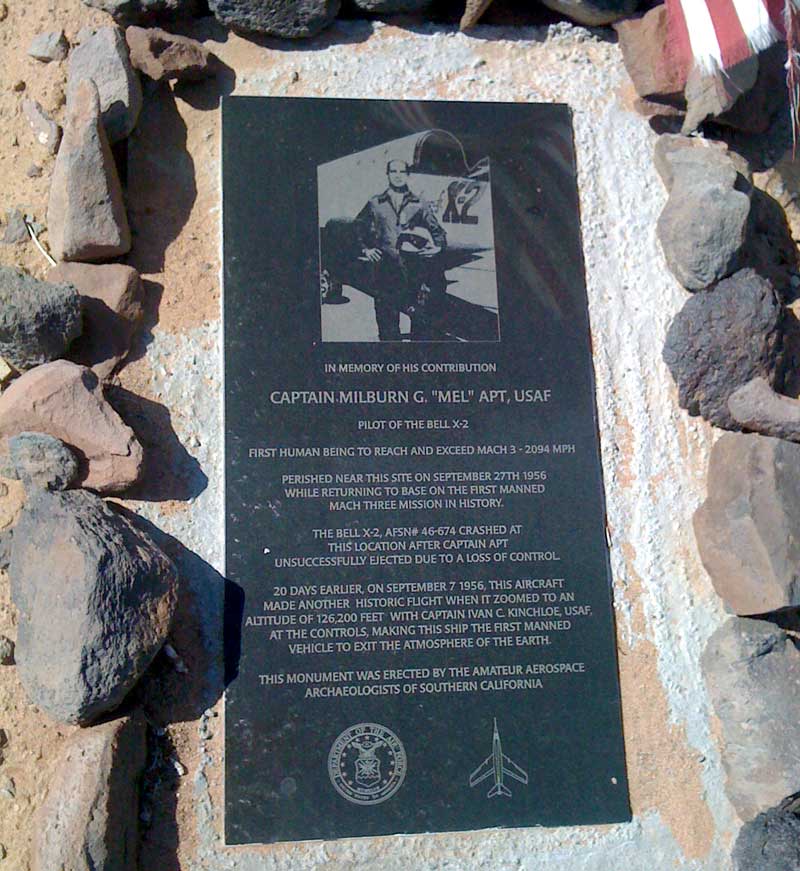 The desert preserves things, but they clean up crash sites pretty thoroughly.  A Lockheed Martin F-22 Raptor crashed in March of 2009.  They completely removed all the soil and brought back new soil so no one would get anything.
Rosemary: We just enjoy hanging out together.  When we're home we're involved in other things.
Mark: We are two ships in the night when we're at home.  We get to catch up with people and each other when we go camping.  I love to drive, so to me, part of the adventure is driving.
We have been threatening to take a trip to Alaska the past few years.  I've gone fishing with some guys on the Kenai.  I want to get Rosemary up there.
Rosemary: When we got this camper, we really wanted to go to Alaska this past spring, but we went to Bandon instead.
Mark: We want to put together a trip to Alaska driving and taking the Alaska Marine Highway ferry.  We don't want to put all those miles on the truck.  We envision going on a four to five week trip.  While we're there we don't want to miss anything.  There's so much history in this country.  We also want to go to Glacier National Park and the gulf coast.
Rosemary: We also have a small 15-foot trailer, which is retro style.  We lend it out to others so that they can come with us or go out on their own.  It's small, so it can be towed with a Jeep Cherokee or a small SUV.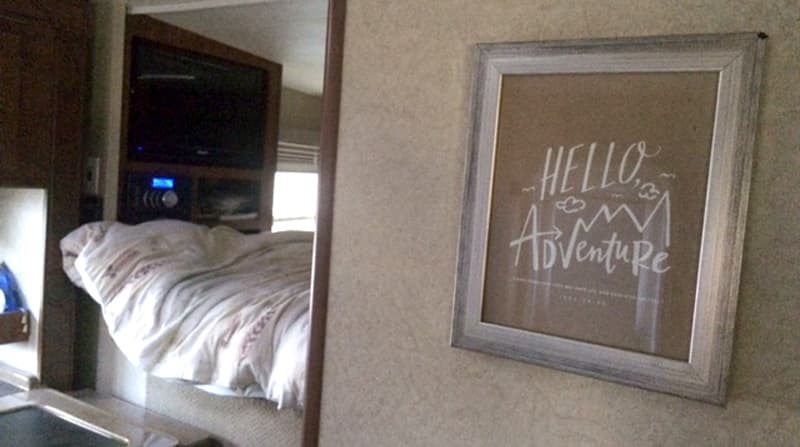 TCM: A loaner RV for friends and family – that's a great idea!  Have you made any modifications or changes to your Lance 1062 to make it suit your needs better?
Rosemary: I put a picture on the wall (laughs).
Mark: We really haven't needed to do too much.  We put matting on the counter so we can have protection for things on the counter.  We actually travel with things on the counter.  It's one of those tacky type mats, and it works well.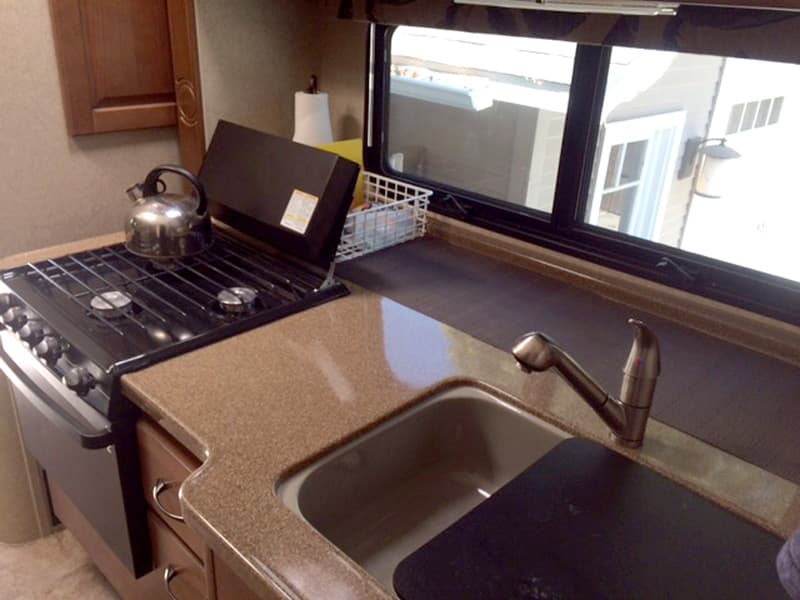 We take a lot of things.  We want stuff on the trails.  We have tables, chairs, canned goods, extra blankets, and extra food.  We take all those things you don't want to be searching for or have to stop and buy.  Rosemary has found baskets and corners that have made living in the camper more convenient.
Rosemary: We lost a closet, and thought I would miss it, but I haven't.  We thought when we moved to this camper we would lose storage, but we really feel like we've gained storage.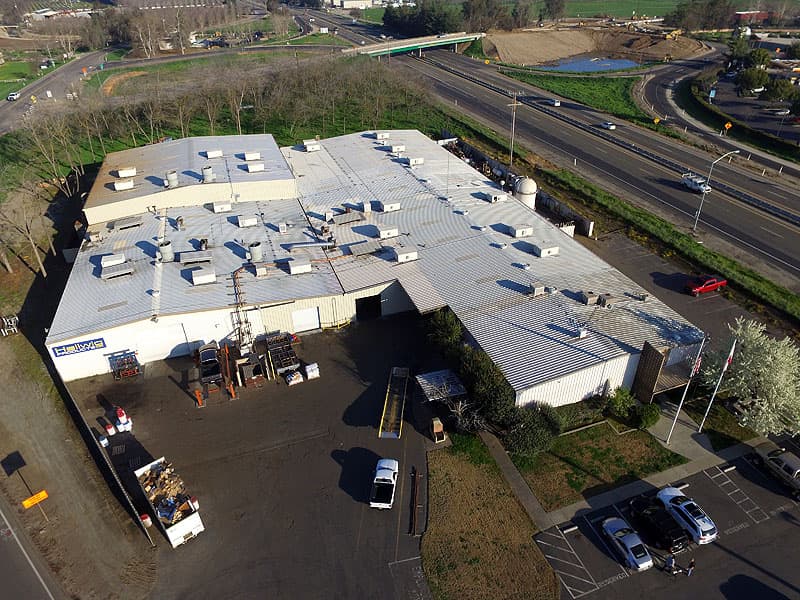 TCM: Have there been any changes at Hellwig this past year?
Mark: We added a 10,000 square foot addition to our building which has been a big help.  We have already filled up the new building and are talking about needing more space.  We have a total of four acres of land at Hellwig Products, so we could probably put another addition to the east if we needed to.  As of now, we have 52,000 square feet.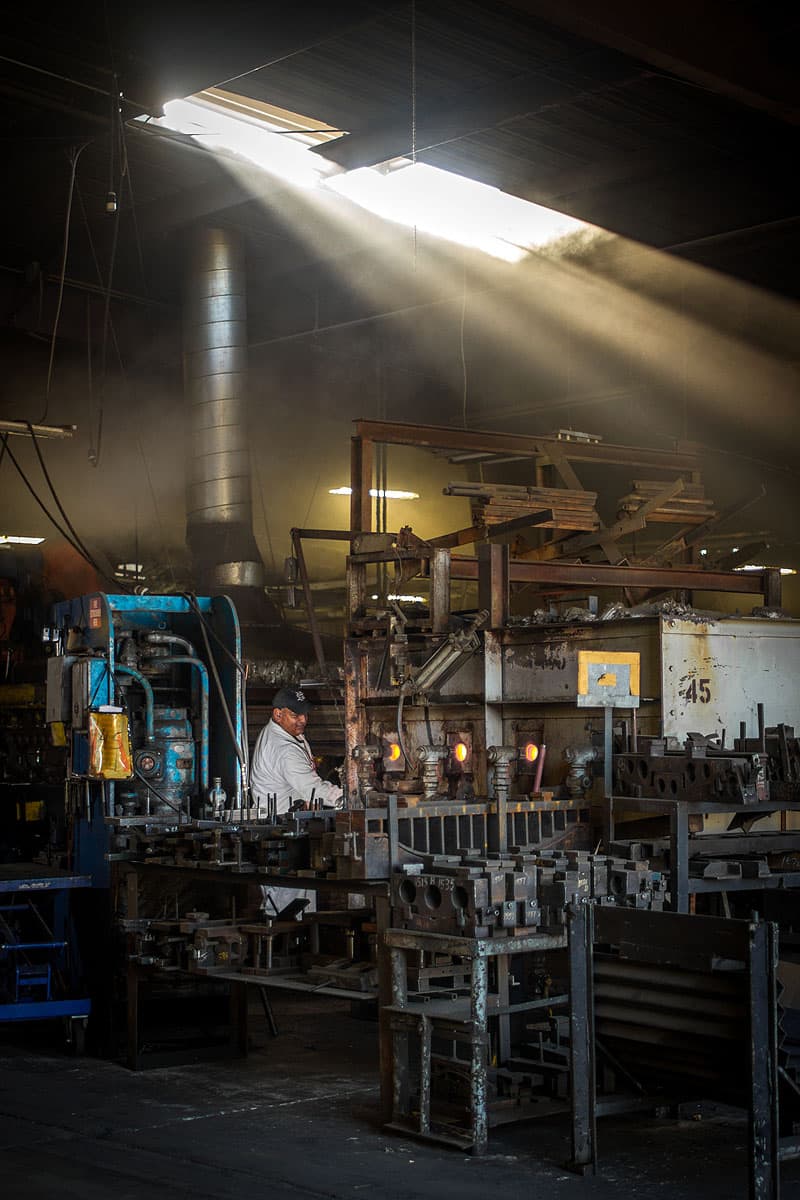 With the new addition, we have reconfigured product flow from raw materials to the packing area.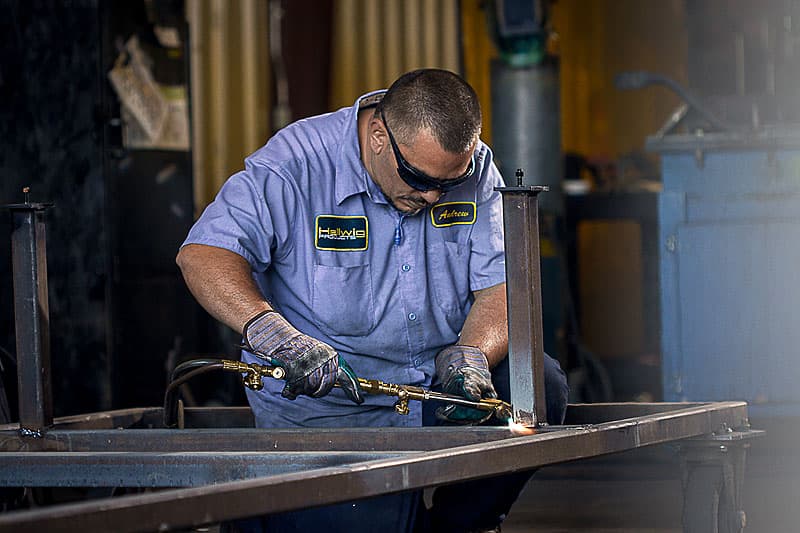 We have moved every piece of equipment in the plant, except for two things.  All of this was done for better flow.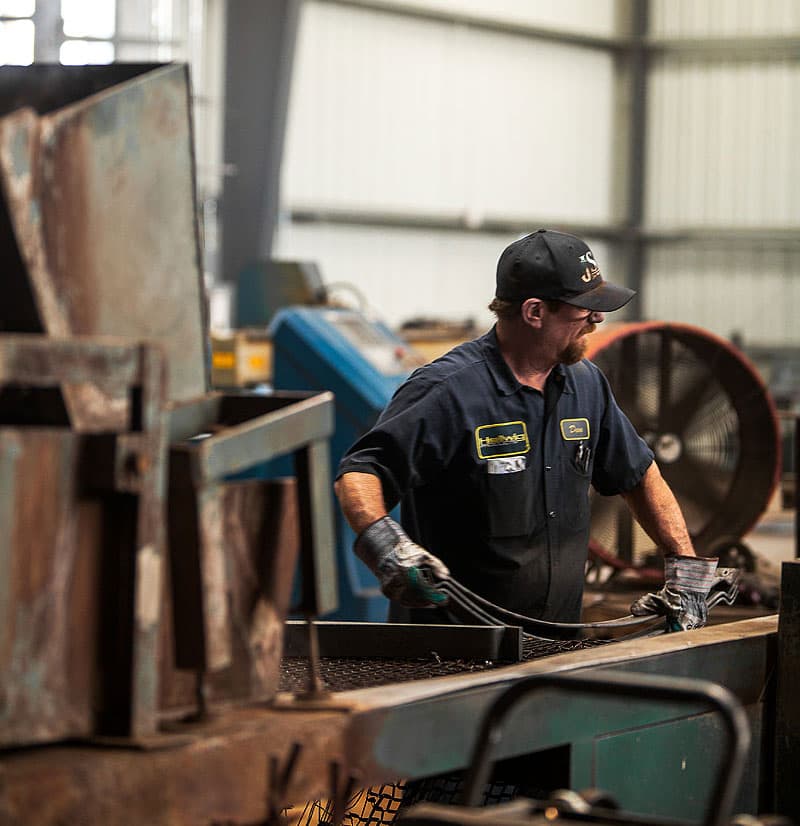 In the newly configured plant, a conveyor feeds another conveyor that feeds another conveyor.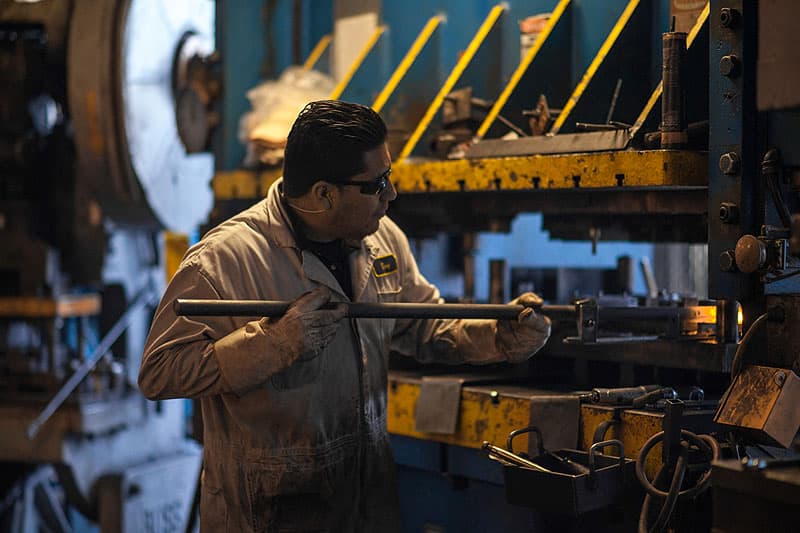 We re-focused our entire manufacturing process and materials for peak efficiency.  Now the products move better and we're not criss-crossing each other through the plant.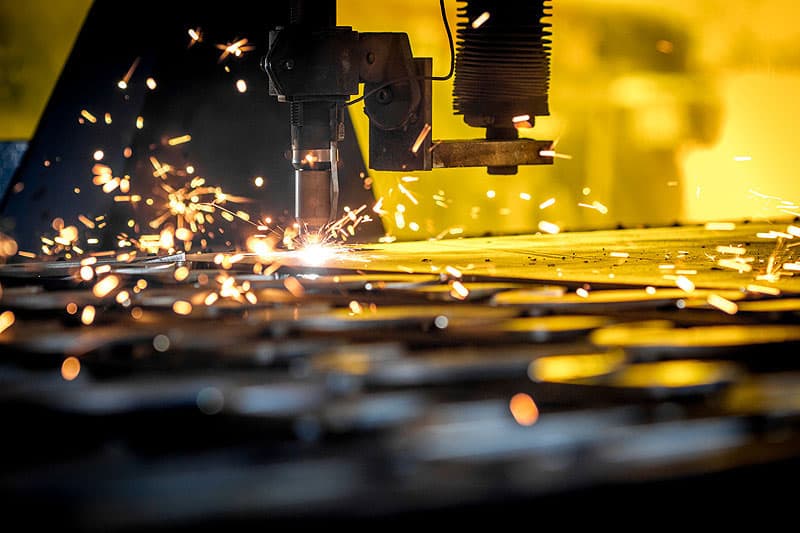 We have also started manufacturing products with CNC (computer numerical control) machinery including a new CNC lathe.  We put a new CNC plasma cutting work cell in the factory.  And we upgraded our press brake to be CNC controlled.  A lot of new technology has been integrated into our manufacturing.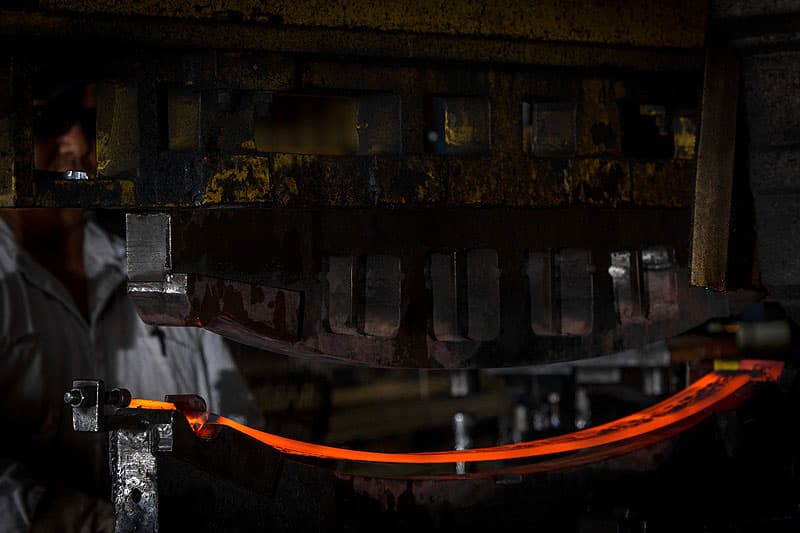 The CNC equipment allows us to have more accuracy and higher quality as well as increasing our capacity.  The improved quality means the products require less finish work; less grinding and polishing.  We can generally take the CNC manufactured products to the painting process with very little additional prep.  I often sit and contemplate how I can get a CNC robot to work with our furnaces, but it hasn't come to me yet.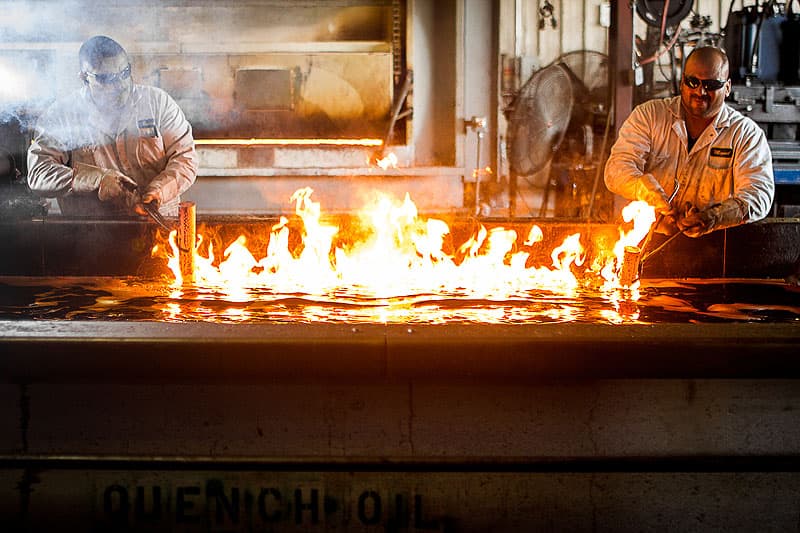 Our sales have continued to grow at a steady rate, so we are able to make more investments.  It's an exciting thing to see from my perspective.  Hellwig is something I've been a part of for 45 years.
To learn more about Hellwig, visit their website at www.hellwigproducts.com.  To request information on Hellwig products for truck campers, click here.