After a record number of reader votes, just 24 photos made it to the finals.  From these 24, it's time to choose five and vote to determine the 2021 TCM Calendar Winners.  Put your finalist picking pants on now.  This is getting serious.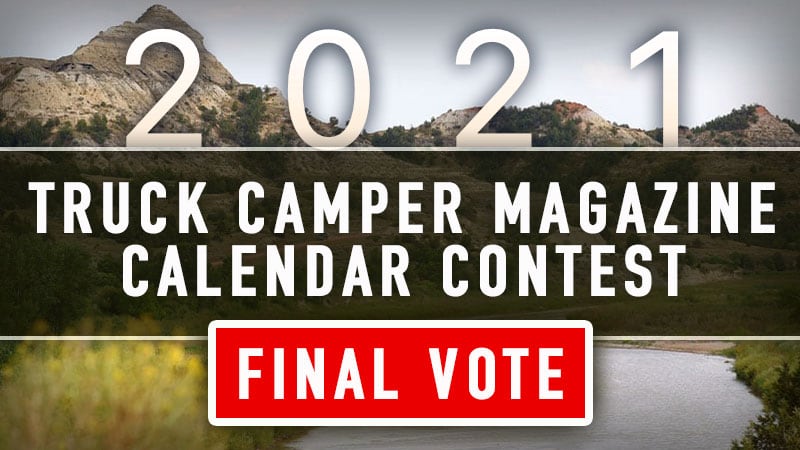 Every year we get a handful of exasperated emails, texts, and phone calls detailing how difficult it was to choose photographs for the first calendar vote.  Evidently many of you endured hours of mouse-clicking, touch pad pushing, and phone screen tapping – all to a tortured symphony of hemming, hawing, and head-scratching.
Well, it's about to get even tougher.  What follows are 24 photos representing the best-of-the-best, selected by you – our most excellent readers.  Just looking at the two dozen images is sure to start the clicking, pushing, tapping, hemming, hawing, and scratching all over again.  We have no idea how you'll figure this one out.  Once again, they're all really good!
Finals Voting Starts Now
You have exactly 6 days to pick your 5 favorite photos from these 24-finalists.  The winners of this vote will be the 13 (that's 12-months plus one cover) 2021 Truck Camper Magazine Calendar Contest winners.
All 13 calendar winners will have their winning photograph and the story behind their photograph featured in the magazine.  The 13-winners will also receive a free 2021 Truck Camper Magazine Calendar.
Finalist voting ends next Thursday, November 5th at 11:59pm PST.  Here are the 24-finalists from the first calendar vote in numerical order.
The voting window has now closed.  Click here to see the winners!