Proudly present your truck camping lifestyle with a spectacular 2020 Truck Camper Magazine Calendar for just $14.99.  Check out the winners, discover who who made the cover and months and order your 2020 calendar today!
After one of the tightest votes we've ever seen for any Truck Camper Magazine competition, the 2020 calendar winners are absolutely stunning.  We have a copy here in TCM's roaming headquarters (aka our truck camper) and every page is a beauty.
Nearly all of the finalists and winners were new to the competition displacing many of the annual contenders.  There's nothing like fresh blood to shake things up.
Once again, the competition has inspired us to pin many new destinations on our truck camper Google Map and bucket list. Thank you to everyone who sent in their photos. We will be following many of your tire tracks in 2020.
ORDER A 2020 TRUCK CAMPER CALENDAR 
Cover – Matt Nelson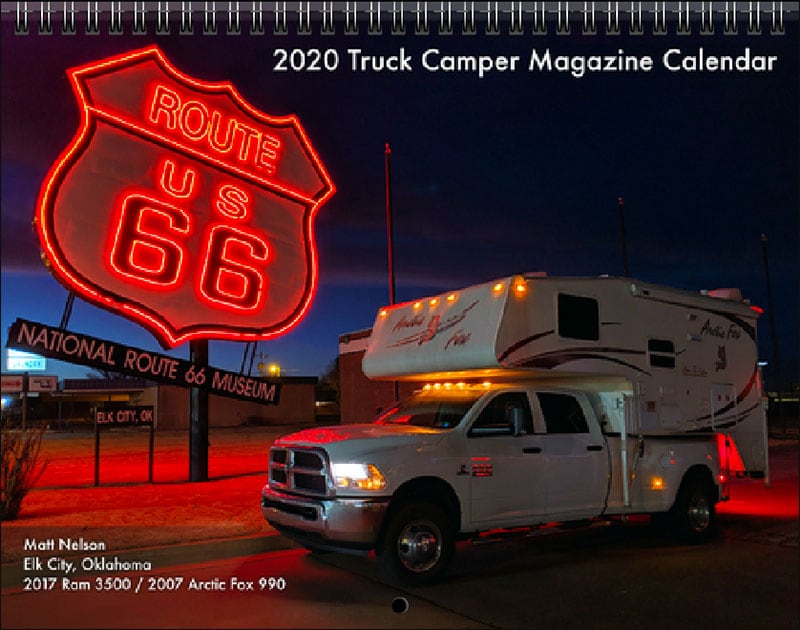 Elk City, Oklahoma
2017 Ram 3500
2007 Arctic Fox 990
I work in Information Technology and have the flexibility to work from anywhere as long as I have cell/internet service. In January of 2019, I packed up myself and the dog and we started our first solo cross-country drive to Arizona for the winter.
I mostly beelined to Arizona because it was still cold and I was being chased by some winter storms.  But, I did make time to stop to see roadside attractions like the St. Louis Arch and the World's Largest Pencil.
I wanted to see some old Route 66 nostalgia as well.  It happened that I was getting low on fuel and saw a sign for Historic Route 66.  I took the exit, filled up on diesel, and found this cool Route 66 neon sign in Elk City, Oklahoma.  Of course I had to take a picture with the camper parked posing in front of the sign to commemorate the trip.
I spent about three and a half months cruising through Arizona, southern California, Nevada, and Utah chasing 70-degree weather before making the long trek back to Pennsylvania.  I mostly stayed on BLM land along with some state and national parks, casinos, and the occasional Walmart when needed between destinations.
The trip ended up being 9,095-miles over 115-days. That included visits to 25 national parks and monuments, plus keeping a full-time job in the meantime.  I've visited 99 National Parks and monuments to date with a goal to visit all 419 of them.
I'm now starting to get ready now for my return trip to Arizona with the pup in January as well as dreaming about a road trip to Alaska for the summer of 2020.
January – Richard Klepper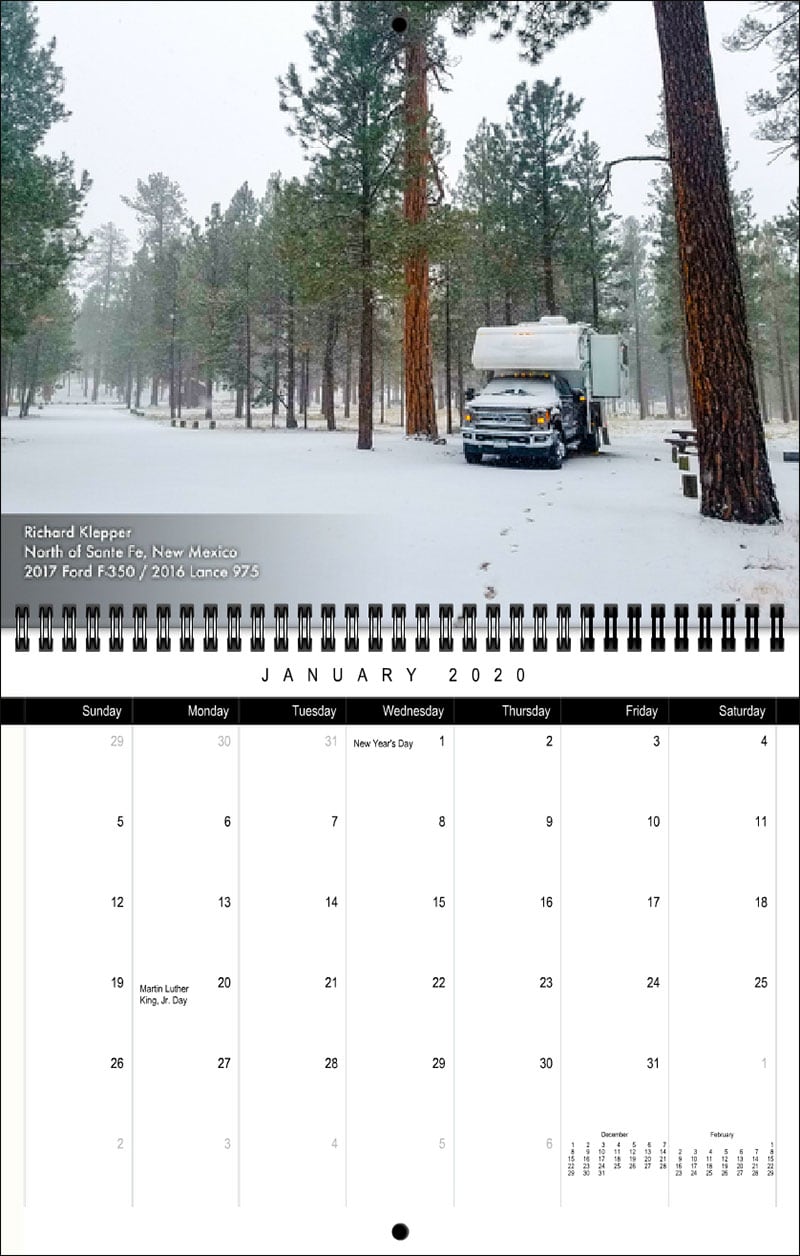 North of Santa Fe, New Mexico
2017 Ford F-350
2016 Lance 975
We were headed back home from Bosque del Apache National Wildlife Refuge in New Mexico. We had enjoyed a weekend taking photos of the sandhill cranes and snow geese.
Rather than take the interstate all the way home, we took a detour through the mountains north of Sante Fe. During that drive we got stuck in a snowstorm. To ride out the storm, we grabbed a site at the nearest open campground.
It was the end of November so we practically had the campground to ourselves.  The next morning I walked out to the front of the camper and snapped the calendar photo of our site.
February – Jim Davis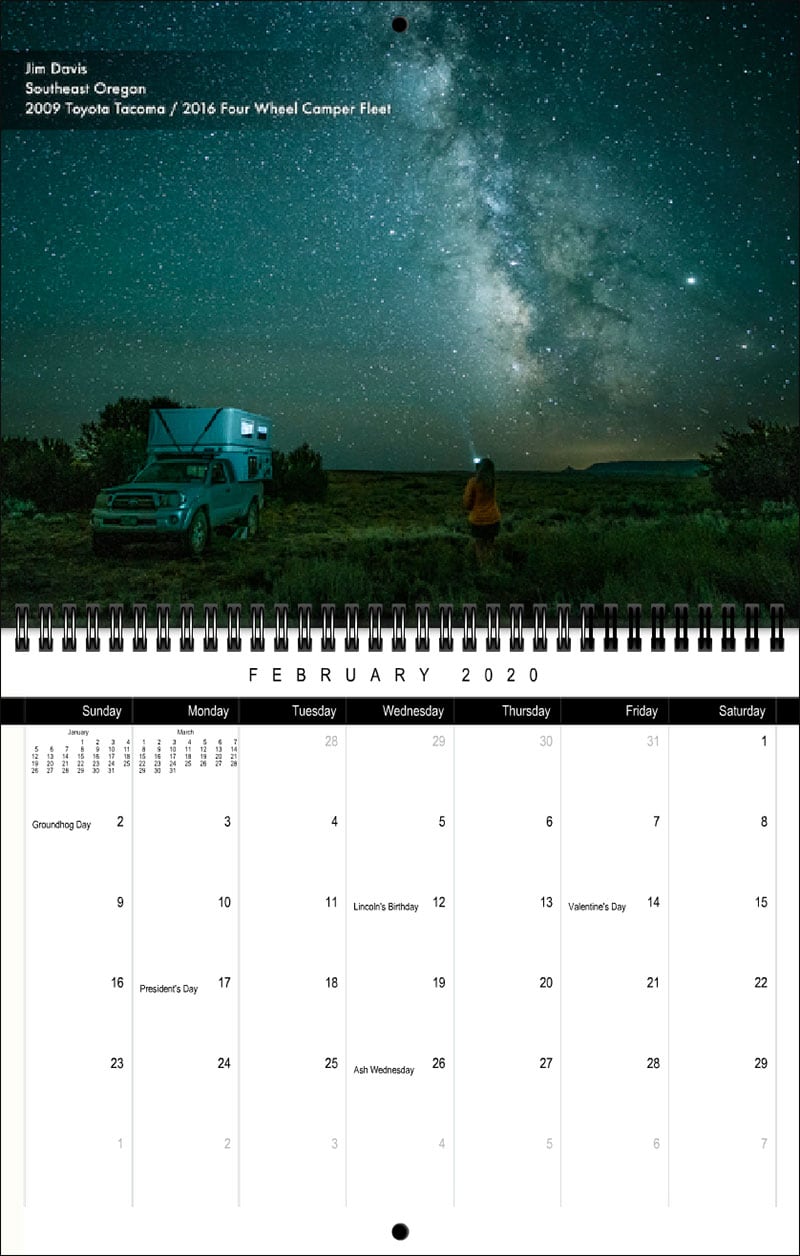 Southeast Oregon
2009 Toyota Tacoma
2016 Four Wheel Camper Fleet
In my travels over the years I've developed a tradition of documenting my campsite locations. In 2011 I camped quite near this spot and found a nice composition of camper, star and mountain mahogany that ended up working for a shot in the 2012 Truck Camper Magazine Calendar.
Ever since I had been reluctant to return to this high mountain ridge as there had been a devastating wildfire (over 500,000 acres) in late 2012. I was sure that fire had wiped out many of the ancient mountain mahogany groves (a big attraction for my landscape photography in this area specifically).
My wife, Karen, and I figured it was time to return and see the damage and natures healing process for ourselves.  After two days of driving through a mosaic of scarred and recovering vegetation and areas that saw little fire activity we arrived at the ridge I was most concerned about.
We were happy and relieved to see most of the oldest mahogany groves had survived and found a perfect campsite where we had huge open views to the surrounding canyons and buttes. We were also nestled amidst the gnarled mountain mahogany clinging to the ridge edges.
An added bonus was finding an ancient hunting blind and broken projectile points scattered about the area. This confirmed our suspicion that we had found a special place.
Even though I had a perfect alignment of the Milky Way with our campsite, the composition seemed lacking. Rousting Karen from the comfort of the camper serendipity seemed to work as she walked out into my camera's view with a headlamp illuminating both the camper and casting a beam into the starlit skies.
March – Aaron Macrae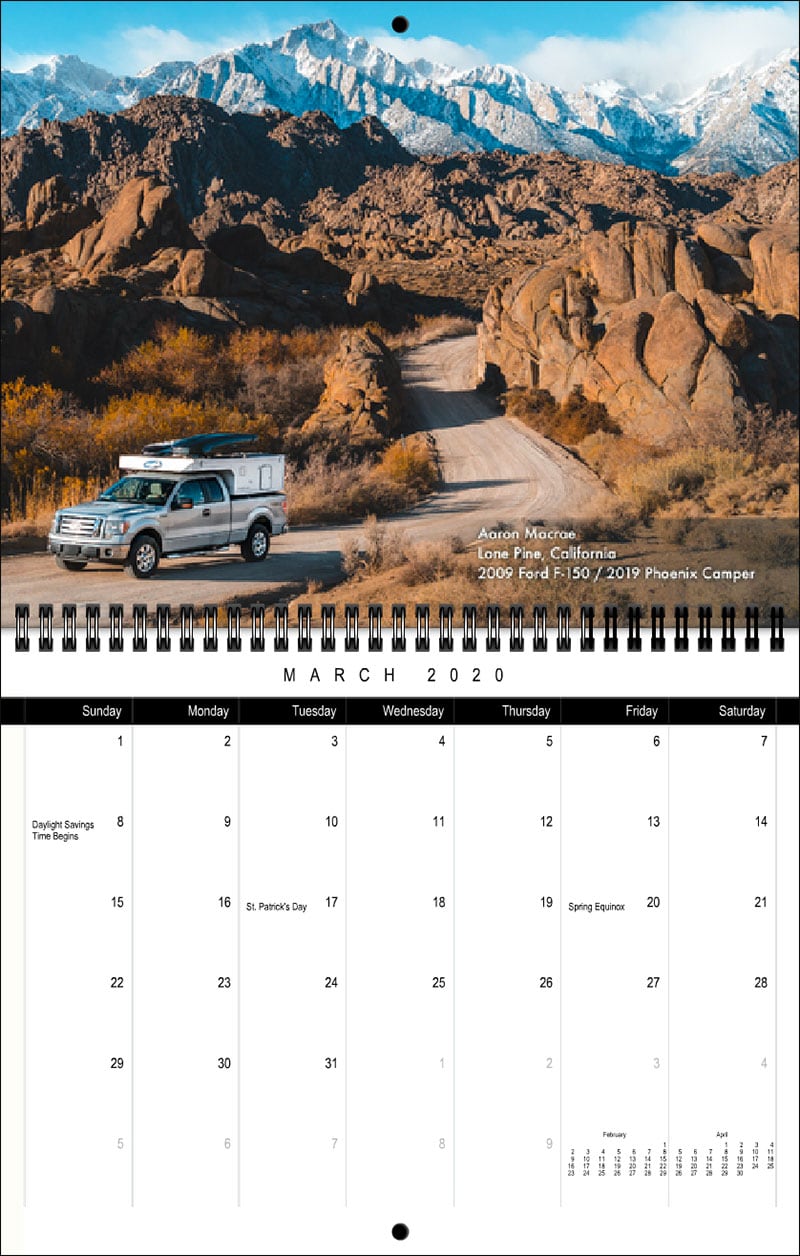 Lone Pine, California
2009 Ford F150
Phoenix Camper Stealthy Mini
Lone Pine was just one stop on our three-year odyssey of travel, work and self-exploration. We began our journey in a campervan (designed and built by us) and the ensuing repairs ended up costing more than the vehicle itself.
After a long drive down from the Yukon and two breakdowns later, we figured it was time for an upgrade. We were keen on a reliable vehicle that could traverse us through rugged roads and a camper that would provide ample living space.
Our campervan was limited on where we could go and the space was tight. We decided it was time to part ways with the vehicle we called home for two years.
In chaotic fashion, we sold our campervan in Vancouver, British Columbia, bought a 2009 Ford F-150 the following day, and drove out to Denver, Colorado to pick up our new custom built truck camper by Phoenix Pop Up Campers. The owners, Cari and Rob, were so gracious and made this transition such a smooth process.
We had our eyes set on Alabama Hills for quite some time now. The winding roads and striking mountain backdrop seemed so alluring. The only problem was that our campervan couldn't handle those roads, so we never had the opportunity to experience this area.
Once we picked up our new truck camper, we jetted right for this destination we've been dreaming of for so long. Alabama Hills surpassed the build-up and hype!
April – Scott Ellis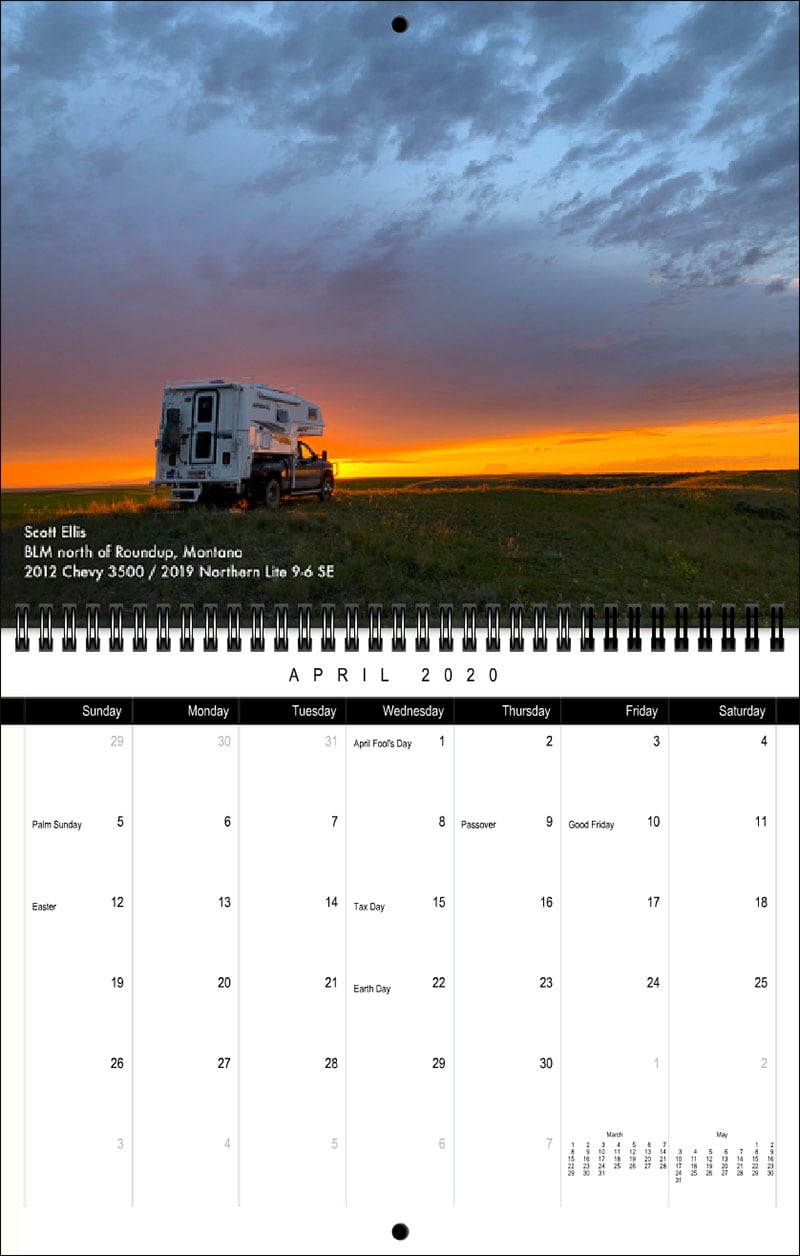 BLM land north of Roundup, Montana
2012 Chevy 3500
2019 Northern Lite 9-6QSE
I first got to know this general neighborhood fifteen-years ago when a buddy asked me to tag along on an antelope hunt. Several hundred square miles of prairie country in this area are open to hunting, but most of that land is actually private and not open to camping.
However, there are sections of BLM land, and, armed with a GPS and the BLM's "surface management maps", my wife and I confirmed that the point pictured here is accessible and is on BLM land. We come out here on random summer weekends and do very little but watch the light change and the wildflowers bloom.
Much more than is apparent in this photo (or any of the dozens of photos I've taken here) is that the truck is parked on a point of land. The terrain falls away on three sides beginning only a few feet from the windows.
The relief is only a hundred feet or so but, in such open country, that's enough to make you feel as if you're on top of the world. The vistas go out endlessly in nearly 360-degrees.
At night there were four or five sets of ranch lights visible in the far distance. Other than that, there's nothing but the moon and stars.
On a busy day, two cars will go by on the county road a mile away. The day I took the photo, I spent all afternoon watching a storm build off to the west with black clouds and constant lightning.
I was hoping the storm didn't come my way. When wet, the roads to that location become an impassable gumbo mess. Luckily, it drifted south just as the sunset. The light was perfect.
That first morning out here, antelope hunting years ago, I saw the prettiest sunrise of my life. The sunset in the calendar photograph is high on my life list of sunsets.
Apparently, many people think that the ideal camping spot is on the bank of a stream, deep in the woods. While we love those spots too, we don't love camping a few feet from other people with similar tastes.
We both grew up in The West and have developed a love for more wide-open spaces. We now travel with a dash-mounted iPad running an app called GAIA Pro, which allows us to have real-time information on the location of public lands, and we are constantly on the lookout for places like this; undeveloped, largely unknown, and usually ours alone for the time we are there.
May – Cindy Wallis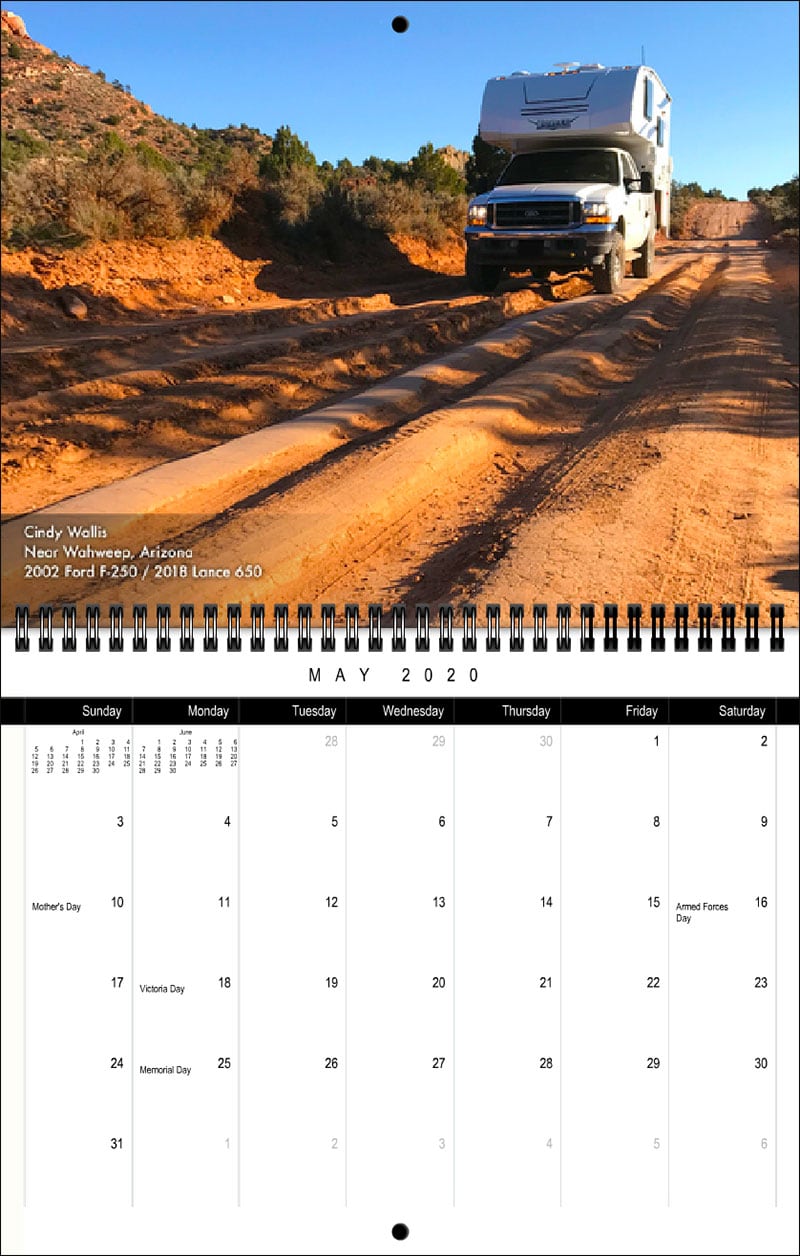 Outside Wahweep, Arizona
2002 Ford F-250
2018 Lance 650
We set off on our first trip in our new camper from Colorado to Page, Arizona and then Lake Powell. We were looking for a hike with slot canyons and found Wirepass Canyon on our map.
We headed out and almost gave up after trying to find the unnamed road and turning down a few roads to nowhere. Once we were on the road, we were not convinced it was the right one.
We ignored the signs warning of flash floods and an impassable road if it rained – thinking sunny thoughts the whole way! We found the canyon and it was fabulous. We would have stayed longer, but we did not want to drive down that road in the dark.
June – Heiri Hafner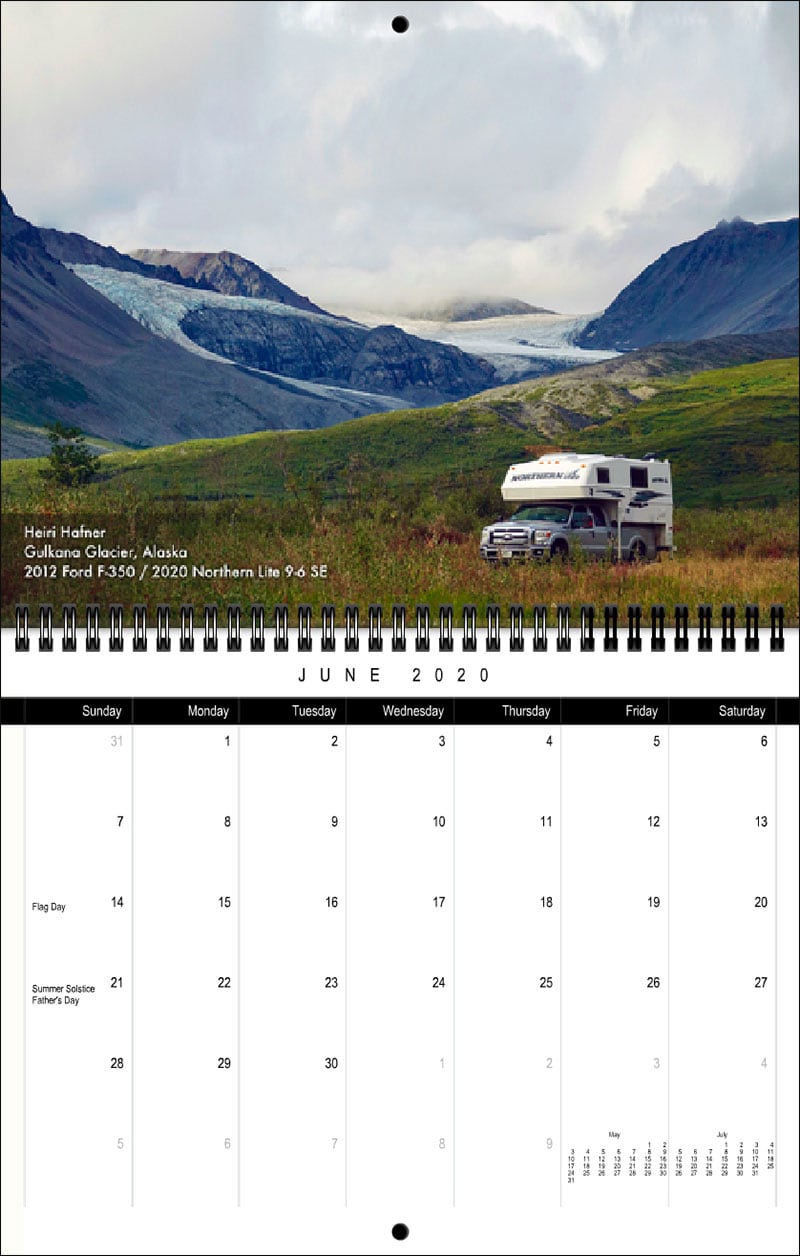 Gulkana Glacier, Alaska
2012 Ford F-350
2020 Northern Lite 9-6 SE
After almost four-months of traveling last year from Texas to Alaska and back, we did the same trip again this year. We changed our truck camper from a pop-up to a hard side, and drove up to Alaska again on different roads.
We arrived about one month earlier in Alaska than last year; different time, weather, people, and environment. It was almost like a different trip!
On our way from Delta Junction to Paxton on the Richardson Highway we drove up the gravel road toward the Gulkana Glacier. We were boondocking as usual. We loved the wilderness and the freedom, as did our dog.
Up at the glacier it was a wild and harsh environment. Gulkana Glacier is a peaceful place with not many visitors.
July – Evan Keeler-Wolf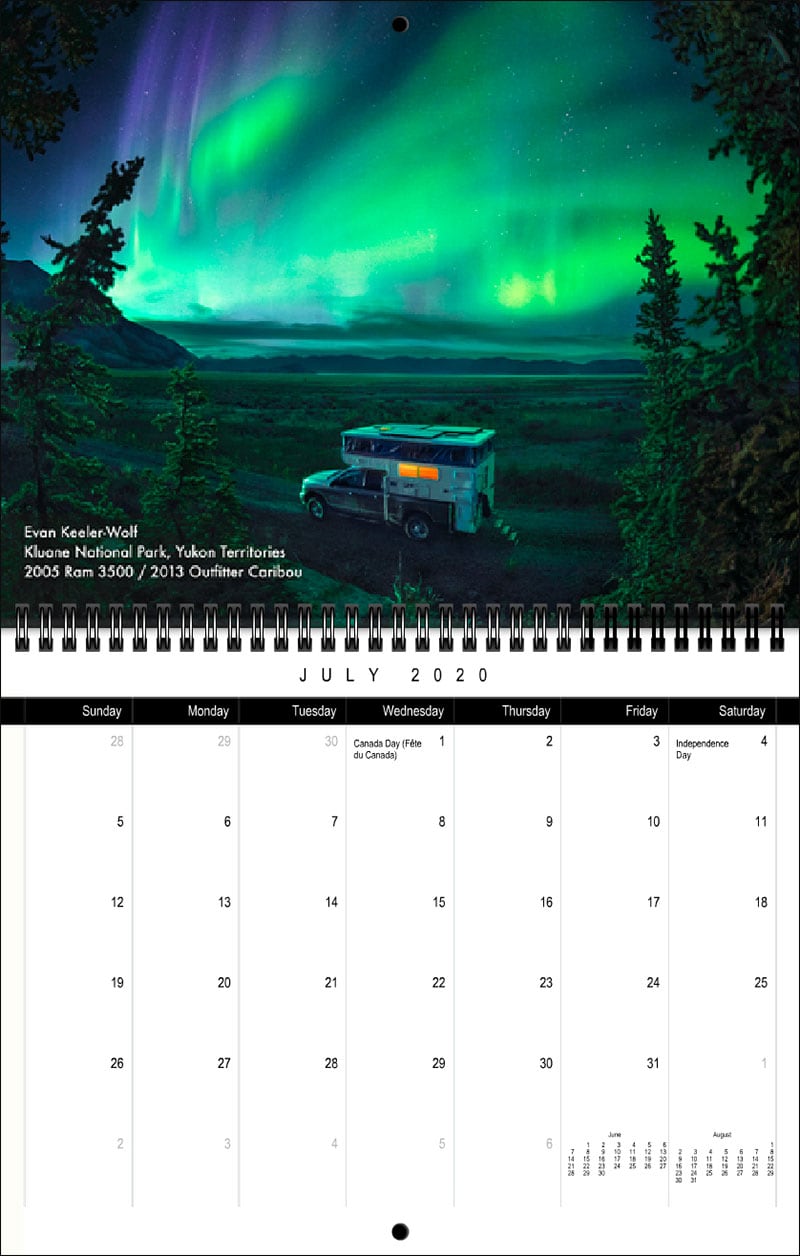 Kluane National Park, Yukon Territories
2005 Dodge Ram 3500
2013 Outfitter Caribou
It was my first night in the Yukon Territories after a thousand miles of fires in British Columbia. I was greeted by a spectacular showing of the northern lights. No, they did not charge my solar panels and yes, it was cold. I climbed up on this small hill behind my camp and watched the show framed by a couple of scraggly black spruce trees.
August – Gabe Lipchik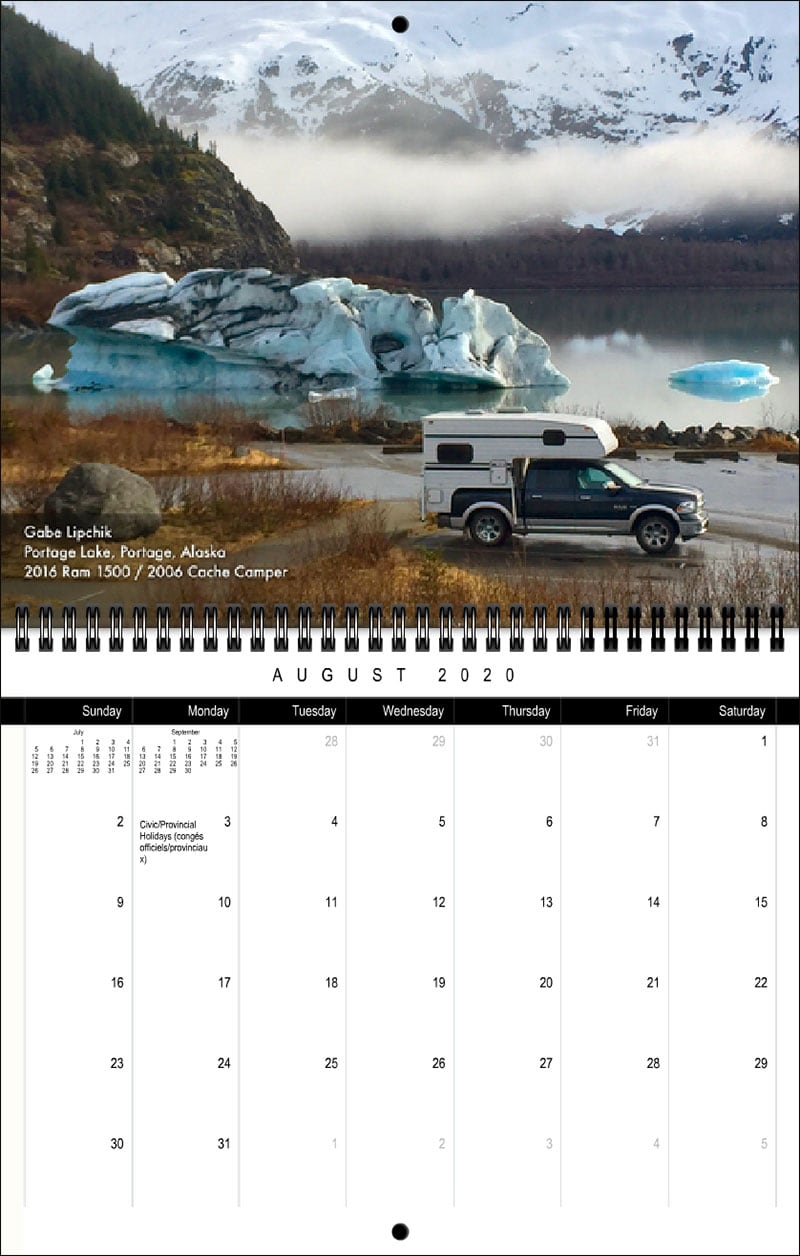 Portage Lake in Portage, Alaska
2016 Ram 1500
2006 Cache Camper
Normally we would walk across the frozen Portage Lake back to the Portage Glacier this time of year. Not so much in 2019.
September – Julia and Steve Berry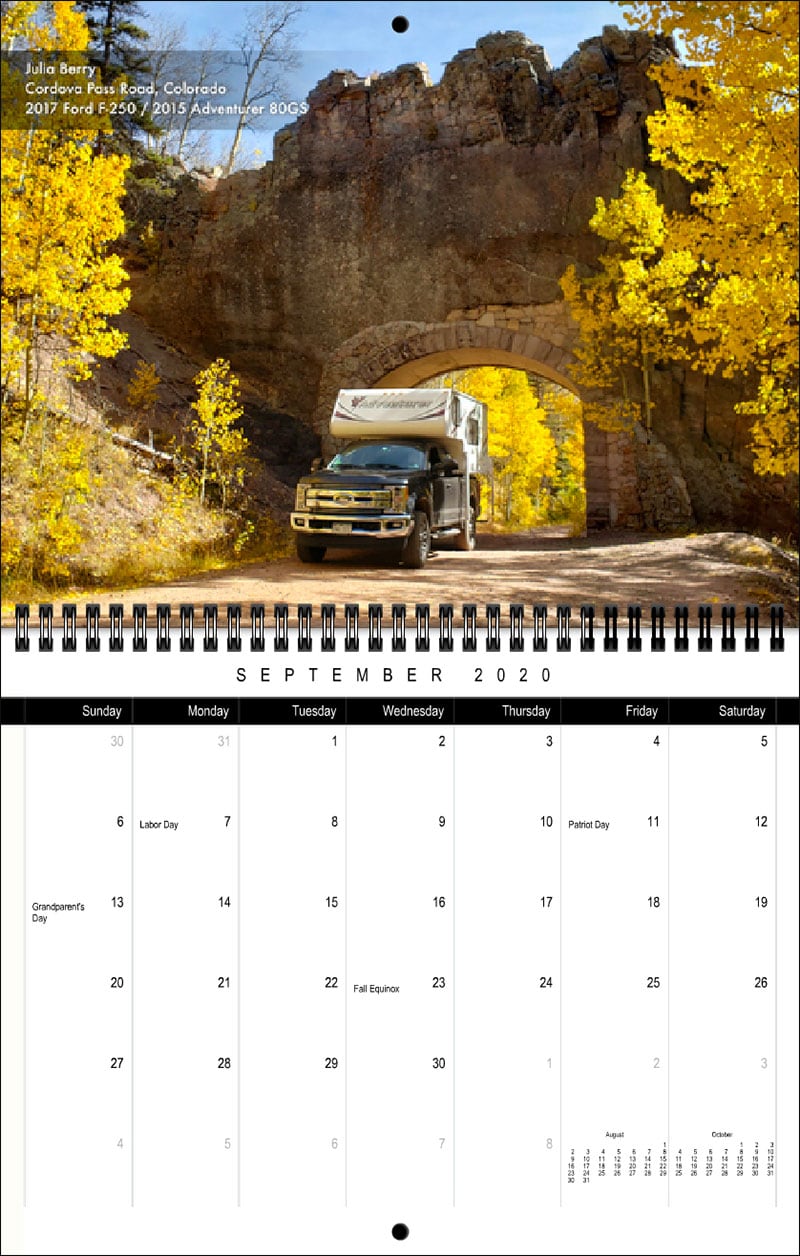 Cordova Pass Road, Colorado
2017 Ford F-250
2015 Adventurer 80GS
My husband and I were trying to go on one last camping trip before we winterized our camper, so we took a quick weekend trip to southern Colorado.  Our ideal campground is definitely more rustic than refined. All the places we had looked up seemed to be closed, even after talking to someone at the Forest Service office, but we decided to chance it.
Friday afternoon we drove four-hours hoping to find a spot.  Trying to get close to the Spanish Peaks, we headed up a forest road. A sign at the bottom stated that the campgrounds were open at the top.  We drove up up up a twisty mountain road and finally found the first campsite. A sign there said the campground was closing for the season the following day at 12noon.
We kept driving. At the top of the road we found a perfect, albeit cold and windy, campground set about a half-mile from a stunning mountain lake. There were only a few occupied sites. It felt like we were on top of the Rockies.
We hiked around the following morning. We found more beautiful mountain lakes and lots of quiet solitude. Then we decided to pack up and chance a different campground.
En route to the next forest service road to the (hopefully open) next forest service campground, we went by Cordova Pass that traverses through the amazing Spanish Peaks area.  Since we had taken that road on our honeymoon several years before in our Subaru Forester, we decided to check it out again.
The road was much more difficult to pass in our truck and camper than we anticipated. We muddled through large patches of small boulders, dodged large wash-outs, and kept a pretty consistent rattle on the wash-board covered pass.
Our goal was the the intriguing Apishipa Arch which we really wanted to see again. This time it was draped in Colorado's autumnal glory.
We also learned some things about our camper, like keeping an eye on the turnbuckles and finding latched access doors don't always stay that way. At one point we stopped to tighten the loosened turnbuckles. I peaked my head in the camper and most everything seemed to be, thankfully, in order.
The drive was stunning but exhausting. We turned around soon after we passed through the arch and took the calendar picture coming back to the west side.
We made it back down the grueling road, checked our turnbuckles again and then found the next campground. Literally it was just closing, but not yet gated and therefore open for us to stay.
The last straggling employees came by and told us we would most likely be the only ones camping. We quickly set up our campsite and kicked back in some of the last warm sunshine of the season. We watched a valley full of magnificent fall color on the musical and eerie Purgatory River.  It was magical.
October – Peter Mason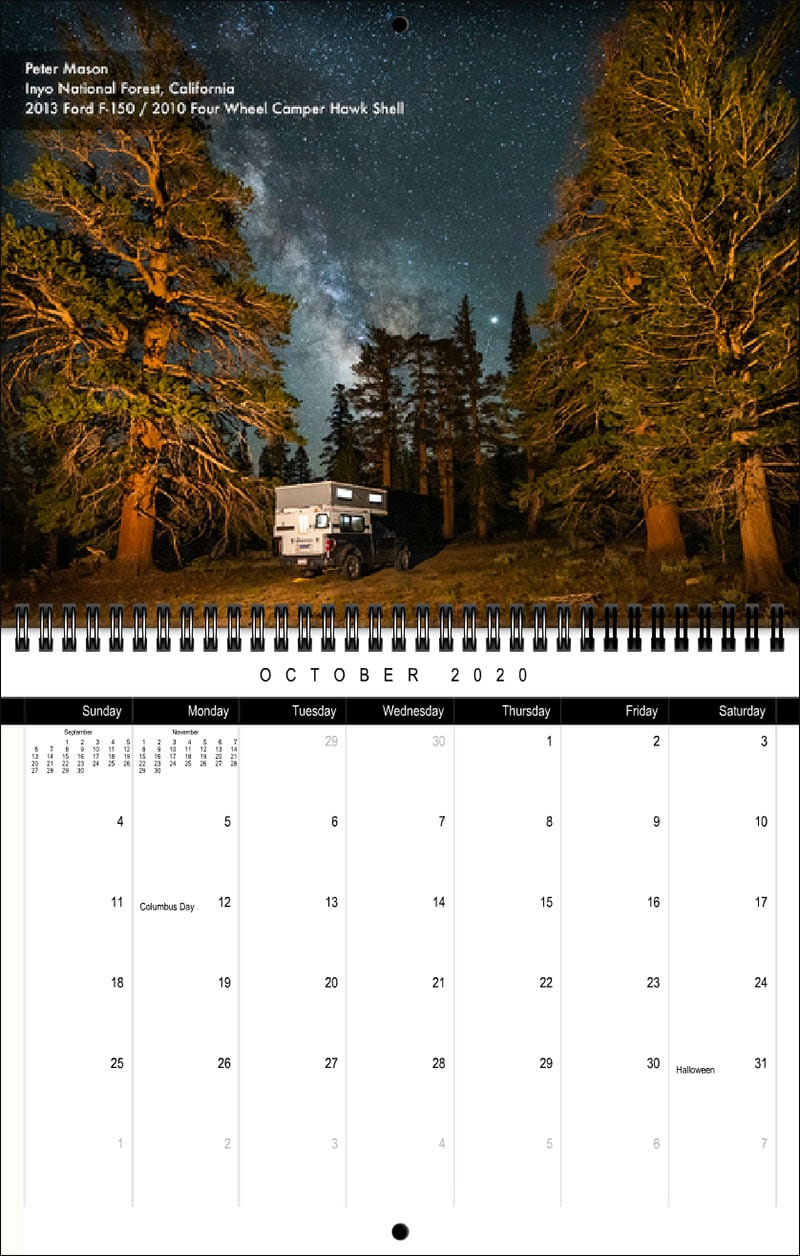 Inyo National Forest, Glass Mountain Trail, California
2013 Ford F-150
2010 Four Wheel Camper Hawk Shell
I enjoy visiting and photographing California's Eastern Sierra, which is quite busy during the summer months. After staying for a week in a developed campground in Big Pine Creek, I was looking for an out-of-the-way spot to spend the last night. I expected this would be near Lee Vining, California, east of Mono Lake.  There are numerous Forest Service roads in that area.
Heading North on Highway 395 to Bishop, California, I stopped at Laws Railroad Museum for a visit and then proceeded to explore Benton Crossing.  This road crosses Highway 395 just south of Mammoth Lakes.  It goes east for a number of miles, and then turns north.  It runs through the Benton Range and ends at Highway 120 East of Mono Lake.
It was mid-afternoon when I turned north on Benton Crossing, so I pulled over to check a topography map.  I noticed a dirt forest service road that exits Highway 120 and eventually ends at a place called Sawmill Meadow which was marked as Forest Service campsite.  From the map, it looked like it would be a nice spot and it was over ten-miles from the main highway.  As it turned out, it was a lovely spot (although there was no developed campsite or restrooms).
When I arrived there were no other visitors, so I positioned my camper anticipating this photograph that includes both the Milky Way and Jupiter.  And, to my surprise, I captured the appearance of a meteor, too.
November – Cindy Cobb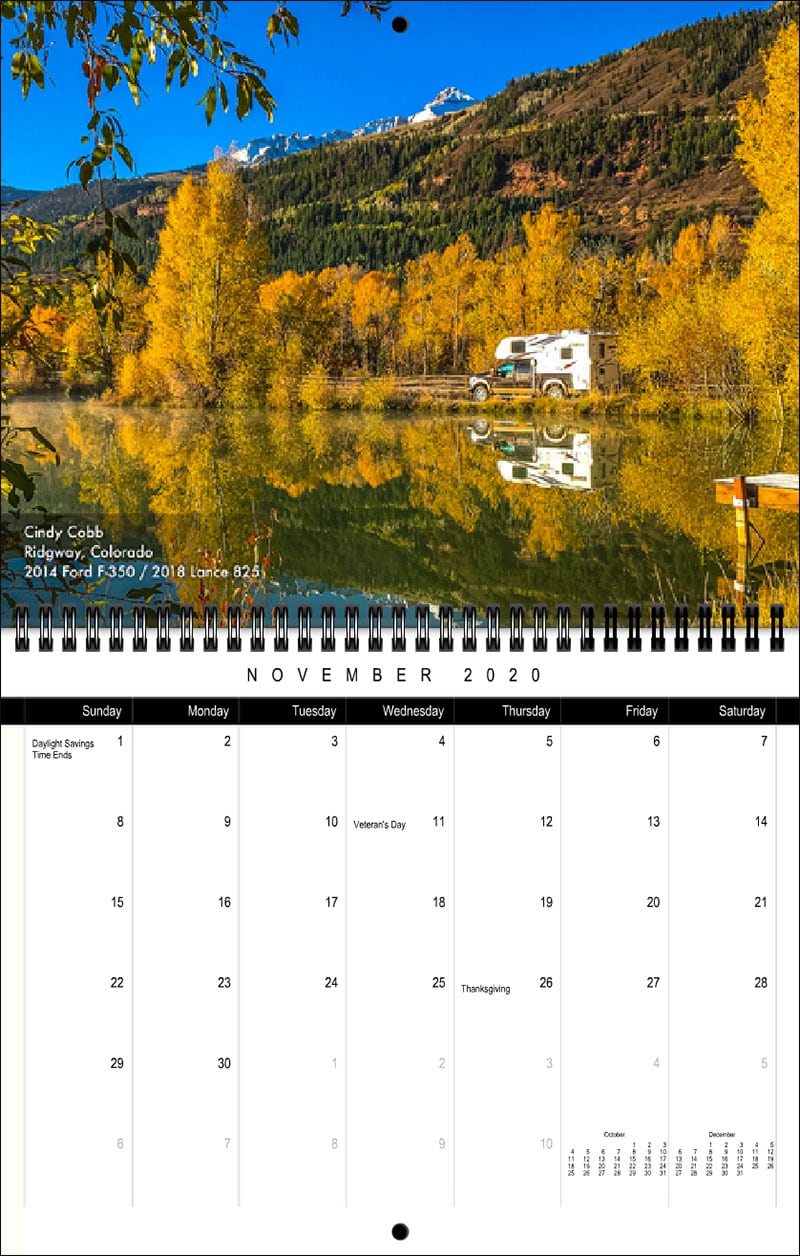 Ridgway, Colorado
2014 Ford F-350
2018 Lance 825
Have you ever just taken off by yourself with no plans of where you are going? Maybe your final destination is on your bucket list, but the stops along the way are wide open. One of my favorite things to do is to load up my truck camper and do just that.
Every summer I take off on a solo trip with my camper to explore more of this amazing country. Several years back I found myself in Alaska. Another year I traveled through twelve midwestern states with the bucket list of Mackinaw Island. Recently I was in three states with the bucket list of Carlsbad Caverns National Park and White Sand Dunes National Monument.
One of my favorite places to explore is the San Juan Mountain Range near Ridgway, Colorado. Ridgway, is a small quaint town in southwestern Colorado.
My mother spent her childhood years on a ranch near Ridgway where the views of Mount Sneffels and the Uncompahgre Valley are spectacular. This is part of the reason I love this place. I have heard many of her stories of her childhood and relive the moments when she talks about a certain place.
Once a person gets off the main roads in the San Juans there are countless graveled roads that are accessible by Jeep or ATVs and the hiking is unbelievable. On this particular trip, I was camping along a small lake.
This photograph was taken on a beautiful, cloudless fall morning. With my coffee cup in my hand I instantly realized I needed to capture the moment of the mountains and camper as they reflected off the lake.
It was peaceful and a feeling of contentment and appreciated overcame me. We are so lucky to be able to live in and visit these amazing places.
My bucket list is long and I can't wait to see as much as possible.
December – Tim Costello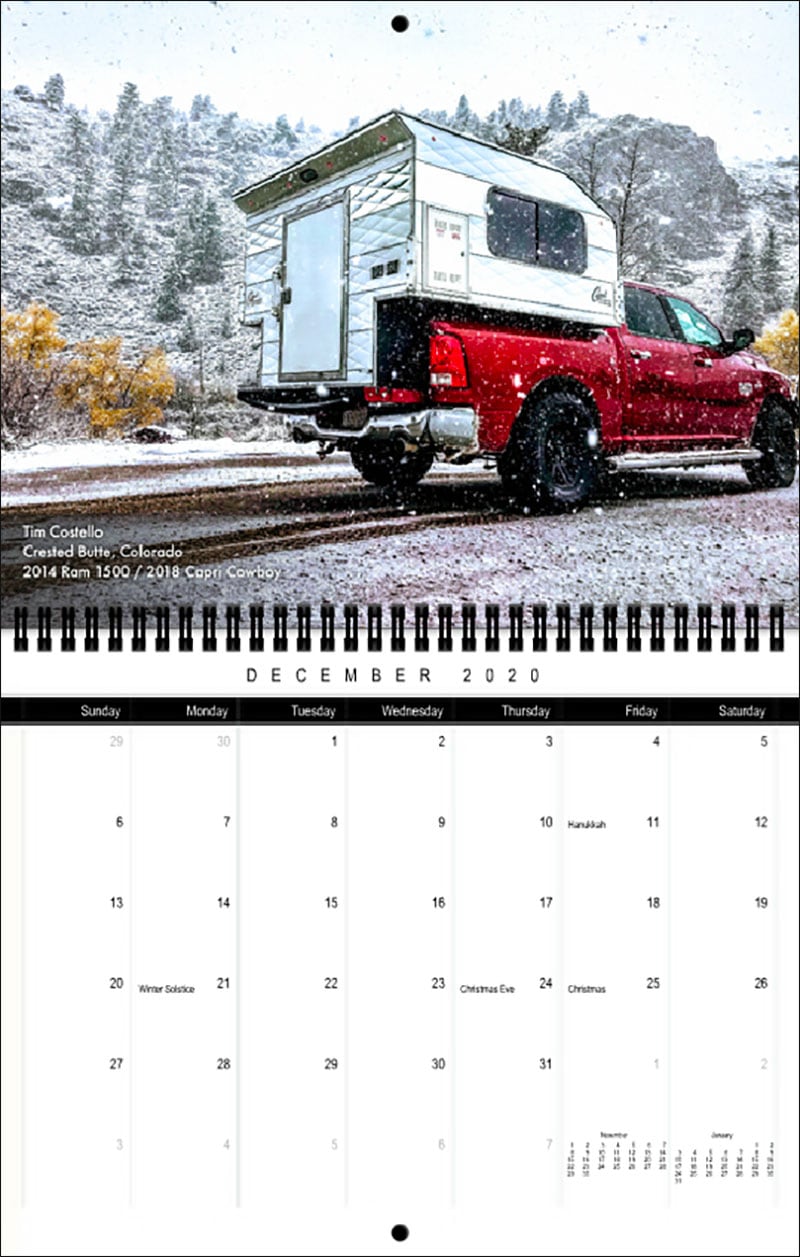 Crested Butte, Colorado
2014 Ram 1500
2018 Capri Cowboy
We lost a good hunting buddy of mine last year and it inspired me to buy a truck camper and travel the country. My three calendar entries are from my travels attributed to his memory.
This picture from Crested Butte was taken on an incredible day of trout fishing as the Kokanee salmon were running the Gunnison River. It went from absolutely white out conditions to a beautiful day. This picture is of the latter.
I enjoyed every minute of the trip.
ORDER A 2020 TRUCK CAMPER CALENDAR