This week's Question of the Week was, "Are you a park and done truck camper, or are you a park and set-up a campsite truck camper?"  Readers reveal their campsite behavior.
"I am a park and done truck camper.  The best part of having a truck camper is the ease of use.  Part of that is understanding what each outing requires and tailoring your gear for that specific adventure.  This makes loading and unloading a breeze, which encourages my wife and I to use our camper more often.  Less is more when it comes to truck campers." – Chuck Trinka, 2008 Dodge Ram 2500, 1997 Lance Squire Lite 185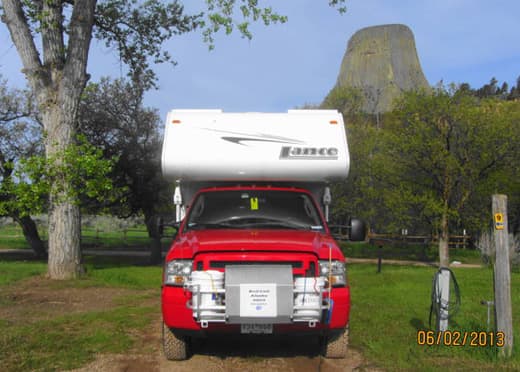 "The intention on one trip determines a drive by or stop in and stay awhile existence.  It's kind of like the chicken and the pig concerning breakfast.  The chicken has a passing interest whereas the pig is totally committed.  My last trip to Alaska was three months and two weeks long.  It was more a park and done trip.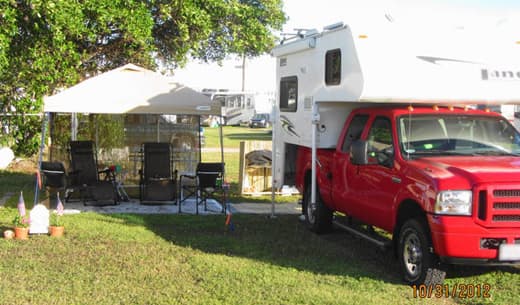 The trip to Florida was five months and two weeks.  That was park and set-up trip." – Paul Foster, 2005 Ford F250, 2008 Lance 845
"I am a park and done truck camper.  The majority of our truck camper use is for road trips and sightseeing trips rather than simply camping.  About the only thing we put out are our lawn chairs and a rug." – Allen Brummel, 2008 Dodge Ram 1500, 2008 Northstar TC650
"I am a park and done truck camper.  We usually park and head out to explore the area. The folding chairs can wait." – Dave Miller, 2012 F350 CC LB 4X4 SRW , 2003 Bigfoot 10.6E
"It truly depends on what I am doing.  If I am hunting or traveling I tend to park level and go, but if I am out camping I set up camp". – Richard Wolf, 2007 Dodge Ram 3500, 2006 Six Pac D650
"I'm primarily a park and done camper.  I arrive early, park on a level spot, then take a leisurely hike or drop a line in the nearest stream or river.  I arrive back at the truck early evening and turn into a set-up campsite person.  The set-up of my campsite is easy. I unfold a couple of chairs, open up the bar-b-que and a couple of beers, and enjoy life!" – Phil Rodacy, 2012 GMC 3500, 2006 Okanagan 90W
"I am a park and done truck camper.  I like to boondock so I keep it simple; low impact on the site." – Greg L, 2013 GMC Sierra 3500HD, 10′ CO AKC
"I am a park and done truck camper.  After owning various campers, from pop-up to bumper hitch to motorhome to fifth wheel, we have settled on a truck camper.  We have done so because we were tired of having to drag a trailer, go through numerous set-up procedures, and had difficulty finding parking for a big rig when we wanted to stop at an attraction along the way.  We very much like the simplicity of the truck camper, minimal procedures in set-up and the ease of breaking camp when we are ready to travel.  We spend little time sitting in camp, preferring to see the surroundings.  We are not trying to impress others with decorations and just prefer to keep things simple. – Dewey Lackey, 2003 Chevy Silverado 2500, Snowriver 9.6
"We are park and done truck campers.  The most we ever set-up is to take a couple of folding chairs out of the truck.  We are not the types that like to just laze around the campground.  We keep the camper on the truck and explore the area for a few days and then move on.  Putting out stuff just isn't our style. – Larry and Barbara Routt, 2005 Ford F350, 2004 Lance 820
"It depends on the situation.  I park, level, hook up, extend the canopy, start the water heater, grab a cold soda, set up a chair, and that's it!  No string lights, pink flamingos, flags, banners, or other useless stuff." – Gary Atsma, '13 Ford F-150, Snugtop shell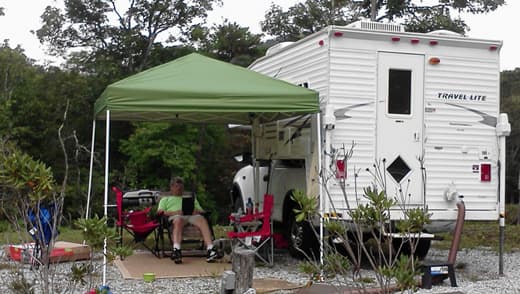 "It depends on the situation.  If I have plans to stay a few days and it's a campground with full hook ups I'll drag out all the stuff, set it up, and have fun.  If I'm boondocking I'll maybe set up the easy up and limited stuff.  It just all depends." – Jeff Hagberg, 2002 Ford F250, 2006 Travel Lite 800 SBX
"We are somewhere in between.  We keep it simple, but will put out a couple of chairs and a small grill.  Too much stuff just makes camping a hassle." – Bill Teixeira, 2006 Chevy 2500HD, 2003 Adventurer 810WS
"It depends on the situation." – Tim Burk, 2005 Dodge 3500, 2010 Eagle Cap 950
"I am a park and done truck camper.  I camp on the beach and if the tide comes in higher than expected I am ready to go at a moments notice.  When I go to campgrounds I am still a park and done truck camper out of habit." – Jerry Estelle, 2005 Ford F350, 2013 Lance 1172
"It depends on the situation.  We park and sleep most of the time.  If we are going to stay awhile we will set an easy up and put the pink flamingo lights up.  After all, we are campers." – Eric and Linda Andeson, 2001 Dodge 3500, 1998 Shadow Cruiser