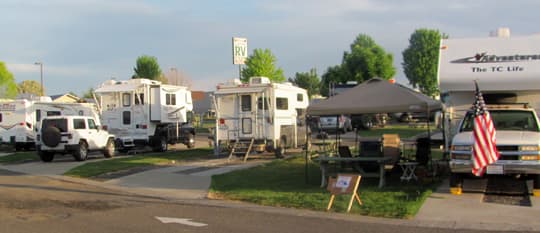 Rich Bain, NATCOA Director and Rally Coordinator, sent in the following report and photographs from the 2014 Truck Camper Wine Tour Gathering.  This is what happens when you gather truck camper owners, drink wine, and go bowling in the street.
"We had a great time at the Wine Tour Gathering in Prosser, Washington the weekend of May 15, 2014.  Seven rigs attended the gathering.  One had to cancel due to health issues, and one of the seven rigs was a travel trailer.  At the gatherings and rallies I host, everyone is welcome.  Even if you have a tent or if you have never camped before and want to stop by for a visit and ask questions about truck campers, that is perfectly fine.
The resort was wonderful with full hook-up sites that included all the amenities.  They even had the pool open a week early.  That was great since the temperatures were in the 90s when we were there.  On Thursday most everyone showed up at the resort.  We all hung out, chatted, and enjoyed each other's company.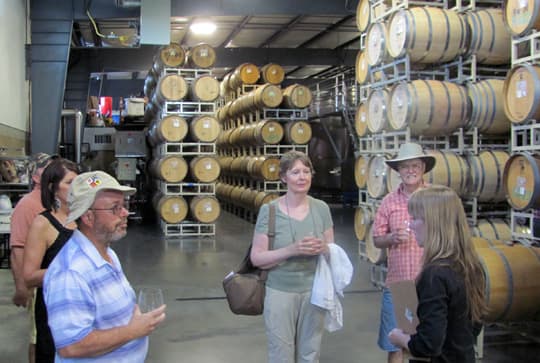 On Friday morning everyone went their separate ways to explore the town, wineries, and everything else there was to offer in the area.  There were several times throughout the day when we would cross paths and sometimes meet at a winery.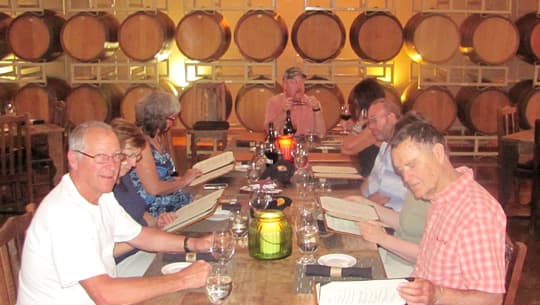 Friday evening most of us did a tour at the Desert Wind Winery and then had dinner there afterwards.  It was a great dinner spent with friends.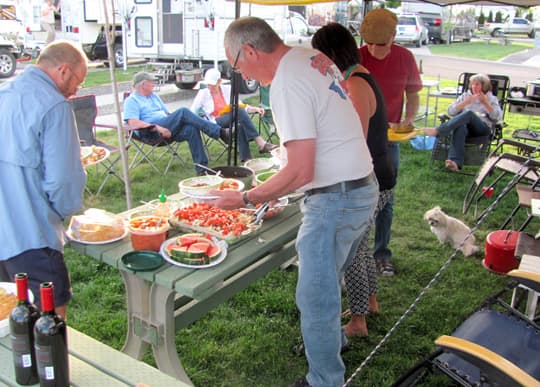 Saturday was another day where people went about the town to explore more.  Some went together while others went solo.  In the evening we all gathered back at the resort for a potluck dinner.  As usual there was lots of great food to be had.  When dinner was finished, I handed out a few small gifts from Torklift International.  Then one of the attendees, who works for Adventurer Manufacturing, handed out some hats.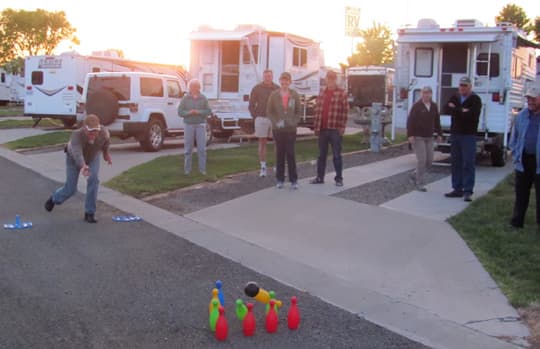 After that we had a bowling challenge.  We set up bowling pins at the resort and bowled.  It was a lot of laughs and big smiles.  The winner got another small prize.
On Sunday morning we did a farewell breakfast of pancakes, sausage, and scrambled eggs.  Everyone got plenty to eat.  Shortly after the breakfast we all made our way home or were off to other places.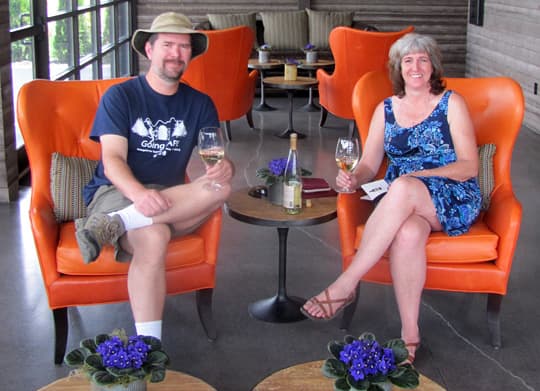 It was a fantastic gathering.  We all got to know each other over a few days.  Some of us knew each other already from other gatherings or rallies and we reconnected during that time.  If you had thought about going, but chose not to go, we missed you.  Maybe at the next gathering or rally we will see you there.  Please visit my blog (link) to learn about upcoming rallies and gatherings." – Rich Bain, NATCOA director and rally coordinator