From goat meat seminars to delivering antique cars, hauling heavy equipment to chasing bike parks, fishing mountain lakes to snowbirding with Lacey, this is why eighteen fellow readers go truck camping.
The May Clan
2017 Toyota Tundra
2009 Four Wheel Hawk custom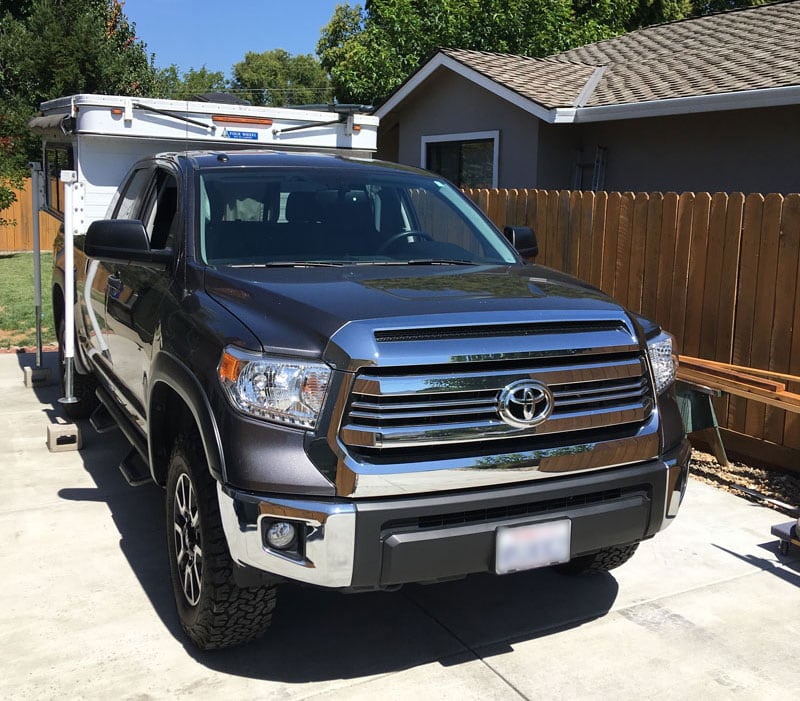 I have a one-of-a-kind 2009 Four Wheel Camper Hawk with no cabover. I have a fly rod rack, thicker foam mattress and I relocated two burner stove top so that I could enlarge sleeping area. I also have scissor steps.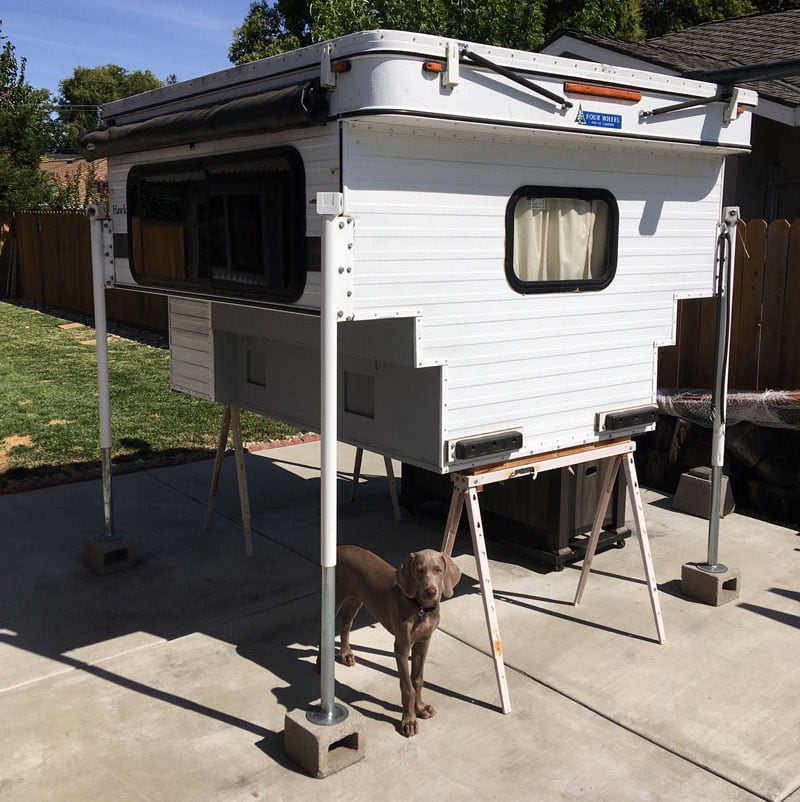 I like to go fly fishing and been on quite a few fly fishing road trips, mainly in the western states; Yellowstone, Coeur d'Alene, and the Eastern Sierras in California. I can't go out truck camping enough!
Nancy Roberts
2018 GMC Sierra 250HD
2017 Northstar TC800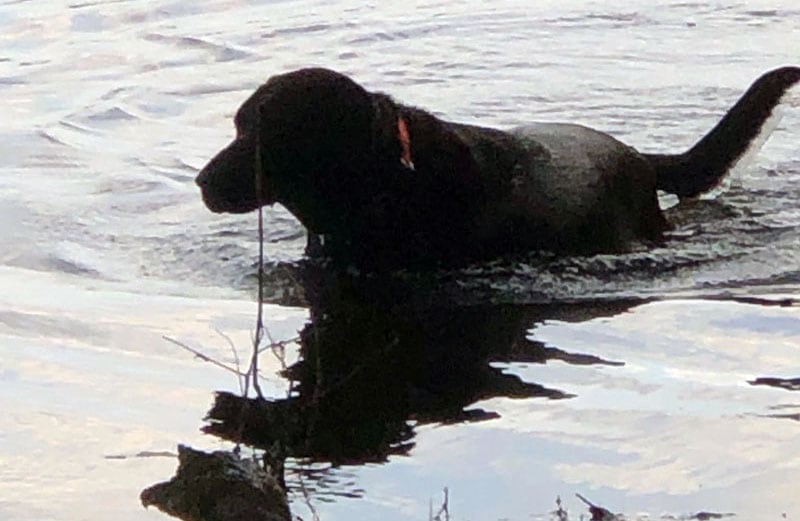 I go camping with my black Lab to be in nature and the outdoors. I want to see all of the amazing sites in the United States that I missed while serving my country. I retired from the United States Navy and mostly saw coastlines and water.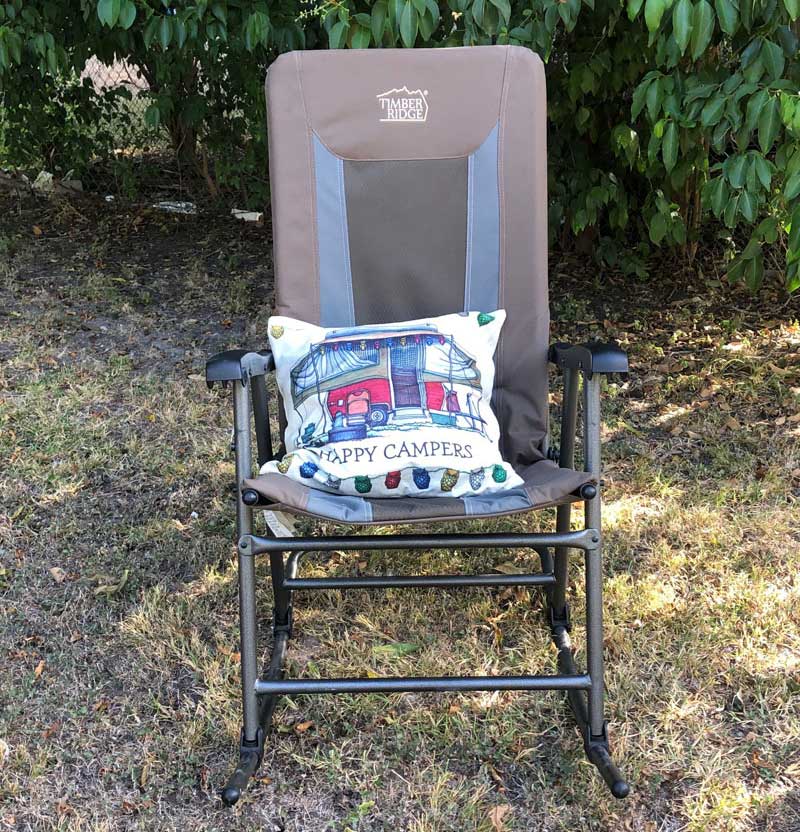 The last thing in and the first thing out is my rocking chair. The rocker should come as standard equipment.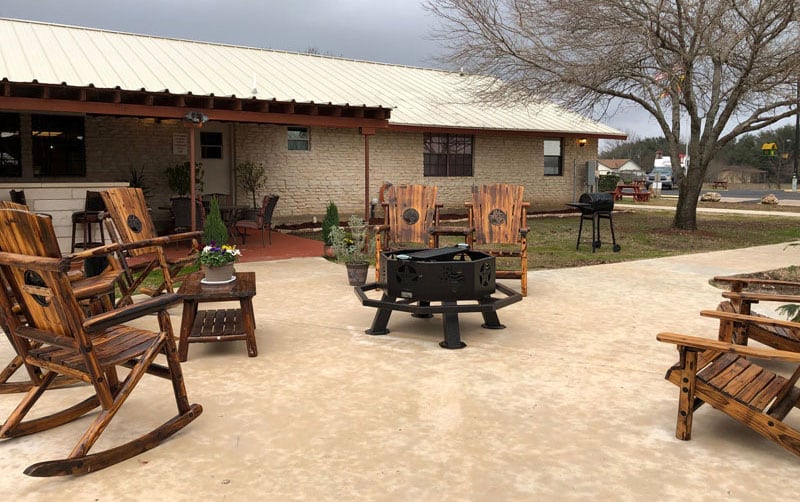 I love South Dakota. The prairie is beautiful in all seasons, but my favorite month is August, before harvest. The fields are awash with golden sunflowers turning to follow the sun and the waving seas of wheat make America the Beautiful come alive.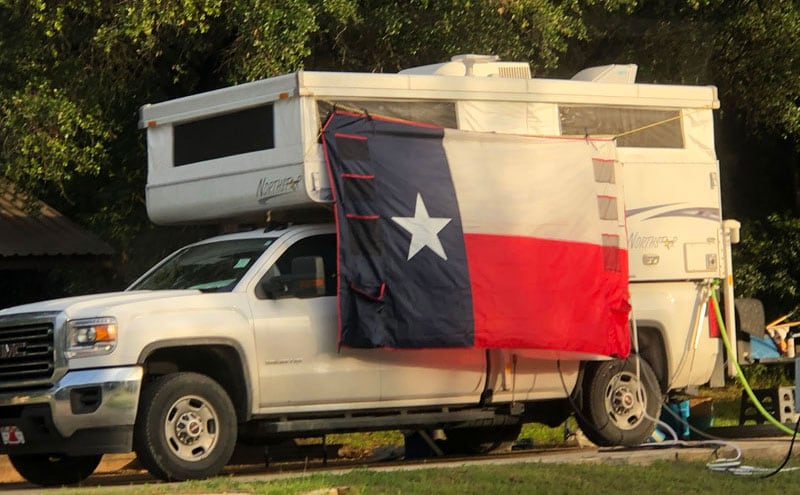 The Northstar TC800 pop-up was my first truck camper after a long line of travel trailers and toy haulers. With a truck camper you can go anywhere. This past week I changed to a 2020 Palomino hard side.
The Wandering Werners
2012 Dodge 3500
2005 Lance 981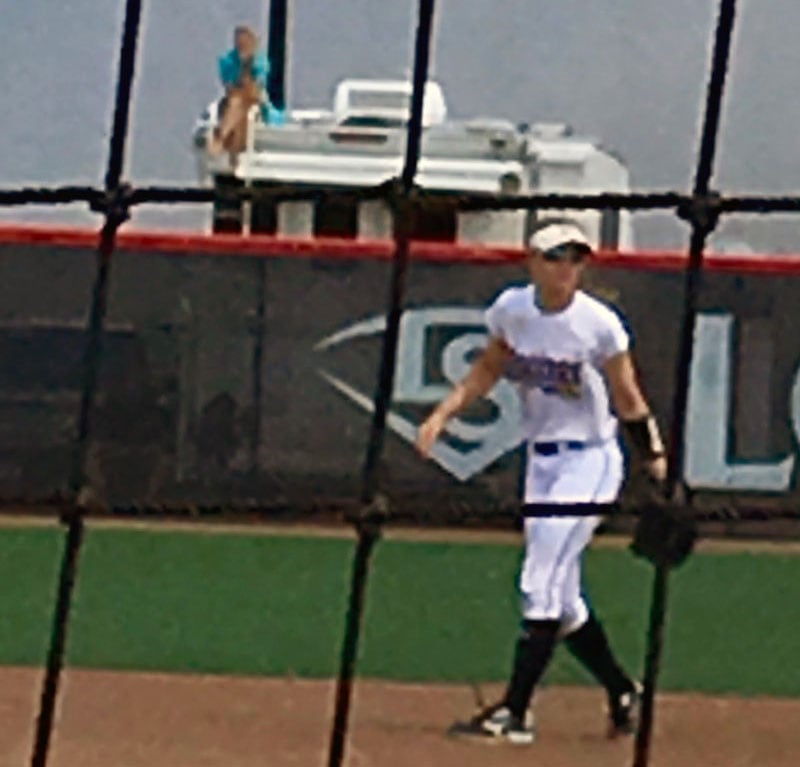 We have used the camper for travel, following kids and grandkids to traveling soccer and softball games, and motorcycle and car races. Our truck camper makes a great respite for players to eat, rest and hang out in between games.
Joe Smit
2017 Ram 3500
2017 Lance 850
When I go somewhere, the motorcycle is going with me. With a truck camper, I can tow the motorcycle trailer and have a comfortable place to stay along the way.
I like to visit cool places and use the motorcycle to get around. Eventually I want to see every state. I love The West; Black Hills, Glacier, Yellowstone, Sedona, etc. I go to the Sturgis motorcycle rally most years.
Mike K.
2015 Chevy 3500
Northstar Laredo and Arctic Fox 811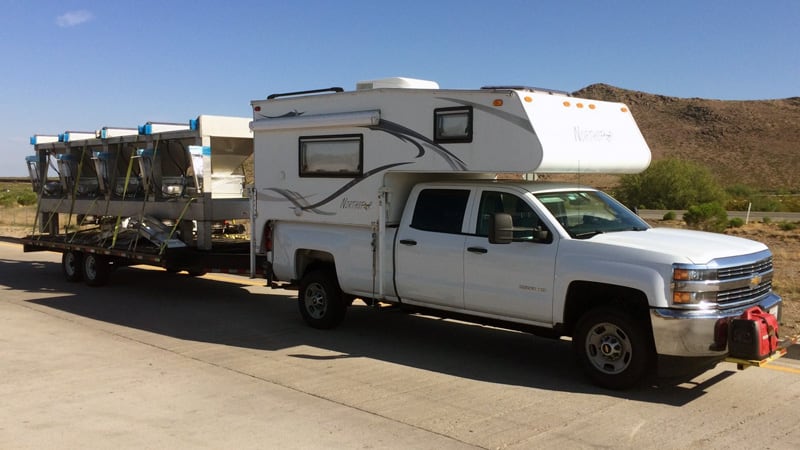 I use my Northstar and my Arctic Fox as a mobile office to transport equipment up to 10,000 pounds. A truck camper is also my on-site hotel while I install pack lines.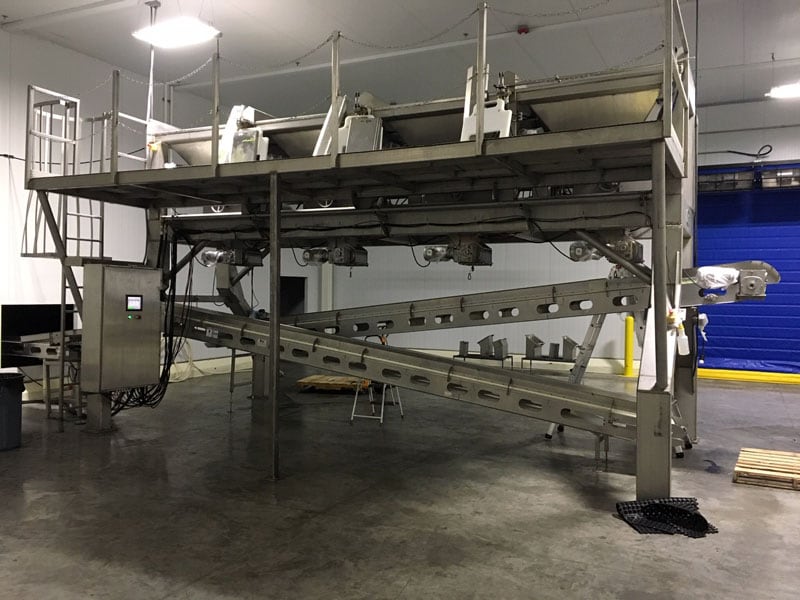 Above: He's towing four bin frozen vegetable mix lines like the one you see above
I travel to Kentucky, Georgia, Texas, California, and Oklahoma where my clients are located. Truck camping for me is more like a working lifestyle.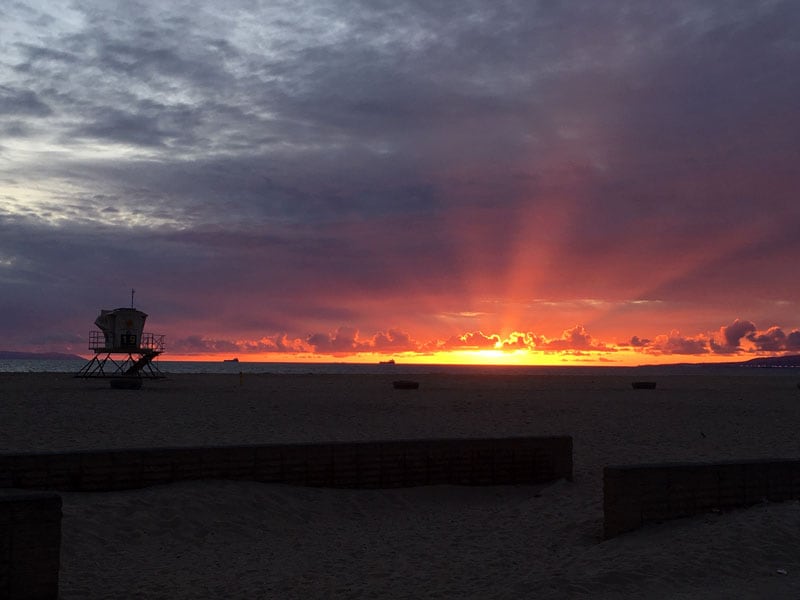 Scott and Andrea Spradley
2015 Chevrolet 2500HD
1998 Lance SL186EC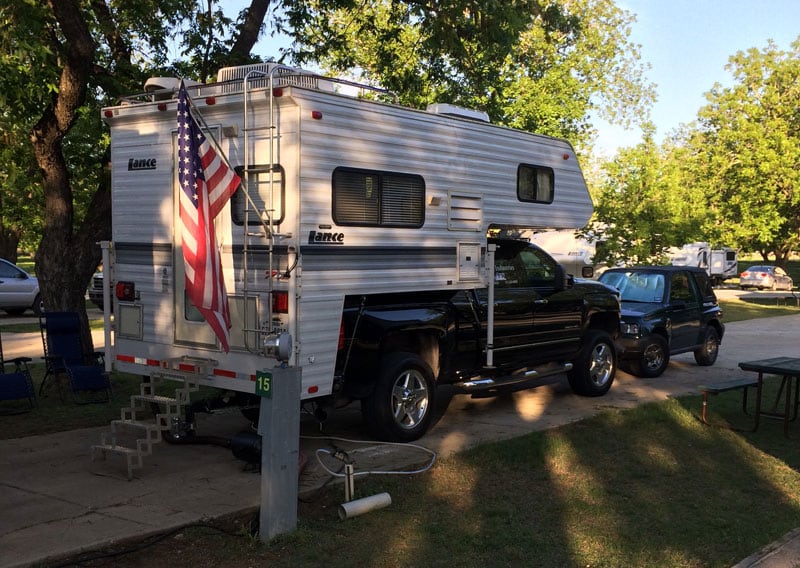 I never stopped to think about the reason why we have a truck camper. Work? Hobbies? Passions? I think our passion is the truck camper itself!
I have a list of campers that I would like to own at the same time, all stored in a large building. Depending on where we're going, I'd load one up. One can dream!
When we originally looked at truck campers, we were amazed! There's a bathroom, shower, kitchen, beds, and you load it in the bed of your truck. Take it off when you get home and drive your truck daily. Wow! What a cool concept.
We bought our truck camper for the coolness factor! We realized later that there is no license registration, no tires, and no engine for maintenance.
The small size and coziness is something we both enjoy. We raised two children going on yearly vacations in our camper. As they grew they wanted to go to malls and swim at the campground pool. We have visited all kinds of parks and attractions in our camper.
Now that our children are grown and gone, my wife and I still enjoy truck camping. We plan on some outback boondocking and I have purchased a four-wheel drive vehicle to pull and a trailer for a motorcycle. Depending on where we are going dictates whether we pull the car, trailer, or nothing.
Cliff Cizan
2010 Dodge Ram 3500
2013 Arctic Fox 1150
With a truck camper, I am able to pull my boat in the summer and hook up my enclosed ice fishing trailer in the winter. During the summer I park my ice fishing trailer in my yard and the same with the boat in the winter.
I like to go to the NATCOA and Texas truck camper rallies. There are great programs and I enjoy the many friends I have made at the rallies.
In the summer, I go to many lakes in Colorado, Utah, Arizona and New Mexico. There is great scenery and fishing. In the winter I go ice fishing in Colorado, Utah, Montana and Minnesota.
The Arctic Fox 1150 functions well at cold temperatures. With my 20,000 pounds winch, 100-feet of cable, and four-wheel drive Ram 3500, I am able to reach to the best summer and winter fishing locations.
I enjoy Truck Camper Magazine and usually install some of the neat tricks listed in making life and camping more enjoyable. I like staying at Flying J and boondocking off-grid. I very seldom stay at a commercial campgrounds.
My wife of 57-years does not go with me on these adventures. She loves her sewing, garage sales, visiting with her friends and her personal time.
Tom Davidson
1998 Dodge 2500
Vintage Alaskan 8-foot cabover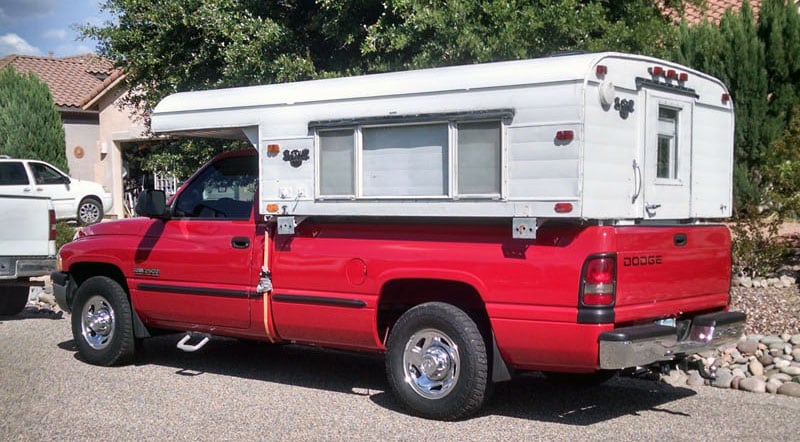 I use my truck and camper to visit my son, who lives 1,000 miles away. It is cheaper to drive than fly. I have my own vehicle upon arrival, saving the cost of a rental car. Finally, I have a place to stay when I arrive other than a $120+/- a night motel.
I don't have to deal with parking at the airport, baggage claim, security screening, etc. The money I save on airfare, hotel and car rental more than offset the cost of fuel. This has allowed me to visit twice as often as before.
It's nice to have the rig when we go to the beach for the day or some other semi-local destination during my visit. He thinks it's an adventure to stay in the camper for the weekend when I visit, even if we're just a couple miles away from his house.
Sometimes I make the 16-hour trip in one sitting. If I get tired, I can stop most anywhere and get some rest. The only downside is that I have to take two additional days off work to cover the driving time.
I have an Alaskan cabover that may be as old as I am (circa 1968) on a 1998 Dodge diesel with less than 80,000-miles. I wanted a pop-up to minimize the wind resistance, and the price was right. I assembled the whole rig for less than $12,000.
After purchasing the camper the decades old heater, stove, and three-way refrigerator were removed. This more than doubled my storage space and eliminated the need for propane. I haven't missed the heater in Arizona, New Mexico and Texas, but yearn for an air conditioner.
Currently, I enjoy no need for hook-ups but may add an air conditioner and small generator. I am also considering a 12-volt cooler and induction cooktop, but so far have done just fine filling a quality cooler with drinks, snacks and sandwich fixings.
It predominantly travels between Arizona and Texas, with regular trips to the beach on Galveston Island, Texas.
Jeff Buckley
2011 Ford F250
2017 Travel Lite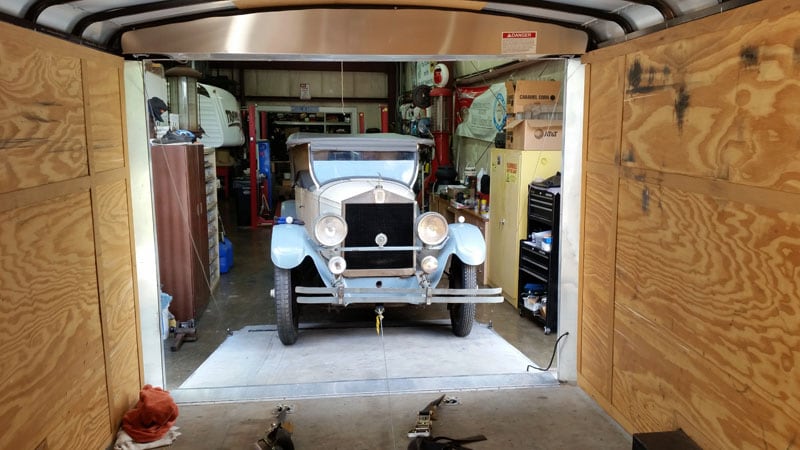 Above: 1924 Series A Moon Touring
I have antique cars and love the hobby. When I go to car meets or swap meets, it's sometimes better put my truck camper on the back of my truck and stay right in the middle of the meet – or right with my car parts at the swap meet.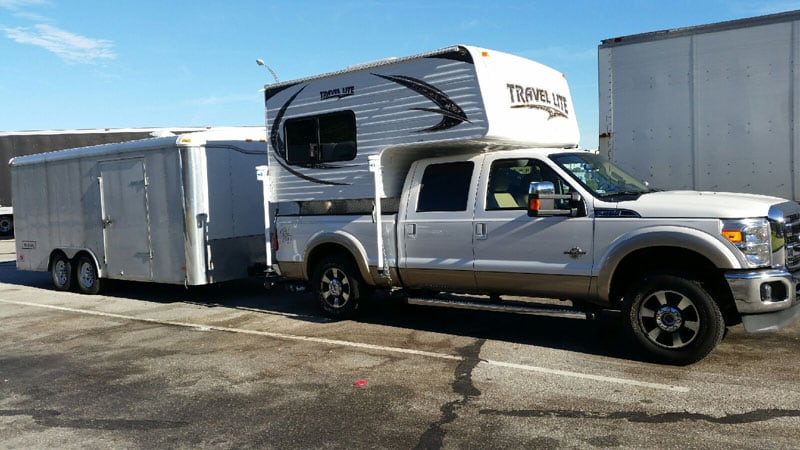 My camper is very light weight and fits entirely in my Ford short bed so that I can still have the tailgate closed. This allows me to pull an enclosed car trailer with one of my old cars or another trailer with car parts.
Having the camper entirely inside the truck bed is very important because I did not want any tongue extension. Typically I pull a trailer that has a gross weight of 5,000 pounds or more.
I wanted a light weight camper so I have no problems pulling everything. I added Torklift StableLoads and Torklift tie-downs to make it easy to handle the camper.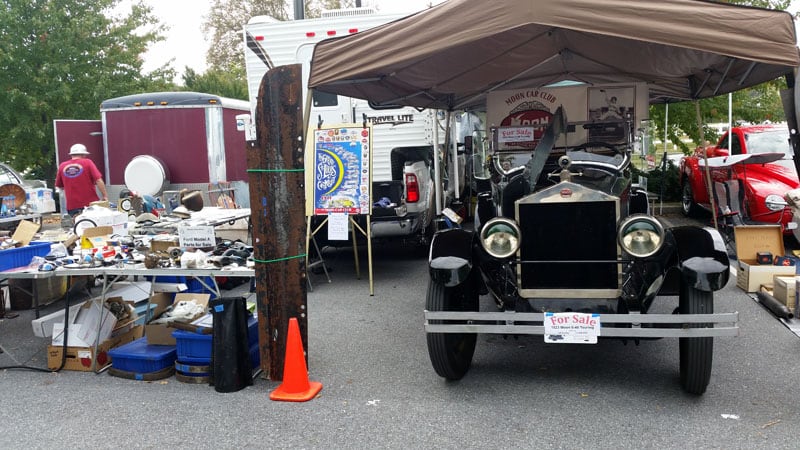 Above: AACA Fall Swap Meet in Hershey, Pennsylvania
I typically take the camper to the fall AACA Hershey swap meet which is the largest in the world. I stay right on site with my car parts and dry camp for five days. I have used my setup for various other car meets and swap meets.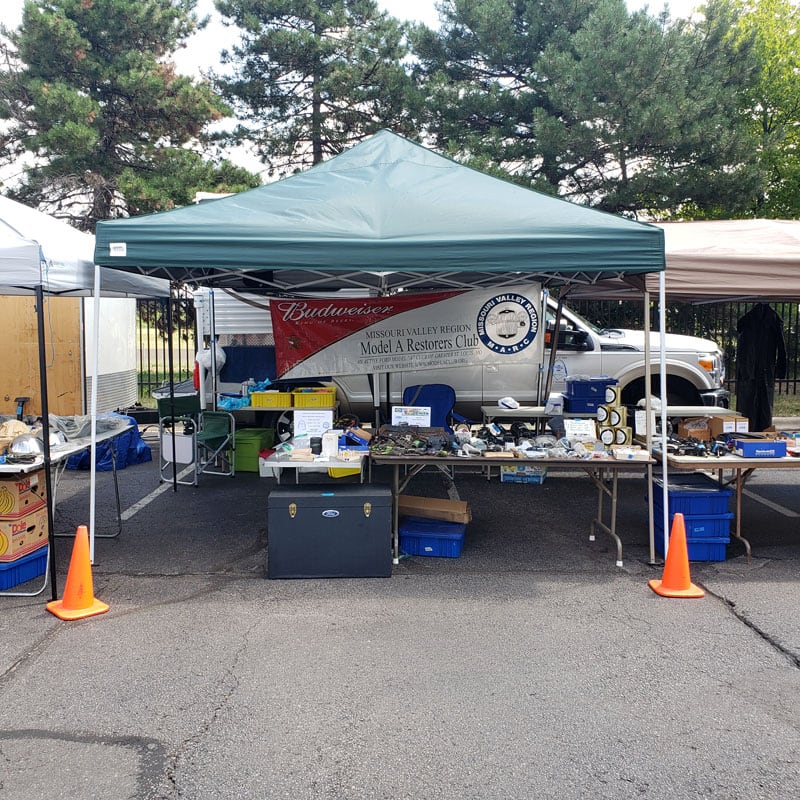 Above: Ford Model A parts at a National Model A Restorers Club Meet
A good example of a trip was when I traveled 3,200-miles round trip in five days to deliver a 1924 Moon Touring in Albuquerque, New Mexico. Then I headed to the top of Utah to pick up a 1926 Diana Sedan before heading back to St. Louis.
When I felt tired, I would pull over and take a nap. Each evening I would find a spot to catch some sleep (mostly Walmarts). I am not a professional driver or car/parts dealer, but I love the old car hobby and I use my camper to be comfortable when I travel.
Howard Giang
2014 Chevy Silverado
2000 Palomino B1200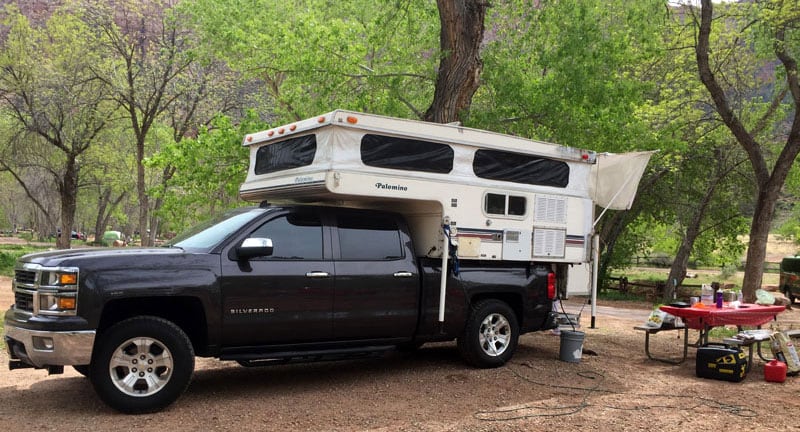 I like to go truck camping because of its versatility. I also enjoy the opportunity to carry a good amount of food, water, tools, equipment and gear. These qualities are a must to handle various environments, terrain and weather – especially for long distance travel.
I have made some modifications to my 2000 Palomino B1200 pop-up truck camper to better fit my needs and my preference for various outdoor activities and camping.
I modified interior to use all available space. Now I can carry more items and materials. I have three types of heaters; gas, 110-volt, and 12-volt/battery. I installed two solar panels to charge the deep cycle battery and AC converter. I also have propane and electric cooking stoves. In addition I have charcoal to cook outside if my battery is low or their is no electric is available.
I took my camper to Zion National Park for three nights. It was great, and I believe the camper could be sustainable for up to 14-days. I am also interested in the 2021 Rubber Tramp Rendezvous at Quartzsite, Arizona for 14-days – which is free.
The challenge is to not move my rig for 14 consecutive days. It will be difficult without careful planning for food, water, fuel, etc. Some food will not last long without a refrigerator. I need to find out if I can do it.
Mary and Vic Price
2017 Ford F-350
2017 Northern Lite 10-2 EX CDSE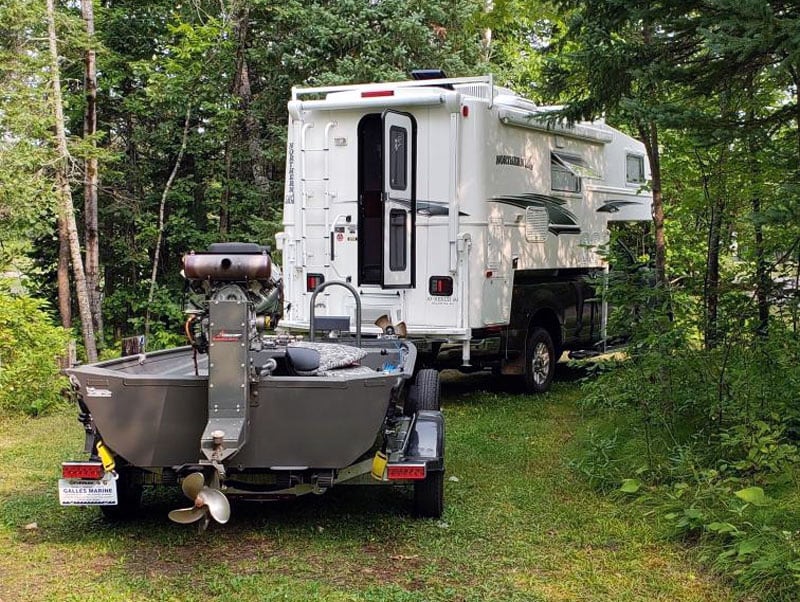 We love truck camping! It allows us to quickly get away and relax. Often, we enjoy shorter three to four-night trips. We can easily pull and maneuver our fishing boat with the truck camper loaded. As a bonus, our cat joins us!
We go to campsites near Wisconsin and Minnesota rivers. Sometimes we have electric, sometimes we are off-grid.
Glenn
2004 Chevrolet Silverado 2500HD
2008 Sun Lite pop-up
I always use my truck camper when I go fishing. I tow a boat behind it, or I wade fish. I rarely use hookups and camp in primitive spots. I have two 12-volt batteries.
I like to camp in the Savage River in Maryland, Oak Orchard in New York, the Au Sable River and Pere Marquette River in Michigan.
Stephen White
2015 Chevrolet Silverado 3500
2017 Northern Lite 8-11 QSE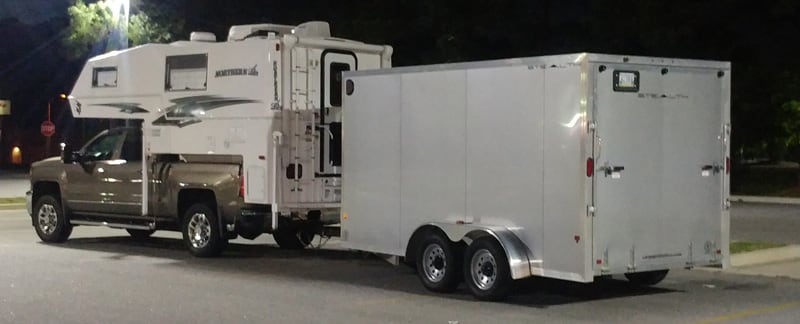 We are snowbirds and we like to take our time to stop and see or do things as we travel back and forth from Canada to Florida. A truck camper gives us this flexibility to stop just about anywhere anytime. It also allows us to bring along our little dog, Lacey, wherever we go.
We have hitch extension to pull a 8×14 all-aluminum cargo trailer with our two motorcycles. We can tour around with them in Canada or Florida, or any of our stops.
In addition to trips to Florida, we have traveled across Canada, camped in Drumheller, Alberta to see dinosaurs, golfed the badlands of Alberta, and explored Cypress Hills in Saskatchewan and many places in between. We also love to stop in Nashville to enjoy the music or ride the hills of Tennessee. We are usually visiting friends and family along the way.
We love the fact that we can drop the camper in a campground and use the truck to drive around without packing everything up again.
Melissa Malejko
2002 Chevy Silverado 2500HD
1981 Okanagan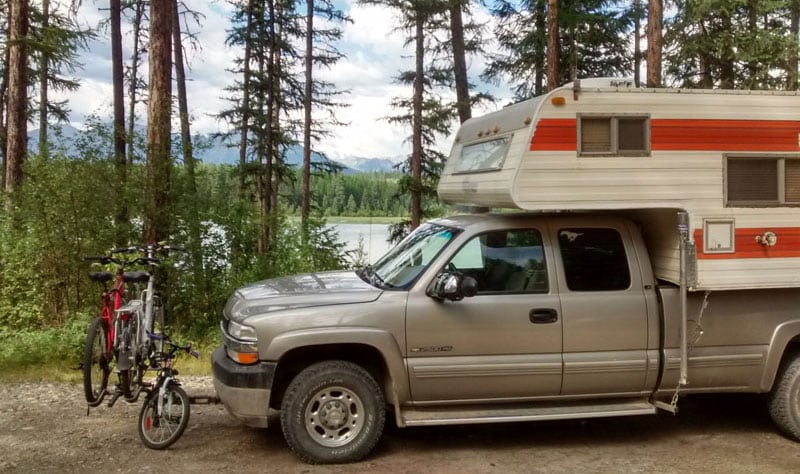 We go camping to get away from the city and to be closer to the mountains so we can go biking, or hiking or just get a change of scenery.
We want to see new places and not have to pay for a hotel room. We go camping to spend a few days living more simply; limited electronics (photos and reading ebooks mostly), cooking simply, camp fires and enjoying being outside as a family.
Truck camping is so much better than tenting, and we can still go anywhere. Our truck camper is old, simple, rustic and perfect for us.
It is not unique or modified, it's just old. We use a front hitch-mount bike rack to carry our bikes as we couldn't open the camper door without taking them off.
We've done a few trips chasing bike parks. We went to Blairmore, Alberta and Fernie, British Columbia on one trip. This year we did Red Deer bike park, Devon and Hinton, Alberta.
We also made a detour to Whitecourt, Alberta to check out the lazy river in Rotary Park, which unfortunately did not operate the day we were there because it was too cold.
Dave Riddle
2015 Chevrolet 3500
2017 Host Mammoth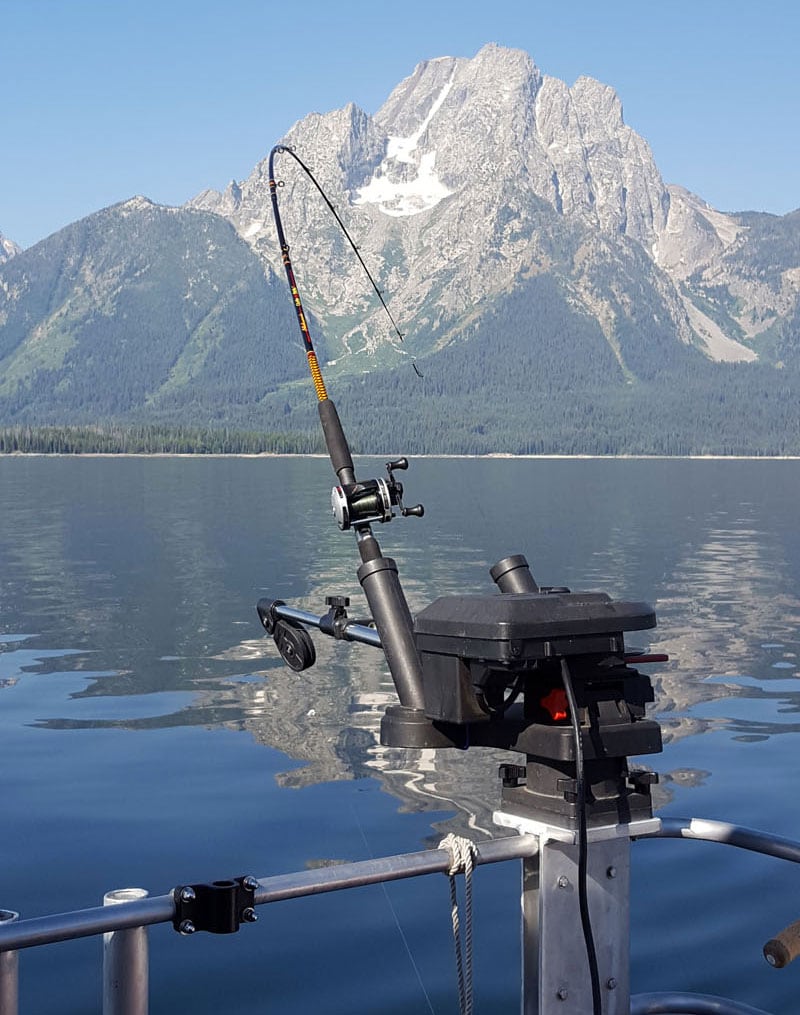 Above: Fishing on Jackson Lake, Wyoming
We go truck camping to fish, hike, explore, rockhound, visit family and friends, attend music and Shakespeare events or just to get away for a time and relax.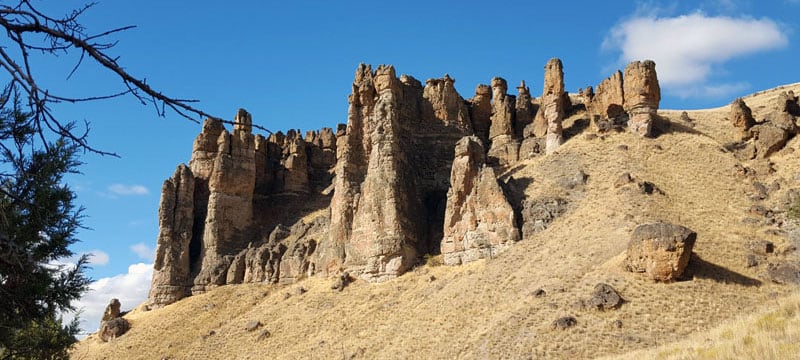 We have a Host Mammoth camper and dually truck that we enjoy using. It hauls all our stuff and pulls whatever we want to pull. We added a true wave inverter and SeeLevel tank system to the camper. Both make boondocking much easier. We also have 400-plus watts of solar to keep everything going.
We enjoy the mountains, lakes and shorelines in places like the Tetons, Oregon coast, and Cascade mountains. We enjoy each place for its beauty, available cultural events, activities and relevance in our lives.
Charlie and Barb King
2011 Chevy Silverado 1500
2017 CampLite 6.8
We use our camper rig to save on motel and dining costs while traveling. Also, we have never taken the camper off while we've been on the road. Our main interests are sightseeing, special events and visiting family.
We usually boondock for three days, and then spend one night in a motel or campgrounds. We have a 32-gallon grey/black tank which is easy to empty at any dump station. I use an app on my phone to find dump stations.
Both of us are disabled. Our rig has handicap plates and we can almost always fit in any handicap parking space. This is very important to us. Happy trails ya'll.
Jerry and Janice Bonneau
1995 Ford F350
2002 Lance 1061
We go to meat goat seminars and sales. Since they are two-day events and usually set up at agriculture collage arenas, we arrive the day before.
While we are enjoying dinner and watching TV, we are a stones throw away from the seminar. The other people attending are driving to hotels, finding a place to eat and spending money. We get plenty of curious looks.
We love to go to truck camper rallies. We also attend two US Navy reunions a year. The reunions are held in large hotels and in different states every year. This year one of the reunions will be held in Florida at a $189/night hotel.
We will be staying at a Department of Defense campground for $20/night for full hook-ups. We will take the short drive to the hotel daily and park in their free parking lot, use the camper to change clothes, if necessary, as we enjoy the reunion.
We tow our 16-foot livestock trailer to the meat goat seminars. I made a 4-foot extended trailer hitch to accommodate our three different style trailers. The extended trailer hitch gives plenty of clearance between the trailer and the camper.
Jerry Smith
2012 Chevy Silverado 3500
2013 Arctic Fox 992
My number one hobby is outdoor photography of wildlife and scenic places. My second hobby is fly fishing at my favorite remote mountain streams and lakes. Truck camping lets me go and camp at the places where I enjoy my hobbies.
We bought our truck camper new six years ago. It is the same as it was new except for changing the light bulbs to LED, adding 240-watts of solar, and installing bigger batteries.
I like to go camping before and after the peak tourist season in Yellowstone and Grand Teton National Parks. I'm old and I live in Wyoming, so I don't travel all over the country since my wife passed.
Jim and Phyllis Hollister
2016 Ford F150
2017 Lance 865
We got our truck camper for two reasons. My wife and I occasionally go camping to various places together. As we go, we give people we meet inspirational writings that I have written.
At other times I go alone to various places as well as areas near military bases. I give people from all walks of life inspirational writings such as, "Healing and Growing Through Combat Trauma" and other titles.
I am a Vietnam veteran and have gone through various kinds of life trauma. Others have actually benefited from these experiences. It is such a privilege to be able to do this as a calling and ministry.
It's about some of my experiences and others' life experiences. Many other titles are free to copy and share with others on this website: healingtrauma.us.com.
The truck camper sure has helped me to meet people. They really want to see it and find out more about it. Maybe someday they will go truck camping themselves!