This past winter we camped for two weeks at a time at various full hook-up Florida campgrounds.  During those weeks, we enjoyed long showers, shore power, and air conditioning while we worked on the magazine by day, and hung out with fellow truck camper friends by night.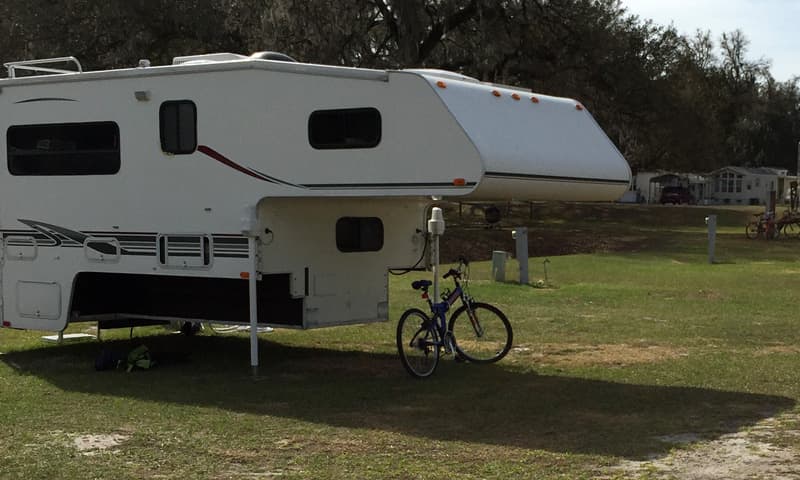 Above: Our camper unloaded for two weeks; we were able to work on TCM by day and explore the area at night
For one of these two week stretches, we unloaded our camper to use the truck for local weekend excursions and weekday grocery getting and errands.  The main reason we unloaded was to avoid the need to disconnect and reconnect the hook-ups; a process that takes about 20 minutes each time.  Otherwise we prefer to have the truck camper with us at all times so we can use the bathroom, put away groceries and other shopping items, and keep an eye on our cat, Harley.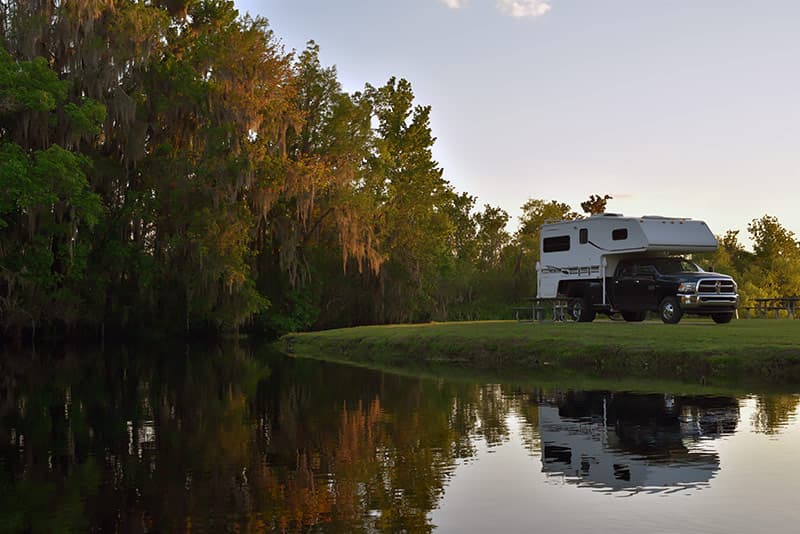 Above: A few days later we camped for a week with the camper loaded, worked on TCM during the day, and enjoyed exploring our immediate surroundings in the evenings.
If you pressed me on this topic, I would admit that we hardly ever unload our camper at a campsite.  We really need to be staying somewhere for a week or more, and have the desire or need to explore the local area.  Otherwise, the camper stays on the truck.
TCM reader Skip Matties has also been thinking about this subject.
"Last summer was our first season with an Arctic Fox 990.  During that time we demounted the camper twice, once for a two-day stay, and once for a two-week stay.
Having Rieco-Titan remote-control electric jacks and Torklift International Fastgun turnbuckles made the loading and unloading process fairly simple.  Exploring the local area without the camper loaded had its advantages.
My suggestion for Question of the Week is "Under what circumstances do truck camper owners unload their truck camper in the field?"
I'm also interested in what prompts fellow truck campers to unload for one camping experience, and not unload for another."
Click here to read the reader responses to this QOTW.