Vote for the best truck camper, best truck camper gear, and best truck camper innovation announced in 2020.  Welcome to the 8th annual Truck Camper Magazine Readers' Choice Awards!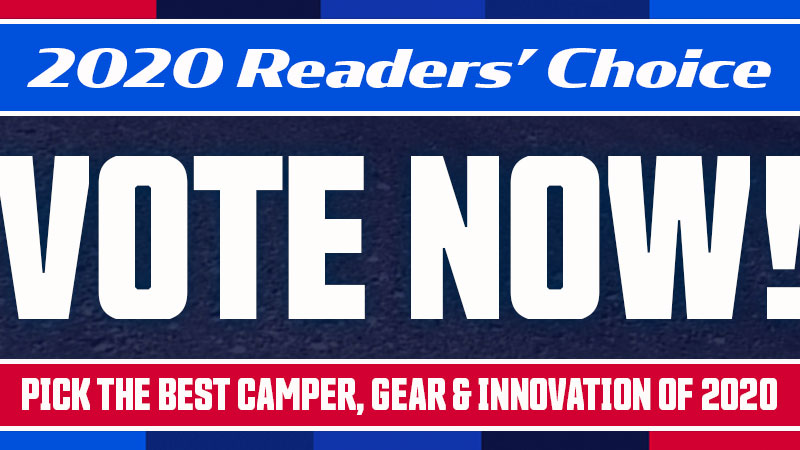 Click here to see all the nominees for 2020.
Voting for the 8th annual Truck Camper Magazine Readers' Choice Awards begins today, Monday, December 21st and runs through 11:59 PM PST, Sunday, December 27th.
Awards will be presented Tuesday, December 29th for the Best Truck Camper of 2020, Best Truck Camper Gear of 2020, and Best Truck Camper Innovation of 2020.
Trends In New Camper, Gear, and Innovation
We weren't sure if there was even going to be a Readers' Choice vote this year. Just a few weeks ago, there were only two truck camper models on the list. There are still only two gear nominees. To say that 2020 was thin for new model and new gear announcements would be a hysterical – and historical – understatement.
Thankfully, we got a small wave of last-minute new model announcements as manufacturers pushed to meet our Readers' Choice deadline (interview by the US Thanksgiving).
From those communications we also know of at least four additional new models that should be on deck for 2021. The industry is still developing new models, but it's not exactly front and center at this moment.
So why didn't we see more new models in 2020? It's tempting to blame Covid-19, but the truth is much deeper than that. The truth is most of the manufacturers entered 2020 at full production to meet strong demand.
Due to this already high demand, even if Covid-19 had not happened, we doubt we would have seen more than a dozen new models this year. It's tough to divert time and resources to new model development when the existing models are selling so well.
When Covid-19 struck, it shut many camper factories down for multiple weeks. Others remained open, but were forced to adapt to strict safety protocols. These production disruptions pushed back deliveries for the already high spring demand.
Then Covid-19 essentially cancelled all other forms of summer vacation – cruises, flights, hotels, etc. – leaving RVing as thee choice for people stuck at home. As a result, RV demand across the board spiked to record levels.
And that's where nearly 100-percent of the industry's attention, time and resources went – production and shipping. All while continuing to follow the Covid-19 safety protocols, and maintaining quality control.
Given the insane situation this year unfolded for the RV industry (and everyone else for that matter), we are excited to have the limited number of new campers, gear and innovations presented for this year's Readers' Choice Awards. Despite the low quantity, there's plenty of high quality to choose from.
Time To Vote For The Best
Which new truck camper, gear, and innovation is most deserving of a Best of 2020 Readers' Choice Award?  The truck camper industry and community is anxiously awaiting the results of your votes.
Choose carefully!
Click here to see all the nominees for 2020.