Vote for the best truck camper, best truck camper gear, and best truck camper innovation announced in 2019.  Welcome to the 7th annual Truck Camper Magazine Readers' Choice Awards!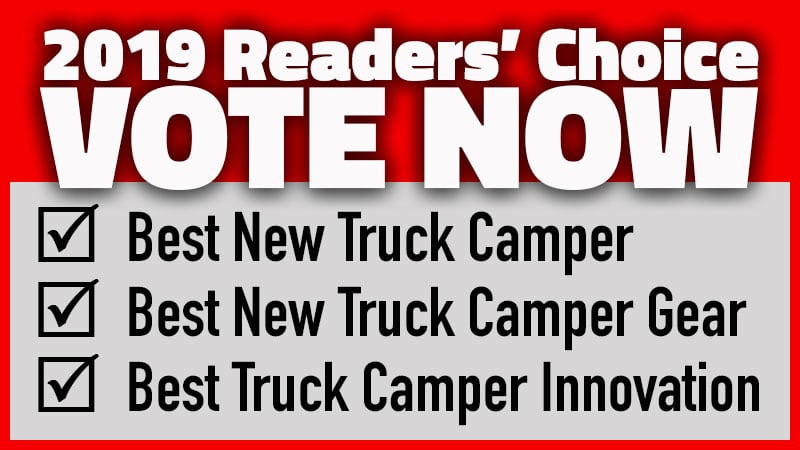 CLICK HERE TO VOTE FOR THE 2019 READERS' CHOICE AWARDS
Voting for the 7th annual Truck Camper Magazine Readers' Choice Awards begins today, Monday, December 23rd and runs through 11:59 PM PST, Sunday, December 29th.
Awards will be presented Monday, December 30th for the Best Truck Camper of 2019, Best Truck Camper Gear of 2019, and Best Truck Camper Innovation of 2019.
Trends In New Camper, Gear, and Innovation
2019 was not a prolific new model year for the truck camper industry with just seven new models introduced.  That's down from ten new models last year.  Evidently, the dreaded new model drought of 2016 and 2017 is back.  Thankfully, we know of at least two new model announcements primed for early 2020 and we're hoping for a baker's dozen by this time next year. Come on industry!
The trend in new camper announcements is toward the lighter-weight side of the marketplace.  Palomino, Four Wheel Campers, Cirrus and Northstar all brought new campers pushing the weight targets lower in their respective categories.
Gear announcements this year were absolutely dominated by Torklift International with five new truck camper-related products for 2019.  Foiling Torklift's shoe-in victory, Rieco-Titan launched their new Atwood Replacement  Kit solution in mid-October.  The trends in truck camper gear revolve around enhancements and new applications to existing products.
In addition to making the new gear nominee list, Torklift's GlowStep Revolution Uprising also made the Innovation list – but it's not alone.  In the innovation category, we have five nominated companies with 12 innovations.  This does not beat last year's record (15) but is a very strong showing none the less.
The trends in the innovation category are hard to spot with a wide variety of material, appliance, feature and design concepts.  This is exactly what you hope to see as companies innovate in different directions and ultimately influence new directions in the truck camper marketplace.
Time To Vote For The Best
Which new truck camper, gear, and innovation is most deserving of a Best of 2019 Reader's Choice Award?  The truck camper industry and community is anxiously awaiting the results of your votes.
Choose carefully!
CLICK HERE TO VOTE FOR THE 2019 READERS' CHOICE AWARDS