This week's Question of the Week was, "What toys do you bring when you go truck camping, and how do you store them while traveling?"  As you will see, readers bring along canoes, bicycles, kayaks, motorcycles, snowmobiles, and more.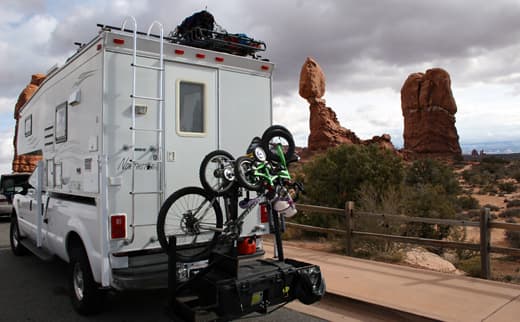 "I have a double hitch receiver which allows me to use my Yakima bike rack and my cargo basket.  I also installed Maggie roof racks with Yakima cross bars and a Yakima load warrior." – Nolan Sturgeon
"During the summer, we carry fishing tackle in our camper.  The tackle boxes are on the floor or in the back seat of our pickup.  The rods are carried in the camper shower with socks over the rod tips to protect the shower walls from scratches.  In November, we take our four season camper deer hunting.  It has a few rifles on the carpeted area beside the bed, and a very large ice chest on the camper floor (if there's a deer in it) or on the pickup's rear seat (while empty).  Other than the seasonal gear, it's just normal groceries, clothing, a dog, and cameras." – Philip Tron
"We mounted a hanging rack on our ladder for two mountain bikes.  To get to the camper's roof, the bikes and rack need to be taken off; a 10 minute job.  We store a lot of bulky stuff in a roof-mounted pod (from the factory).  It stores a large ground mat, folding chairs, folding table, and kayak gear.  The pod sits on the factory roof rails.  We mounted a set of Thule kayak chalks on the factory roof rails, next to the storage pod, for our fourteen-foot long Paradise kayak." – Jim Goodrich, Lance 1191 on a Chevy 3500
"Well, here is a shot of our two seater bike we hauled for 6,000 miles and used once.  The tires are still great!  The Mary Poppins is on the vertical exhaust pipe is for the generator.  After a distance, the flexing from the wind removed it." – Dave and Lila
"Our toys have their own toy hauler.  Most of our trips include lots of friends and lots of horses.  We don't attach these toys to the camper.  Our Mountain Star works very well for us.  Most trips are two to four days, but we have been gone closer to a week.  Many of the equestrian campgrounds have full facilities, but some don't even have water for the horses.  The fresh water tank in the camper is not big enough for all of us so we bring along six gallon jugs for the boys.  The camper's tank is then a back-up source for them.  We have been horse camping for about fifteen years and this is our second truck camper." – Barb and Don Norris, SE Indiana
"I tow my 2001 Harley 1200 Sportster." – Phil Kaufman
"We are on our way to Alaska via a meander from Deming, New Mexico to the west coast and on up north.  Besides hiking gear (walking sticks, day pack, and good boots), we have fishing poles that break down and are stored in the back seat of our crew cab Dodge Ram 3500.  The biggest toy we have, that also fits in the back seat, is our seventeen foot Pakboat canoe (it fits in a two foot by three foot duffel bag).  The camera fits in my pocket.  My journal does not add weight to my laptop.  My Kindle provides all the reading material I could possibly desire.  Yarn and supplies for knitting and/or crocheting lives in our bathtub in between showers.  We have nothing that hangs off our bumper, ladder, or precariously tied to our roof (except our single solar panel)." – Maggie Karam
"Hi Angela.  What a great idea for a survey.  I struggled to find a way to haul my family's bikes.  At first I installed a front receiver hitch to hold the bike rack.  It worked for me, but not for my wife.  She had a hard time seeing what was in front of her when she was behind the wheel.  My solution was to fabricate a hitch extension for the rear receiver.  Because the extension was nearly four feet long, I had to install a secondary receiver below the factory receiver to strengthen the extension.  I also decided to utilize the extension to haul cargo by welding a platform on top (I usually haul firewood and extra generator gas).  Most bike racks won't allow easy access to the camper so I purchased a bike rack that would swing away instead of tilting back.  This setup has worked well for my family." – Greg Milburn
Caption from Pete: This is how the load bars mount to the wall.  The door opens fully with the load bars removed.
"I have Thule load bars mounted to the back wall.  To them I mount ski racks or bike trays, and I can also bungie my shovel to the bars.  I set the bars so they work as a door stop preventing the door from hitting the bikes." – Pete Horneck
"Angela – I am from Tennessee and went to school in Georgia, so I am a Southerner.  When my kids were younger, we used to go to the Adirondacks in upstate New York between Christmas and New Years and take our four sleds.  The Yankees would pass us in their BMWs with skis on their roof racks and stare at our camper with sleds on the camper top rack.  The kids loved sledding in the snow." – Fred Patterson
"My banjo never stays home.  I didn't get to play much for the last four and a half weeks as the weather wasn't cooperating.  I never leave without the laptop either.  We don't tow or stack anything.  Nothing exotic but we always have fun talking with other campers." – Gary Veeder
"Bocce balls and a rear storage compartment; I can't go camping without them." – John Nixon
"Hi Angela.  My toys are a little different.  What I take is rock climbing gear.  Most of our gear goes into the basement of our Northern Lite.  The ropes we put in a cabinet inside.  We've been able to get to some out of the way places as our truck has four wheel drive." – Al Stebbins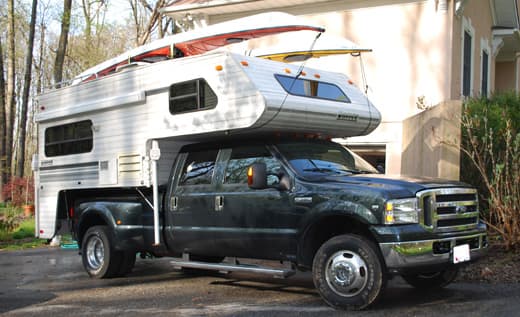 "Angela – We take our seventeen foot long sea kayaks, bikes, fishing gear, beach chairs, and hiking gear.  The bikes are carried on the front of our truck.  I installed a front hitch onto the truck and bought a cheap hitch-mounted bike rack that I modified to sit lower so we could see over the bikes when we drive.  Our fishing gear hangs against the back window of the truck cab.  As for the kayaks, they ride on top while all the associated gear rides in plastic storage containers in the crew section of the cab along with beach and hiking gear.  The paddles go against the back window with the fishing gear.
For the kayaks, I invested in a set of Yakima racks and screwed them securely into the top of the camper and I inspect them each time I load the boats looking for any signs of looseness and roof caulking issues.  To guard against a rack failure while we're driving, I use tie-downs to both the racks and to the camper.
Installation was tricky.  I located wood supports under the metal roof by getting the roof blueprints from the manufacturer and by visually looking at the shape of the roof.  Also, you must take into account your emergency escape (foremost) as well as the air conditioner unit, vents, stacks, and other miscellaneous stuff up on top.  The only thing I couldn't coordinate with the rack installation was the TV antenna which we never use anyway.