This week's Question of the Week was, "Where do you store your truck camper over the winter, and how?"
"We lower our Northstar 850 SC on to our home made dolly with a detachable tow bar. We back it under our carport using the truck and then wait for spring. The total cost for the dolly was $200, $99 for the treated wood, $54 for a new eBay tow bar, and $47 for four 1,000 pound capacity casters (two that swivel) from Amazon." – Dan and Rita Spencer
"My camper is stored in a large storage building (it shares room with a bunch of collector aged farm tractors) that is checked weekly. I put the camper on my old 1973 Chevy camper special pickup, and they are parked next to my boat. It costs me $600 to store all from December to May." – Philip Tron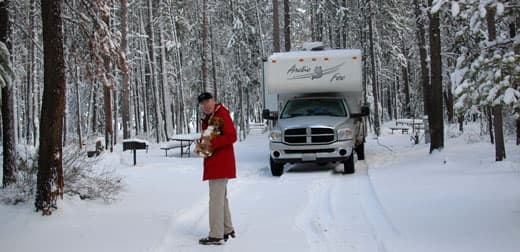 "We park our truck camper right in our driveway, plugged in, with a small ceramic heater running full time in the camper unit. We keep the interior cabinet doors open, so as not to freeze waterlines, etc. There are two reasons we do this. First, our home is all electric. In the event of a storm and loss of electric power, all we have to do is go out in the driveway for propane heat, light, and all the comforts of home. We've added a solar panel and LED lights and have a generator. It's our escape pod in case of emergency.
Second, we like to camp in the snow. Boy, was Max excited about chasing the bunnies in the snow, and ended up with small snowballs attached to his belly fur and feet. The above shot was taken in Bend, Oregon at Thousand Trails. We hope to try snowshoeing for the first time this winter. Then we can go back to the camper to warm up and have a nice, hot chocolate (or something stronger) mmmm." – Sharon and Dallas Day (and Max), Washington
"Our camper sits outdoors, uncovered, anywhere on our acre and a half where the birds can't find a perch above it. When off the truck, it sits on a home made frame that rolls easily to position it under the camper, or pulls out of the way when we are ready to load it back onto the truck. Summer or winter, it is always ready to go, even for a weekend or, like our last trip, for five months. We live in the desert and have found that a good wax job keeps our ten year old Lance in good shape. We use Zip Wax, a dual purpose wax and cleaner. It's very easy to use.
All of our holding tanks are drained at the end of a trip except for a small amount of water and a tab in the black water tank. The bed is made up with clean sheets, the fridge is cleaned really well, and a general housecleaning on all the rest. All we have to do is move in food and additional clothes, and we are ready to go!" – Maggie Karam
"We have a small garage at the back of my shoe repair shop building. The door is not high enough to back into and set off. I set the camper off in front of the door. I have a homemade dolly that I put under it. I let the camper down onto the dolly. I have a boat winch that I use to crank it up a little incline and into the building. I then put the weight on the jacks. There is no heat so I have to winterize it and disconnect the battery. We then start dreaming about spring and our next road trip." – Allen and Sharon Brummel, 2008 Northstar TC650 pop up, 2008 Dodge Ram 1500
"I have a Stable-Lift that supports my Lance completely. I can access the camper at any time and actually live in it off the truck. Hence the name, Stable-Lift." – Phil Kaufman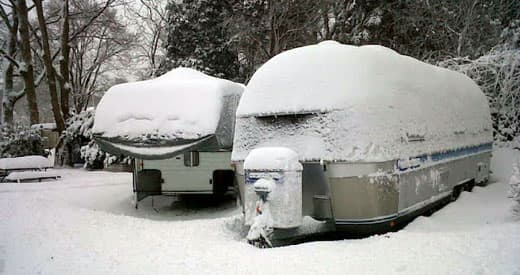 "I think the picture above says it all." – Bill Tex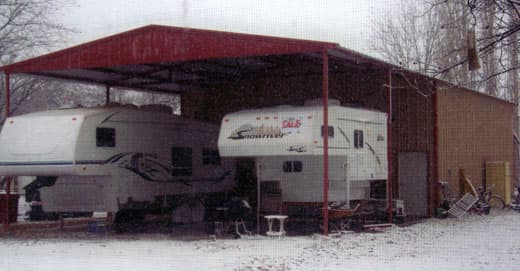 "Very good article on the Adventurer truck campers. I really love the design of the new step. Good report. Since I own a Lance, I'll need to fabricate a new step for my camper.
In the winter, I'll park my Lance 915 under the porch to my shop, which is where it is parked when not on the truck. The picture is from a few years ago but I haven't changed anything, yet. I'm considering enclosing the top four feet of the porch to keep more of the water out but I haven't priced the changes yet. I won't winterize anything until late November or early December. Winter doesn't really start here until then and I have a few fishing trips scheduled. Take care, have a nice fall and enjoy your new truck." – Harry Palmer
"After I winterize the water system, I get to keep my 1985 American Pilgrim 8.5 truck camper on the side of my daughter's driveway. We are not allowed to leave RVs or boats outside of the garage in the driveway at our home due to a neighborhood association.
I off-load my camper onto four 8″x8″x24″ boxes that I made with a 2x6x5′ cross piece to rest the camper on (like a saw horse). Also I leave the corner jacks down onto a 6″x6″ piece of treated plywood without the tripod bases for added support. I made some 4'x8′ 1/2″ plywood sections that rest on the top carrier rails to make a flat surface over the roof vents and cover with a heavy duty silver tarp. This set up drains well and doesn't sag or leave pockets for snow melt to freeze. It also adds a strong surface to help carry our Minnesota snow accumulation. After the tarps are tied down I hook up a battery tender on the house battery, wipe the tears from my eyes, go home and dream of a early spring so we can bum some more." – Mike and Nancy Pohl, Minnesota
"Our truck comes to Texas with us for the winter. Come the middle of November, we close the house up and head south from Niagara Falls to the Rio Grande Valley in Texas in our truck and camper. Since the rig is so easy to drive and stop almost anywhere, we take advantage of that and spend a couple of weeks making the drive stopping when we want to. Once down there, if we want to take a side trip to South Padre Island for a bit or the Hill Country of Texas, we have it there to use. So, our truck camper spends its winter in deep South Texas but it does not get a lot of rest. Come the end of March, we start to head north again taking another couple of weeks to do the drive home." – Bill and Sue Billyard
"That question comes back each year. All during summer, we talk about building a permanent roof over the camper, like a car port attached to the existing garage on our property in the country. But boy oh boy, the summer came and went and there's no camper carport yet! So we end up putting a plastic tarp on top and leave the truck camper on its jacks. I've read that it's not good to do so.
We have tried to find a portable temporary plastic garage to store it in, but the doors on temporary garages are all to low. We get so much snow up here in Québec that our two temporary garages (one for the truck or car and the other one is where we store the boat) collapsed not long after Christmas last year even though we shoveled the snow off a few times before that. Good thing we were out with the truck that day, but the boat wasn't as lucky! I am anxious to read what others do." – Denise Hupé & Robert Joanisse, Québec
"Why put it away? Winterize and keep going! Winter is no excuse to stop camping." – Carl and Donna Isner
"We leave our camper in the lee of the house, shielded from storm winds and driving rain and snow by the house and a row of large pine trees. We would love to have a shelter, but it's too expensive to build compared to the price of the camper. Covers seem to have a lot to be desired, and tarps seem to be a no-no.
I just got eight pallets from the local lumber yard, (no problem to haul with the truck) and slid them under the camper. I let the jacks down on six inch blocks and the pallets share most of the weight. The jacks provide stabilization. It's nothing fancy, but it's free and the whole bottom of the camper is supported. An article on pros and cons of covers of different types would be nice. A very timely subject by the way. You two do a good job." – Yuetsinmoon
"Why store my camper when I can use it throughout the winter? I use the camper year round including the winter to get away from everything. I like the sound of rain on the roof. The camper is next to my house and plugged into the house (shore) power. The only thing that I do differently is to run a dehumidifier throughout the winter. The dehumidifier removes excess moisture and has the added benefit of slightly heating the inside of the camper. I've never had an issue with freezing pipes but it rarely gets below thirty degrees in the gold country of California. My advice to all is to use it and not store it." – Steve Cilenti, California
"I store my Northstar Laredo inside, unheated garage, with a concrete floor. It is on its jacks with four sawhorses to stabilize it. It still looks like new after three years." – Stanley Johnson
"We put in a gravel pad at the edge of our land just for the camper. Setbacks due to a resource protection zone do not allow a building there. The camper is covered with an old ADCO cover on the nose end and a green tarp on the aft. Six ton jacks are set at each corner of the camper base. Two by fours run between the jack pairs. Our Reico jacks are also extended. It worked great last year." – Joe Brown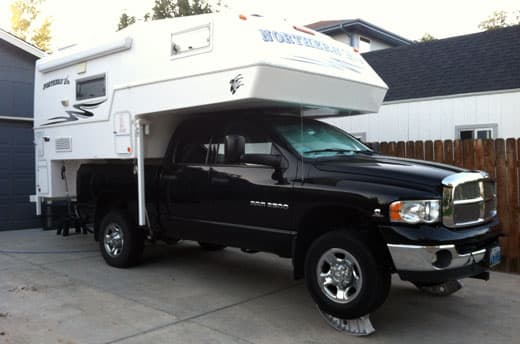 "Our truck is primarily used for hauling the camper so we leave the camper on the truck year round. It stays parked in the driveway. The truck camper is also our Family Emergency Vehicle (FEV) so it makes sense to leave the camper on the truck, ready to go." – Greg Milburn, Wyoming
"We always store our camper on extra heavy duty saw horses to take weight and strain from the jacks. We have a side driveway that is out of view from the street where we always park our truck camper all year long. We have never covered or parked under any type of awning because we had purchased an older camper. If we where to buy new, we will purchase a canopy or carport for added protection." – Paulette McCarron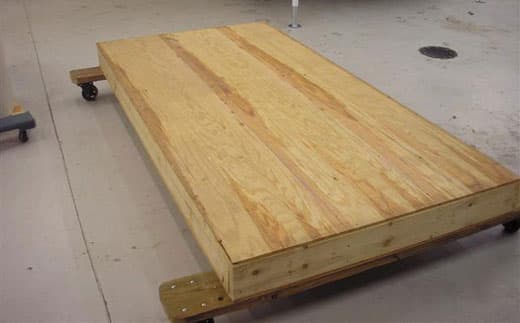 "I store my truck camper inside my heated shop/garage on a home made dolly. I made the dolly from two 4'x8′ sheets of 1/2″ plywood and several 2″x6″ boards framed on 16" centers. I bolted on four heavy duty steel casters for moving it around the shop. I actually store the camper inside my shop, either on the truck or on the dolly, whenever we are not out camping with it.
I have a 10′ ceiling in my shop so I can raise the top while it's stored. It works well. I just drive the truck with camper into my shop, bolt the corner jacks on (I usually travel without the corner jacks), off load the camper, drive the truck out, maneuver the dolly under the camper, and lower the camper down onto the dolly. I then roll it off to a, hopefully, empty corner of my shop. I give it a good cleaning inside and out, apply some "303" protectant, and, if I'm doing some dust producing work in the shop like sawing wood, I have an over sized car cover that I can drape over the camper to keep the dust off. This keeps it clean and ready for the next trip." – Buzz Merchlewitz, Tennessee