This week's Question of the Week was submitted by reader, Dave Campbell. The question was, "Do you decorate your truck camper? If you do, is there a theme to your decorations?".
"Here are some pictures of our 1983 Sun Lite truck camper. We purchased it to tailgate at the Cleveland Brown's games. Soon we will be using it to take the horses trail riding and to pull our ATV's. So much fun!" – Lisa Steigerwald-Kana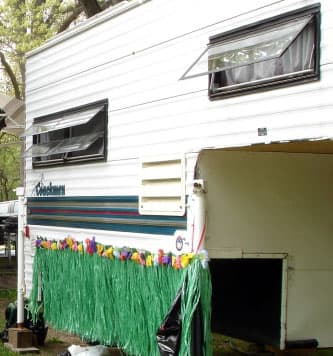 "I velcro a grass hula skirt to the bottom edge of our camper! It hides the not-so-pretty underside of our older camper. It looks festive and ruffles nicely in the breeze!" – Nancy Malicki
"My wife took her mom to Florida a couple of years ago. She fell in love with palm trees. Our new Lance 1191 is palm tree heaven; the comforter on the bed is palm trees, all of the towels are palm trees, and all the rugs in the camper are palm trees. She even found a palm tree bathroom set with a palm tree shower curtain! On the table there are palm tree place mats and the cushions are covered with palm tree blankets. We go to bed seeing palm trees, and wake in the morning to a southern palm tree theme." – Joyce and Vinny Berube, Massachusetts
"During our past travels, we came to the conclusion that whatever we bought must be light in weight, easily stored, and able to be used anywhere, not just in our RV. So we started collecting small and somewhat unique works of art, such as water colors, pen and ink sketches, and, on rare occasion, an actual oil painting. But we always looked for the smallest art that we could get and still be practical, such as postcard size to letter size, but no bigger.
We already had several larger pieces and soon we ran out of wall space! A beautiful aerial view poster of the Baltimore waterfront and inner harbor where we spent nearly a week was a good example of that, and one which we will not do again! But it was taken over the city and shows every place we had visited clear out to Fort McHenry, so it had huge significance.
The pictures acquired since then always have to have some significance to the places we have been, and preferably be signed and numbered by the artist. We have a water color of the old Ryman Auditorium, an 8×10 pen and ink sketch of the Craven House in Tennessee (a civil war headquarters), an 8×10 water color of the famous Pirates House in Savannah (which is not only a restaurant, but within it is the first house ever built in Savannah, in which we had dinner one night), and three matching post card sized water colors of the waterfront in Memphis, including Mud Island, which we have since had matted into a larger size.
We enjoy our wall art while on our travels and then they become framed display pieces for our walls at home. They aren't just something thrown in a closet and forgotten. They become conversation pieces and reminders of our past travels. With each new trip, the art in the RV gets replaced with new art, so it never gets to look old." – John W. Abert
"One must put their mark on their truck camper. For me, I have a fishhook decal with the inscription, "Reel Life" and a bass just under the writing. On another note, truck campers are fun to have and great to own." – Joseph
"As to decorating my camper, there is no way in the world would I put stickers on the outside of my camper, of fish or anything else. On the inside, I would hang a few pictures and a few stand-up picture frames on the table or countertop. I wouldn't put stickers on the inside walls either." – Chris Kelly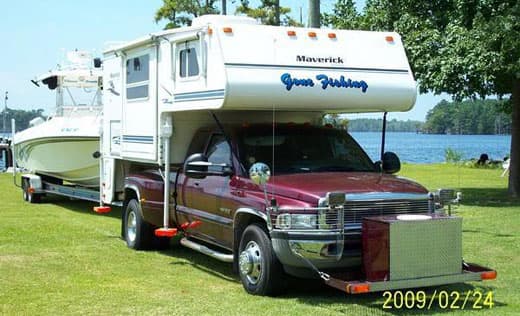 "Do we decorate our camper? Yes we do. We love our camper too. It is the home to Little River Motor sports. We have a 31TE Fountain we enjoy pulling to Hatteras and OBX for offshore fishing. We have Little River Corvette which is a show 'Vette, and the newest toy is the rear end dragster. The camper does triple duty at all of these events. We have not put racing on the front of the overcab like we have "Gone Fishing", but it's in the plans." – Luke