This week's Question of the Week was, "Is a truck camper appropriate for camping in one location full-time for a period of weeks or months at a time?"
"Yes! One of the main reasons I got my Northstar Igloo was to use it as a base camp. So far I use it to be a winter Texan. I plan on using it as a base camp when traveling, like going someplace, setting the camper off the truck, and exploring the area for several days to weeks." – Marc Swanson
"It is possible to live in the truck camper for weeks on end, but the real niche for truck campers in my mind is the road trip; the ability to go anywhere, stay anywhere, and move on. If we stay more than a few days in one spot, we set the camper off and live in it, having the truck free to run around in. We rarely stay in one place for more than a couple nights at a time.
In the national parks, we stay in a different campground each night as we make our way around the park. That way we never have to worry about our battery going dead after running the furnace on cold nights when there are no hookups, which is usually where we find ourselves. We do not want to have the extra weight of extra batteries and noise of a generator if we don't have to. We like to keep it simple.
We are looking forward to putting the camper on in a week to take a trip to Michigan for a wedding. We are also stopping in two places in Indiana and attending a grandparent's day at our grandchildren's school in Michigan. We get plenty of use out of our Northstar TC650. We are sad to say, when we get home it will be put away until spring." – Allen and Sharon Brummel, Minnesota
"Yes, a truck camper can be used to stay in for an extended period of time. In July, my wife and I just finished a fifty day trip to Alaska and we had no problems at all. Last week we were on the east coast of Canada and had truck problems. We had to live for eight days in the camper in the dealership lot. Again we had no problems. For two people, a truck camper offers everything you need to survive. I would not want to do it with more than two people." – Paul Goggan
"Angela – We don't have the truck camper yet. I am still researching my options as to which model and company would be appropriate. Our camper will be for full-timing only. We have been planning for a year, and we have a year to go. Just a little more research is necessary. We cannot fathom dragging around a travel trailer or fiver. Most smaller motor homes do not have a 350HP diesel. I have been spoiled by my 6.7L, 350 HP, Ram 2500 Diesel.
Next year I am planning to purchase a 2013 Ram 3500, dually, 4×4. Since moving from Florida to Texas, I have become sick of living in sticks and bricks. The camper I buy will be small enough, but big enough for me and my two and a half pound chihuahua. We will be able to boondock for a few days here and there and travel or stay where we wish, full time." – Carol and Gremlynne, Texas (for now)
"Angela – I have used my truck camper many times when volunteering for disasters around the country. Once I arrive at location, I get water and electric hooked up if they are available. If hook ups are not available, I just fill the water tank. I have plenty of solar and batteries. I can go for around seven days before having to find a location to empty waste tanks and fill up with water. Sometimes I will have the folks who empty and clean portable johns come by and empty my tanks and I a water truck fill water tank.
The longest I stayed in my camper was about six weeks in Alabama after a tornado last year and I spent about three weeks in Joplin. The only thing I missed was having someone do the cooking. My cooking is not so good. I usually become a junk food eater about that time. Oh well, I cannot have it all. Take care and safe travels." – Ed Krech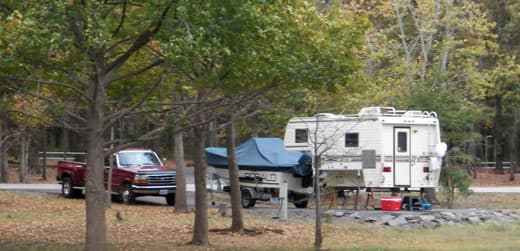 "It takes a little planning for an extended stay trip! Each year my wife, two dogs, and I take a couple of two week fishing trips. We pull an eighteen foot Robalo Boat with a 1994 Ford F-350 and our 1991 Hornet Camper. We try to select a site that has or is close to fresh water. We have thirty gallon fresh water tank and, with a little effort, it will last a few days.
I set the camper off the truck so we can launch the boat and have transportation to do a little shopping from time to time. We will use the camp showers and restrooms, so we do pretty well with the black water storage. I have a grey water portable holding tank that can be taken to the dump when full. I keep a couple of outdoor carpets rolled up between the camper and cab. We lay them out by the camper and set up our portable dog pen, pull out the BBQ, chairs and we're set.
Our camper is older, but we have all the comforts of home including hot showers, air conditioning, television, refrigerator, and a good bed. We spend most of our time outside or fishing. If we have bad weather, we'll stay in the camper and watch television or play cards to pass the time.
We will stock up with some frozen foods and Judy will normally bring a couple of quart jars of homemade soup. That is always great after a day on the water. For us, the camper is just right for travel or extended stays!" – Jim and Judy Holyfield, Missouri
"When we bought our fixer upper house in Casa Grande, Arizona, the place was completely unlivable. We stayed in our 1976 Mitchell truck camper for three months in the backyard while fixing up the house. It was nice and cozy for us and our two dogs.
Then our parents came to help up fix up the house and they too stayed in our little camper! So there were four adults and two dogs! We cooked, ate, and slept there. It kept us warm and dry; okay warm when we could get the heater working. It was a struggle because it was basically a two man camper, but it was the best family time ever.
I wouldn't trade the experience for anything. But we were all glad when we could finally camp in the house with our air mattresses on the floor and spread out." – Cheryl Mikel
"I would say it all depends where you're camping. If you are going to be boondocking, then probably not, due to the small holding tanks of most truck campers. However, if you are boondocking in a place that has a nearby dump station and a place to fill your fresh water tanks, then I would say yes, it is appropriate for camping in one location.
You could camp full time for a period of weeks or months at a time as long as you can refill your food stores when you need to. This also applies to campgrounds. Weather and climate has a lot to do with it as well. If you are camping in a place where it rains often or gets really cold, then you might want something a little bigger since you'll probably be indoors a lot.
The key word here is camping, not living. When you are camping, you spend very little time inside your camper (at least that is the case with my wife and myself), so space really isn't that big of an issue. Most people we know just use their campers to sleep in or to take shelter in bad weather. Some folks use it for cooking too, but we prefer to cook over an open campfire.
I knew a guy who was an archaeologist and lived in his 1988 Six-Pac truck camper for months at a time while out in the field working. He loved it. So I guess this all depends on what people call camping. If they call camping being parked at a KOA or other campground where they have nearby stores, water hookups, sewer hookups, showers, and laundry machines, then I don't see any problem with using a truck camper for weeks or months. But, if you camp like my wife and I do, in the mountains where the nearest store is more than thirty miles away, then it does present some challenges. However, it's still doable. There are dump stations on the mountain where we camp and they have fresh water spigots to fill your tanks. So we can drop our camper off the truck and drive down off the mountain to refill our food and propane tanks. And since we always camp near a creek, we have plenty of water for bathing and washing dishes and clothes." – JT Tardiff
"Does deer hunting season count? North Dakota November weather is the reason I only considered four-season truck campers when we bought a new camper a year ago. Ah, the relaxation from two weeks with geese, coyotes, CBC radio, good books, visiting with school classmates, and the fun of deer hunting." – Philip Tron
"Hi Angela. We have been using our Okanagan 126TKS for extended stays while helping our son with construction of his house in Hailey, Idaho. It is the first Hempcrete home to be built in Idaho. We are very comfortable in our home away from home." – Leonard and Kitty Eagle, Washington/Idaho
"For the past three years I have camped at the same location for a period of several months. I winter in Trumbo Point, Key West, Florida from January to early April. It is required to have military status to stay at this location. I'm retired military so access is granted for my stay.
My truck camper has been modified for this location. I now have two solar panels with a Honda 2000 generator. I set up a living area 10' x 10' canopy adjacent to the camper with chairs, tables, weber propane grill, and battery operated LED lights. We use the truck camper for everything from shopping trips to exploring the lower Keys.
The point here is to spend your days outside with your neighbors, walking, biking, reading, and even catching that afternoon nap under the canopy before happy hour." – Paul Foster, Jr, Maryland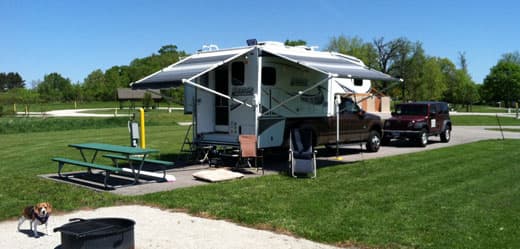 "Sheila and I have been living full-time in our 2012 Lance 1181 since mid-December of 2011. We travel the winter around Florida. This summer we were workamping at a campground in Rawlins, Wyoming, going gold panning on our days off. We tow a 2009 Jeep Rubicon Unlimited.
After visiting our son near Chicago's west suburbs this fall (dry camping in their friends driveway in the country), our winter workamping job will be at a resort in the Florida Keys December through April. Next summer we are camp hosting at a USFS campground at 9,200 feet near Salida, Colorado where there is only pressurized water and sewer hookups at the host site. We have 250-watts of solar and an on-board Onan propane generator which will only put out 1,725-watts at that altitude!
We have converted all of our electronic gadgets to DC charging, with either USB or direct DC regulators to replace the wall cubes. We also bought a portable 6-Ah USB charging station with three-watt solar panel attachment. We have a couple small 150-400 watt inverters to power smaller loads, even watching a couple hours of dish network satellite television each night while noticing our batteries are still 90% full by morning!
Our current project is to install a Ranger external wifi antenna system and also a Wilson 3G cell amplifier system for reliable back country communications. We also have a Delorme satellite texting emergency service so we can summon help if we get hurt or breakdown while gold hunting in the remote BLM/NFS back country roads.
We are having such a blast with our truck camper, having all of the appliances and features of a small 4×4 motorhome, yet we can back into a tiny NFS campsite and it won't matter if it had any hookups for weeks at a time!" – David and Sheila Knapp and Stella the Beagle, Full-timing in our 2012 Lance 1181 and 2012 Ford F-350
"Angela – I own a 2011 Chalet model DS116FB camper that I carry with a 2010 Ford F450 pickup truck. Last year I spent only two months living in the camper, but this year I expect to spend about five months in the camper (which is my norm).
I am retired, single, and enjoy traveling to fishing destinations all over the west coast from Prince of Wales Island in Southeast Alaska in the summer, to Mexico's Baja California peninsula in the winter. The Chalet camper that I selected is very large as campers go and is also very heavy, therefore the need for a 2008-2010 F450. The current model F450s do not have the payload capacity of the earlier model F450 pickup trucks.
The camper has a lot of floor-space and adequate inside and huge outside storage for long trips. I have mine equipped with a propane generator, four solar panels and four golf cart batteries. The only thing that limits my dry camping duration is the size of my holding tanks. However, I always stay at a campground with full hookups for stays over two weeks. With satellite television and internet access, I enjoy all the amenities that I have at home. I can also tow my eighteen foot fishing boat for offshore fishing trips." – Douglas Diehl, Oregon
"Hi Angela. Having spent years solo and full-time in my truck camper, living days, weeks, and or months in a truck camper is what I would call a piece of cake. Love it." – Joei at www.joeicarlton.com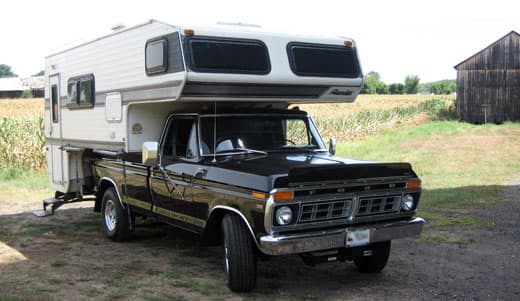 "Yes, Yes, Yes! I would use a truck camper as a base camp and/or for full time.
I have one truck camper, a 1986 Real-Lite 12′ model, and two trucks. The black truck is a 1977 Ford F-250 that I did a complete frame-off restoration. The green truck is a 1973 Ford F-250 that is all original.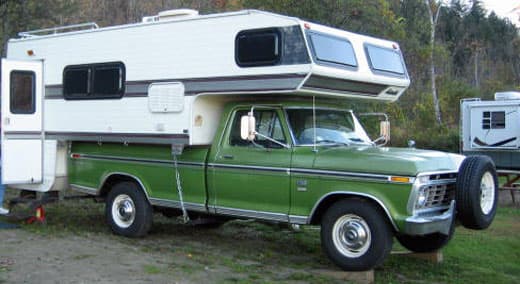 I use the green truck more for the camper and the black one as a backup.
I hope to go full time someday but with the price of gas at $4, the backyard is about it for now. I love your online magazine and all the cool stuff about truck campers. Keep up the good work." – Ken McGill, Connecticut
"Hello Angela. My first truck camper was an ugly old thing when I bought it, but I fixed it up and got everything running. That was my introduction to truck camping.
A few years ago I upgraded to a very nice 1987 Real Lite model 950. I put the old camper up for sale and a church group bought it as they were looking to lend a helping hand to a homeless guy. The group moved the camper into a campground and it became his home.
From there he was able to get a job and start to get back on his feet. Eventually he moved into a larger camper trailer about a year later. The same church group asked me to help move the old camper to a junk yard so I got to see it one more time. This guy had the entire front bed area jam-packed with clothes and had been sleeping on the dinette seats. Seriously, I don't know what kept the camper from tipping forward! But, it shows that you can do an extended stay in a truck camper if necessary." – Jack Pavie