Candice Boutilier, Marketing Director at Torklift International, contacted us this week to announce Torklift International's latest product, the Basement Camper Step.
Essentially, the step is designed for basement model truck campers with a high entry step between the rear bumper and the entry door.  As a magazine, we have experienced this situation with several basement model truck campers over the years.  We have also written extensively about the need for truck campers to better accommodate the needs of, shall we say, more "experienced" truck campers who no longer enjoy the mobility of their less experienced years.  Truck camper entry step systems are a primary point of concern for these more experienced members of our community.
Jay Taylor, General Manager for Torklift International explained, "This single step works with any truck camper bumper and eliminates the fourteen-inch vertical step-down gap between the camper bumper and the entry door commonly found on basement model campers.  People struggle to step up and down with a gap that large.  After hearing stories about people slipping or falling off their bumper because they lose their footing, we responded by creating this product."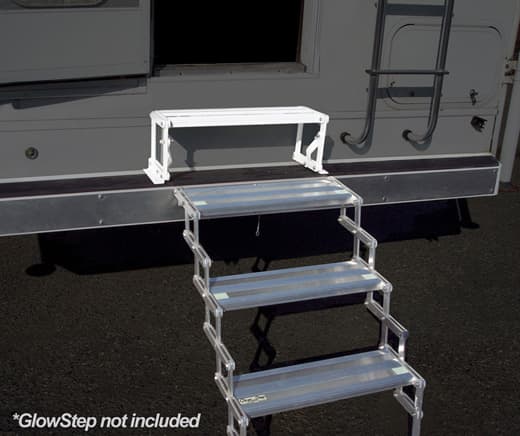 The Basement Camper Step is 7.8 inches tall and takes up more than half the vertical gap.  The step is designed to be bolted to the camper bumper and can be coupled with the Torklift International GlowStep by mounting the GlowStep flush with the camper bumper for a smooth and safe transition from the camper bumper to the ground.
"It also accommodates any rear door position whether it is left, right or center and folds up and down in seconds for easy basement door access", Taylor explained.
The Basement Camper Step glows in the dark for up to ten hours with just a few minutes of light, has a white powder-coated finish, and is composed of aircraft grade aluminum and stainless steel.  It's made in the USA and is covered by Torklift International's lifetime warranty.