Our favorite Aurora Hunter, Todd Salat, is up to his old tricks chasing the northern lights, escaping grizzly bear encounters, and just plain having fun in Alaska's wilderness.
When it comes to Todd's tales, nothing surprises us anymore.  Thanks for making us want to go to Alaska even more Todd!
Alaska, Auroras, Bear, and Jam
by Todd Salat
Depth and Dimension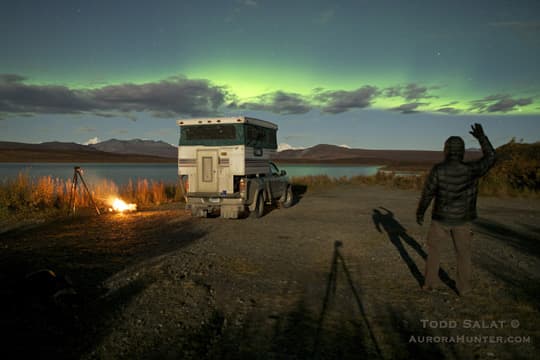 Autumn is a favorite season for many, us included.  Every September my wife, Shay, and I bust out of Anchorage after a busy summer and get off-the-grid.
This year we drove across the gravelly Denali Highway, from Cantwell to Paxson, while absorbing the best fall colors we've ever seen.  It was pure Alaskan gold.
The Denali Highway is open to the public and a bit bumpy for a large motorhome and that's why we all love truck campers.  The Denali is made for for truck campers!
Moose and caribou hunters had base camps everywhere and, one evening, as night began to fall, we searched earnestly for a special spot we could call our own.  We bounced down a hilly side road as overgrown brush screeched along the dusty sides of the truck (pinstriping).  Then we popped out on the shores of this big kettle lake and discovered that it was, unoccupied!  Nothing human-made as far as the eye could see. Oh, what a relief it is.
We settled in and had a five-star dinner date in the luxury of our 1994 Starcraft pop-up camper.  Shay turned in for the night and I started a small campfire.  A near-full moon at my back illuminated the shadows, which is quite reassuring in bear country.
After a few happy dances, I was absolutely relishing in the nocturnal sounds of nature.  Around midnight, a green band of northern lights took shape to the northeast.  I wish I could say the auroras went crazy and filled the sky beyond belief, but tonight they decided not to steal the show.  They just added another component to a beautiful night, albeit a critical component; depth and dimension.
Patriot Bear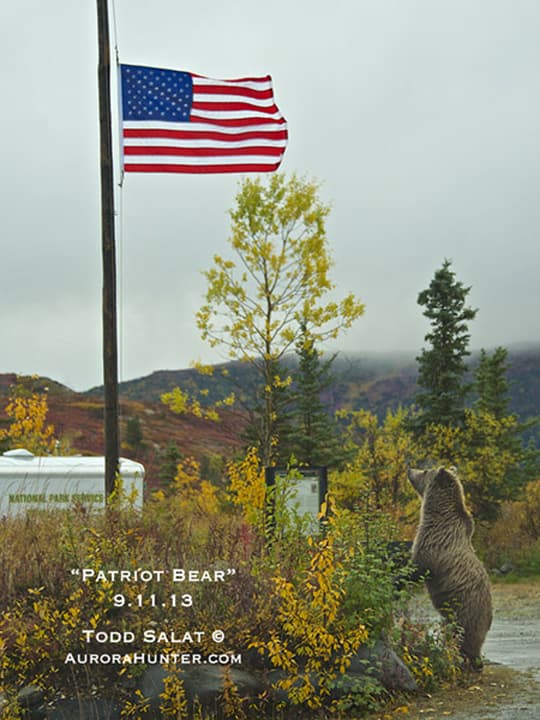 What's the closest you've ever been to a wild grizzly bear?  I ask only because this fall I almost stepped out of my truck into the arms of Ursa Major, the great bear.
My wife and I were in Alaska's Denali National Park.  I had a professional photographer's permit, my favorite perk of my business, so I was able to drive my own rig into the park instead of taking a tour bus.  We pulled up to Reflection Pond out by Wonder Lake, and parked the truck.
I was about to exit when I looked out my side window and there was this grizzly walking right by my door.  He (or she) stared at me at point blank range and it took a full half-second before it registered and some unrepeatable expletive escaped from my mouth.
He strolled down the park road like he owned the place, because he does.  We followed in the truck at a respectable distance and photographed the griz using its teeth to rake hundreds of blueberries into its mouth.  Raw and just beautiful.
The curious bear ambled into the Wonder Lake Ranger Station whereupon it stopped at the flag pole, stood up and appeared to be paying his or her respects to the American flag that was flying at half-mast.  It was Patriot Day, 9-11-13.
Shay Air Jam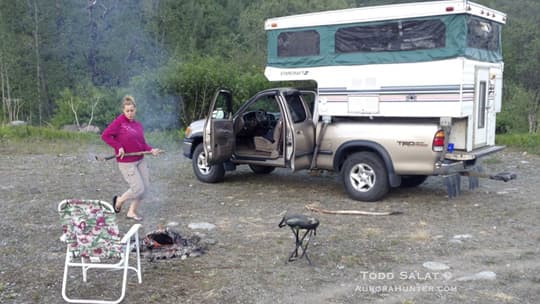 I have a great travel partner; my wife, best friend, and love-of-my-life, Shay.  Here she is in action during a mid-June 2013 camping trip in Hatcher Pass, just north of Palmer, Alaska (another great truck camper road).
One of my favorite features of the older Toyota Tundra is the suicide doors.  The reasons are many and, in this case, it was for music.  I plugged in a 4 Non Blondes tune titled "What's Up?" and Shay played the smoking air stick like there was no tomorrow.
Sing it if you know it, "25 years of my life and still / Trying to get up that great big hill of hope / For a destination…"  (lyrics © 4 Non Blondes)