Angela and I can hardly believe we are celebrating Email Alert number 1,000.  To think that we have published that many truck camper articles is simply mind blowing.  It's also a powerful testament to the loyalty and support of our readership.  Thank you for reading Truck Camper Magazine and for helping to make this happen.
As we attempted to wrap our heads around the four digit number, we found ourselves reflecting on some of the more unusual stories surrounding the Email Alerts.  Here are a few.
The Story Behind Email Alert #1
Truck Camper Magazine went live on the internet on Friday, January 26, 2007.  The following week I called every truck camper manufacturer to ask for their feedback and support.  One of those calls was to Bigfoot Industries in British Columbia.
Answering the phone was Courtney Pitcher, Sales and Marketing Assistant for Bigfoot Industries.  She was interested in our new magazine, but suggested that we needed a way to collect subscribers and email them when new content was published.  She was right.
The next day I offered free email alert subscriptions to Truck Camper Magazine.  By the end of the day, we had over 200 subscribers.
Email Alert #1 went out on Wednesday, January 31st, 2007, just one week after we started the magazine.  Thanks to Courtney's prompt, we have published at least two weekly Email Alerts ever since.  The twice a week rhythm of the Email Alerts has become the heartbeat and driving focus of everything we do.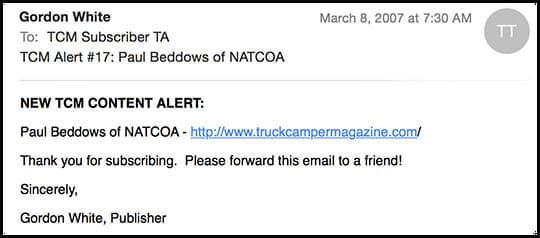 Above: The very first email alerts were quite simple, directing readers to the home page
How Email Alert #136 Almost Killed TCM
When we started sending email alerts, I sent them directly from my personal Truck Camper Magazine email address.  At first this was just a few hundred subscribers, but we hit 1,000 by the end of October of 2007.  To accommodate the rapidly growing list, we signed up with iContact, a professional email service provider, on Christmas Day.
Then, on January 21, 2008, less than one year after starting TCM, Email Alert #136 almost ended the magazine.  In short, iContact mistakenly sent another organization's email – a hard-sell for a mortgage broker – to our subscribers.  Best of all, the email went out with our email alert headline making it look as if we had sent the email.
As the "what the…" messages poured in from readers and industry, I was on the phone loudly communicating with iContact.  They were fully aware of the problem, apologized profusely, and adamantly claimed that the issue had been fixed.
With that news, I risked sending another email through iContact to calm the storm, and properly announce the day's content.  I had no other way to send email to the whole list quickly and we were starting to get unsubscribes at an alarming rate.
Thankfully, that email, including that day's article and blogs, went off without a hitch.  iContact had indeed fixed the problem, and we haven't had a single significant problem with iContact since.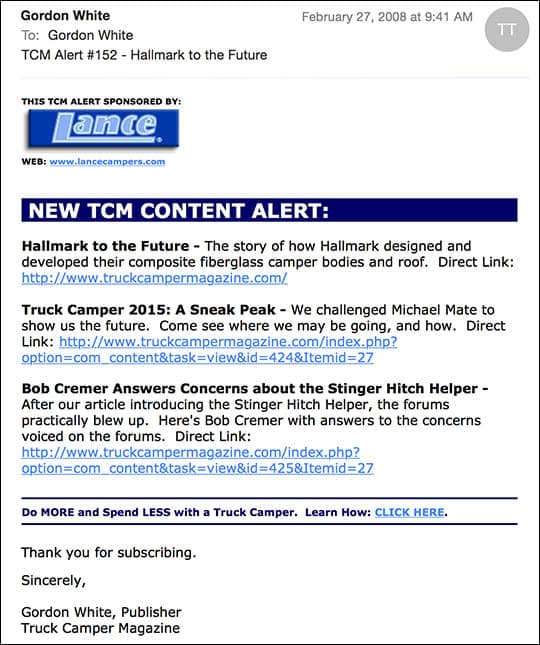 Above: Email Alert 152 started a new look including direct links and a top sponsor
This Email Alert Was Sent From…
As many of you know, we really love truck camping.  This means we are often publishing Truck Camper Magazine and blasting the email alerts from our truck camper's dinette.
The places we have published from include countless truck camper factories, dealerships, Walmart parking lots, campgrounds, rallies, state and national parks, off-grid boondock spots, and the driveways of friends and family.
The two most unusual places we published and sent email alerts are Rome, Italy during a family trip in 2011, and a Starbucks in the Bahamas during our 10th wedding anniversary cruise last summer.  Go Anywhere, Publish Anywhere.
We have also had a few guest publishers.  While visiting TCM HQ, Mike Tassinari, aka Mikeee, pressed the proverbial go button for Email Alert 715.  If you didn't like that email, it's his fault.
What Will You Write About?
Perhaps the funniest part of Email Alert 1,000 is one of the questions many truck camper industry leaders and community members asked us when we started the project, "What will you write about?"  Another question we heard over and over was, "Do you have enough article ideas to keep this going?"  Evidently, we did.
With Email Alert 1,000, we turn the page and look to an exciting future for Truck Camper Magazine.  We have a good number of new camper announcements, exciting lifestyle stories, and more in the works.  Once again, we want to thank you for helping us to reach this exciting milestone.  While we're not just getting started, we are still running full tilt.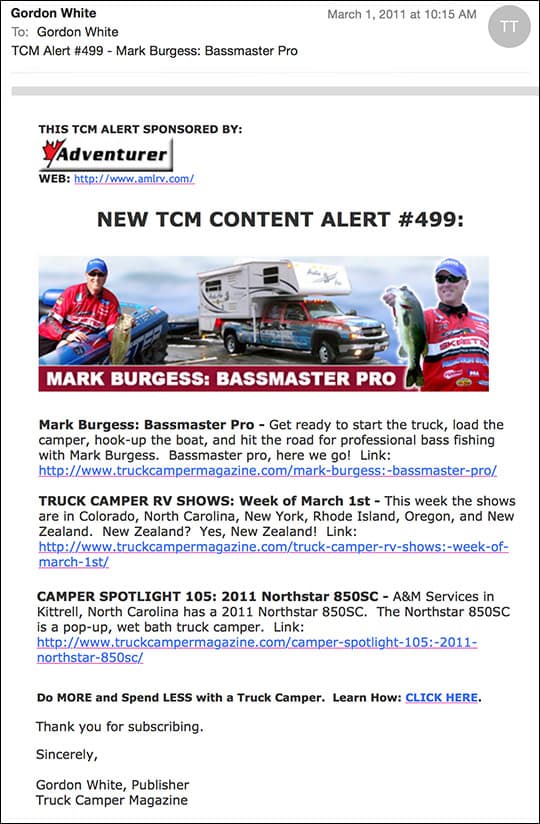 Above: Email Alert 499 was the beginning of how Email Alerts look today