We are excited to announce that we'll be attending the 11th annual Texas Truck Camper Rally. The event runs from Thursday, May 4th to Sunday, May 7th at Skyline RV Ranch in Bandera, Texas. Hope to see you there!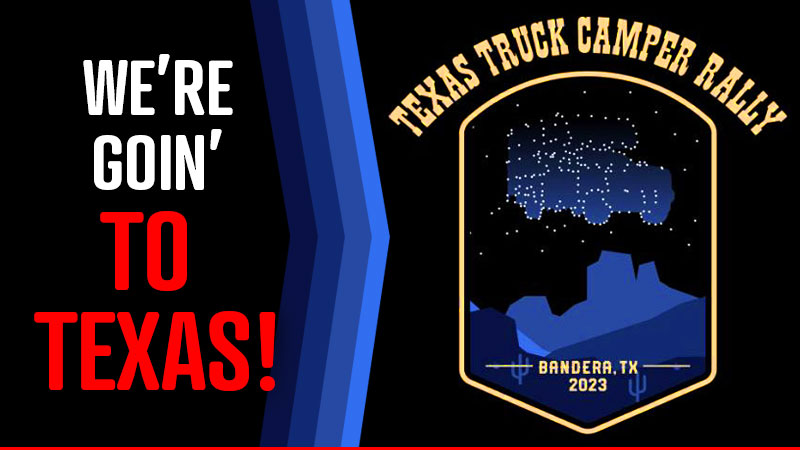 The stars are finally aligning for our return to the Texas Truck Camper Rally. The 2023 truck camping season is on and we're headed to Texas. Yee-haw!
We're really looking forward to seeing old friends, meeting new ones, and being part of the whole Texas truck camping tribe. It's been way too long and we have a lot to catch up on.
The brave folks at Princess Craft RV have also invited us to participate in their, "RV Small Talk" podcast at the rally. From what we understand, this is something of a no-holds-barred open mic on the entire world of truck campers. Anything can and will happen.
To find more what's on tap at this year's Texas Rally, we checked in with Lindsay Buerger of Princess Craft RV:
The Texas Truck Camper Rally is just around the corner, and we'd love for you to attend.  Please call the campground at 830-796-4958 to make a reservation and then register so that we know you're attending.
If you are attending, please bring a beer and wine tasting contribution, chili for the cook-off, or another dinner or dessert item, and your wallet (parts and accessories will be available at a discount during the rally).
You will need your own plates, cups, and silverware for each dinner event. It will help cut down on waste. Any outside games you like to play (horseshoes, washers, etc.) are appreciated, as well as griddles for the pancake breakfast.  Thank you!
Thursday, May 4, 2023
2pm – Check-in at the Rally Hall
4pm – Meet and Greet Bonfire
Friday, May 5, 2023
7:30-9am – Camper Coffee
10-11:30 – Tech Talk with PJ
2pm – RV Small Talk Podcast Recording
5pm – Beer and Wine Tasting
6:30 – Chili Cook-Off and then Team Trivia
Saturday, May 6, 2023
7:30-9am – Camper Coffee
12:30-3:30 – Camper Tours
5pm – Happy Hour and 2-Step Lessons
6:15pm – Group Picture
6:30pm – BBQ Dinner
7:30pm – Dancing and Prizes with the Merles
Sunday, May 7, 2023
8-9am – Coffee and Pancakes
Day Trip Ideas: Bandera Natural History Museum, Bandera Historical Rides Horseback Riding, Frontier Times Museum, Bandera City Park (paddleboard rentals), and Shopping in the Downtown Area.  Please let the rally staff know if you would like more information on any of these adventures!
Please call the campground at 830-796-4958 and reserve a spot if you haven't already.
Questions? Please email us.
We are also looking for volunteers. If you would like to volunteer, please email me.  You guys help make the rally amazing. Thank you! – Lindsay Buerger, Princess Craft RV