We are thrilled to announce that we'll be attending the 5th annual NC Truck Camper Rally. The event runs from Friday, November 3rd through Sunday, November 5th at Jordan Lake State Park in Pittsboro, North Carolina. Hope to see you there!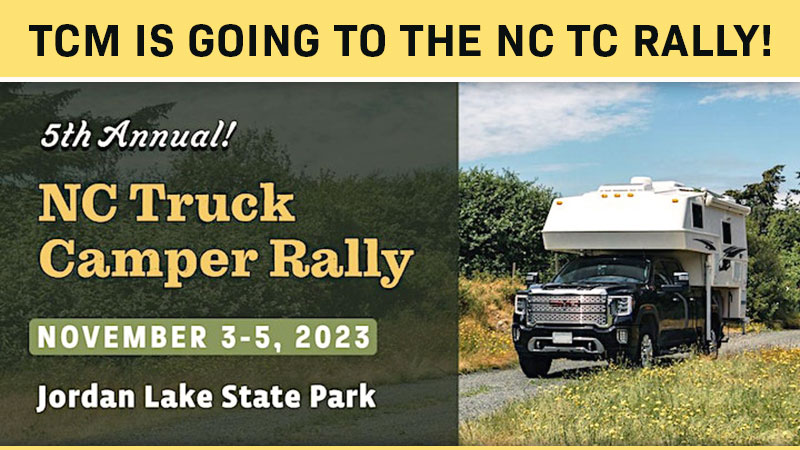 At long last, we are attending the North Carolina Truck Camper Rally. Angela and I are looking forward to seeing old friends, making new ones, and experiencing the whole North Carolina rally vibe.
An All-Inclusive Event
D&H RV has taken a very different approach to how a truck camper rally is packaged for attendees. Rather than having rally attendees pay for their campsite, rally fee, T-shirt(s), and raffle tickets for prizes, the NC Truck Camper Rally rolls all of that into one all-inclusive price.
The NC Truck Camper Rally also includes all of your meals (Friday dinner through Sunday breakfast). Usually, Angela and I are trying to figure out what to bring to a potluck, but not this time!
During the day on Saturday, there are tech seminars with D&H RV techs, a 'show off your camper' walk-through event, and a ladies' social. On Friday and Saturday nights, there are evening socials, bingo games, and prize drawings. All seminars and events are also included.
Every campsite has full-electric and water hookups, and the Vista Point Campground (at Jordan Lake State Park) has a bathhouse, and a dump station. Children under 18 are registered for free (up to four kids), and pets are welcome.
The all-inclusive price for the NC Truck Camper Rally is $299 for a single occupancy campsite, and $349 for a multiple occupancy campsite (couples and families).
Day Pass: Attention Prospective Camper Owners
Once again, D&H RV is thinking differently by offering an all-inclusive Saturday day pass for folks who want to attend the rally, but not camp at the rally. Even if you only have a car or truck, you can participate with a Day Pass.
This is a great opportunity for anyone who's researching a truck and camper purchase, or who's just camper curious to spend a full and fun day at the rally. Put another way, stop reading about truck campers on the internet and come see dozens of real rigs owned by real truck campers, and get their experienced feedback and advice.
Day Passes include everything on tap for Saturday; breakfast, lunch, and dinner, rally T-shirt, bingo, prize drawings, and – most importantly – the tech seminars, camper walk-throughs, and opportunities for our vibrant truck camper community.
The all-inclusive Day Pass is $99 per person.
How To Register
To register for the North Carolina Truck Camper Rally, click here.
If you have questions about the rally or registration process, contact Elizabeth Stackhouse at D&H RV at [email protected].