Perhaps you're on the lookout for a unique truck and camper package.  Well, do we have a rig for you.  As part of a celebrity car auction today in Santa Monica, California, Mecum Auctions is offering a complete truck camper rig once owned by Steve McQueen.  The lot number is F312.
The truck is a 1952 Chevy 3800-series one-ton, long bed truck in forest green.  The engine is a Loadmaster inline six-cylinder with a four-speed transmission.  Truck modifications include a driver-side spotlight and five-gallon gas tanks on the running boards.
The cabover-less truck camper was custom built by Harold Van Hoosen, a Yreka, California fabricator.  The camper features the name, "Dust Tite" and is manufactured with aluminum and galvanized metal.  Interior features include a double-sided bed, storage cabinets and drawers, and a diamond plate bumper.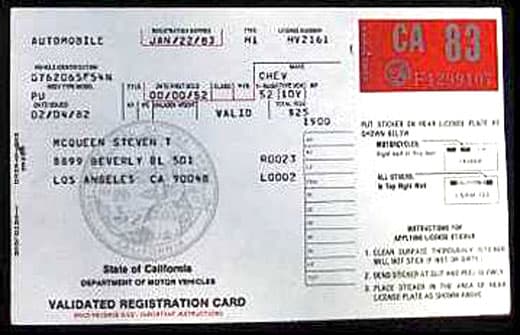 For provenance, the rig will come with a certificate of authenticity from The Steve McQueen Children's Trust, three registration slips, and an ownership certificate from Steve McQueen's attorney.
For those who are into authenticity, the camper still has the original mattress and license plate used by Steve McQueen.  Just four days before his death, Steve McQueen reportedly rode in this very truck camper rig from his residence in Santa Paula, California to the Ventura County airport on November 3, 1963.
While you have your checkbook out, Mecum is also actioning a Jaguar XJS once owned by Frank Sinatra and a 1972 Cadillac station wagon owned by Elvis.
Good luck!
Link: http://www.mecum.com/auctions/lot_detail.cfm?LOT_ID=LA0713-164217
Thank you to TCM reader Brent Portschy for alerting us to this story.