Nearly every truck camper ships with a built-in stereo system from the factory.  This often includes the stereo component, multiple speakers, and the required speaker wires and cables.  In all, it's a considerable amount of weight and cost added to each and every unit.
Over the past few years an interesting alternative has arrived in the form of battery-powered portable bluetooth speaker systems like those offered by Bose.  For example, one system we often see is the Bose SoundLink II.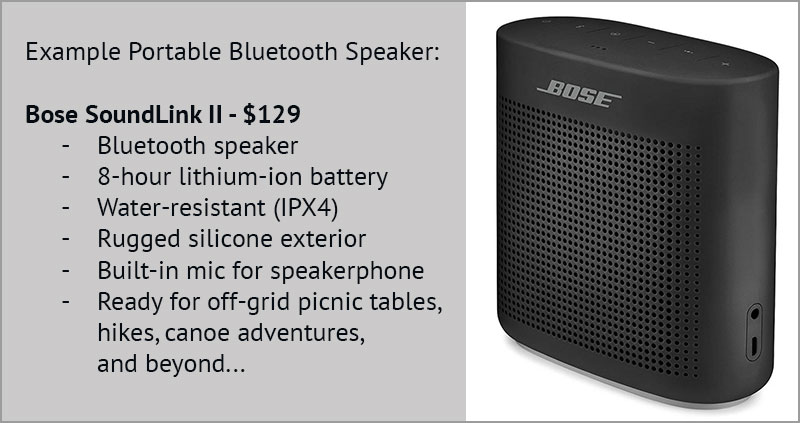 Some of these systems offer remarkable sound quality in a small and light-weight package.  You can also use these all-in-one systems at home or while sitting on a picnic bench.  Boondocking with the B-25s in the Badlands?  Roam if you want to!
It might seem like a no-brainer to ditch built-in systems in favor of these new products.  The same functionality in a smaller, lighter, more versatile, portable and battery-powered package?  What's not to like?
Well, there are some definite advantages of built-in systems.  For starters, built-in systems are always there, ready to play.  You can't accidentally leave the bluetooth speaker at home, or on the picnic bench at Boyds.  Plus, built-in systems are powered by your camper's battery system.  No additional batteries to charge.  Easy peasy.
The technology and features of built-in systems is also improving.  Many now have Bluetooth, USB-power ports, DVD players, AM/FM receivers, multiple speaker zones, alarm clocks, and remote controls.  The question is, do we want these features?  Or would we be just as happy, or happier, with a portable solution?
This week's Question of the Week is, "Should truck camper manufacturers continue to install stereo systems and speakers as standard, or should they consider portable systems?"
To be clear, we are only talking about the built-in stereo system and speakers.  We are not talking about televisions.  That's another topic that we'll tackle in a future Question of the Week.
This QOTW has now ended.  Here are the responses, "Stereo Feedback Signals Changing Attitudes".