This week's Question of the Week was, "What can a husband say to his wife to convince her that a truck camper is a viable choice for their future RV?"
"I am not the stick in the mud. I am a wife who wants a truck camper. Hubby has the truck. How can I convince him to play nicely and load up a truck camper on his truck? We are both retired and have time to travel. Seems like a no-brainer to me." – Sarah Smith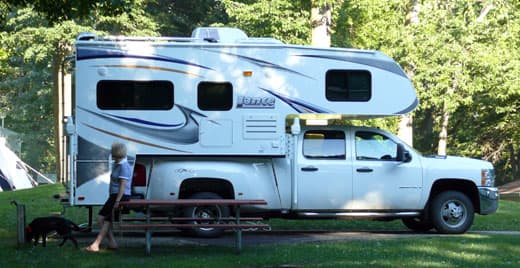 "My wife has very little problem driving our truck and camper combination. She even takes short trips by herself. I think the ease of driving the combination lies in the fact I bought a pickup one size heavier duty than the camper manufacturer recommends. I wouldn't like our Lance 1050 on a three-quarter pickup myself." – Philip Tron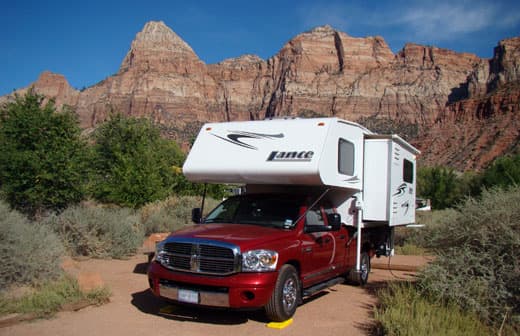 "We are previous owners of a travel trailer. We loved loved the travel trailer and it's room with the slide out. It was light and everything we wanted, but there were times when the travel trailer was not the way to go.
We are the current owners of a 2009 Lance 981 and absolutely love it. We bought it brand new from Princess Craft in Round Rock, Texas. It has everything you ever need in an RV. We added a Thule Storage bin to the top for our outside gear. We also have a bike rack that connects directly to the tow hitch.
Here is why we love our truck camper:
Tires: We had gone through several sets of tires with the travel trailer. Going down the highway, we sometimes didn't know we had a flat unless someone told us. With the truck camper there are no tires on the ground except for the truck tires.
Gas: There were times that we had to pass gas stations with the travel trailer because the way the pumps were set up wouldn't let us in. Sometimes we had to wait in long RV lines at the RV fuel pumps. With the truck camper you can drive right up to the same pumps you get gas in with your car. Easy in, easy out!
Parking: We can park anywhere we want. We usually park out away from the grocery store, but we can actually pull into a parking spot the right way, not the long way taking up more than one parking spot. When we go to sight see or hike, we can park at the trailhead and even the pull outs on the scenic drives. You can't do that if you have a large RV.
Camping: This is the best part. We have had the truck camper for three years. So far, the truck camper has been on three, three-and-a-half-week vacations. I cannot remember one time we had an issue with getting into a campsite. With the travel trailer, I remember several times, one time at Yosemite National Park, that we couldn't get into the campsite. We stay at National Park campgrounds and State Parks too, and it's never an issue. You do still have to watch the trees as the camper sits higher but that's with any RV.
Cleaning: This RV gets cleaned several times while we are on our long vacations and it is very easy to clean. It doesn't wear you out.
As a woman and the owner with her husband, I don't think we will ever go to a larger RV." – Jo Anne Johnson, Texas
"Try telling the wife that she no longer has to help back up a huge unit in a small space. That may save their marriage. My wife loves our camper, an Adventurer 950B, and so do I, but our kids (ages 12 and 14) want a bigger unit. So far I have not given in, but I understand there is a point where truck campers might be small for a family of four. I am going to install a heater in our boat so they sleep in it and hopefully that will be enough. Cheers and great magazine." – Roch Dallaire
"Hi Angela. My husband and I didn't have the luxury of a truck camper when we toured Europe for two and a half years. We had a Class B, the van style motorhome, and we were frequently asked how we could live in such small quarters for so long and my answer was always the same. When things were going along well, it was a perfect size. When things were not going along well, the Taj Mahal would have been too small. We loved it. The added bonus of a truck camper is that you can take it off the back of the truck and tour around." – Joei at www.joeicarlton.com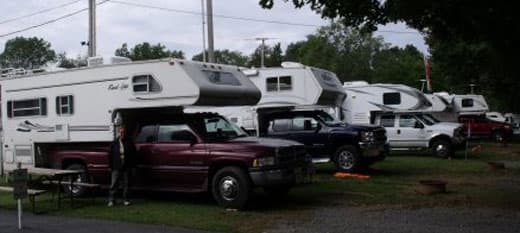 "We've been RVers for years. We had a small Class C, which was wonderful for weekends. That said, I wouldn't retire and live in it. So we bought a truck and thirty-three foot fifth wheel with slides. There was lots of room, but we needed to plan where we were going. There are no spontaneous stops when you are fifty-three feet long.
We lived in the fifth-wheel for five years in the winters and then I wanted more space so we bought a permanent winter home. The fifth wheel sat since I now found pre-planning and packing it a pain for a weekend. We talked about a small motorhome again, but we already owned a one ton diesel Dodge.
Then we talked about a truck camper and found one used. It has everything the fifth wheel had including a queen sized bed that runs front to back so we don't climb over each other. However, you still need good knees as you do enter the bed from the bottom. It has a complete dry shower, microwave, refrigerator, double sink and a miniscule oven. Who wants to cook inside anyway?