This week's Question of the Week was, "What can a husband say to his wife to convince her that a truck camper is a viable choice for their future RV?"
"I am not the stick in the mud. I am a wife who wants a truck camper. Hubby has the truck. How can I convince him to play nicely and load up a truck camper on his truck? We are both retired and have time to travel. Seems like a no-brainer to me." – Sarah Smith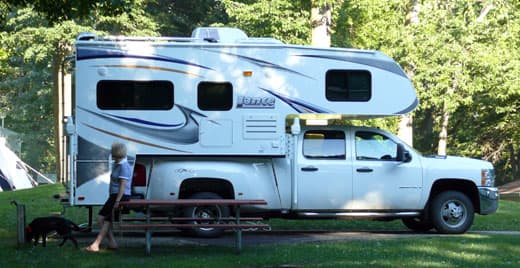 "My wife has very little problem driving our truck and camper combination. She even takes short trips by herself. I think the ease of driving the combination lies in the fact I bought a pickup one size heavier duty than the camper manufacturer recommends. I wouldn't like our Lance 1050 on a three-quarter pickup myself." – Philip Tron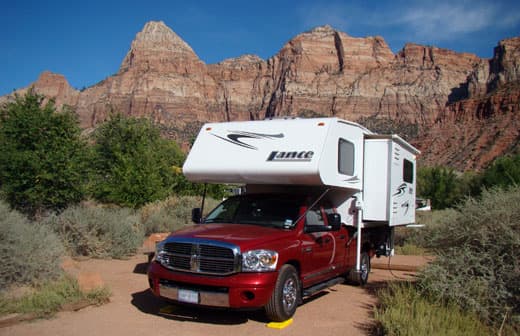 "We are previous owners of a travel trailer. We loved loved the travel trailer and it's room with the slide out. It was light and everything we wanted, but there were times when the travel trailer was not the way to go.
We are the current owners of a 2009 Lance 981 and absolutely love it. We bought it brand new from Princess Craft in Round Rock, Texas. It has everything you ever need in an RV. We added a Thule Storage bin to the top for our outside gear. We also have a bike rack that connects directly to the tow hitch.
Here is why we love our truck camper:
Tires: We had gone through several sets of tires with the travel trailer. Going down the highway, we sometimes didn't know we had a flat unless someone told us. With the truck camper there are no tires on the ground except for the truck tires.
Gas: There were times that we had to pass gas stations with the travel trailer because the way the pumps were set up wouldn't let us in. Sometimes we had to wait in long RV lines at the RV fuel pumps. With the truck camper you can drive right up to the same pumps you get gas in with your car. Easy in, easy out!
Parking: We can park anywhere we want. We usually park out away from the grocery store, but we can actually pull into a parking spot the right way, not the long way taking up more than one parking spot. When we go to sight see or hike, we can park at the trailhead and even the pull outs on the scenic drives. You can't do that if you have a large RV.
Camping: This is the best part. We have had the truck camper for three years. So far, the truck camper has been on three, three-and-a-half-week vacations. I cannot remember one time we had an issue with getting into a campsite. With the travel trailer, I remember several times, one time at Yosemite National Park, that we couldn't get into the campsite. We stay at National Park campgrounds and State Parks too, and it's never an issue. You do still have to watch the trees as the camper sits higher but that's with any RV.
Cleaning: This RV gets cleaned several times while we are on our long vacations and it is very easy to clean. It doesn't wear you out.
As a woman and the owner with her husband, I don't think we will ever go to a larger RV." – Jo Anne Johnson, Texas
"Try telling the wife that she no longer has to help back up a huge unit in a small space. That may save their marriage. My wife loves our camper, an Adventurer 950B, and so do I, but our kids (ages 12 and 14) want a bigger unit. So far I have not given in, but I understand there is a point where truck campers might be small for a family of four. I am going to install a heater in our boat so they sleep in it and hopefully that will be enough. Cheers and great magazine." – Roch Dallaire
"Hi Angela. My husband and I didn't have the luxury of a truck camper when we toured Europe for two and a half years. We had a Class B, the van style motorhome, and we were frequently asked how we could live in such small quarters for so long and my answer was always the same. When things were going along well, it was a perfect size. When things were not going along well, the Taj Mahal would have been too small. We loved it. The added bonus of a truck camper is that you can take it off the back of the truck and tour around." – Joei at www.joeicarlton.com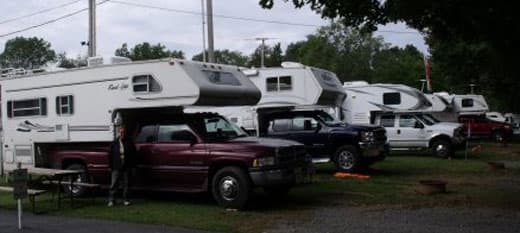 "We've been RVers for years. We had a small Class C, which was wonderful for weekends. That said, I wouldn't retire and live in it. So we bought a truck and thirty-three foot fifth wheel with slides. There was lots of room, but we needed to plan where we were going. There are no spontaneous stops when you are fifty-three feet long.
We lived in the fifth-wheel for five years in the winters and then I wanted more space so we bought a permanent winter home. The fifth wheel sat since I now found pre-planning and packing it a pain for a weekend. We talked about a small motorhome again, but we already owned a one ton diesel Dodge.
Then we talked about a truck camper and found one used. It has everything the fifth wheel had including a queen sized bed that runs front to back so we don't climb over each other. However, you still need good knees as you do enter the bed from the bottom. It has a complete dry shower, microwave, refrigerator, double sink and a miniscule oven. Who wants to cook inside anyway?
I insist on electricity since I like my toys and my husband likes television, so this means we stay in campgrounds. But we can now go without reservations since we fit anywhere and are enjoying state parks again.
With our truck camper, we're back to camping! We sit outside when we stop for the night, talk to the neighbors, and have campfires. Best yet, we can stop anywhere I want. If I see a store on the way past we'll U-turn and stop to investigate.
We sold the fifth wheel. I love the truck camper and are currently planning a four week trip to our winter home. The trip could take three and a half days with eight hours a day driving, but we are now enjoying the trip and many side trips. Almost forgot, I drive the truck camper and would never touch the fifth wheel combination." – Sue Billyard
"We had a fifth wheel. My husband convinced me by showing me a Travel Lite with a toilet. That was my one "have to have" while camping.
It has a nice size refrigerator and lots of storage space. Some other pluses include less cleaning, not having to hunt for gas stations we could fit into, and we can pull into anywhere with a parking space (museums, tourist attractions, shopping malls, restaurants, laundromat, roadside vegetable stands, etc.). Parking the rig is nothing more than pulling in and hooking up.
We've saved money in fuel costs, and occasionally staying in a parking lot overnight. One example is in Freeport, Maine. They have a designated lot downtown where you can stay as long as you like. We spent two nights shopping at LL Bean, and all the outlet stores. We could park at the dock and have fresh lobster. You couldn't do that pulling a trailer or fifth wheel.
We've been to campgrounds such as in the Florida Keys. We only got a site because we were so small. So there are many advantages." – Sherry Nolan
"Hi Guys. Lorinda and I share driving duties. This may be the secret to selling all those doubting women. If you can drive a truck, you can drive a truck and camper. We also own an Airstream travel trailer which Lorinda is not comfortable driving. However, she drives the truck and truck camper with no problem. She loves getting away for a weekend or longer with the girls. What woman wouldn't want an RV that she is comfortable taking off in by herself?" – Bill Teixeira
"Tto be honest, my wife put me on to a truck camper. Any time I am asked about our camper experience I say; in Alabama, you have don't to pay taxes or tags every year. The upkeep is easy, just keep her clean. With a truck camper, I can pull my boat.
Our first truck camper was a crank up with no potty, but we got by. We now have a 2010 Travel Lite with a potty, and at last I can use my truck as a truck and not worry with dry rotting tires while in storage. We're die-hard truck campers." – Joseph and Sidonna Brown
"We have a truck and camper and a truck and fifth wheel. We are Alaskans that winter out September to May. We took the truck and camper out two years then opted for the fifth wheel. The reason was more storage and bigger bathroom. We would gladly go back to the truck camper if it had a bigger bathroom.
With the truck camper, we didn't need to stop at campgrounds as often. I could help with the driving. It fit on all ferries. I am a seventy year old woman who prefers the truck and camper. Just give me a little bit larger bathroom. I hate campground showers. We have a short bed truck and don't want to give that up. My husband might be willing. I never use the oven and will accept a smaller dinette." – Alaskan Traveler
"In my way of thinking, the best way to convince a wife to get a truck camper is to get her to a truck camper rally. Once she has been inside many campers that are in actual use, the light will start to come on.
Seeing empty campers all set up at RV shows just isn't the same. She needs to go into campers that are on the road often. Open the closets, cabinets, and cupboard doors. Look in kitchens and bathrooms to see what can go where. She needs to talk to women who can tell her the best way to store the items that really do get used and which things can be left at home.
If there are no truck camper rallies in your part of the country, most dealers will contact customers who would allow a visit to their truck camper. At our North-East rallies, we almost always have people come by just to see truck campers and talk. Quite a few of them end up with truck campers and show up at the next gathering." – Anne Brown
"Hi Angela. I suggest that any woman who wants to keep a towable/motorhome should take it out solo several times. And she should also handle all the winterizing and maintenance that goes along with it for at least a year. She needs to understand first hand how much work is involved with such rigs.
My husband isn't interested in traveling or camping, so I trek on my own and am completely responsible for my rig. I started out with a Jayco twenty-three foot travel trailer. I took it out one time and found it to be a hassle.
I am a birder. I decided I'd rather be birding than fussing with all the systems, not to mention the set up and towing of such a trailer.
I traded in the Jayco and downsized to an Aliner pop-up camper. It didn't have a bathroom and I never used the sink or outside shower, so I didn't have to worry about winterizing. I used it for three years. It was better, but I still had to tow the thing, which got to be a drag, so to speak. I sold the Aliner.
Recently I picked up my Phoenix pop-up truck camper from Robby and Cari Rowe in Commerce City, Colorado. I got a fairly stripped down camper with no bathroom, no sink, no outside shower, no furnace, or stove. I didn't want to fuss with water or propane.
Luxuries include a Luna fridge, which should run fine even off the grid because I have a solar panel charger on the roof. There is a small microwave for when I'm on shore power. When off the grid, I will use a Jetboil (which uses a small fuel canister) to heat water for tea, etc. I
want things as small and easy to care for as possible. If not for the fact that my daughter treks with me on occasion, I would have ordered a Phoenix Geo Den which has no cab-over bed. By keeping things small and simple, I spend less time on maintenance and have more time for birding.
If a wife wants to keep a towable/motorhome, she should first walk a mile or a year in her husband's RV-keeper moccasins. Perhaps after that she will agree to downsize to a truck camper. My preferences in a truck camper might be too minimalist for most folks, but, in my humble opinion, any truck camper would be better to deal with than a towable/motorhome. Yay for truck campers!" – Lori Markoff, Texas
"My wife was unsure of going to a camper after having a thirty-four foot fifth wheel with slides, especially since we had lived it for nearly four years. She basically said "no way", until we looked at the Adventurer 910FBS and 86SBS with slides. She loved the floor plans, and was surprised how much space they had.
She also knew I was tired of taking care of the fiver, and that I wanted something that did not have tires, license fees, was easier to store, clean, and less stress to drive. I mentioned all of the positive reasons to her that were listed on the Truck Camper Magazine website, and I told her that the only negative things I could think of were inside space, outside storage space (which the 86SBS has more then most), and the cost to convert the truck to handle the camper. I also felt, and so did she, that truck campers were rather costly versus trailer prices, but the resale prices appeared to be higher compared to other types of RVs, which is a good thing. We settled on the Adventurer 86SBS." – Al Cerf
"We downsized from a twenty-eight foot fifth wheel with slide-outs to a truck camper with no slide out. I must admit that I had my reservations at first. Now I love our truck camper. We can go anywhere in it and we can tow our toys like our motorcycle and boat.
We plan on crossing the country in it in a couple of years. It's easy to stay at a truck stop or a Walmart overnight before you reach your destination. It's cozy and comfortable. I do not miss dragging around that big fifth wheel for a minute." – Denise Snyder
"Hi Angela. As we speak, we are truck camping in John Pennekamp State Park in Key Largo, Florida. We pulled our boat down too. Life is good.
A Canadian lady recently walked up to our campsite and had a million good questions about truck camping. She is sold and saw the benefits like my wife did of the compactness. By the way, I told the lady a must read is TruckCamperMagazine.com. She was headed straight to her computer." – Don and Holly Walker
"For me it was easy. I wanted to go places that no one else has gone before. Well, not really, but close. I wanted to travel the Rockies, Alaska, New England, New York City, Labrador, Newfoundland, the Canadian Maritimes, the US West Coast and so many other places that a large RV wouldn't be the right option.
I also wanted freedom from the RV resort and be able to enjoy National Forest Parks and BLM lands. I wanted limited access to the television, so we could read, sit outside with nature, fish in a creek for dinner, cook on a campfire (smores!), and boil water for a great filtered coffee or french press. I wanted to live without creating noise pollution or light pollution. We have gone to all these places and so much more. Economy, mobility, go anywhere, and live with each other." – Jake Mathis
"Three years ago we went to the Springfield Show to look at truck campers and other options to our Jayco fifth wheel trailer. I loved our fifth wheel, but my husband was having some problems with setting up, parking at places to eat, and other areas we wanted to visit and enjoy.
I was reluctant to even look at the option of giving up my fifth wheel home away from home for one of those tiny little truck camper boxes. But I had to be fair to the driver, so I agreed to look.
Rex Willett from Northstar was at the show to greet us along with Bill Penney from Truck Camper Warehouse. They took us through all the pluses of truck camping which solved all of my husband's issues.
I was still hesitant, but surprised at the amount of storage in the Northstar 8.5 Arrow that we were looking at. I was also impressed that it contained basically all the things that we really needed for our type of camping.
At that point I told Rex that I had at least gone from "no way" to "maybe" for that trip. Long story short, we have had the truck camper for three years now. It is great for driveway camping when we visit friends and family. And, as husband Allan promised me, "you can park it anywhere". 2002 Jayco Eagle Summit 5th wheel trailer for sale!" – Gale Riley, New Hampshire
"I was the one who had to convince my husband that a truck camper was better than an ordinary RV. Why? When I go away, I don't want to bring all the work with me. In our truck camper I only have about eighteen square feet of floor to sweep out, a bathroom that takes thirty seconds to wipe down, and a big enough refrigerator and stove to cook almost anything (and a husband to do dishes).
I like that we can park at any store to get the forgotten dog food, drive through bigger cities without terror, and camp in a friend's driveway without irritating the neighbors. It lives in our driveway, and the truck by itself is invaluable for hauling big items and tree prunings. And it goes anywhere, anytime!" – Orian Hartviksen
"Hi Angela and Gordon! This is one wife who loves her truck camper. The ability to maneuver easily in so many tight situations and stay in tons of places that a larger RV wouldn't fit in or would be difficult to maneuver into is a big bonus. We have only had our truck camper since April and we've already had so many amazing adventures from the desert to the beaches of southern California to the redwoods of northern California.
My husband is 6'2″ and I am 5'8″ and neither of us are small people. We have a Lance 850, the smallest non-slide Lance for a long bed. It has never felt small or tight at all. In fact, after we came back from an eight day trip up the coast, we were amazed at how absolutely giant our house felt. I have cooked all kinds of great meals from a home made pizza to quiche to carne asada burritos in the kitchen. I have washed my hair and even shaved my legs in the bathroom. I have even done facial treatments like exfoliation and masks in there. Sure, we have to plan things out so we're not constantly rubbing elbows, but isn't teamwork what marriage is all about?
Honestly, paring down and close quarters brings us closer together. It is absolutely amazing and I wouldn't have any other type of RV. Also, check out this picture. Where else am I going to get to sit outside with a glass of wine, looking at this sunset, enjoying the amazing view in Big Sur? Sure, bigger RVs squeeze in this campground, but we were in, set up and kicking our feet up within twenty minutes of entering the campground. Does life get any better than that? Oh yeah, it was my 38th birthday the day I took this picture. Absolutely perfect!" – Eva Salazar
"I have had horrible luck with a 2010 Holiday Rambler Admial. We purchased it new and after two years of major problems we found the cause. The factory new fully attached the front or rear caps. The water has been pouring in for two years! After many calls and emails, even to William O'Borne, they refused to fix it. They put fans on it and dryer it out. This was their fix. We picked up the motorhome last week and sold it back to the dealer for a $37,400 loss. This week ordered a 2013 Arctic Fox 992 and can't wait to get it! Thanks to Truck Camper Magazine we feel this will be a great choice and look forward to hassle free camping again. Thank you!" – Jennifer DeVos
"We live in rural western Nevada so have lots of camping opportunities. When we married I had a small pop-up truck camper which seemed too small so we traded it for an eighteen foot travel trailer. My wife hated the trailer, didn't like towing and wanted another truck camper so we traded our month old trailer for a new truck camper which we are still using. As you can see my wife was the person who made our decision to continue truck camping." – Homer Boone
"Hi Angela. As Jonathan Swift said, "You cannot reason someone out of something they were not reasoned into". We (meaning men) are trying to reason our wives into something they may be totally emotional about. Rather than using reason, we need to make it their decision rather than ours.
I would suggest giving up if your wife is not an outdoors type. She will want a fifth wheel or Class A motorhome with three or four slides. Even though she may have been an outdoors type when you married her, people change so we have to adapt.
The way our truck happened was that I would go camping the old way, by myself with a tent and/or sleeping in the SUV. After a week away, I would come home with great adventure stories. Remember you can embellish the stories if they need work. This sets up a little envy (maybe), the worst emotion, as it is empty of any feeling of elation.
Then you start talking about how you would like her to come along and share in some of the adventures. When she says she is not going to sleep in a tent anymore, you suggest sleeping in the SUV. That moves the process along a little as she is thinking about it. She may even go a long for a few days in the SUV. If the weather is cooperative either too hot, too cold, or if it's raining that helps.
The die is cast when you subtly suggest a truck camper as the next step, (because they are near the bottom of the camping food chain). Then you go looking at truck campers and they seem very large and convenient and very warm or cool compared to the SUV.
Now it is her idea to get a truck camper. Call it her truck and camper. Register in her name if possible, and get her driving it as soon as possible. Then you both get what want you want and it was mostly her idea, so the buy-in is way better.
Thanks for doing the magazine we really enjoy it." – Jim Beach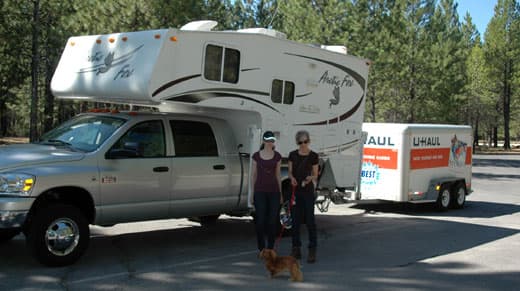 "Angela, I am one of the wives who is just as enthusiastic, if not more so, than my husband. We usually go out for two or three weeks at a time, and I always get slightly depressed as we head home. We are on a trip right now to visit my elderly father in Nevada.
When I am in the truck camper, there is a feeling of absolute freedom.
1. Freedom from work. There is so little to take care of. It takes ten minutes a day to clean. It only takes a couple of minutes to set up when you get to a campsite. No hooking and unhooking the fifth wheel or trying to line the rig up, etc. After breakfast dishes, we are ready to leave in ten minutes flat. I can drive the truck camper in an emergency, or take turns driving. I would never drive a big fifth wheel rig.
2. Freedom to get off the dang interstate highways and explore. We have been to the most beautiful small towns, met the nicest people, and have been to the most interesting grocery stores. Even in the state and national parks we are allowed to go on many roads that say no trailers and/or no campers exceeding twenty-five feet. I get to camp in really cool places, many times with only one or two other campers, instead of a full campground lot, which I find boring.
3. Freedom to downsize all of your stuff. As I get older, I realize that none of the stuff is important. You can't take it with you, and the things that really matter are your relationships with others and your experiences. We still own a home, and I have been purging clothing, cookbooks, and just about everything else but the bare essentials. Now I know what it truly takes to be comfortable and happy.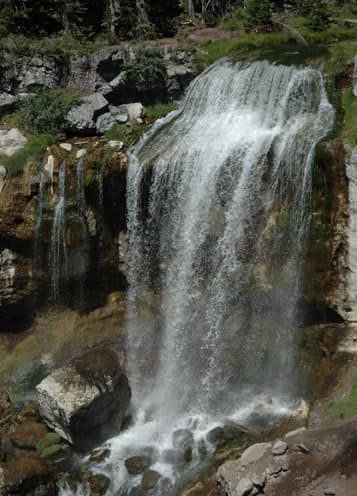 I read with envy the stories of those who full-time in a truck camper. I could honestly do it. I have all the cooking utensils, pots and pans I need, and the fridge and freezer are plenty big. I enjoy cooking, and we never eat at restaurants. I only need full hookups every two or three days, depending how much cooking and washing up I am doing. There is space for each of us to hang twelve outfits, plus a coat closet and side hampers that store all the folded clothes including jeans, underwear, pjs, hats, gloves, socks, and bathing suits. There is a full size medicine closet and a bathroom with a shower. What more do you need?
This is a photo of me when we were taking our daughter down to Optometry School at Berkeley. She slept in the dinette and ate with us for a week while we visited Oregon Caves, Crater Lake, Redwood Forest, Lavalands National Park, etc., on the way there from Washington State. We were all very comfortable.
The other photo was taken when my husband and I were making our way back from Berkeley along the Umpqua Highway. We just pulled off at a very small BLM campground with six campsites which were all less than thirty feet long. We camped right at the waterfall!" – Sharon Day, with Dallas and Max the Dachshund, Washington
"My wife and I had been going to RV shows for years trying to decide what we wanted. Initially, it was going to be a big fifth wheel, and we thought we had found the one we wanted. And then, by chance, we just happened to be going by the truck campers. We went in and my wife was pleasantly surprised how much room there was in the models with slides.
She said, "This is plenty of room for just the two of us!" So, with a big smile on my face, I started the task of looking and researching the right kind of truck camper for us. I wanted a fairly large truck camper. Since we live in the beautiful Pacific Northwest, I also wanted a four season camper.
After reviewing Truck Camper Magazine and the different manufacturers, I went out to look at the truck campers. We settled on an Arctic Fox 1150 dry bath. I will buy it next spring. After some research, I went out and bought a 2009 GMC 3500, four wheel drive, dually with the Duramax diesel engine. I'm adding suspension upgrades right now, and once that is done, we should be ready.
We can hardly wait to get our truck camper. We have already planned our first break-in trip down the Pacific Coast to San Diego and then back through California to Yosemite National Park." – Mike and Myong Spencer