Last week we celebrated our 10 year anniversary story by publishing, "Truck Camper Magazine: The Never Before Told Story".
We shared the history of how we started the magazine, and the insane series of events that followed; the Great Recession, a major hack, and other triumphs and near disasters.  It's been quite the journey and an American Dream come true.
As part of our anniversary celebration, we asked readers to share their TCM stories.  Our question was, "How has Truck Camper Magazine impacted your truck camping lifestyle over the years?"
Thank you for all the wonderful feedback.  We could not have gotten here without you!
"Gordon and Angela – I just finished your story.  Your path toward development of your most excellent publication is similar to all successful lemonade stories; surviving the pioneering effort.
Your ability to focus the problem into one task at a time, recognizing each other as a PB&J compliment, and keeping your marbles from scattering, demonstrates innate abilities you both have (probably transparent to you) that Rex Willett sensed at your first meeting.
Do you now know why successful entrepreneurs never say, "It can't get any worse than this"?  Because it can!  I hope to meet you someday." – Barth Zurbuchen, 2013 Northstar Arrow 8.5, 2007 Classic Silverado HD2500

"Without TCM, I would not be a truck camper owner.  I work with a camping enthusiast and he encouraged me to attend some local RV shows.  I was set on getting a fifth wheel toy hauler to use with my Harley in the back.
He found the perfect truck for me and I purchased the 3500HD.  As I continued to look at fifth wheel trailers, I came across a piece in TCM describing the cool new Cirrus 800.  That gorgeous camper caused me to subscribe to TCM and research the style in more depth.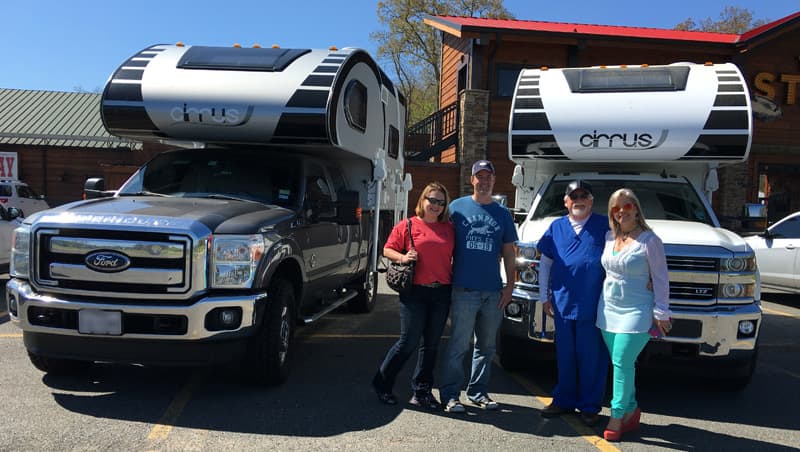 As soon as the Cirrus 800 was released, I made plans to visit my nearest dealer, Pine Tree RV in Huntsville, Texas.  The article on matching truck to camper and camper to truck were instrumental in helping me understand the variables.  I am indebted to your dedication to the truck camper enthusiast.  Thanks so much!" – Stephen Smith, 2015 Chevy 3500 HD, 2017 Cirrus 820
"A big thank you for doing all you do for the community.  I enjoy your articles and photos.  Your story on the history was fantastic and I loved it.  Way to go you two, well, three including the cat." – Frank Poole, 2016 Ram 5500 HD, 2016 Arctic Fox 990
"My wife and I haven't been truck camping long enough to call it a lifestyle change, but I can tell you that Truck Camper Magazine caught my eye the first time I found it.
I am a retired newspaper and wire service reporter, managing editor, and bureau manager (not necessarily in that order) and I was impressed to no end on both the style and content of your writings.  So much so that I invited non-RVers to read it just for the pleasure of reading well-done articles.
And this, your 10th anniversary story, kept me glued to my computer screen until the end.  Congratulations on your hard-earned success and your top-of-the-line magazine." – Guy Goodine, 2007 GMC HD2500, 2005 Travel Lite
"Congratulations on your 10 years!  All your efforts don't go unnoticed.  As with any job, even one you love, there are times of doubt, wondering if you should carry on.  Thankfully for us, you stuck to it and your passion shows.
I have been working at a crazy pace (mostly seven days a week) for as long as I can remember with a farm and now a busy commercial cabinet shop.  I sometimes forget to stop and take a breath.  Your magazine inspires me to do just that.
As retirement for me is just around the corner, I started to search for the right home grown activity to enjoy with my family.  My wife and our German Shorthaired Pointer love to explore.  A truck camper and a four-wheel drive truck fit us perfectly allowing us to get out to most places without issue.
Again, thank you for the interesting content.  That keeps us looking to improve our truck camper experience and remind us to take a breath." – Wes Hargreaves, 2016 Ford F450, 2006 Snowbird 108DS