We were completely blown away by the quantity of responses to our Question of the Week, "If you had an unlimited Magic Fuel Card for one month, where would you go, and what would you do?" The catch was that the Magic Fuel Card only lasts one month, which starts right now.
"Hmmm… right about now we could go for a nice trip to the Florida Keys. We have always wanted to see that area. Warm sandy beaches, fishing, kayaking; a month sounds about right." – Bill Tex
"Just pass go! Like the game Monopoly, roll the dice and see where you end up! I don't believe this has ever been tried. Adventure and lots of fun guaranteed." – Denise Hupé, Canada
"We would head to Indiana to spend a weekend with children and grandchildren. From there we would head down through Kentucky into Tennessee and North Carolina to Smoky Mountain National Park. Then we would go down to Chattanooga to visit the Civil War battlefields. From there we would go back up to Mammoth Cave National Park in Kentucky. Next we would go west to the Mississippi River and follow it north to St. Louis to see the Arch. We would continue north from there, soaking in the history of the old paddle wheelers, Mark Twain's stomping grounds, and then go back home to Minnesota.
We have our camper loaded right now and are heading out tomorrow to Indiana and Michigan to take in activities that our children and grandchildren are involved in. We are also planning a trip in April down into Kentucky for a few days." – Allen and Sharon Brummel, 2008 Northstar TC650, 2008 Dodge Ram 1500
"There are three major LandRover off-roading events out west. I would take my 1972 Land Rover and my Arctic Fox and attend all of them." – Scot Haberman
"Upon receipt of the Magic Fuel Card, we would depart the Sierra Foothills near Yosemite National Park and head south to the I-40 out of Barstow to the Grand Canyon. There is still some snow there, so we would see a different perspective. We would continue on stopping at National Parks and National Monuments on the way to Florida. Then we would go down to the Florida Keys to the very end of the road, turn around and then head north on Florida's other coast. We would visit Civil War battlegrounds on the way to New England. Then we would go up into the Canadian Maritime provinces.
Hopefully, the weather would be beginning to moderate and the trip wouldn't be delayed by snow. Then we would go across Canada to Prince Rupert where we catch the overnight ferry to the north end of Vancouver Island to stop by Tolfino and Victoria. Then we would come back into the United States and go down the coast to Bodega Bay, California to the site of the movie Birds, and then home to Groveland. We may need a two month Magic Fuel Card for this. Thanks for the virtual trip." – Jim Goodrich, California, Lance 1191, Chevy 3500 crew cab dually
"There's a small town in either Alaska or the Yukon (can't remember which) that is on a river (again, can't remember) and they have a lottery each year to guess when the ice will break-up on the river enough to send a small raft tethered to the bank downstream. With my Magic Fuel Card I would drive there from south Florida to watch it happen. Then I would drive to eastern Canada to watch the Reversing Falls in Saint John, New Brunswick before heading home with detours on the Blue Ridge Parkway and the Natchez Trace Parkway. Where do I pick-up my fuel card?" – Don Udelson, Florida
"I would leave central Pennsylvania and head west to Mount Rushmore, Yellowstone National Park, and the Rockies in early spring. Then I would travel back across the lower part of the United States to Tall Pines Campground for the big rally in Sanford, Virginia. Of course I would fill up on April 20th for the trip home." – Bob Fenton
"We are off to travel the USA!" – Denny B., Pennsylvania
"What would we do? Why head to Alaska immediately. I don't care that there must still be snow there in March and April. I want to see that snow glistening on Denali and the caribou migrating. Along the way, we would follow Route 2 across the top of the United States, visit Glacier National Park and the coast of Washington State again. I'd leave coming home to the last gallon of diesel. You did say diesel was included in the Magic Fuel Card right?" – Anne and Joe Brown, The TwoMaineiacs
"I would be leaving for Alaska immediately. You can send my card to my first fuel stop at the Vince Lombardi Service Area (it is the cheapest in the area). I am still frugal even with your magic card." – Dave and Lila
"Sounds like an emergency trip to Alaska is in order! It really doesn't matter where we would go. I love seeing the city limit sign in my rear view mirror and knowing that I'm on vacation. There is nothing like climbing into bed and looking at the stars through the front window of my Bigfoot truck camper. Some people do not like front windows on their campers, but I love them." – Bigfoot Dave
"I would go to Big Bend National Park. There is a scenic overlook of the Rio Grand River with a 1,500 foot cliff looking straight down. That is just one of the pretty places in the park that I would like to see! They have nice campgrounds also." – Carl Chalfant, Jr.
"Angela – My first act would be to make the card work until June 30, 2012. I leave on my 17,000 mile round trip from North Carolina to Alaska on April 26, 2012. So, short of filling up my truck camper with fuel, which would be a really bad idea, I can't really compete. But if you change the rules, then I will write a longer and far more inventive reply. Thanks and keep up all of the good work you and that fella that works for you get accomplished to help all of the truck campers out here." – Mark Turnbull
"I think the fuel card would be extremely helpful in getting to my first truck camper rally this April at Tall Pines Campground in Virginia. I am really looking forward to the rally being that I just changed over to a truck camper last year and have not seen too many at the campgrounds I visited last year. This would give me a fantastic opportunity to meet many new people that share a common interest. I am looking forward to many more journeys with my new truck camper." – Louis Rapoli
"I'm retired! Let's hit the road! I would tour the West Coast including Canada. I love pioneer history which includes General Custer and the US Calvary at such places as The Little Big Horn, Rosebud, and the list goes on. Did I mention I also have a huge craving to explore ghost towns, mining camps, and frontier forts? Does that card include oil changes as well as fuel?" – Jerry Fullerton
"The first week of April, I will be heading out on my last road trip with Brynna. I got my Border Collie, Brynna, thirteen years ago after my first beloved Border Collie became ill on our week off in April and died on my birthday days after we got home. Brynna went blind at age five. Last year she was diagnosed with dementia. Medication has helped and she has survived longer than the vet had anticipated. But these past two weeks, she's obviously begun losing ground. I thought our few days trip over Thanksgiving would be our last road trip together. But it looks like we'll have one more!
It doesn't matter where we go, only that we are together. I had a scare with my Border Collie mix last summer, cutting my summer trip short when she grew a huge tumor on her rear end. Every vet I saw was sure it was cancer. We ended up at Michigan State Cancer Center. After being sure that the decision was going to be to put her on pain killers until the end, the tumor was found to be a very aggressive lipoma, not malignant! So every trip now with Sami is also special.
We'll spend our eleven days heading down into West Virginia. From there, we will wander; down into North Carolina, maybe as far as South Carolina, staying in state parks and forests, walking with my two girls, then back up the coast, just looking for history and nice places to walk." – Barbara Linsley, Brynna and Sami
"Wow! I cannot believe you caught me at the perfect time. Today is the 20th of March. Tomorrow I fuel up and pack up for a four day music festival down the road in Live Oak, Florida. The event is called the Suwannee SpringFest and it's held at the Suwannee River Music Park. It's a great time with great music, great friends, and we meet friends there from all over the south. It has great food that you can buy but, better yet, I'll cook it in my Palomino Bronco 1251. This is my first year with the Bronco and I know it will be a big hit. I will get lots of questions about truck camping and of course I will invite them in for a cold one. I will send some pictures once I get back to Atlantic Beach. I'm counting the hours." – Dan McKinnon
"Angela – You had to give me a Magic Fuel Card. Thank you! I'll put it to good use starting April 1st. I'll drive up to visit my oldest son, who lives in Denver, Colorado. Then I'll attend the burial of my mother's remains and visit with my siblings while we settle her estate. She died about a year ago but we waited to bury her since we had to make arrangements with the VA to open my Father's grave.
Since there's a very large lake half a mile from the cemetery, I plan on taking my fishing stuff and trying it out. Many of my nieces, nephews, and their kids fish, so I hope to learn something about the sport. I stopped fishing about forty-five years ago and just recently took it up again. Why, you might ask? The answer is simple, fishing is a sport of patience. Since my wife insists that I have very little patience, so I decided to learn about patience. Fishing is much better than yoga or zen since the aficionado might actually have something to show for their effort.
After we finish with all the details of settling her estate, I'll take the slow route home and fish the Rio Grande from the headwaters down to Caballo Lake. The Rio Grande continues south, but it only has a trickle of water this time of year.
This summer my wife and I plan on a number of camping trips. We are (at least I am) so certain we will go camping, I have already bought an annual camping pass for the state parks. After the windy season is over, I will replace the roof on my house. Age and wind have damaged it to the point the shingles now disappear during every windstorm. Then I will try to figure out what type of boat I will buy to replace my inflatable fishing boat. Of course, I am assuming my wife will concur in the purchase of a boat. The Vegas board has the odds listed as 40:1 against me.
Since I don't have to pay for fuel during this trip, which is estimated to cost in the neighborhood of $650 to $750, I'll be able to attend the NATCOA Rally at Glacier National Park the end of June." – Harry Palmer
"I will be traveling to the Hog Waller Cub Fest in Randolph, Virginia in early April. It is a whole bunch of Farmall Cub people getting together and helping others fix their tractors, swap parts, and enjoy each other's company. Boss Hog (the host) is asking folks to bring an old license plate and will plaster his shop with them. I got him started with some license plates from New England, but there will be an awesome collection after the April CubFest! It's a great time with some of the finest folks in the world. But, honestly I-95 from Rhode Island to Virginia is the hardest to drive section of highway in the entire US!" – Larry Davis, 2001 PowerStroke Super Duty with Sunline Camper
"We were planning to go our our annual Desert Explorers Rendezvous in the Needles next month. We live in Northern California and have decided to stay home this year because diesel is so expensive $4.25+ a gallon. We will miss our explorer friends with whom we have traveled all over the West with as well as Australia." – Berger
"Hi Angela. With the Magic Fuel Card, Joann and I would take the truck camper on a bucket list trip. Our first destination would be Colorado Springs to visit Joann's 98 year old aunt. On the way there we would boondock at a couple of our favorite spots in Northern Arizona. From Colorado we would head for Northeastern Missouri to visit Joann's favorite cousin that she has not seen since 1968. Then we would drive on to Ohio to visit my hometown, the town and the house I grew up in, and visit my Dad's birthplace in Southeastern Ohio. Our return trip would take us through the South, one our favorite areas of the country, camping and enjoying good southern roadfood!" – Jack and Joann Purdy
"Hi Angela – Since it's only a month of traveling, this is what I would do. I live in South Florida so I'd travel Northwest to Mt Rushmore, then west to Yellowstone. Then, I would keep traveling west to the Pacific Coast Highway and travel to San Francisco. After that, I'd cut over to Yosemite. From there, I'd make my way to the Hoover Dam and onto the Grand Canyon. Whew! Now travel East to Roswell, then to the Alamo, and finally to New Orleans and then back home. Either that or go to Alaska." – Richard Musso
"Hello. Truck Camper Magazine is great. We look forward to reading all the articles because they are so informative. After meeting and talking with Gordon at the Springfield, Massachusetts camping show in February, and reading all the articles about truck camping, we decided to buy one. We will be picking up our Arctic Fox 1150 in Boise, Idaho in April. We would be so lucky to have a Magic Fuel Card. It would take us around Idaho and hopefully to see some of the National Forest. We have never been to see that part of the country and are very excited to be able to view it in our truck camper. It will be a new experience and we are looking forward to enjoying the different sights. Thanks again for such a great magazine." – Harold and Joan Storey, Rhode Island
"Angela – Besides a few places to go fishing around our country, I would like to go to a seminar with the Sojourners http://www.sojourning.org/ and start helping folks wherever I can through the church. There will be a seminar in either West Virginia or Texas which we could attend. However, the one in Washington looks good. Thanks." – Ed Krech
"Hello Angela – We are about to leave New Hampshire, see a new grandson in Colorado, and then head off to Alaska. We have a 1993 Vari-Lite on a 2011 Duramax extended cab long bed. It's our first trip ever." – Calvin and Betty Brown
"Hi Gordon and Angela – My name is Dean Geisenhaver. I have a family of five and we love truck camping. Last year I took off four weeks and we went out west from Michigan. We went to as many National Parks as we could in a 2000 Lance 1030. We loved that camper. We have just up graded to a 2008 Lance 1131 and a 2005 Chevy 3500 dually. What would I do with a gas card for a month you ask? We would do weekend trips to the UP of Michigan to test and try things out. Then we would visit with you at the Mid-Atlantic Truck camper Rally and tell you all about truck camping with a family of five." – Dean and Kim Geisenhaver
"I would hit the road and visit all of my family that I haven't been able to afford to visit for the past twelve years! I would also take the grandkids to Disney World and just enjoy!" – Chef Beth Casebolt
"I'd escape this never ending northwest winter. I woke up to more snow again today (March 22nd). I'd go for a drive with frequent stops to enjoy some natural wonders in California. When I reach San Diego, I would head back north and take in some ball games on the way, as baseball season will be starting. I would end it with a Mariner game before heading home to north central Washington just in time to enjoy the apple blossoms." – Russ Strong
"I would leave my home in Houston, Texas, and head west to Las Vegas as I've never been there. From there I'd turn north to Pike's Peak since I've never been there either. Then head for Crosby, North Dakota to see an old friend. It's been more than eight years since our last visit. From there, I would turn east towards Chicago to see my dad since it's been more than five years since my last visit and then see my friends at my old company. It's been twelve years since I left there. From there would be a drive to St. Mary's, Georgia via the Tail of the Dragon to see my Mom and Aunt. It's been more than eight years since my last visit there. Then, I would head west to Dothan, Alabama to see my sister as it's been more than three years since my last visit. From there, back to Texas would be the final leg of my trip. Google says it is over 6,000 miles. I'm sure there would be other stops along the way. Thanks." – Pete Phillips
"First of all, I would wish the fuel card would be valid for time I actually had off, say like May 2012 or late August / early September 2012, for my long vacation. In either case, I would use it for some overlanding adventures.
In May, I am heading to the Overland Expo near Phoenix (Mormon Lake Lodge), hopefully hooking up with an expedition into the event. After that weekend, heading home from the event would comprise of back roading and four-by-fouring into Sedona, Arizona for a latte, some mountain biking, and truck camping.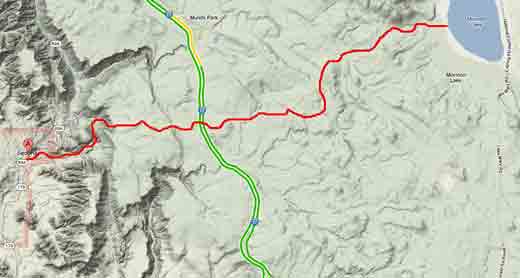 Above: Red Line = approximate Forest Routes
From Sedona, I'd go north to Utah! Some Valley of the God's cruising, Muley Point camping, and four-by-fouring into Johns Canyon for camping and exploring. I'd also like to see how far down the "Hole in the rock" 4×4 road I could make it!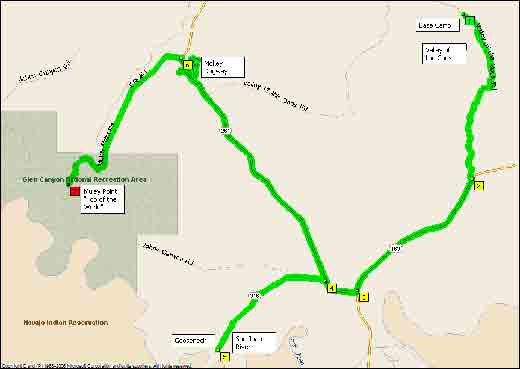 Then I would journey north towards Moab. I've been interested in wandering into the Cameo Cliffs area and or other BLM land 4×4 roads along 191 to Moab. And hopefully I would hit Moab for some good micro brew beer, chicken wings, and a good mountain bike ride.
My late August and early September time off there would more adventure! Most likely I will go on some trails that will get me to the waters edge around Lake Powell for camping, kayaking, fishing, and swimming. That trip could be combined with the above ideas depending on how the May trip plays out. I'm hoping the cards fall right for some Black Rock Desert time too.
But one never knows! A Magic Fuel Card… Exploring on the mind, a worthy rig and a sprinkle of ADD, I could end up anywhere that spells adventure!
I'm sure since TCM threw me a bone with a fuel card, there'd be a story and pictures to throw back! Plus I'd put you on my SPOT Satellite signal recipient list, and you'd get up to date "okay" signals and maps via e-mail pinpointing my locations.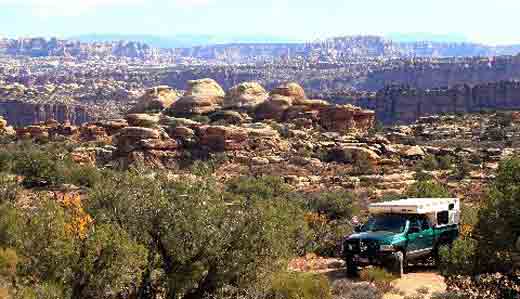 Can I get away with calling my other rig a "mini truck camper"?

Thanks for the consideration, Oh Magic Fuel Card Genie! I'd make some use of it in the specified time frame if that's all there was. Have a great Spring!" – Jim McCoy (Off Roading 101)
"ALASKA!!!" – Steven Horton
"For me, it would be Alaska. I would spend as much time as possible up there. Alaska is my dream trip." – Alex Blasingame