What portable grill do you take truck camping, and what's cookin'?  We're looking for an update on the grills you pack in your truck camper.  And, maybe – just maybe – we're angling for a free burger.  Hot dogs will do!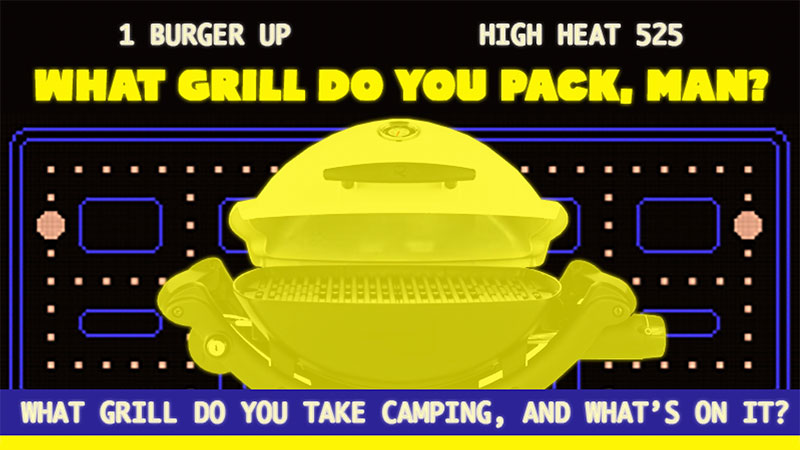 Every truck camper rally and gathering we have ever attended has turned into a major barbecue fest by late afternoon. Every one. In fact, sometimes you don't have to wait that long. On more than one occasion we have woken up at first light to the sweet smell of sizzling bacon or sausage grilling away a few campers down. Oh, the humanity.
Obviously, truck campers love their portable grills. I even know a few truck camper owners who carry more than one; as in one electric, one for gas, and maybe another for charcoal. What's equally impressive is the great care these individuals have put into how and where they store these grills in their trucks or campers. You don't put that kind of thinking and effort into something unless you really love it.
As if that's not enough to indicate our community's borderline obsession with portable barbecues, there's a never-ending list of grill-related mods. Last year we published no less than eight truck camper grill mounts that elevate our barbecue devotion to something resembling industrial art. Folks, we love portable grills!
Back in 2015, we asked Truck Camper Magazine readers which portable grills they took camping. We recently reviewed the results and noticed two things. First, the answers continue to be very well-read. And second, some of the grills are no longer available; not exactly a big surprise after nearly seven years.
So it's time to put this question back on the barbecue and grill our readers on their favorite portable barbecue grills.
Here's what we're looking for; if you (a) take a portable grill truck camping, (b) would recommend your grill to fellow truck campers, and (c) your grill is still available, we want to hear from you! A quick online check should verify the grill you have is still available.
For dessert, please tell us what you like to cook on your portable grill. Are you all about hot dogs and hamburgers? Or maybe steak and chicken? Corn wrapped in foil? What do you put on the barbecue when you go truck camping?
Our question is, "What portable grill do you take truck camping, and what do you enjoy cooking on it?"
This question is now closed.  We will be announcing the reader responses soon.