On our way through Denver after the Overland Expo, we stopped by Phoenix Custom Campers to see their brand new digs.  Located a few garage doors down from their old facility, the new space is more than twice as big.  The additional square footage has made it possible for Phoenix Custom Campers to be built on an honest to goodness production line, and a team of six.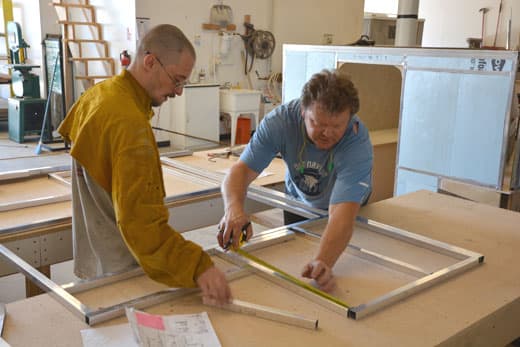 Above: Mike Fagnan, Welder, works with Robby Rowe on an aluminum frame
When we first visited Phoenix Custom Campers back in the Summer of 2007, the company was essentially a one man band.  Robby Rowe, Co-Owner of Phoenix Custom Campers, did everything from answer the phones, to build the campers, and everything in between.  His only companion was a radio playing classic rock.  It was actually quite incredible to watch Robby work (still is), but one man can't be a truck camper manufacturer forever.  In six years, Phoenix Custom Campers has come a long way to become the kind of American success story we love to see.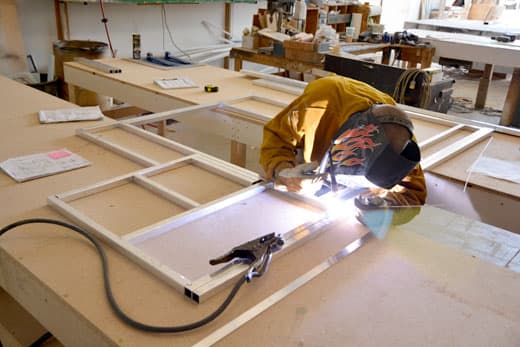 Above: Mike Fagnan shows us a freshly completed aluminum frame wall
Cari Rowe, Co-Owner of Phoenix Custom Campers, explained that they moved into their new facility on Saturday, June 1st and resumed building custom truck campers the following Monday morning.  Cari added, "There was no time to waste".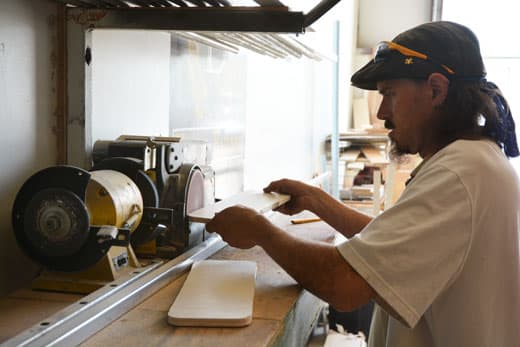 Above: Myron Mitchell sands components for a Phoenix Custom Camper for a Ford Raptor
"We have custom camper orders through the end of August.  Now that we have a full-time production team, Robby is still very hands on, but now he also supervises the team.  It's a big change for us, but we're very excited about it."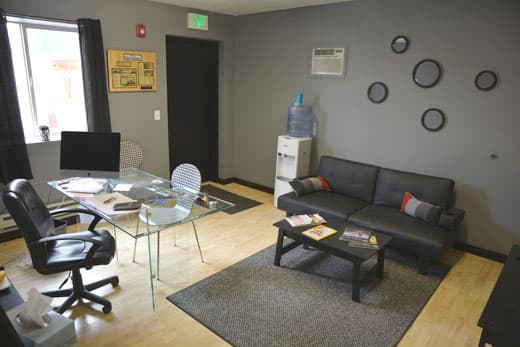 Another benefit of the new facility is a much larger main office.  The office includes a comfortable air-conditioned sitting area, guest bathroom, and HDTV.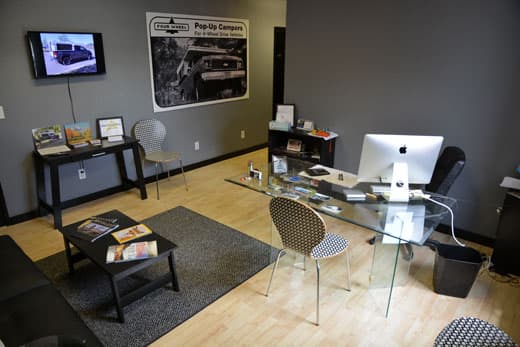 We also saw their production schedule on the office wall with over a dozen custom camper orders.  Speaking of custom camper orders, four campers were in production during our visit.
Above: This Phoenix Custom Camper is detined for a Ford Raptor
This Phoenix Custom Camper is a PULSE SC model with a pull-out bed, under bed storage, cassette toilet with sit down shower area, sink and stovetop combination, twenty gallon fresh water tank, and a grey tank.  Most Phoenix Custom campers do not feature a grey tank, but that's what the customer wanted.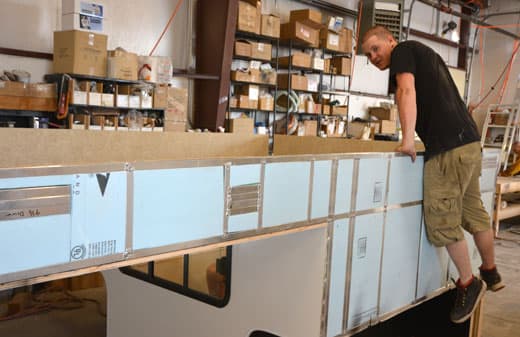 Above: Shane McCarthy, Cabnet Maker, demonstrates the strength of Phoenix Custom Camper frames
We were excited to learn that this camper will also be getting a Free Spirit Energy Windwalker wind generator in addition to a solar panel system.  Robby and Cari reported that several of their recent customers had inquired about wind generators.
At the final finishing station was an almost completed Phoenix PULSE built for a 2013 Toyota Tundra with a double cab.  The custom camper featured a shower and a North-South cabover bed.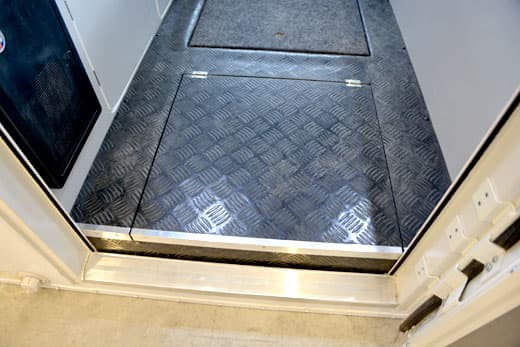 Above: Robby showed us how he created a, "mini basement" for the shower pan
The customer also requested a grey formica counter top, grey interior fabrics, and grey cabinetry.  The monotone aesthetic feels modern.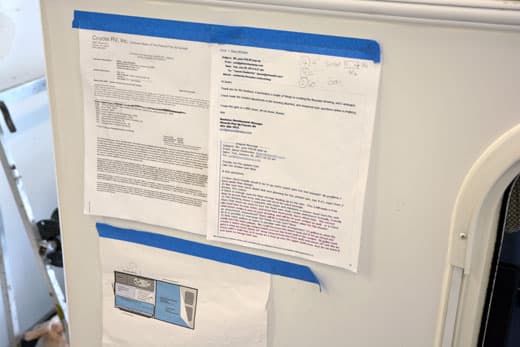 To ensure that every Phoenix Custom Camper has exactly what the customer requested, Robby prints and attaches the customer emails to the units as they go down the line.  Together with customer approved floor plan renderings, these customer emails keep the often complex custom builds on track.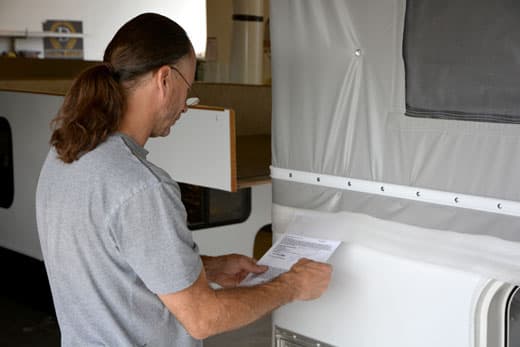 Above: Kirby Case, Plumbing and Electrical, checks a customer email on a camper in final finishing.  During our visit, we saw the Phoenix Custom Camper team reference these emails and build sheets several times.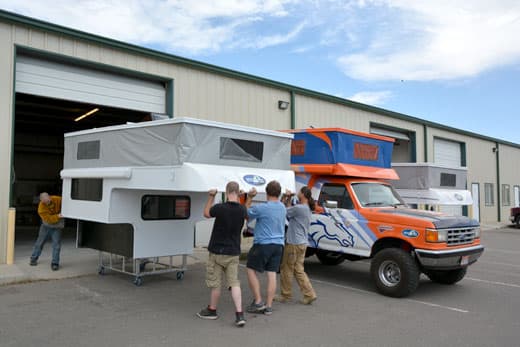 Above: The Phoenix Custom Camper team moves a completed camper off the production line and into the daylight.
There was more, actually much more, going on at Phoenix Custom Campers, but Robby swore us to secrecy.  Suffice it to say Robby has plans to, once again, completely outdo everything he's done before with some extremely wild custom camper creations.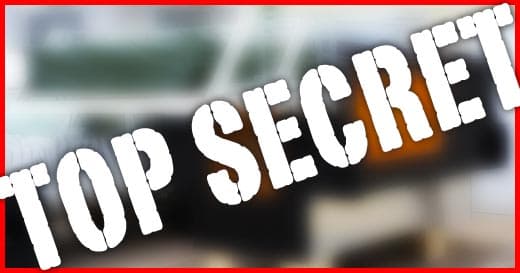 What could possibly top the Zebra and Bronco Bronco?  Well, Robby has some ideas already in the works.  He promised to debut them on TCM when they're ready.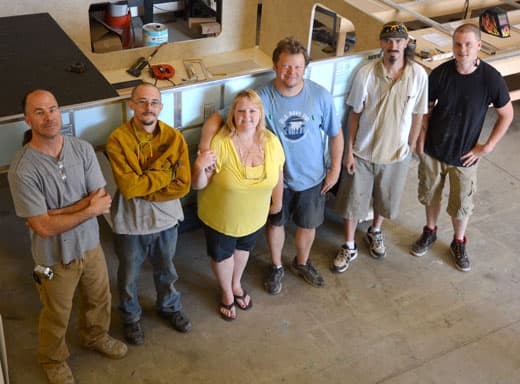 Left to Right: Kirby Case, Mike Fagnan, Cari Rowe, Robby Rowe, Myron Mitchell, and Shane McCarthy
Before continuing on our way through Denver, we gathered up the Phoenix Custom Camper team for a quick group shot.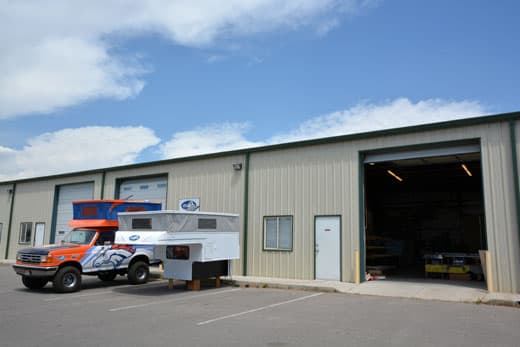 Congratulations Phoenix Custom Campers on the new digs.  Well done.