Allen Miller, Research and Development Lead Design at nuCamp RV, is the sixth industry leader to complete our Triple-Dog truck camping dare. Here's his in-depth dare report, photography and perspectives on a Cirrus 720.  Well done, Allen!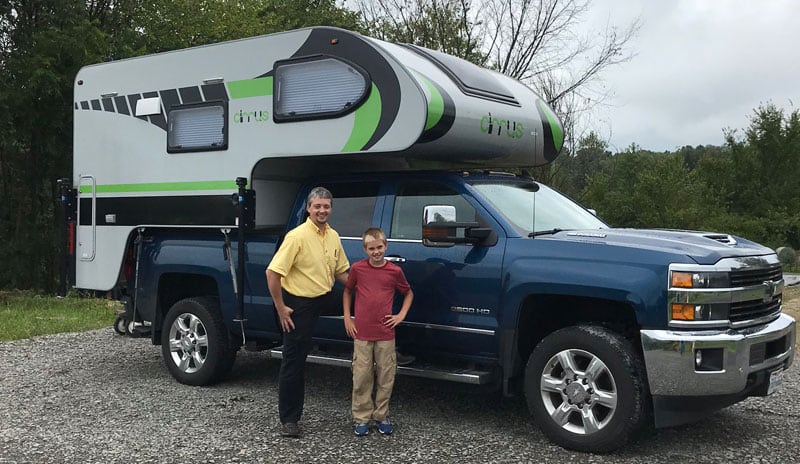 From August 22-24, 2019, Allen Miller, and his son went out camping to Pleasant Hill Lake Campground in Perrysville, Ohio.  They took out a 2017 Chevy 2500 and 2019 Cirrus 720.
Here is Allen's Dare Report for nuCamp Cirrus:
My son and I went on this truck camping trip to celebrate his tenth birthday.  We had planned to camp at Mohican State Park but, upon arriving, discovered that all campsites were filled.  We quickly changed plans and went to Pleasant Hill Lake Campground in Perrysville, Ohio, which is basically next door.
We got to the campground around 6pm and got the Cirrus 720 setup.  Then, we roasted some hot dogs and spent the rest of the evening inside the camper enjoying some snacks and listening to an audio book.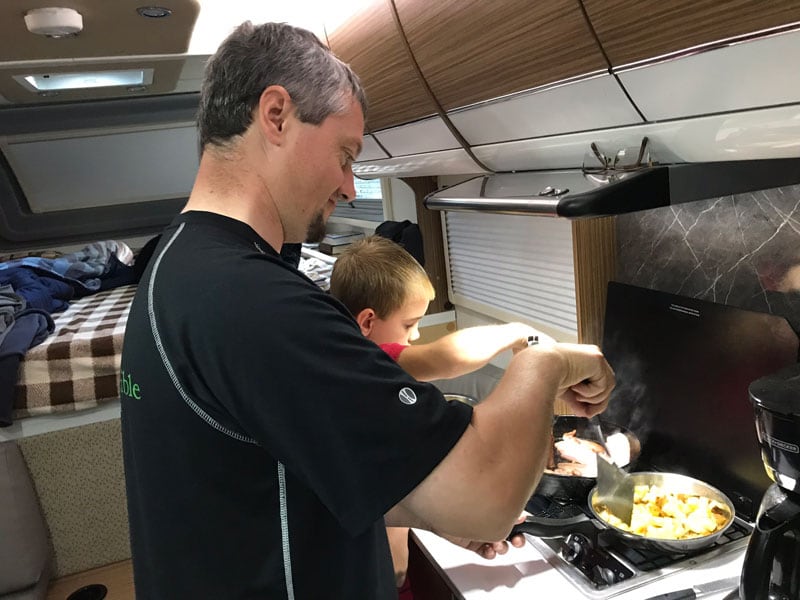 On Friday morning we had breakfast in the camper.  After breakfast we packed our bags and went on a canoeing trip.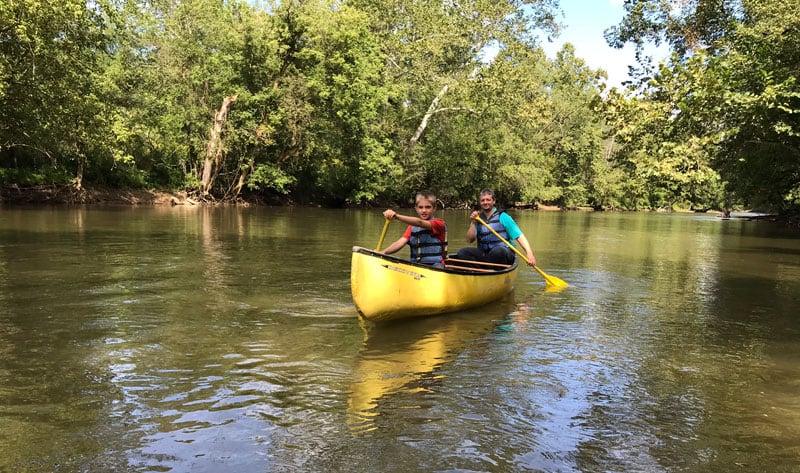 Then we took on an Aerial Park Course at Mohican Adventures.  The aerial course included a wide variety of highly-suspended ropes, tires, bridges and various obstacles to overcome.  It was fun, but exhausting.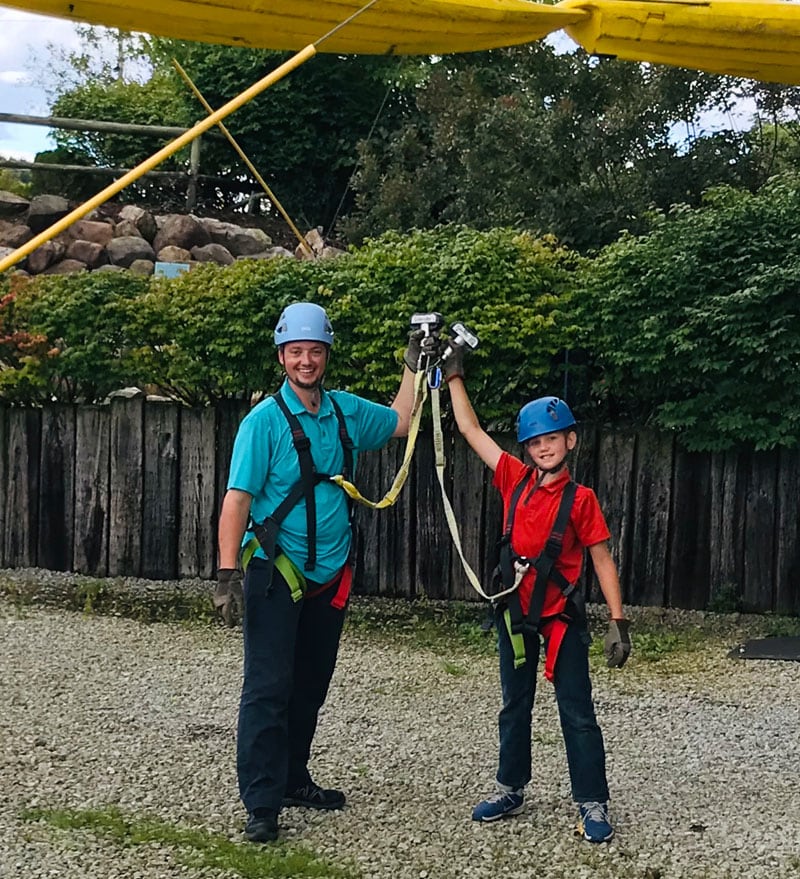 With tired muscles, we went back to the Cirrus 720 and studied a map of Israel.  At the time I was planning a trip to Israel that I just completed.  Afterwards we made a stew over the fire and prepared cornbread in a cast iron pan on the 720's cook top.  It all turned out great.
After dinner we enjoyed some snacks and had some great father-son discussions.  Before bed I took a shower in the 720's wet bath.  It worked well, but I have more to add about the 720 shower in my product evaluation.
The next morning started with breakfast.  We shared our breakfast with some of our campground neighbor's kids.  Their parents were still sleeping after a night of partying and their boys were bored and needed some company.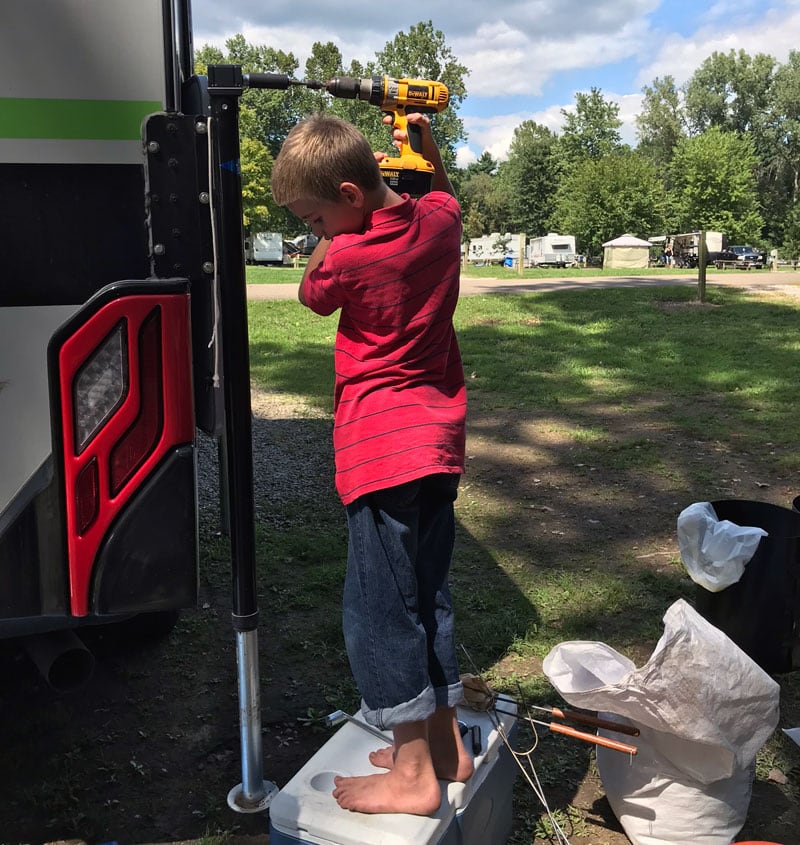 Hiking the Mohican Trails was the agenda for the day.  Mohican State Park is known for its diversity of trails with short and easy and long and strenuous trails on the menu.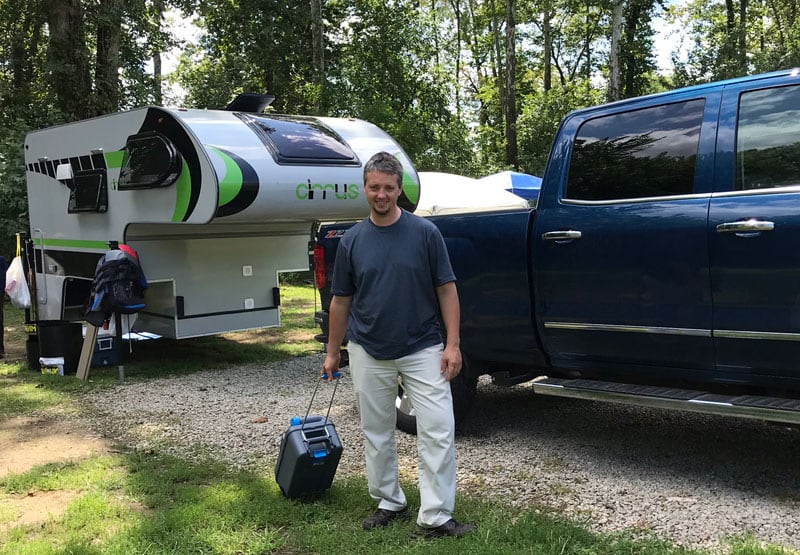 Above: Allen on his way to empty the Thetford cassette
We closed the weekend by loading up the camper, emptying the tanks and heading home.  My son and I had a wonderful weekend together and were excited to complete Truck Camper Magazine's triple-dog dare.
Allen's Evaluation Of The Cirrus 720
Camping with my son in the Cirrus 720 was a very rewarding experience.  It reaffirmed the importance of camping with the products we design.  Only through real life camping experiences can you discover what truly works, and what doesn't.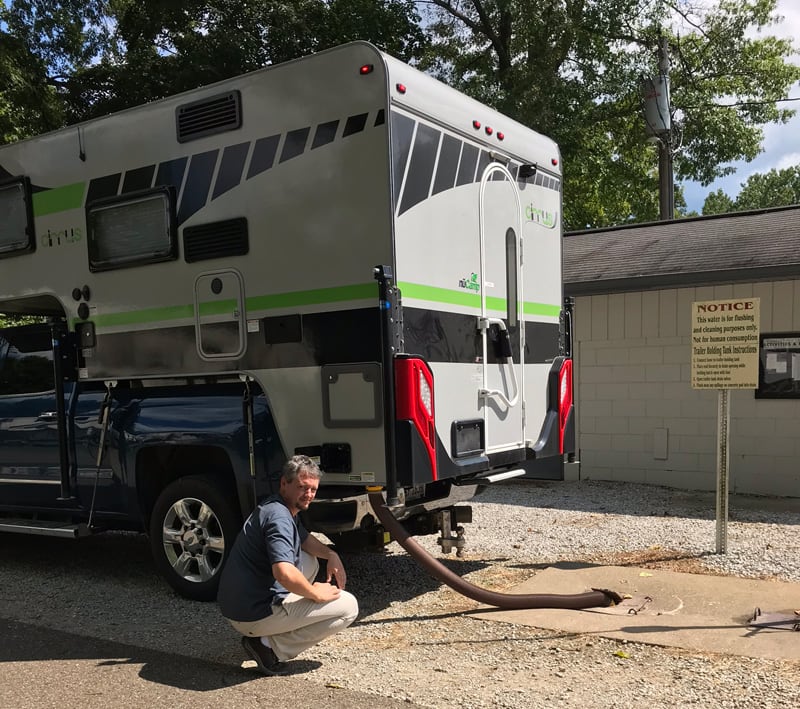 There are many examples from our weekend truck camping trip, but a few stand out.  First, I learned more about the relationship of fresh tank capacity and how that capacity effects the length of time one can stay off-grid.  Moving forward, I will pay more attention to this critical facet of truck camper design.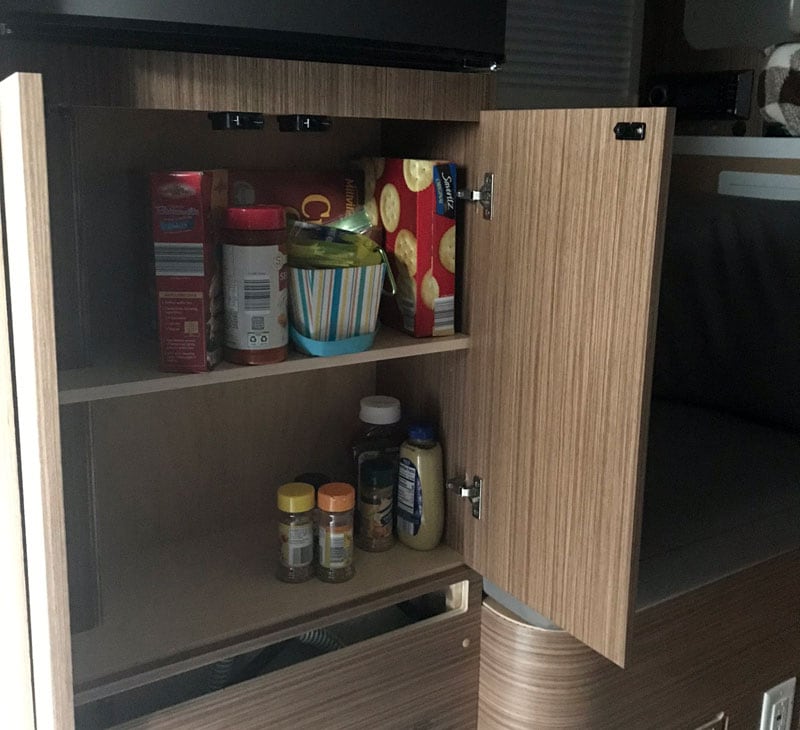 Second, I now better understand how the size and types of storage impact the truck camping experience.  The 720 has an impressive amount of storage, but now I will have a deeper appreciation for how that storage is designed.  I also want to take another look at the type of latches we are employing.  There definitely are opportunities for improvement there.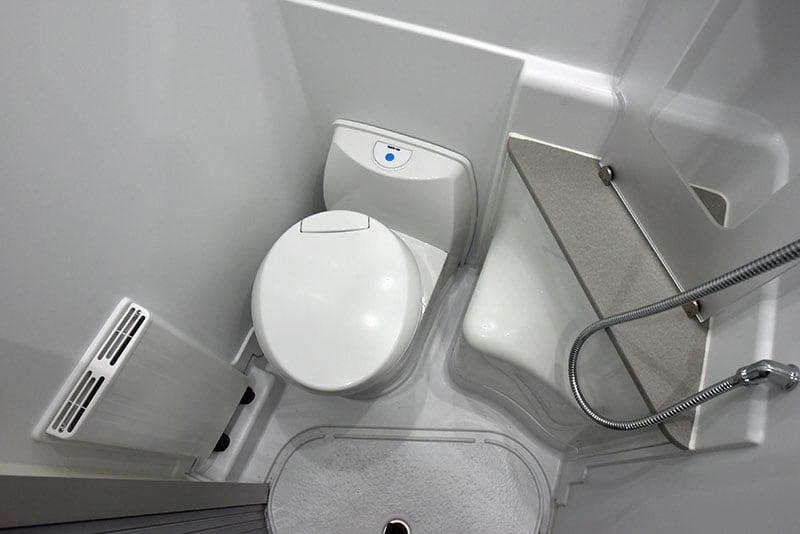 Testing the performance of the Cirrus 720's unique wet bath and shower design was a top priority for this trip.  It worked, but it's clear that we need more slots in the shower pan for improved water drainage.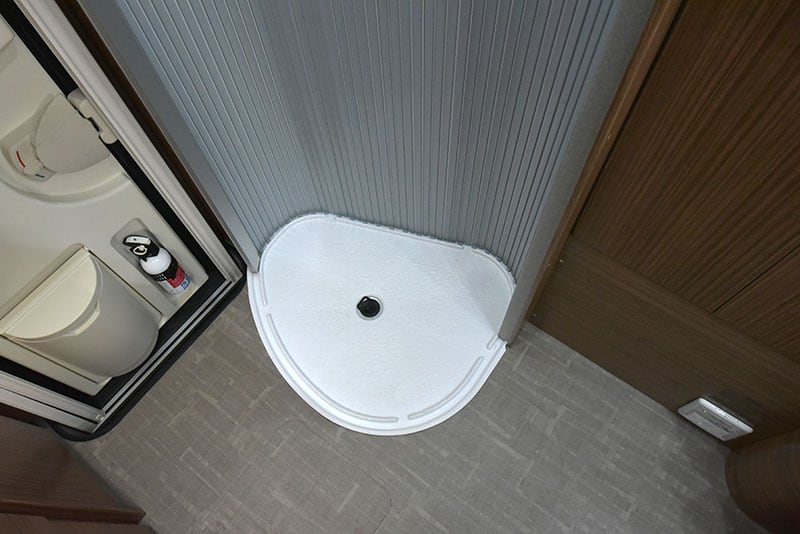 There was no issue taking a shower, but afterwards the the track did not completely drain and there was a little water within the track.  Additional escape openings towards the inside would help the water clear out more fully.
After using the 720 over a few days, I'm also considering an insert panel for the shower pan when the radius tambour door is in the closed position.
Washing dishes after meals has me considering a larger sink for the Cirrus 720 and other campers and trailers we build with the same sink size.
I did appreciate the removable totes in the kitchen as they allowed us to remove the totes, take them into the house, pack them and reinstall them into the unit.  When we returned, we again used the totes to bring the kitchen items into the house.
My son and I were both pleased with the lighting in the 720. This was my first time camping in the 720 at night and the lighting created a very comfortable atmosphere. Speaking of comfortable, we also really enjoyed the 720 dinette design. It's easily one of the most comfortable places to sit in any of nuCamp's products.

I hope to go camping again in nuCamp products at some point in 2020, but it's hard to find the time.  The rest of 2019 is booked solid with design projects.
That said, we now have a member of the design team, Tanner Guy, who owns a Cirrus 920 truck camper and regularly gives us ideas to improve the products from real world experience.  As a company, we need to make using our products in real life situations more of a priority.
For more information on Cirrus Campers, visit their website at nucamprv.com/cirrus-camper.  Click here to get a free Cirrus truck camper brochure.