Starting this Friday, Lance Campers is hosting a ten day factory open house at their Lancaster, California campus. Want to see how a Lance Camper is made? The red carpet is out!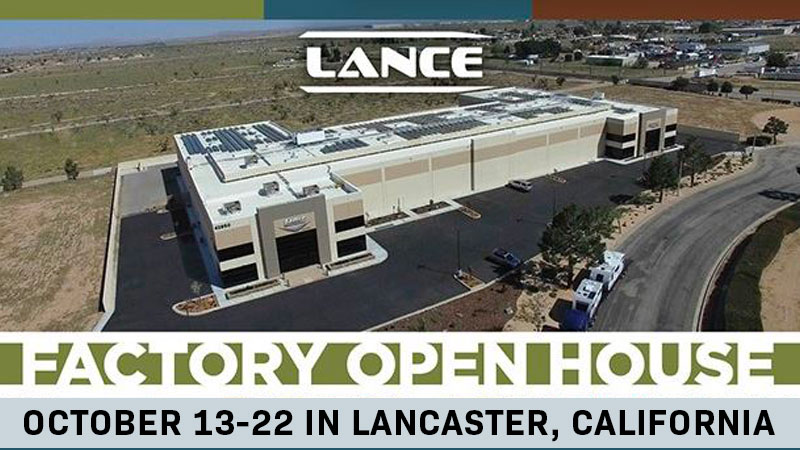 Back in 2005, Angela and I visited Lance Camper for a factory tour. That behind-the-scenes experience was our introduction to the truck camper industry and the fascinating process of building a 'go anywhere, camp anywhere' truck camper. That tour occurred about 18-months before we launched the very electrons you're looking at now. It's amazing how one thing can lead to another.
Lance Factory Open House
Now it's your opportunity to experience the Lance Camper factory, meet the Lance team, and learn about their manufacturing process in person. From October 13th through the 22nd, Lance Campers is hosting a public Lance Factory Open House. Factory tours will be available from 8:00am through 5:00pm, Monday through Friday.
Red Carpet Lance Showroom
For the Open House, Lance will have a red carpet, on-site factory showroom. The showroom will include every current Lance truck camper and trailer (including the new Lance 805 prototype), open to explore, with Lance factory staff on hand for any questions. Lance will also be offering seminars on the Lance manufacturing process.
Speaking of the Lance 805 prototype, this is your chance to speak directly with the Lance design and management teams with your feedback on this new truck camper.
No Appointment Necessary
Lance is offering pre-registration for those who prefer to make an appointment, but appointments are not necessary for this Open House event.
If you prefer to register for the Lance Factory Open House, click here.
Lance Camper is located at 43014 Exchange Pl., Lancaster, CA 93535. Los Angeles International (LAX) and Burbank (BUR) airports are both good options to visit the Lance Camper factory.