Lance Camper has launched a smartphone app for owners of Lance truck campers and travel trailers.  The app will instantly locate your nearest Lance dealer, campground, things-to-do, and much more.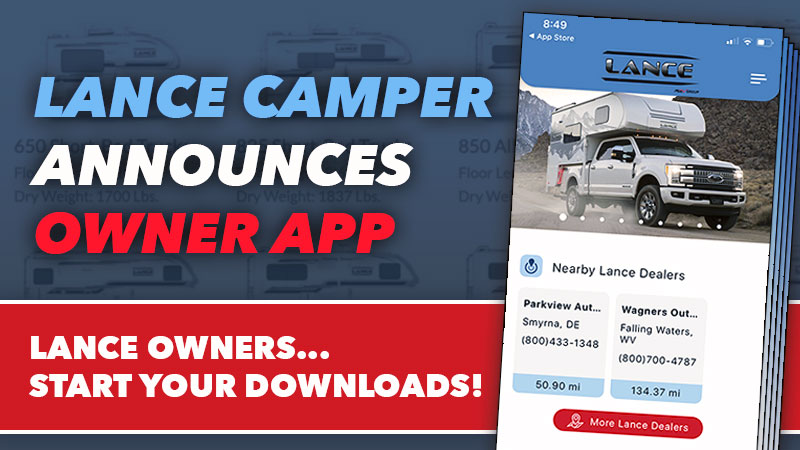 Before writing this post, I downloaded Lance Camper's new Lance Connect app on my iPhone and gave it a whirl.  Honestly, I was expecting more of a marketing stunt than an actually useful product.  Boy was I wrong.
Upon opening, the app instantly presented the two closest Lance Camper dealers, the closest campground, and a list of five things to do nearby.  Under each of these clearly showcased items was a red "more like this" button.  Immediately, I am impressed with the clarity and usefulness of this application.
Under the main menu, the Lance Connect app offers a maintenance checklist for your Lance Camper, and a trip planner; packing, set-up, and break-down.  Perhaps more than any other aspect of this app, the maintenance checklist excites me the most.
I haven't had the opportunity to explore this feature in detail, but I'm hoping it will prompt owners to check seals, inspect their roofs, flush their fresh tanks, etc.  Imagine if the app sensed it was going to get below freezing and said, "It's going to dip below freezing tomorrow.  Is your Lance 960 properly winterized?  Click here for instructions."  It's certainly possible.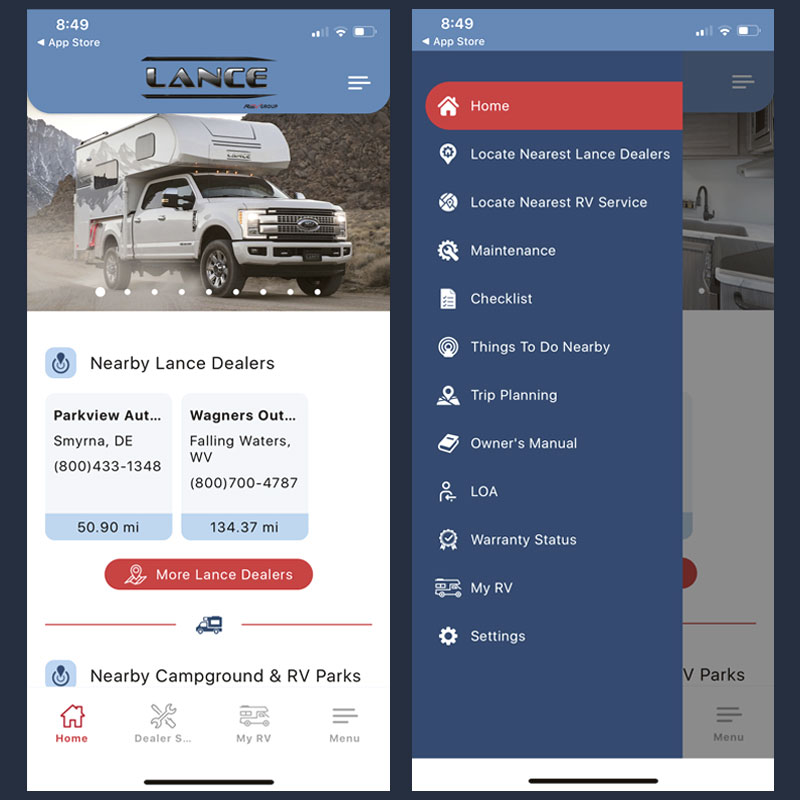 Above: The Lance Connect app home screen (left) and the menu (right)
These deeper app menu items do require you to sign-up with Lance Connect with an email and password.  You can also sign in with Facebook, Google+, and Apple.
Once signed in, the app provides your Lance Camper owner's manual, the status of your Lance Camper warranty, information on the Lance Owners of America group, and more.  Having the owner's manual on your phone is a fantastic idea.  Prompting owners to keep tab on their warranty status is nothing less than progressive for the RV industry.  Love it.
In theory, there's no reason why non-Lance owners couldn't use this app.  First, it's free and available for download now.  Second, I don't believe Lance is requiring folks to own a Lance Camper to use the app.  That means you could utilize a great majority of what this app offers (closest campgrounds, nearby-things-to-do, maintenance checklist, trip planner) even if you're not a Lance owner.
For Lance Camper owners, this new app is an absolute no-brainer.  Download the app on your phone and take advantage of one of the best uses of modern technology we've seen from the industry in a long time.  Nice work Lance and REV Group.  Well done.
To download the Lance Connect app, go to the App Store for iOS, or Google Play Store for Android.