Kent Phyfe and his service dog, Iris, travel together in a 2014 Northstar Liberty to support America's VetDogs, a charity that places service dogs with military veterans in need.  If you missed Kent's incredible story in Truck Camper Magazine, check in out here; "A Truck Camping Mission of Love".
Kent contacted us to announce a new front nose wrap on his rig and update us on his America's VetDogs campaign.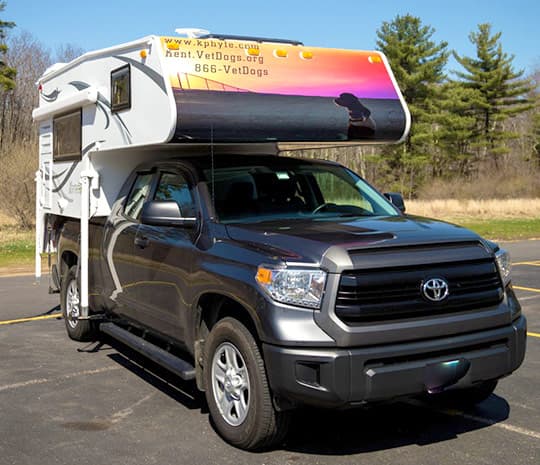 Above: Kent Phyfe's 2014 Toyota Tacoma and 2014 Northstar Liberty
"Well, after a long wait, the camper has the wrap on it.  Next Sunday, April 27th, Iris and I will be heading to Maryland for the 4th annual Annapolis 5K Run & Dog Walk fundraiser for American's VetDogs.  The event is at Quiet Waters Park in Annapolis, Maryland.  If you're in the area, please stop in.  The midshipmen do a wonderful job putting on the event.  For more information, visit http://vetdogs.org/Content.aspx?id=2062.
I am also working on attending the Gettysburg North-East Truck Camping Jamboree this year.
Please help support other Veterans like me who have a medical need for a Service Dog Like Iris!  To make a donation that can change a life, please check out http://kent.VetDogs.org.  My goal in this campaign is to raise $20,000.  Please help me reach it.
See my photos at: http://photo.kphyfe.com
You can also follow my blog about our travels at http://kphyfe.blogspot.com