The following story is true and can be added to the amazing history of duct tape field repairs along side of saving the crew of Apollo 13, fixing air planes in the Alaskan wilderness, and much, much more.
TCM Duct Tape Tale: A Total Rip Off
This past July, we explored Michigan's Upper Peninsula and the many well maintained county campgrounds that surround the Great Lakes.
One day during our stay in the UP the winds picked up to the ten to fifteen mile per hour range.  Now we don't normally put our jacks down when camped, but we do if it's going to be very windy, or there's a strong storm forecast.  These winds didn't approach anywhere near that level, nor was there a storm on the radar.
That is why I was shocked when Angela found our bathroom vent cover on the ground a few feet from our camper.  I did recall one wind gust that seemed to be stronger than the others, but thought nothing of it.  Clearly it had ripped the vent cover off our camper, and sent it flying.  Since it was a hot day, we had left the bathroom vent and side window open for ventilation.
Fortunately, the vent cover was in one piece.  Only the hinge area of the cover had been broken.  Obviously, we would need to replace the vent cover, but we were many miles from the nearest RV dealer.  What should we do?
"I have Gorilla Tape in my tool box!"
Gorilla Tape is a three-layer tape consisting of an all-weather outer shell, two layers of offset reinforced fabric backing, and an adhesive layer two times thicker than duct tape adhesive.  The manufacturer, Gorilla Glue Inc., claims that Gorilla Tape is 145 percent stronger than traditional duct tape.  It's also designed to stick to uneven surfaces and a wide range of materials including wood, fiberglass, and aluminum.  It's basically super duct tape.
Gorilla Tape in hand, I got on the roof and taped the living heck out of that vent cover.  For reasons I cannot explain, it was actually fun to use Gorilla Tape to fix something in the field.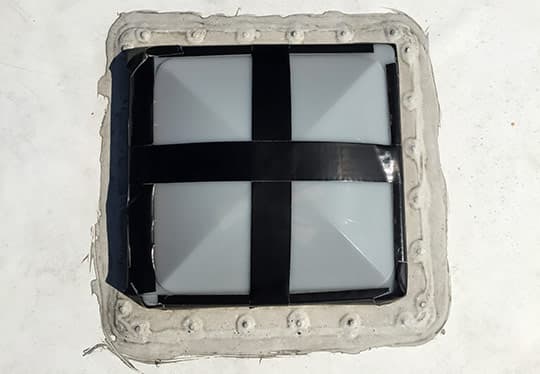 "That might actually work," said Angela, admiring my MacGyver-like handiwork.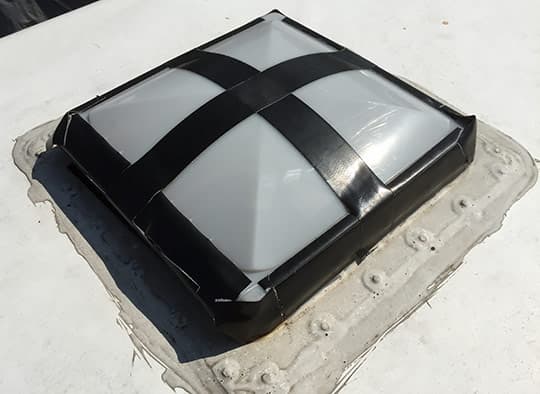 These photographs were actually taken seven weeks after the Gorilla Tape was applied.  In that time, we drove home from Michigan to Pennsylvania, and have experienced plenty of hot summer days and thunder storms.
The Gorilla Tape is starting to peel away in the vent cover corners, but is still holding.  We will be replacing the vent cover in two weeks, but are very pleased that our go-to Gorilla Tape got us home and has kept the vent cover secure for nearly two months.
Duct Tape Question of the Week
This week's Question of the Week is, "Have you ever used duct tape, or a variety of duct tape, to repair your truck camper?"
Click here to see the TCM reader responses about duct tape.