On the evening we picked up our very first truck camper in 2005, we darn near killed our new-to-us 2004 Lance 1030.  By the time we picked up the camper and set out for home, it was getting dark.  We were in a part of Maryland that we were unfamiliar with and we found ourselves on some fairly rural backroads.  To make matters more dramatic, it was foggy and we barely had a clue about what we were doing with this whole truck and camper thing.
Then I saw a sign: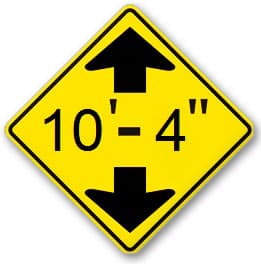 "Stop!" I exclaimed.
"What?" Angela replied.
"How tall are we?" I asked.
"About eleven a half feet, I think." Angela answered.
A few hundred feet in front of us was a railway tunnel that would have chopped off our air-conditioner, or worse.  We freaked out, re-routed, and went on to have the trip of a lifetime in that camper.
On the East Coast, these railway tunnels are quite common.  In my lifetime I've seen a few box trucks stuck under them, and all rail tunnels bear the scars of similar incidents.
By the way, when this happens, the quick solution is to let some air out of the truck tires to lower the overall height of the vehicle.  If this doesn't work, things get a little more complicated.
The moral of this story is simple; know your overall truck camper rig height.  That means breaking out a measuring tape, dropping it over the side of your rig, and adding that number to the height of your air conditioner or whatever sticks up the highest on your camper roof.
For our current 2013 Chevy Silverado 3500 and 2013 Lance 855-S, that height is exactly 11' 7".  By rule of thumb, we would be very cautious driving under anything less than 12'.
This week's Question of the Week is, "How tall is your truck and camper rig?"  Please measure from the ground to the highest feature on your rig (air conditioner, etc.).
To read the responses to this question and find out how tall other truck camper rigs are, click here.