Mike Tassinari has sent us an update about the July Jamboree at the Horseshoe Acres Family Campground in Andover, Vermont.  The rally runs from Thursday, July 20 until Sunday, July 23, 2017.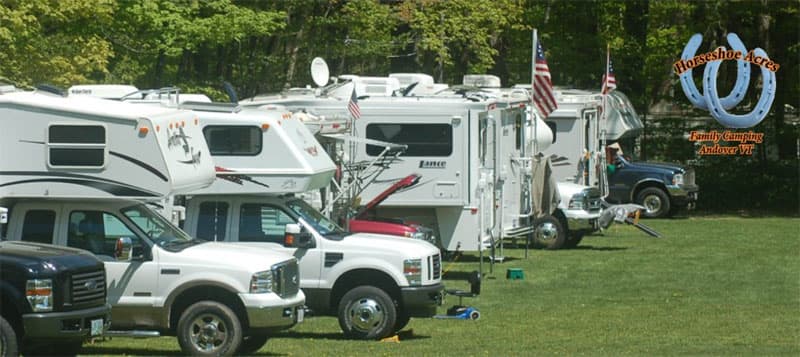 July 20 – 23, 2017
North-East Truck Camping Jamboree
Horseshoe Acres Campground, Andover, Vermont
Organizers: Cathie and Mike Tassinari
Discount available.  Say that you're with the North-East Truck Camping Jamboree.  To be with the group, make your reservation by June 7, 2017.
"We have an exciting Jamboree scheduled.  Some of you may have heard me say that the campground Cathie and I have booked for our July Jamboree has a special meaning to us. This campground is where it all began ten years ago.  Our very first Jamboree was held here.
We will receive a group rate of $29 per night plus tax as long as we reserve twenty sites.  This is for a water and electric site.  No sewer sites are available in the safari field.  There are other discounts that we may get depending on the final amount of RVs that show up for this Jamboree.
I have reserved the lower and upper safari field area.  This Wednesday, June 7, 2017, the campground will release all sites not reserved for the North-East Truck Camping Jamboree.
There will be an ice cream social with a twist.  I would like everyone to bring a quart of their favorite ice cream for this event.  I will have a freezer in the North-East Truck Camping Jamboree's chuck wagon and upon arrival you can put it in the freezer.  This way we all get to try some different flavors.
Our webmaster has designed a really nice 10th anniversary logo that we will have silk screened on a short sleeve T-shirt.  This T-shirt will not be for sale.  The only way to get one is to attend this Jamboree.  Oh did I mention that this T-shirt is free!  This is our way of saying thank you for all of your generous support to our group.
Don't forget about our new service called RV Buddies.  It's on our website truckcamping.net.  If you are traveling someplace and are looking for someone to travel with, fill out the form and send it in.
When you send in your form with the information in it, I will send out a notice to the entire group of your traveling plans on the 1st or 15th of the month depending on when I receive your information.
Dive safely and we will see you in late July." – Mike Tassinari