Angela and I had a wonderful time with old and new truck camping friends at the 10th annual Mid-Atlantic Truck Camper Rally this past weekend.  Tall Pines Harbor Campground reported well over 100 truck camper rigs attended the rally making the event, once again, the biggest truck camper rally on the planet.
One of this year's attendees was 2014 Mod Contest winner Charlie Coushaine.  Charlie flew his GoPro equipped quadcopter above the rally and recorded some breathtaking video of the rally in full-swing.
Here's Charlie's HD video showing the 2015 Mid-Atlantic Truck Camper Rally from above:
We took the group shot for the rally on the beach this year.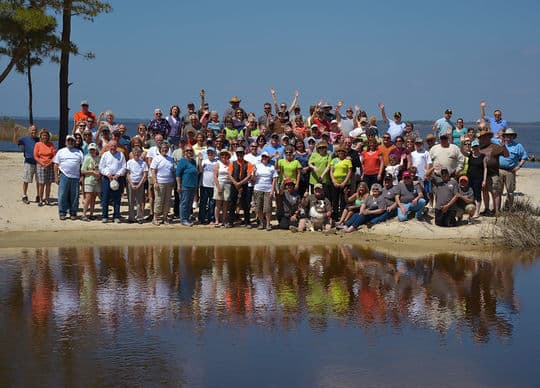 Above: Group photo from the 2015 Mid-Atlantic Truck Camper Rally – click to enlarge
Congratulations to Ron and Michelle Humphress for hosting the longest running and largest truck camper rally.  Ron and Michelle have announced that they will no longer be hosting the rally, but the Mid-Atlantic Truck Camper Rally will go on.  Once it's scheduled, the 2016 MATCR dates will be announced here in Truck Camper Magazine.  We can't wait.