On November 4th, Four Wheel Campers is hosting an open house at their Woodland, California factory. Check out 15 FWC models, meet the team, take a factory tour, and get a free barbecue dinner. The first 25 attendees get a free T-shirt.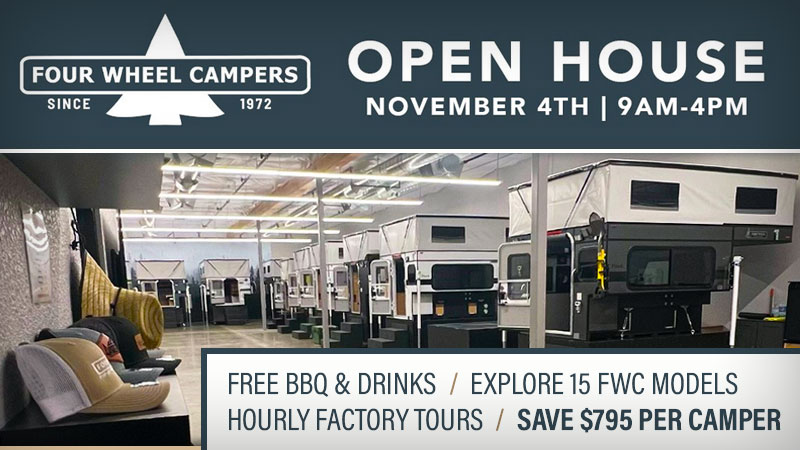 Four Wheel Campers is hosting an open house on Saturday, November 4, 2023 from 9am to 4pm at their factory in Woodland, California. During the day on Saturday there will be factory tours given every hour, fifteen different FWC models on display, and over twenty customer rigs on hand.
There will also be free FWC T-shirts for the first 25 attendees, free BBQ and drinks, and up to $795 off a FWC installation (with a new camper purchase). Select showroom models will be 10 percent off until 4pm on November 4th. The Four Wheel Camper staff will be available all day Saturday to answer all of your truck and camper questions.
No Appointment Necessary
Four Wheel Campers is offering pre-registration for those who prefer to make an appointment, but appointments are not necessary for this event.
Click here to learn more about the FWC Open House. You can also call (530) 666-1442 or email [email protected] if you have any questions.
Four Wheel Campers is also inviting any FWC owners to camp in the parking lot on Friday, November 3rd night.
Registration Link: https://www.eventbrite.com/e/four-wheel-campers-fall-open-house-event-registration-709812617647?aff=oddtdtcreator