On Camper Beast, we have added a bonkers Yukon adventure, an impossibly micro camper, a stunning full-size flatbed slide-out truck camper and a tasty surprise.  It's Camper Beast!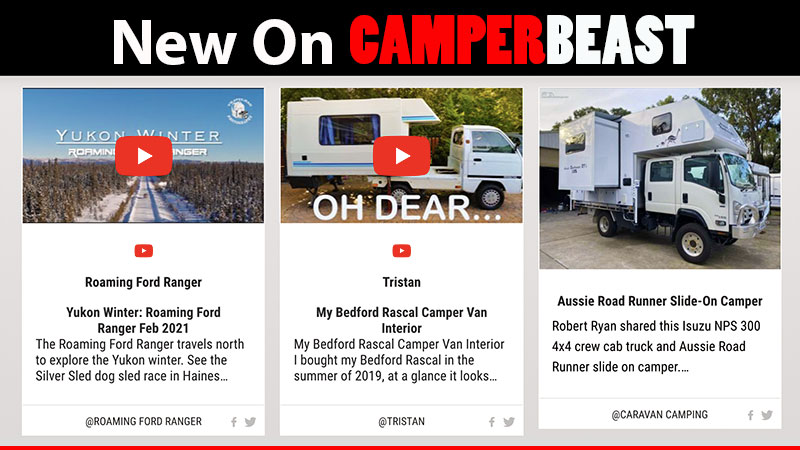 CLICK HERE TO VISIT CAMPER BEAST
Roaming Ford Ranger Makes Us Bonkers!
Angela and I went absolutely bonkers when we watched this video by fellow truck camper, and TCM contributor, Martin Spriggs.  Take a few minutes and just soak in his stunning adventure in the Yukon on Camper Beast.  I bet you'll go a bit bonkers too – in sheer truck camper delight and inspiration.  Way to go Martin!
Tristan's Funky Mini-Rig
Next on Camper Beast is Tristan with one of the funkiest de-mountable chassis mount truck and camper combinations we've ever seen; the fiberglass Romahome (the camper) and the Bedford Rascal.
Tristan explains that his Romahome is a "micro-camper" but it's not much smaller (if at all) than the van conversions that are so popular now, and it's demountable.  It even has one feature I covet that our full-sized rig doesn't; a genuine human-sized pass-through!
I also like the crank-down supports under the rear overhang for quick stability.  I was also surprised to see a kitchenette with a two-burner cooktop (complete with a kettle), a small refrigerator, and a sink. Tristan's set-up is full of funky details.
Would something like Tristan's set-up work in the US and Canada?  Doubtful, but it's interesting nonetheless.  He also has "big plans" for the camper.  We're watching, Tristan!
Flatbed Slide-Out Masterpiece
You need to see this before it's sold and taken offline.  Reader, Robert Ryan, sent in an Australian listing for an Isuzu NPS 300 and an insanely gorgeous flatbed slide-out camper.  Pull this up to the next Overland Expo or truck camper rally and you'll have half the audience lining up to see it.
Check it out on Camper Beast!  Then, make sure you click through to the original post and listing to see the full-size photos of this fantastic rig.  They show the camper de-mounted in camping situations and the seriously high-end modern interior.  Love it!
Something Else Is Cookin'
Oh, there's one more delicious surprise on Camper Beast!  Thank you, Ray Fair, for sending in a tasty camping treat.  There are lots of good tips, plus the equipment you need for success.