In the 1980s, Hostess did a commercial that asked kids on a playground how Twinkies got their filling.  In a now classic line, one kid answers, "It's just born there".
Over two decades later, we have discovered that most RV show attendees don't know how the truck campers got there.  For starters, we feel compelled to reveal that they're not "just born there".
In reality, truck campers are born at truck camper factories scattered across the American Midwest and West.  To get the newborns to RV shows from coast to coast, specially designed trucks deliver the truck campers to the dealerships.
Since RV show season starts now and runs through late Spring, these deliveries are happening now, through record cold temperatures, treacherous weather, and the occasional stop for hot coffee and donuts.  Don't discount the coffee and donuts.  Our extensive research on this topic shows the domestic economy wouldn't function properly without those two critical ingredients.
As further evidence that truck campers aren't just born at RV Shows, Five Star RV sent us two photographs of brand new 2014 Northern Lite and Adventurer truck campers arriving for show season.  These units will be on display at the Colorado RV Adventure Travel Show this week from January 8th through the 11th.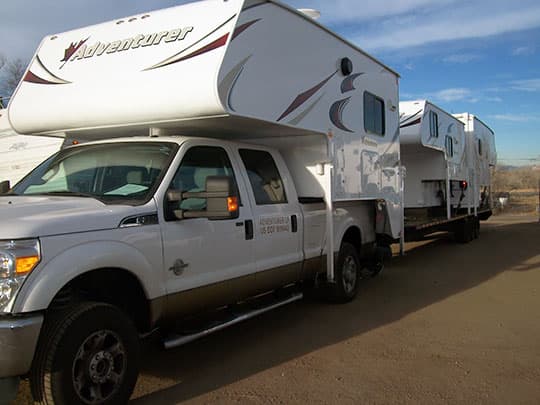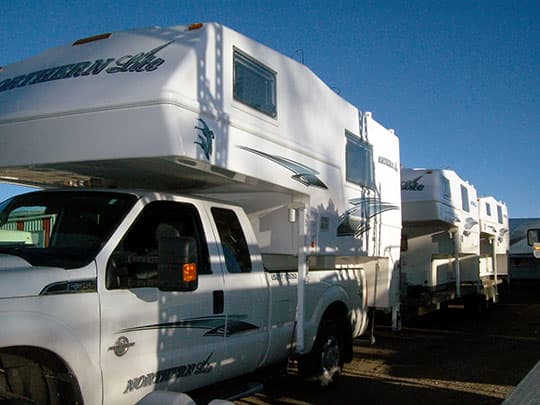 If you're still a little confused about the origins of truck campers, and exactly how they get into RV shows, the industry representatives working the shows will be happy to answer your questions.  Just tell them Gordon sent you, and you have a few questions.  They love that.