After reading the Marianne and Joe Zecca's article, we wanted to find out what fellow truck campers made while they were out camping. Our Question of the Week this week was, "What are your favorite foods when you go truck camping?"
"The choice between a truck camper and a hotel vacation/trip came mainly because of my food restriction. No onions for me! If I eat them, it's like having a baby! So it is pretty hard to eat in a restaurant considering they put onions in so many things. And to make things more complicated, I have to eat every two hours in order to maintain my blood sugar stable. If we had to stop in a restaurant and order every two hours, imagine the little amount of time we would be traveling or visiting. With the truck camper, I eat when I want and what I want, which is almost the same things that I eat at home. Viva Las Truck campa!" – Denise Hupé

"We have a place here in Sheridan, Wyoming called Designing Dinners. You call them or go there and they will prepare dinners for you and freeze them. My wife and I have used Designing Dinners many times for truck camping because we can order the meals we want, have Designing Dinners prepare them and freeze them. Then all we have to do is put them in the truck camper's freezer and pop them in the oven for a great meal while on the road. Other than that, we don't do a lot of cooking inside the camper We prefer to cook over an open campfire to save our camper's propane and not heat up the inside of the camper." – JT Tardiff
"When we travel to Maine, it has to be lobster! When we travel down South, it has to be BBQ! When we travel anyplace else, we like whatever is fresh and local!" – Allan and Gale, New Hampshire
"We start every truck camper trip with a container of homemade mild BBQ beef in the fridge. When we pull in for our first night, I have hot sandwiches ready by the time my husband has hooked up. Oh, did I mention some homemade (or not, if I'm too busy) coleslaw? There's always enough to share with new friends or we have leftovers for a couple days.
My recipe is simple. Season two crock pot size chuck or shoulder roasts and cook them in the crock pot until tender. Pull apart with forks and add your favorite BBQ sauce. Sometimes we take extra in a container without the BBQ sauce to serve with cheese and other goodies, similar to cheesesteak. Also, I always use the tupperware containers that can be used for storage, microwaving, and freezing. They are lightweight and multipurpose." – Lois and Dan Zell, Lance 1040
"We've never really given any thought to taking photos of cooking while camping. It's a whole new concept for us, sort of like taking photos of every time we go through an entrance of an interesting historical location so we can use it in some sort of contest.
That being said, my wife is an excellent cook. It doesn't matter if it's inside or out. She does a swell job at whatever she fixes. Not to leave myself out of the picture. I can tell you that I'm very much on the scene. I'm the one that does the appreciating of what she decides to fix.
We have venison when I've gone hunting in the Sierras or salmon or steelhead (which I'd caught) from the Rogue River in Oregon. But hands down the most memorable was the prime rib she fixed while we were camping on the Umqua River in Oregon. It was prepared in our camper's oven. She had started the cooking when we decided we needed a block of twenty-five pounds of ice for the ice chest.
Not realizing the the store was approximately one and a half miles from our campsite (outside the entrance to the campground) we took off on foot. Well, by the time we returned, which was later than expected, we figured the prime rib would be way over cooked. We were wrong, it was absolutely fantastic.
My mouth waters just thinking about it. I don't know if it was the hike lugging that twenty-five pound block of ice that made it so good, but it was the best. I don't know how anyone can have a camper without a real oven.
Keep up the good work. You're the best there is as spokespersons for truck campers. We love the reviews an assessments of all the new rigs." – Dave Pracht, 1994 GMC K3500, 1987 Lance LC 900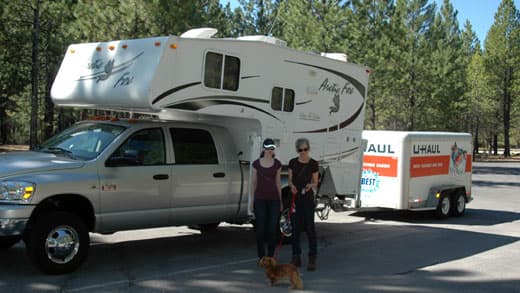 "The truck camper freezer has been a lifesaver for me. Whenever I cook at home, I always prepare a family sized meal. It's easy to do when you have the experience of cooking every night for four kids. I serve two portions out to us, and flat freeze the rest; stroganoff sauce, taco meat, meatloaf, cacciatore, homemade soups, chili, etc.
I have a small corningware with both a freezer top and glass cooking top of the exact same size at both home and in the truck camper. I freeze the corningware full of shepherd's pie, stuffed pasta shells, lasagna, or whatever I am making for dinner and freeze like a rectangular popsicle at home. Then I run hot water over it, pop it out and flat pack it in a freezer bag in my camper freezer, which is always on in my driveway.
A year ago, my elderly mom had been extremely ill and I had been spending all my spare time for weeks at the hospital and/or ferrying her to the doctor. Then, three days before we were set to go for a three week road camper trip to my husband's 50th class reunion, I thought, "Good lord, what am I going to do about food for this trip?". I dashed out to the driveway and up into the camper. Lo and behold, I had twenty-three days of delicious, healthy, homemade dinners frozen and ready to go! No processed foods are ever needed and we never eat out at restaurants.
We love to boondock and where we go there aren't often restaurants anyway. I load a salad spinner, a loaf of healthy bread, eggs, tortillas, salsa, sour cream, feta, cheddar, butter, etc into the fridge and restock just those fresh items on the road as we go (plus wine). I keep my tomatoes, avocados, potatoes, fruit, etc, in a little wire basket wedged between the kitchen sink and under the kitchen window. It is such a joy to take one of my popsicles out of the freezer, put it into the corningware and throw it into the oven, toss a nice salad and enjoy a glass of wine and the campfire while dinner is baking. Or, I take a sauce and heat and make the pasta, potatoes or rice to go with it, still enjoying my wine, of course!
We just road tripped down to Berkeley to take my daughter to grad school, pulling all of her worldly possessions in a U-haul behind the Arctic Fox. We stopped at the High Desert Museum, Lavalands National Monument, Oregon Caves and the Redwood Forest along the way. My daughter ate mom's home cooking every night!" – Sharon Day, Washington
"If my wife is with me, we eat normally. In the fall, she's been known to bake apple crisp with apples from our backyard tree. Huckleberries make trips to northwest Montana extra special.
When I'm alone during deer season, things get a little more simple. I eat anything from steak to pizza to recipes from a book titled, "A Man, A Can, A Plan". Oh, since my birthday falls during deer season, I bake my own cake." – Philip Tron
"If you have any food allergies, and like to travel, cooking in your truck camper is just about a must. I've got a few allergies, so cooking in the camper has to be as close to cooking at home as I can make it. I've made everything short of Thanksgiving dinner – that gas oven is just too small for that turkey. I also travel with a four-quart pressure cooker, which makes a lot of one pot meals, fast! You must look into this, Gordon. Or see me in Pennsylvania at the rally for a demo.
I've also done the lasagna, which is great on a cool fall day, because then the oven heats the camper. I make pot roast, too. We also use our gas grill outside a lot for steaks, chicken, pork chops, burgers, pancakes, etc. For the group potluck dinners, I make either a spicy kale soup, which uses hot Italian sausage instead of linguica, or I make Reuben dip, which is like a Reuben sandwich, but baked in a casserole and served on crackers.
We travel with a fully stocked pantry, with gluten-free baking mixes, oatmeal, brown rice and everything I need for seasonings: I carry probably twenty-five or more spices/herbs, including double-strength vanilla for baking and parchment paper. I never leave home without my olive oil, cider vinegar and brown and white sugar. I make a note on my smartphone when I need to refill something, so I don't run out! And don't forget the cookbook: mine is on my laptop.
Talking about cooking in the camper isn't complete without talking about the tools: besides all the knives, spatulas, spoons, etc. and pressure cooker, I have a medium sized skillet, a small omelette pan, a soup pot, a few baking pans, and a set of four pans with lids and detachable handles that nest. The nesting pans can be used on the stove top or in the oven. They live in the soup pot. We also carry a griddle that fits our gas grill." – Toni Robertson
"We usually have a real nice rib eye steak one night while out camping. Another night will be wine, cheese, salami, and crackers. Then we go home and eat hot dogs because we blew our budget on the camping meals." – Rich Bain, The TC life