If you have installed a Starlink satellite internet system on your truck camper, we want to hear about your experiences. Easy high-speed internet from anywhere sounds almost too good to be true. Is it?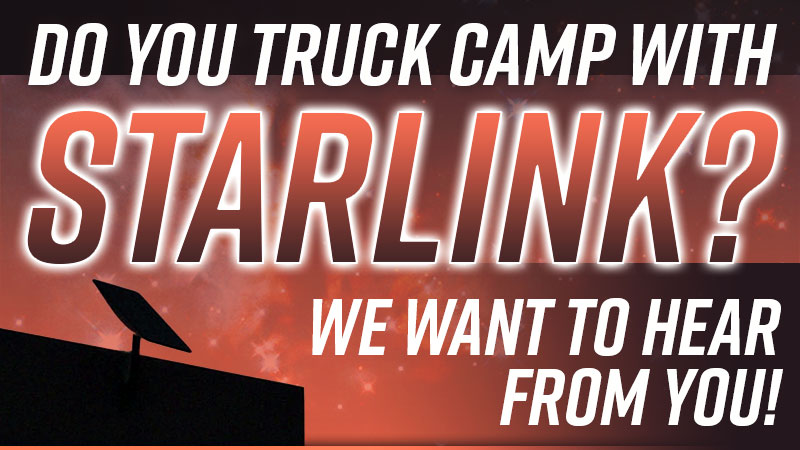 This past summer Angela and I explored Maine and the Canadian Maritimes. As always, we would find a spot or two to work during the week, and then explore all weekend. We have a lot of experience with this work/play travel routine, but it's not perfect.
Perhaps our worst-ever work/play plan snafu happened this past July. We were just outside of Cape Breton National Park in Nova Scotia near the Whale Interpretive Center. Our free campsite for the evening overlooked the Atlantic Ocean and presented one of the most spectacular sunsets we've ever seen. Just across the road was an active harbor full of lobster fishing boats. It was absolutely ideal in every way. I actually said to Angela, "Let's stay here for another day or so."
Then I noticed we had zero cellular signal. Not a bar. Worse, it was Monday night and we needed to publish the next morning. "No big deal," said Angela. "We'll go into town, get a signal, and publish." Drive to the bars. It always worked before.
The next morning we went into town. No signal. We continued on the Cabot Trail passing different hotels and establishments. Nothing. A few kilometers later we were in the twisty mountainous scenery of Cape Breton National Park. No cellular, kilometer, after kilometer.
We eventually got a signal outside of Cheticamp, but by then we had long passed several spots we had hoped to explore. We did go back to the ones Angela had highlighted, but the fuel burn through the mountain curves, inclines and declines was considerable. Remember, fuel wasn't exactly cheap this past summer, especially in Canada.
About this same period of time we started noticing a lot of fellow RVers with Starlink satellite dishes on their rigs. Until then I had seen no reason to change from our preferred Verizon cellular internet. Even in Canada, Verizon allowed us to connect to Telus, Bell, and Rogers depending on what was available. We only got 0.5 GB of data a day in Canada, but it worked.
In retrospect, cellular signal is also something of a leash. We can only go so far from civilization. Even then, we have to check that we have a good signal before plating ourselves for the work week. We've adapted, but Starlink satellite internet throws a tantalizing wrinkle into the mix. At least, in theory, we could have stayed near the Whale Interpretive Center and published as normal. And from there, we could work from darn near anywhere. At least that's my understanding.
To learn more about using Starlink in a truck camper rig, we're reaching out to fellow truck campers who have taken the plunge and installed the system. If you have a Starlink in your truck camper rig, we want to hear from you!