If you own a Ford F-550, Ram 5500, similar Class 5, or bigger truck for your truck camper, we want to hear from you! Tell us why you wanted a Class 5 or bigger truck, how you adapted it to your camper, and what your experience has been with your rig.  Important Class 5 lesson ahead!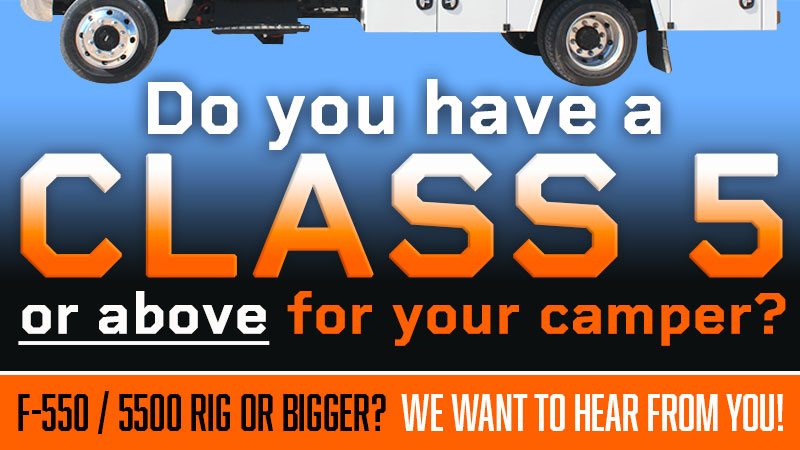 No mention of Class 5 trucks for campers would be complete without explaining why anyone would need a Class 5 truck for a truck camper in the first place. The answer, believe it or not, dates back to April of 2007 when Truck Camper Magazine announced the very first triple-slide truck camper. And it's a bit of a story.
You might assume that the triple-slide feedback was instant praise and amazement, but that's not what happened. Not at all. Within an hour of publishing the new camper news, my email box was bursting with readers and industry leaders proclaiming the triple-slide would fail, that it was too heavy, that it wouldn't survive five minutes off-pavement, that it wasn't in the spirit of truck camping, that you couldn't have three big slides without losing structural integrity – and on, and on.
As an old-school non-slide camper enthusiast, it certainly wasn't the camper for me, but I reserved judgment until I had seen one in person and learned more about how it was manufactured. Long story short, after an in-depth multi-day factory tour, the company had sufficiently designed its welded aluminum frame and wall laminations for the required structural integrity and knew something the rest of the industry did not.
Oh boy, did they.
This was the (then) big secret; the market for double and triple-slide truck campers had almost nothing to do with the existing truck camper customer base. The people who were attracted to the multi-slide mega-camper approach were predominantly fifth wheel and motorhome owners who wanted to downsize. Many of their early customers had started with a truck camper rig in the 60s and 70s and longed for the 'go anywhere, camp anywhere and tow anything' versatility and simplicity of a camper again. Put another way, the manufacturer had discovered an entirely new, wide-open, and untapped lane.
I would love to say I discovered this thought on my own, but it was explained to me point blank by then National Sales Director, Greg Tucknies. I was able to verify his theory shortly thereafter at several RV shows featuring the triple-slide including Hershey, Pennsylvania, Springfield, Massachusetts, and Portland, Oregon. Customer after customer had a fifth wheel or motorhome and couldn't believe they could return to their beloved truck camper and keep the interior space (for the most part) and overall comfort.
Of all of the comments made on that early April morning, one has stood the test of time. For the great majority of trucks, triple-slide truck campers really are too heavy. Loaded with options, gear and full tanks, some of these campers are pushing 6,000-pounds. I've seen the scale tickets. F-350 and 3500 trucks with payload capacity in that range exist, but they're stripped like Mark Watney's rocket trying to escape from Mars. I'm exaggerating a bit with that reference, but you get the idea.
So enters the real world need for Class 5 trucks for truck campers. With a Class 5 truck, we're often looking at GVWRs in the 19,500-pound range. That's more than enough to handle the heaviest of triple-slide beasts and the motorcycle you rode in on and slapped to the front bumper. And if your spouse insists on collecting antique anvils, fine. Tow a boat? Sure, why not. The payload capacity scrutinizer inside me still wants you to run the numbers, but it would be difficult to exceed a Class 5's GVWR, no matter how many LP records and vacuum tube amps you find. Wait, maybe I need a Class 5, too.
Do You Have A Class 5 or Bigger Truck For Your Camper?
If you're one of the lucky folks out there with a Class 5 or bigger truck under your camper, we want to hear from you! Please answer the following questions and send us a few photos of your truck and camper rig. We can't wait to see what you've got, and how you've made it work.